What I found out is that any smart TV running any version of the Android operating system will absolutely support the installation of Google Play Store as well as any third-party apps through APK. In case, smart TV does not have Android. Then there is no way to install any app on it.
However, you can easily convert your smart TV into Android TV by purchasing an Android set-top box and connect it using HDMI.
So the first thing we have to do is find out if the smart TV we have is compatible with the Google Play Store.
Is My Smart TV Compatible With Play Store?
The smart TV you have in front of you may have preinstalled apps like YouTube, Netflix, Hulu, Facebook, Internet browser. TV manufacturers like Samsung, TCL, Sony, and LG sell their LED and LCD TVs with some handful of apps preinstalled. In most of the cases, smart TV manufactured by Hisense, Toshiba, and Philips doesn't come with any app.
If there is no way to download or install new apps or update the existing ones, then there is a possibility that your TV is not compatible with Google Play Store.
But we have a way to find that out. Here's how:
To find out if your smart TV is compatible with Play Store, on the TV controller, look for a Home button. Then within the options available, see if you can find an icon for Play Store.
If it's not seen anywhere, then the next step you have to perform is to look for the operating system running on your smart TV. You can find that in the Settings menu. If it says Android, then it means you can install Google Play Store, a tutorial for which is available in the next step.
However, if you are unable to find Android, then it means you have a simple, smart TV with limited capabilities. The best alternative, in this case, is to buy any Android-enabled set-top box and connect it to your TV via HDMI cable. Once purchased, you can then follow the steps below.
How To Install Google Play Store On Smart TV?
There are chances that although your smart TV is running Android OS, the manufacturer didn't install Google Play Store for some reason. Here we have a guide that you can follow to install Play Store on your smart TV:
Prerequisites
Things you are required to have:
Smart TV running Android OS,
File Explorer app on Android,
Computer/Laptop, and
A USB Flash Drive.
Tutorial
Here is a step-by-step tutorial:
Using your computer, download the Play Store apk from our APK section.
Connect USB flash drive to your computer/laptop.
Copy the apk file you just downloaded and paste it onto the flash drive.
Connect that flash drive to your smart TV.
Using the built-in file explorer already installed on your TV, access the USB flash drive and navigate to the folder where you have downloaded Play Store apk.
Select the apk file to start the installation process.
Once the process is completed, you should be able to find Google Play Store in the list of apps.
How To Install Third-Party Apps On Smart TV?
The procedure to install third-party apps on your smart TV is very much similar to the step I have mentioned in the previous section.
However, you may find the procedure mentioned above a bit lengthy and time consuming, so as an alternative, I will recommend you to open the Play Store on your smart TV and first install the app called Send Files To TV.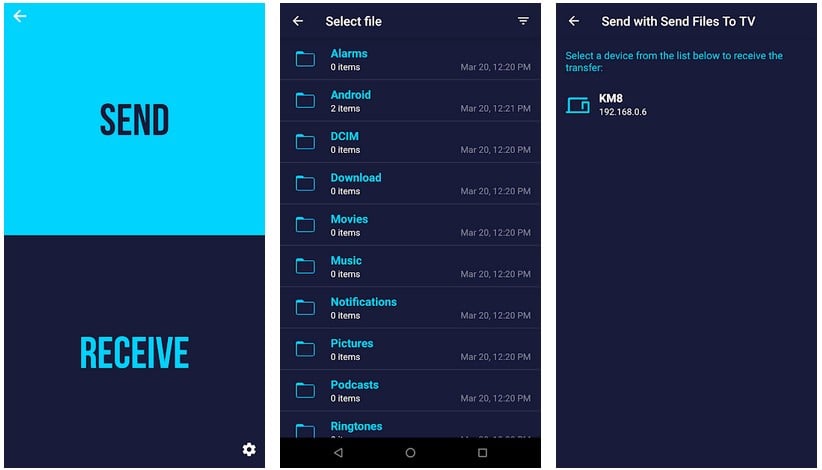 Send Files To TV is a powerful little app that makes the whole third-party app installation procedure simple and straightforward. Not only that, but you can also even send movies, pictures, music, and any huge file wirelessly to your smart TV directly from your PC or Android phone or tablet device.
Rest assured, you would no longer need to use your USB flash drive once you have this properly set-up.
Prerequisites
Things you will need for Send Files To TV app to work:
Android Smart TV,
Windows PC or Android smartphone/tablet device,
All of your devices must need to be on the same Wi-Fi network.
Tutorial
Here is a guide on how to setup and use Send Files To TV:
On your Android Smart TV, open Play Store and search for Send Files To TV.
Install the app.
If you want to transfer files from your Android smartphone/tablet device to your smart TV, then install the app from Play Store on that device. Else,
If you want to transfer files from your Windows PC/laptop to your smart TV, then download and install Send Files To TV software from SourceForge.
Once all the installation has been done. Open Send Files To TV on both devices, i.e. Smart TV and phone or Windows PC.
Then follow this guide where I am going to show you how to send files from your Android phone to Smart TV:
On my Smart TV, I will select Receive. That will open a progress screen where I will be able to track my transfers.
On my Android phone, I will select Send. That will open a "Select File" screen with all the folders on my device.
I can now select any file or even a whole folder to send to my Smart TV. Tapping and holding any item will allow you to select multiple files/folders.
Once the selection has been made, tap on the tick icon located at the top right corner.
A device selection screen will appear, tap on the device you want to send these files to.
A progress bar will appear on both devices showing the transfer progress.
That's it. Now sit back and relax. Selected files will be sent to the smart TV within a matter of minutes (depending on the file size).
Now, using this same procedure, you can quickly transfer almost any third-party apps like APK files including Kodi to your Smart TV and install it using any file explorer app.
You can even watch and stream full-length movies and TV shows on your Android TV for free without any fee using these best movie streaming apps that are similar to Kodi. And I will also recommend you get a VPN to protect yourself and your identity.
What Are The Play Store Alternatives To Install Apps?
Even though the official Google Play Store is the best out there because of better compatibility and superior security, however, there are moments when you are looking for some specific app but wasn't able to find it in the Play Store.
That's when the hunt for Play Store alternatives begins.
There are handfuls of third-party app store for a smart TV that let you install apps, but the major drawback is lack of content regulation and security issues. So I won't be responsible if something goes wrong while using any of these.
Amazon AppStore.
F-Droid.
APK Mirror.
APK Pure.
You can find a lot of third-party apps and APKs on all the above-mentioned alternative stores and install them on your Android smart TV and other devices.