Recently I was scrolling through my Facebook feed and came across a really interesting video that I wanted to share with my friend's group over at WhatsApp but there is no download option in the stock Facebook app. The only option Facebook provides is a save video option but that works more like a bookmark for later access and does not let you store videos on your Android device.
I quickly experimented with the methods to download Facebook videos that used to work back when Facebook mobile was in its initial phase. And to my surprise, most of those video downloading methods still work, and that too on Android and lets you save videos in 720p HD resolution in MP4 format as well as audio-only MP3 format to download music.
So here in this blog post, I am going to share with you the guide on how to download Facebook videos on Android along with the six alternative ways that you can use to download Facebook live and private videos directly into the gallery on your device.
7 Ways to Download Videos from Facebook on Android
Without any further ado, here I am going to reveal 7 ways, apps, and services to download Facebook videos on your Android and save it to your gallery within a few simple steps. Each of the mentioned approaches is very easy to follow and works on any Facebook video.
1 – Download Directly From Browser Without Any App or Website
Yes, you read that right. To download videos from Facebook using this method all you need is a web browser. This is the simplest, the easiest, and direct method to download videos off Facebook and any browser should work including Google Chrome, Opera, and Mozilla Firefox.
Since Firefox is my favorite browser and I use it frequently so I am going to use that here. However, the basic procedure remains the same.
Here's what you need to do:
NOTE: Facebook may ask you to log in into your account. You will only need to do that once. Since it will be your trustworthy web browser so it's safe to sign in.
Open the Facebook video you want to download, it can be in the Facebook app or the website. I am using the official app here.
Look over at the top-right corner of the video; there you should see a three-dot menu button. Tap it.

A menu will pop up, tap the Copy link.

Launch Firefox or any web browser.
In the address bar, paste the copied link and replace the www in the URL with mbasic. After modification, your copied URL should begin with "https://mbasic.facebook.com/…"

Tap go and let the page load.
Once loaded, tap on the video to start playing. A new tab will automatically open and your video will start playing.

Tap and hold onto the video, a popup will appear with an option to Save file to device or Download video (depending on the browser you are using). Tap that button.

Your browser will start downloading the Facebook video and you can find it in your phone's Downloads folder within Gallery.
That's it. You have successfully downloaded video from Facebook without any app or third party service.
What Is This Best For: Download videos from Facebook without installing suspicious/ad-supported apps; the quickest and the easiest method to save Facebook videos.
Unique Features: Works on any platform including Android and Windows; downloads high-quality Facebook videos within a few clicks; ad-free method.
Ads: No, ad-free.
2 – App: Use FastVid To Download Videos Easily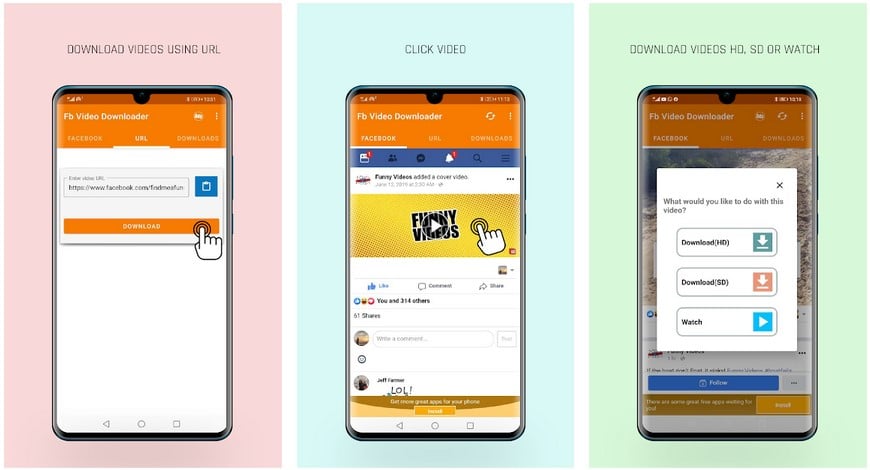 FastVid is a dedicated Facebook video downloading app specially designed for Android. The app provides you with several options to download Facebook videos and store them on your phone for sharing and storage, which could be a favorite song too that you want to add to your music player.
FastVid, unlike the other services, gives you two options to download videos from Facebook i.e. built-in browser and URL. The latter does not require you to log in to your Facebook account, all you need is a video URL and the rest will be taken care of by the app itself. However, if in case you don't have the Facebook app then you can use the built-in browser to log in to your account and download the videos directly from there within seconds.
What Is This Best For: Directly download from the official Facebook app via the share link option; directly download your favorite Facebook videos to your Android phone gallery.
Unique Features: Built-in browser for Facebook; one-click video downloading.
Ads: Yes, the service is ad supported.
2 – Website: Download with KeepVid


KeepVid is a well-known online video downloading service that helps you download videos from most of the compatible video streaming sites and social media platforms including Facebook. This web service works on both phone and computer and does not require you to log in to the Facebook account to download videos.
KeepVid has a clean interface, and on their homepage, you will see a bar where you can directly paste the URL of the Facebook video that you want to download and tap on the Go button. A download video button will appear, tap on it. The video will open, tap and hold onto the video and select the Download video option. The download will begin automatically and the video will be stored in your Gallery under Downloads album.
What Is This Best For: Download Facebook videos without logging into your Facebook account; download MP3 version of any video.
Unique Features: Works with hundreds of websites and social media platforms.
Ads: Yes, the service is ad-supported.
3 – Website: Download with SaveFrom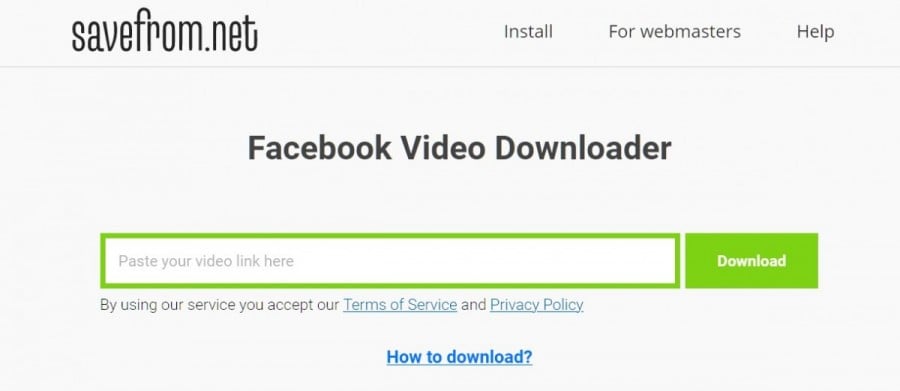 SaveFrom is a reputable video downloading website and provides native support for Facebook so you can easily download videos in high quality without installing any third-party app on your Android device. With just a tap of a button, you can download your favorite Facebook video in HD.
Here's how you can download videos through SaveFrom. Copy the Facebook video URL you want to download, open the SaveFrom website using any of your favorite web browsers, paste the copied video link, and tap download. The site will process the video and generate a download link with two qualities i.e. MP4 HD and MP4 SD. Make your selection, and tap download.
What Is This Best For: Quickly download videos from Facebook; gives you the option to choose download quality.
Unique Features: Support for a handful of video streaming sites.
Ads: Yes, the service is ad-supported.
4 – Website: Download with FBDown

FBDown has been around the Internet for quite a while now and has managed to gain quite a lot of user base and popularity among online video downloaders, especially those who are looking for a way to download Facebook videos. Interestingly, the service also lets you download live Facebook videos as well as private videos.
The usability of FBDown on Android is really straightforward. Copy the Facebook video URL that you want to download. Launch your web browser, go to the FBDown website, paste the URL into the box, and hit the download button. The page will show you a thumbnail of the video along with its duration and title. Right below those details, you will find your download links for normal quality as well as HD quality. Tap on any quality you want and the download should begin automatically.
What Is This Best For: Download Facebook live videos; shows you thumbnail and duration of Facebook video.
Unique Features: Provides a way to download private Facebook videos.
Ads: Yes, the service is ad supported.
5 – Website: Download with BitDownloader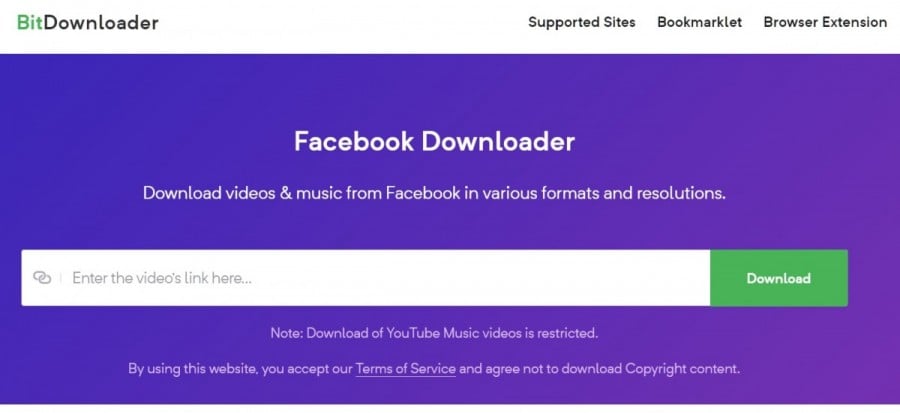 BitDownload gives you an open platform using which you can download your favorite videos and music from Facebook and easily share it on your WhatsApp status or send it to your friends quickly without scrolling through your Facebook newsfeed. The online video downloading service allows you to download videos in various resolutions and formats.
The interface of BitDownloader is quite easy to navigate around and doesn't have any learning curve. Simply copy the URL of the Facebook video you want to save on your Gallery and then launch the web browser on your phone. Go to the BitDownloader website and paste the URL you copied earlier. Tap on the download button and wait for the website to scan the video. Within a few seconds, all the information will be populated along with the title and several download links, and the file size.
What Is This Best For: Downloading Facebook audio and video of your favorite content.
Unique Features: Let you download video-only and audio-only versions of Facebook video; support for M4A audio format.
Ads: Yes, the service is ad supported.
7 – App: Use Online Video Downloader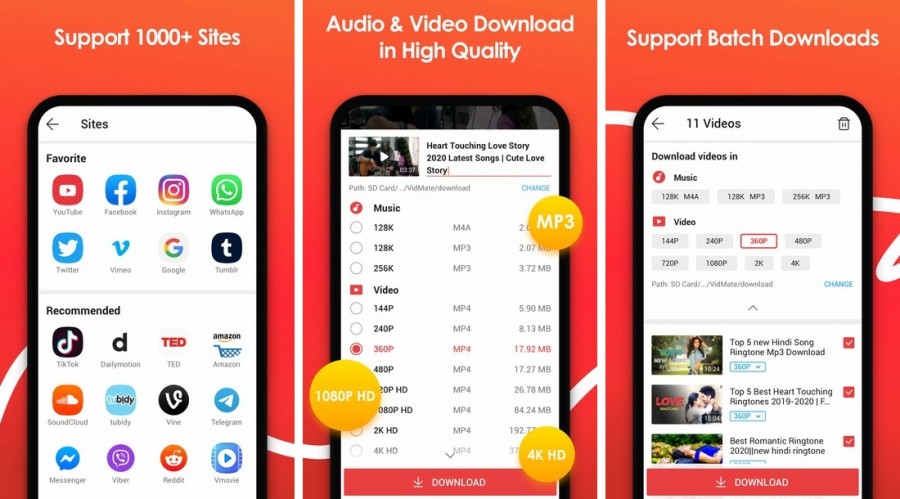 Are you still not happy with the apps and services I have reviewed above and looking for more options? No need to worry as I have already shared over 13 best apps to download videos from any social media platform and any video streaming site including Facebook, Instagram, Twitter, TikTok, and YouTube.
With the mentioned online video downloading apps, you will be able to download Facebook videos in HD and SD quality with just a tap of a button and within a few seconds, the selected video will be stored in your phone's internal storage or external micro SD card. You will also get features like batch video downloading and bookmarking for quick later access.
What Is This Best For: Downloading videos from any online video streaming sites including Facebook.
Unique Features: Download and save videos to your phone in seconds; support for dark mode; automatically detect copied Facebook link and start downloading.
We hope you got what you were looking for, if not feel free to comment, ask from Android Community or reach out to us.