Warframe is a popular multiplayer action RPG game by Digital Extremes for various platforms including PlayStation, Windows PC, Xbox, and Nintendo Switch. They even have a companion app designed for Android smartphones and tablet devices. Apart from that, in an attempt to give players some added free upgrades, easily redeemable promo codes are released from time to time.
These promotional codes can be used by any player to instantly receive free in-game items like glyphs, skins, weapons, boosters, and other decorative items. The majority of these codes are either offered in collaboration with brands or distributed free through the official social media channel.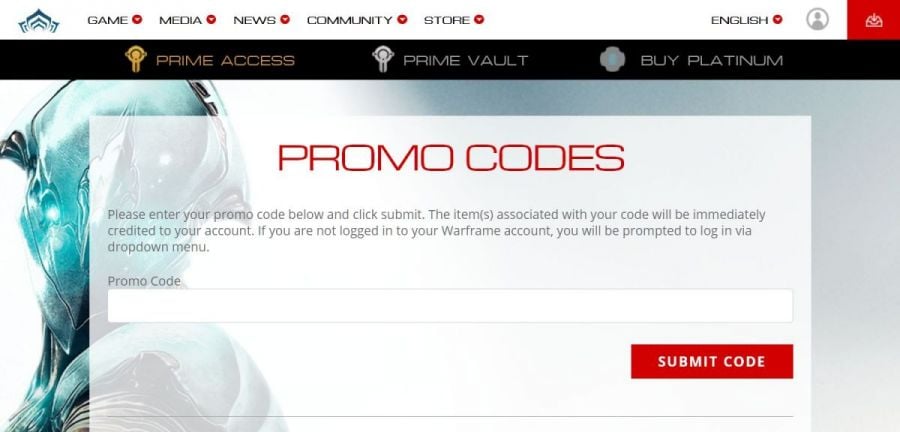 Active Promo Codes for Items and Glyph
How to Redeem Promo Codes?
Warframe has created a dedicated page on their website to redeem codes and receive free items directly into your account.
It's a really simple process. Here's how:
Open the official Warframe Promo Code webpage.
Make sure you are logged into your account.
From our codes list, type the code you want to redeem into the given box.
Click on the "Submit Code" button.
If the code you entered is still valid, the free item or glyph should be visible in your account.
Since there are so many codes, so in order to make the whole process easier and save you time, we have added a redemption link right next to the promo code. Clicking on it will take you directly to the promo page and then all you really need to do is hit the submit code button.
One thing that is important to note here is that if any new promo code is released then the game update is released as well to introduce that new item. So in case you are unable to redeem any code then we will recommend you make sure your game is updated to the latest version. Once verified that you are running the most up-to-date version, you can then try to submit the promo code again.
Warframe Platinum Promo Codes
Platinum promo and discount codes for Warframe do not exist anymore. There is a referral program and you can get a free Warframe platinum discount, only about ten percent of the amount they spent if they have used your referral link to join.