Do you ever want to have a bird's-eye view of all the active Pokémon GO gym raids happening in your area as well as information about their raid bosses without actually visiting the gym?
If your answer is yes, then the list of active gym raid maps, trackers, scanners along with invites to the Discord server/channels mentioned in this article will help you quickly track, scan, and raid almost any gym from all around the world. All within a matter of seconds.
There are hundreds of map based Pokemon GO gym raid finder and scanner that will help you track and show when and where raids are taking place as well as who is their raid bosses. All of these are live raid maps and shows raids in real time. But we have tested and tried each one of them and mentioned the working ones only.
Using the tried and tested trackers and discord channel services we have mentioned below, you can find gym raiding coordinates and hot spots to carry out group raids and work together as a virtual team to take down extremely powerful big boss Pokémon.
If you are interested in sniping then we will recommend you to check out our ultimate discord channels snipe list for rare and legendary Pokemon in any part of the world.
In case you are wondering where to find coordinates for gym raids, then you should look into the discord channels/servers list section below, which is exactly where people usually share the raid coordinates, spoof together into that location, and snipe god tier Pokemon.
Anyways, we guess all the above information is enough to get you started with raiding so let's dive right into the working Pokemon GO gym raids trackers and discord channels invite links. 😉
This is an old blog post and no longer being maintained.
Pokemon GO Gym Raids Maps/Trackers/Scanners with Filters
The heading makes it pretty obvious, but for those of you who are here for the first time, in this list, you will find all the currently working Pokémon GO raids finder and scanners that are solely based on the map and even allows you to filter the gyms and raids depending on their levels:
You can even find legendary Pokemon eggs and filter them using these powerful live maps.
PoGO Alerts Network Live Gym Raids Maps (For U.S.)
PoGO Alerts Network is actually an exclusive network of the live gym and raids scanning maps for different regions and selected areas of United States of America. The network currently comprises of over 19 real-time maps that support scans for gyms, raids, and even Pokémon located within those regions.
Maps for the selected nineteen USA regions include 7 areas of Virginia:
Richmond,
Hampton Roads – North,
Hampton Roads – South,
Northern Virginia & DC,
Roanoke Valley,
New River Valley,
Central Virginia.
2 areas of Maryland:
Baltimore,
Montgomery County.
2 areas of Colorado:
Denver Region,
Front Range Region.
6 areas of Florida:
Broward,
Miami,
North Florida,
Palm Beach,
Gulf Coast,
Tampa Bay.
And one for Texas and New York each:
Dallas, Texas.
Westchester, New York.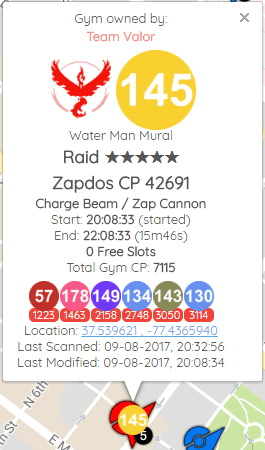 If you are in any of the above-mentioned localities then you can access the maps by visiting the link given below to quickly find active gym raids in your favorite states.
Link: https://pogovaalerts.us/
---
RaidPass Raid Tracker Gym Raids Map
RaidPass is a dedicated gym raids tracker map service available for most parts of the world. It continuously scans for active raids and allows you to filter the results using the minimum and maximum raid boss levels i.e. level 1, 2, 3, 4, and 5.
You need to remember that the level 5 raid boss will be a legendary Pokémon and the most powerful enemy Pokémon. Whereas the lower level raids will have either normal or rare type Pokémon boss.
The active raids shown on the map provides you with detailed information about each raid battle, including:
Name and type of raid boss,
CP (Combat Power) of raid boss,
Strength of the boss Pokémon,
Coordinates of the raid,
Last scanned and last modified time,
Estimated time left for the raid to end.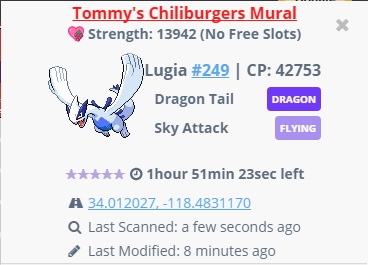 RaidPass live raids map is highly popular for areas like Santa Monica Pier, Long Beach, Los Angeles, Norwalk, Anaheim, Ontario, Pomona, Chino, Sacramento, and Gosford.
Link: http://raidpass.com
---
GymHuntr Gym Raids Map – Worldwide
GymHuntr is one of the most popular and widely used Pokemon Gen 2 trackers that allows anyone to scan and track Pokemon gyms in any part of the world, all in real time. Right after the release of gym raids, the Gym Huntr tracker service received an update to include active raids and help you keep track of all the regular as well as legendary raids around your area.
You can find all the information related to the scanned gyms including raid boss name, its CP, what is the raid level, for how much time the raid is still active, and other relevant details. Moreover, you can even get the exact directions of the gym as well as check the gym history to see how it has been performing in the past.
You can use the search bar to quickly navigate to your locality and easily gather updates about active gym raids.
Link: https://gymhuntr.com/
---
NYCPokeMap – New York City, United States.
The NYCPokeMap is specially designed for those Pokémon GO trainers who live in NYC or are traveling in the New York City area. So if you are within this zone and looking for active gym raids then this gym tracker facility will help you in finding all the gyms.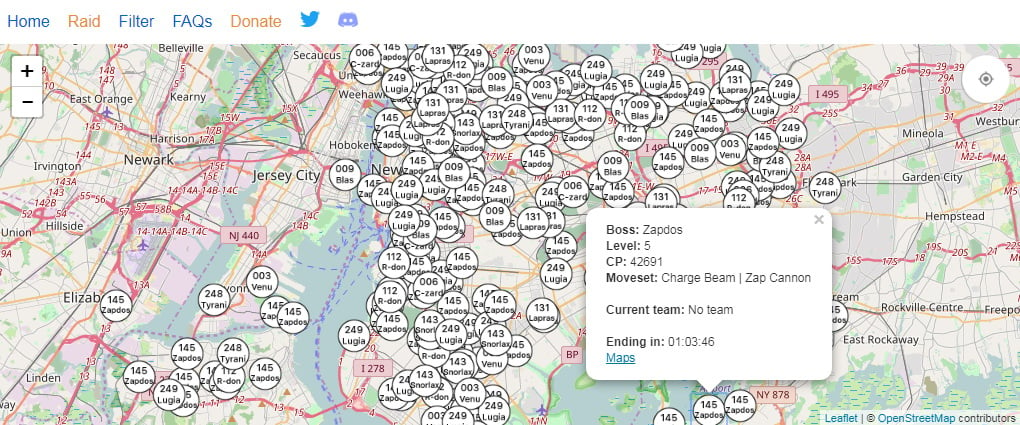 You can use the filter option to discover gyms based on your preferences, which includes several options with check boxes to enable/disable gyms and filter out the ones you are hunting for like:
Team Specific Options: Mystic gyms, Valor gyms, Instinct gyms.
Show/Hide: Gym Eggs, Gym Boss.
Option To Display Gym Based On: Level 1, Level 2, Level 3, Level 4, Level 5.
It doesn't matter if you are at the Rockefeller Center or crossing the Brooklyn Bridge, this gym map will help you actively track every raid in all parts of NYC.
Link: https://nycpokemap.com/gym.html
---
BostonPogoMap – Boston, MA.
BostonPogoMap is for you if you are somewhere in the capital city of Massachusetts, U.S. And looking for gym raids to catch legendary Pokemon and raid boss with your favorite team members.
This working gym raids tracker will help you filter out the raids based on your personal preference like the level of gyms and the current team by whom the gym is currently occupied. Once filtered, you can then easily click through the gyms located on the map and find some important key figures i.e. name of the boss, total CP of the boss, its move set, and the ending time.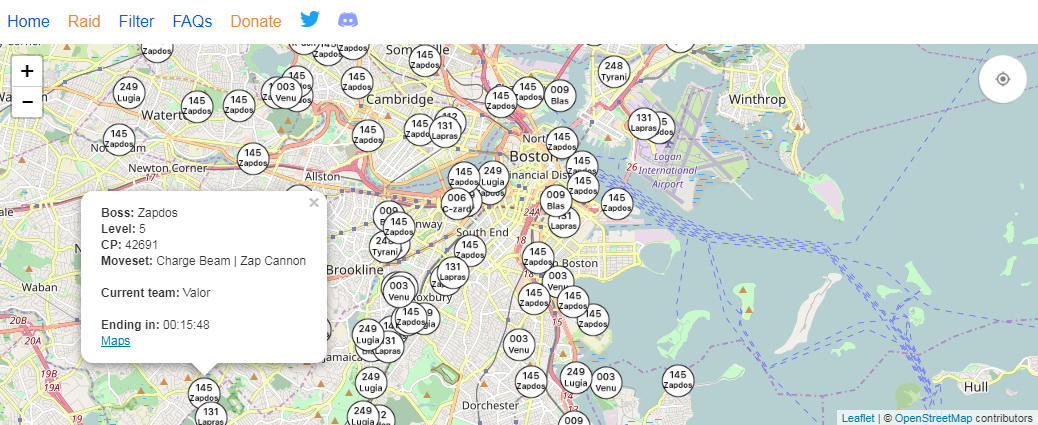 Whether you are in the Public Garden or walking through the Fenway Park or in any part of the city, you can use this BostonPogoMap to find all the currently active raids and their whereabouts.
Link: https://bostonpogomap.com/gym.html
---
VegasPokeMap – Las Vegas & Spring Valley, Nevada.
VegasPokeMap is designed for all the gym raids happening within the area of Las Vegas and Spring Valley. You can easily swipe through the map, check through all the raids, and select your targeted gym based on the information provided.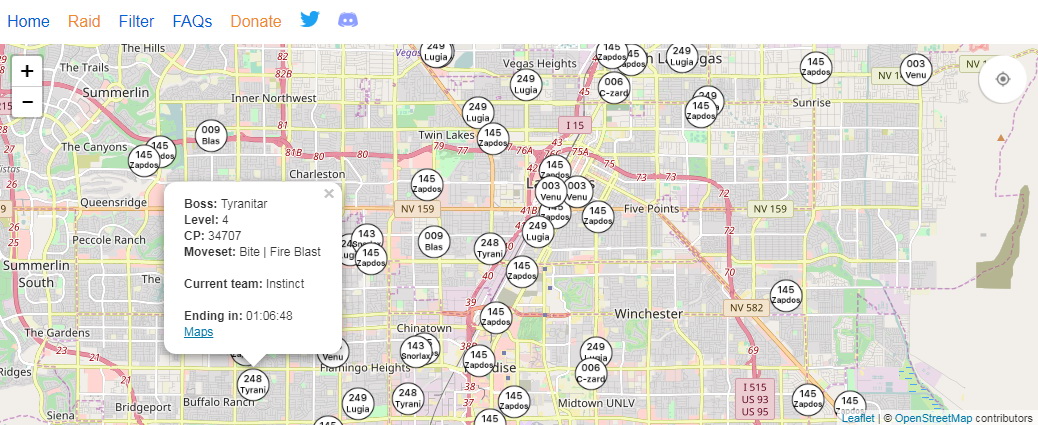 Similar to other maps, you can use filtration and checkboxes to show/hide eggs, bosses, and level of the gym on the map.
So if you are traveling through the four-mile long Las Vegas Strip or maybe you are nearby Bellagio Resort and planning to watch the fountain show, simply head over to the link below and find all the currently happening raids.
Link: https://vegaspokemap.com/gym.html
---
PhillyPokeMap – Philadelphia, PA.
PhillyPokeMap covers most parts of the Philadelphia, Pennsylvania apart from some of the remote and less populated areas. But the majority of Philly is covered. Right from the center of Benjamin Franklin Bridge and all the way to the Fairmount Water Works as well as other historical places like Washington Square and the Liberty Bell Center. The map works without any problem.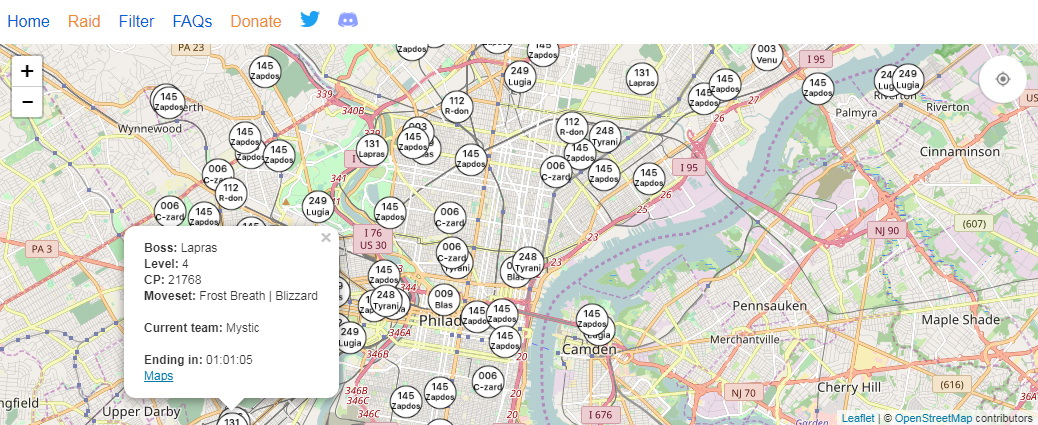 The gym raids categorization option work flawlessly, it will surely help you in finding the gyms that have active raids, and you can shortlist the gyms based on the bosses and their CP level that matches the combat powers of your Pokémon and have the ability to take a boss down.
Link: https://phillypokemap.com/gym.html
---
LondonPogoMap – London, England.
LondonPogoMap is very popular among the Pokémon GO trainers for catching rare and legendary Pokémon as well as gym raids because it covers most parts of the London and remains active without much downtime.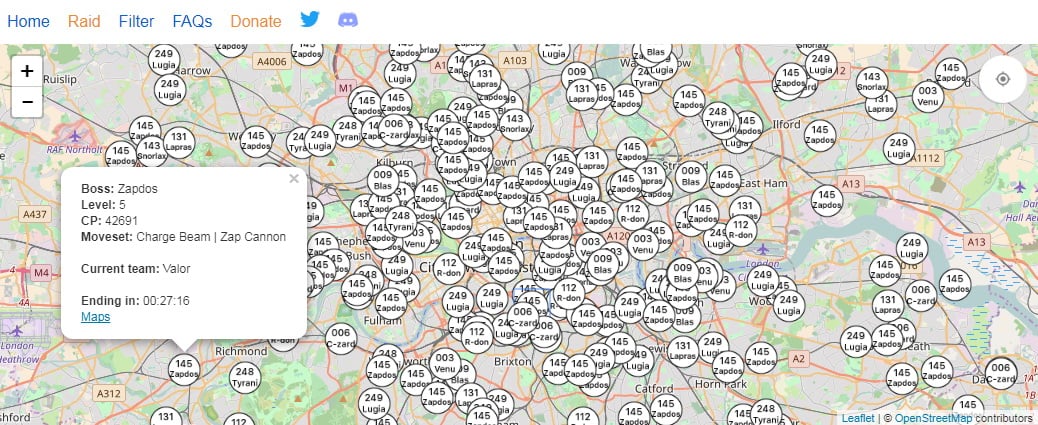 After the release of gym raids, these localized maps and trackers has started to gain traction because trainers find it easy to filter out the gyms based on their liking and ability to take down the raid bosses. Moreover, you can also use built-in filters to see more/less of eggs, bosses, and active gym raids on the interactive map.
Whether you are going to the London Eye to observe the stunning city or planning to visit the iconic Big Ben clock, remember to keep a tab on LondonPogoMap's gym raid section for all the active raids.
Link: https://londonpogomap.com/gym.html
---
MelPogoMap – Melbourne, Victoria, Australia
Are you from the capital city of Victoria? Or maybe you are spending your holidays there? If yes, the gym raid map featured in the MelPogoMap will help you find all the active Pokémon raids around the Melbourne within a split of a second.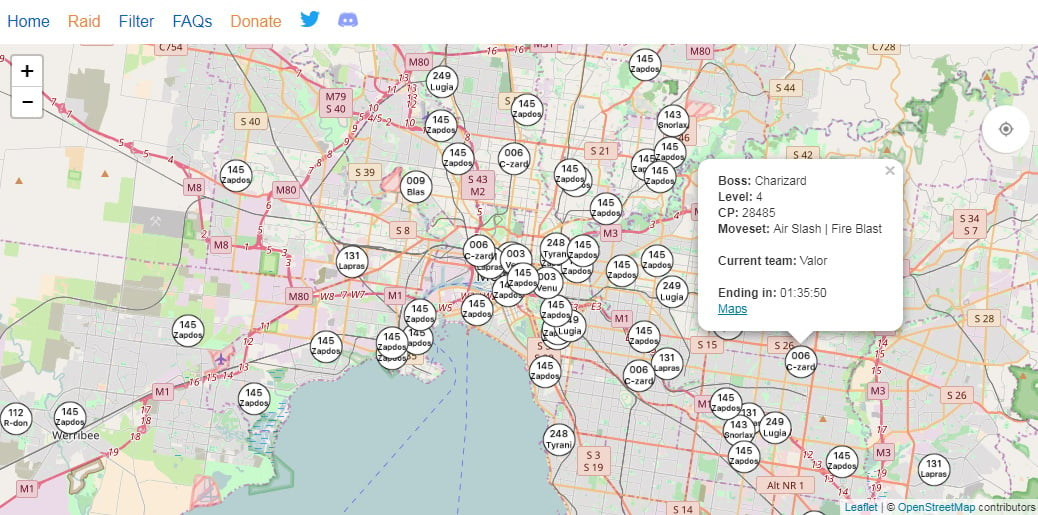 The map has a capability to detect your location using your phone's GPS and then it will automatically show exactly where you are on the map. You can then find all the nearby gyms as well as known their time of activity by clicking on them.
The filtration tab will let you enable and disable the aspects you want to see/hide on the map like eggs, bosses, levels of raid bosses.
Link: https://melpogomap.com/gym.html
---
SydneyPogoMap – Sydney, New South Wales, Australia
SydneyPogoMap is a localized map for Pokémon GO players who are in Sydney, which is one of the largest cities in Australia and capital of New South Wales. If you are wandering around the city or taking a tour and don't know much about the areas then this map will help you in finding all the whereabouts of gyms as well as active raids.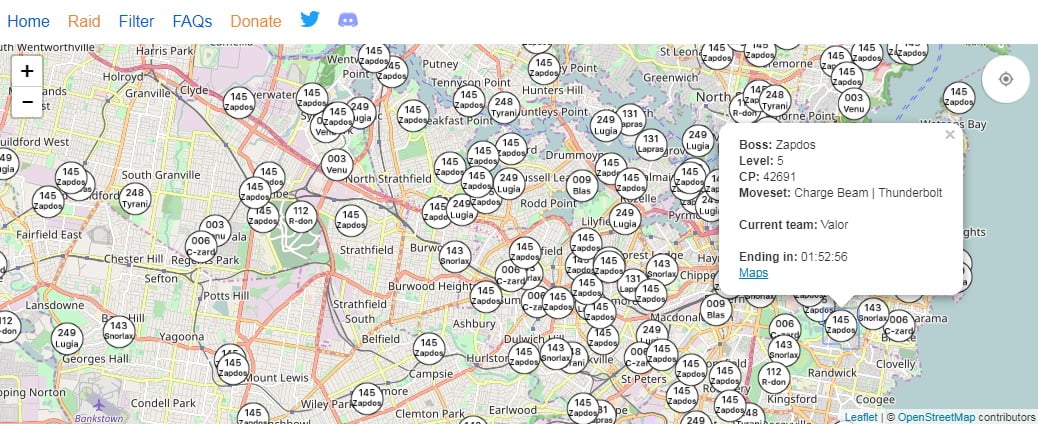 All you need to do is open the link, tap on the locate me button, it will then detect your location and show where you are on the map. You can then use filters to see specific types and levels of raids.
Link: https://sydneypogomap.com/gym.html
---
BrisbanePogoMap – Brisbane, Queensland, Australia
BrisbanePogoMap is for Brisbane city of Australia located on the Brisbane River. The theme of the map is similar to the others mentioned on the list and works in the same way.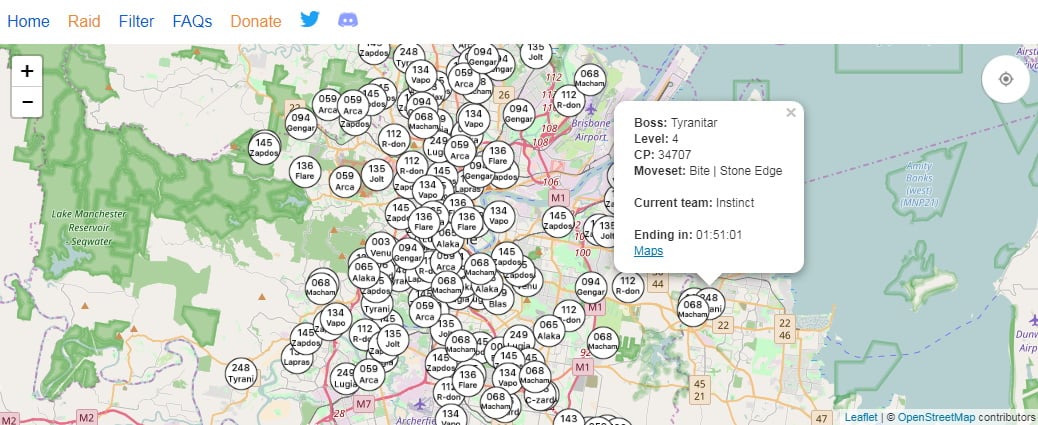 It doesn't matter where you are in this modern and vibrant city, this dedicated BrisbanePogoMap will make sure you are able to find all the Brisbane raids happening around you within no time.
Link: https://brisbanepogomap.com/gym.html
---
SGPokeMap – Singapore
Are you visiting Singapore and planning to raid gyms for Pokémon but don't know the exact location of gyms? Don't worry, the SGPokeMap cover the whole Singapore and will show you almost all the available gyms and active raids based on your custom filters.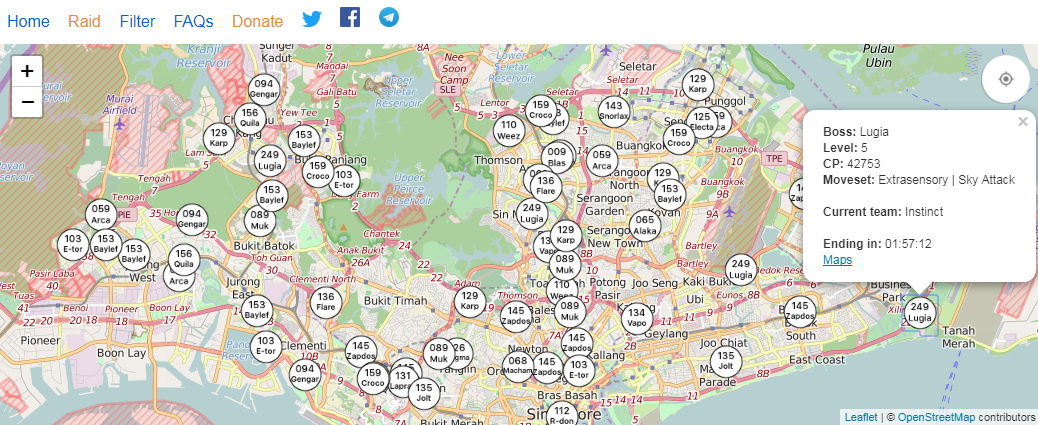 Once you have found the one, you can then take its location and share it with your friends and battle in a group with a precise strategy to successfully take down the raid boss.
Singapore is a large city and has a huge urban community so most of the areas along with their respective gyms are highly active and people are mostly playing Pokémon. So you might find it hard to get free spots for the battle.
Link: https://sgpokemap.com/gym.html
---
SeoulPokeMap – Seoul, South Korea
SeoulPokeMap is a well known and the only local raids location map for the capital city of South Korea. Based on your team and liking, you can use the real-time map to find Valor gyms, Mystic gyms, and Instinct gyms. You can further narrow down the results by boss eggs and boss levels.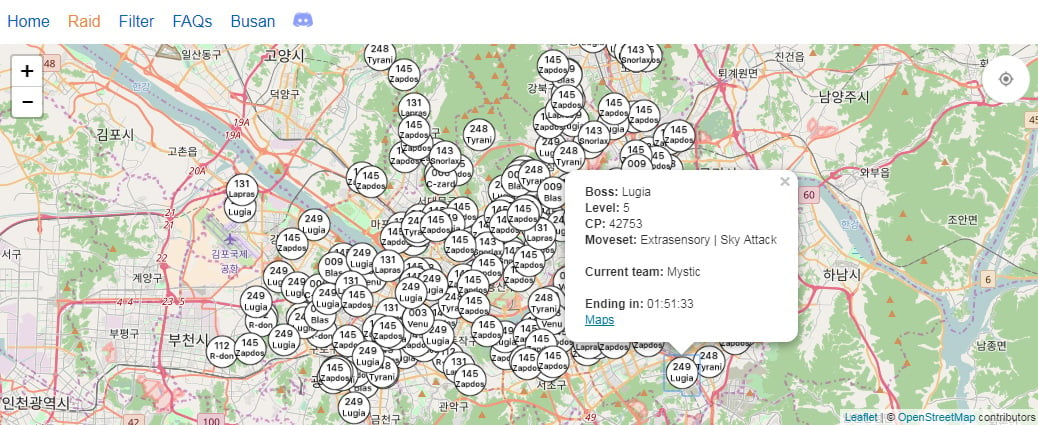 Once you are satisfied with the results you can then select the nearby gym and begin the raid battle along with the several other raiders to beat the god tier Pokémon.
You can access the gym raids map for Seoul from the link below.
Link: https://seoulpokemap.com/gym.html
Pokémon GO Gym Raids Discord Channels
This separate list is for invitation links to the Pokémon GO related Discord channels and servers where you can find all the Pokemon and gym raids related stuff including a dedicated raid channel and use this to participate in raids as a group, find Pokemon coordinates for activate gym raiding, and can even chat with fellow Pokémon trainers.
Following is a list of Discord servers and their short description followed by an active invitation link:
NOTE: In case any link is not working then feel free to ask for a working link in the comments section below.
Pokedex100
You may not know but Pokedex100 is the most active server for catching Pokémon and taking part in the group gym raids in any part of the world. Because of all that, this server has two channels for raids i.e. "raid_leaders" and "raid_requests".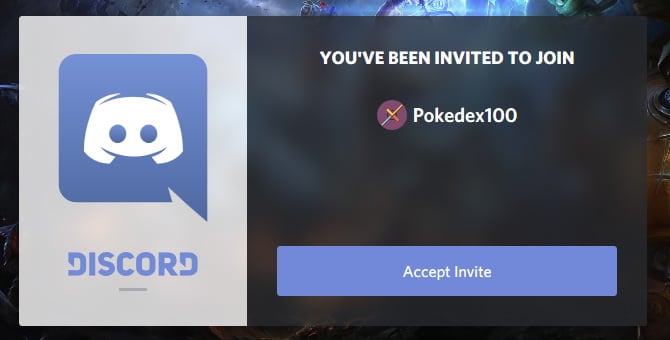 Raid Leaders channel is for those trainers who are leading the raid and the Raid Request channel is where you can request other members to join you/other for the active raid.
Pokedex100 Discord server has over 2000 to 2500 active members, making it the most active Pokemon discord server in this list.
Invite Link: https://discord.gg/R6XBpnr
---
Pokesnipers
Pokesnipers is a popular server among Pokemon snipers but recently after the latest battle updates to the gym system, the server has gained traction among spoofers to take part in the raids.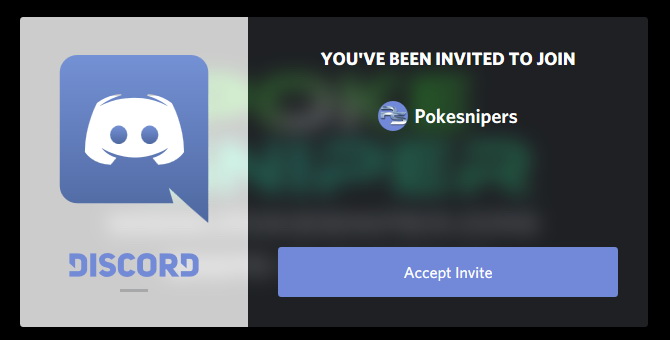 If you join the discord then the channel named "legendaryraidcoords" is the one you should look for because there are several different channels on the server. You can use this exact channel to find raid bosses and legendary raids coords as well as join others using the coordinates shared by them.
Pokesnipers usually has around 1700 to 2300 active members at any given moment.
Invite Link: https://discord.gg/T2MakRF
---
100IV Club
100IV Club has a channel name "raidz-coords" where you are free to find and share gym raids coordinates, and you can even join other fellow Pokemon trainers to take part in a group raid.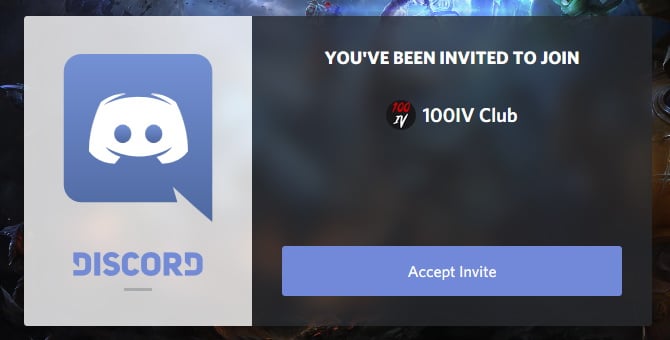 The channel allows you to chat with others about currently active raids and plan the battle before jumping into the raid.
This Discord server usually has about 900 actively online Pokemon players at any given moment.
Invite Link: https://discord.gg/5zGpNY3
---
PokeGO++ 2.0
PokeGO++ 2.0 is actually related to Pokemon tweak for iOS devices but it has a very active Discord server and recently they created a separate channel for raids where you are free to share raids coordinates and chat with fellow Pokémon players to battle with raids bosses.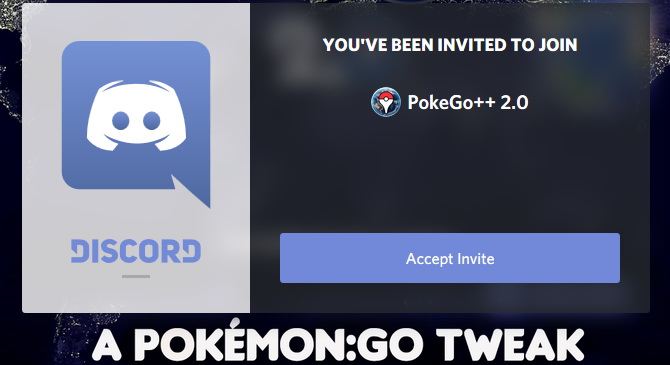 The channel name is "raids" and you can join in from the invite link given below.
In the PokeGo++ 2.0 server, there's between 1500-2100 members are usually online and participating in various channels.
Invite Link: https://discord.gg/u7RBPbC
---
PokeBot.Ninja
PokeBot.Ninja was formed to gather Pokémon GO bots users in one place where they can get into discussions and find coordinates for Pokemon, nests, and sniping. But now it also features a channel for raids i.e. "coords_raids".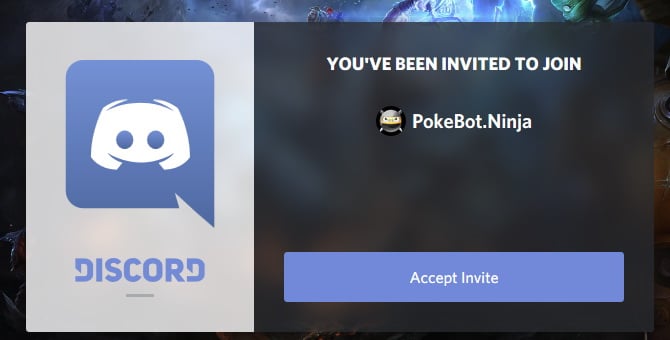 You can join this server and head over to coords_raids channel where you will find members sharing the coordinates of active gym raids along with its relevant details like remaining time, location, team name/color as well as a number of people currently participating in the raid.
The server has between 800 to 1200 active Pokémon GO players, depending on the time you are visiting.
Invite Link: https://discord.gg/5EGMzF3
---
PokeXperience
PokeXperience server is perfect for someone who is into gym raids as here you are going to find a never-ending stream of raids coordinates along with the people who are constantly taking part in local raids.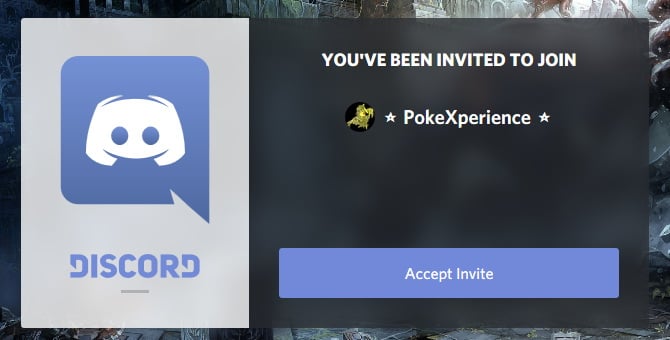 This server has three channels for raids including "raids_coords", "raids_masters", and "raid". You will find latest raid updates in all 3 of them.
In the PokeXperience you will find about 900 to 1500 active players from all around the world who are either sniping Pokemon or participating in group raids.
Invite Link: https://discord.gg/2uZjpm6
---
Catch 'Em All
Catch 'Em All is a popular discord server where members and bots share coordinates for Pokemon as well as gym raids around the clock. And then teleport to that location using spoofing apps like Fly GPS and GPS JoyStick. Since it is not a localized server, you are going to find request and discussions of raids from a different part of the world.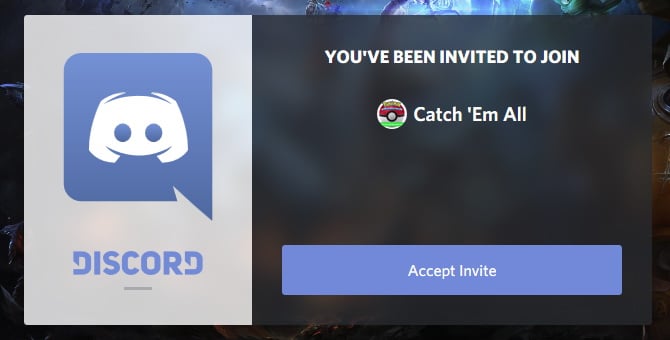 On the "raids_channel", you can chat and get in a discussion with the active members to be able to join them for the upcoming raids, depending on yours and their cooldown time.
Catch 'Em All has somewhere between 500 to 800 active Pokemon GO members.
Invite Link: https://discord.gg/mAz9dQT
---
Articuno's Lair
Articuno's Lair is another active Discord server among Pokémon GO trainers where you can find active raids and discuss it with other players. To keep things organized, the server moderator has created a dedicated channel for gym raids with a name of "raids".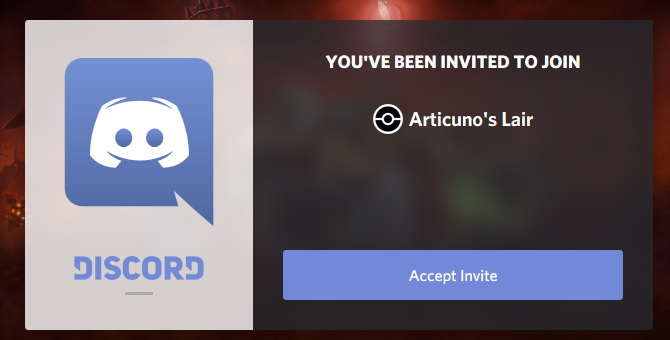 You can easily go to that channel to find coordinates for raids and join other fellow players in a group battle with bosses.
At the time of writing, the Articuno's Lair discord server has about 150 to 300 online members.
Invite Link: https://discord.gg/BZRhwcT
---
NYCPokeMap
As the name of the server suggests, the NYCPokeMap is a localized server where you will the majority of locals who lives in the New York City. There are two channels for raids i.e. "raid" and "raids-chat".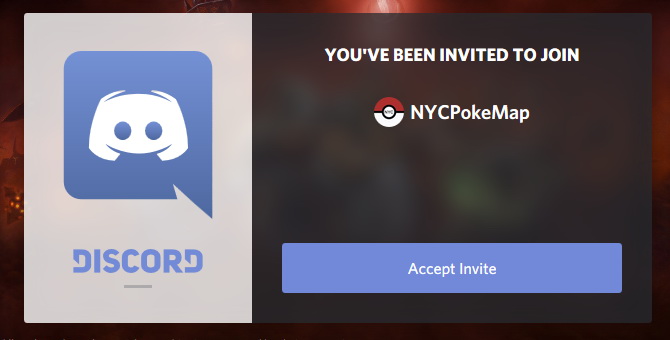 The Raid channel is where bot will share coordinates of active gym raids along with the relevant details like a raid boss, CP, moveset, team name, and start/end time. Whereas the Raids Chat channel is where you can chat with others to plan battles.
This server has 200 to 500 Pokémon GO trainers online who are busy in raiding or catching Pokemon by using the coordinates shared by the Discord bot.
Invite Link: https://discord.gg/TPBgsSA
---
HoustonPokeMap
If you are a Houston local or maybe you are planning to spoof to Houston for gym raids then the HoustonPokeMap discord server will be very much helpful for you because you will easily be able to get in touch with locals and join them for group raids.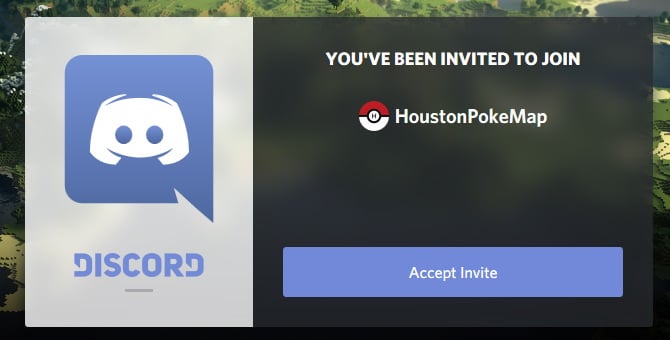 The members of this server do not usually share the coordinates but you will be able to chat with them and ask for the gym raids and plan the battle to take down a raid boss.
As far as numbers are concerned, the server has somewhere around 150-300 online members. But that figure frequently fluctuates based on the time as the server is specifically for locals.
Invite Link: https://discord.gg/RQNA6XW
Conclusion
There you have it. This may not be an ultimate list for gym raids trackers and discord channels for Pokémon GO but it does have all the active services that are still operational which you can use to track raids or even chat with the fellow trainers and join them for a legendary raid boss battle.
Do you know any other active raids scanners or discord servers I should have included in the list? If you use any specific service for gym raids then don't forget to share with our readers and us in the comments section below. 🙂