Do you want a smart and universal remote controller that will let you control your TV, set-top box, home entertainment system, and other electronic appliances with your smartphone? Download Peel Smart Remote for your Android phone/tablet devices and make it your universal remote.
Peel Smart Remote is a simple app that aims to transform your Android smartphone or tablet device into a TV remote. In a nutshell, the app makes use of IR (Infrared) Blaster equipped in your device to transform your device into a universal remote controller and help you unfailingly control your television set, set-top box, Blu-ray player, DVD player, Apple TV, heater, air conditioner or any other appliance that can be controlled with the IR blaster.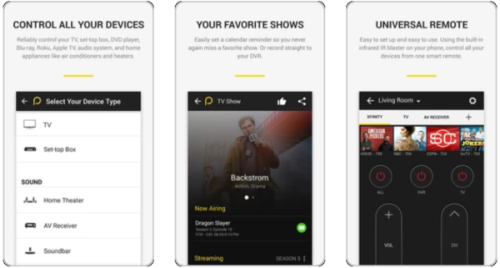 It is important to note here that if your Android smartphone or tablet device is not equipped with the IR blaster then you will not be able to use any of the Peel Smart Remote features.
Key Features
Here we have discussed some of the key features of the Peel Smart Remote app for Android:
Your Personal Program Guru
What sets Peel Smart Remote apart? Well, not only does it control your gadgets remotely, but it's also a mind reader for your entertainment taste!
Picture this: the app suggests you some tailored program lists based on what you love to watch. It's like having a personal assistant for your binge-worthy moments.
Never Miss a Beat with Reminders
Oh, and the forgetful days? They're history! Peel Smart Remote lets you set reminders for your favorite shows, ensuring you are always on top of your watchlist.
No more "Wait, what day is it again?" moments. Plus, it's not just about the shows you already love; the app goes the extra mile by recommending shows from Netflix, HBO, and other streaming services.
Your Phone, Your Remote
Imagine having the power to command any device with your phone. Peel Smart Remote makes it happen. Create your dream list of favorite channels, and navigate through content effortlessly – all with the swipe of a finger. It's like having a universal remote, but cooler and right in your pocket.
Other Features of Peel Smart Remote for Android
Peel Smart Remote is a feature-rich app for Android devices as it offers you the following functionalities:
Universal Remote Control – The Peel Smart Remote app works as a universal remote controller for all the remote-operated appliances you have in your household and lets you control each one of them right from your smartphone.
Easy Setup – Setting up your smartphone with Peel Smart Remote apk and adding new appliances is very simple. Select the appliance type, choose the manufacturer, and then select a model number from the list.
Easy To Use – Once your selected appliances are successfully added to the app, you can quickly pull up the saved remote from the list and control your desired appliance.
Reminder For Your Favorite Shows – The app allows you to set a calendar reminder for your favorite TV shows and movies, and reminds you of it so you will never miss another show.
Easy To Find Favorite Channels – The Peel Smart Remote app is customizable and lets you switch to your favorite TV channels and TV shows with just a tap on a button, which makes it easy for you to find where your favorite channels actually are.
Visual TV Program Guide – Since it is a smart universal remote controller it works as a visual TV program guide and helps you find up-to-date program guides and TV show listings by personalizing the app and syncing it with your streaming device or cable provider.
About Peel Smart Remote
The Peel Smart Remote app is designed and developed by Peel Technologies and provides native support for more than 400,000 devices. And if any case your desired appliance is not on the list of predefined devices then the Peel Smart Remote app will help you add that device manually within a matter of minutes so you don't have to spend time searching for a remote again.
With massive support for devices, this mobile app can easily replace all of your home electronics and appliances' remote controls and makes your smartphone the only remote controller you will ever need to control all of those devices.
Peel Smart Remote apk is more targeted towards TV users as it provides tons of features like searching your favorite TV shows by genre, finding a detailed description of the episodes, and seeing exactly at what time and on which channel it will be aired. You can even find the TV schedule for each channel right on your smartphone, without even turning on your TV. ;)