Are you in search of a reliable and trustworthy free VPN proxy app that can help you in maintaining anonymity while browsing the Internet securely on your Android device? Or maybe you want to unblock blocked website/content? Hotspot Shield will be the best solution if you are in any of these scenarios.
Hotspot Shield is a popular free VPN app, which is created by a company named AnchorFree. It helps you in hiding your real identity behind the shield and gives you private, secure, and unrestricted access to the Internet.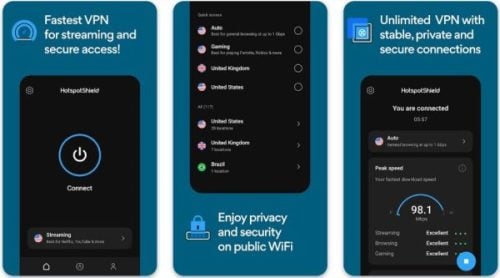 Continue reading, as here you will be able to download the Hotspot Shield APK for your Android phone and tablet as well as find relevant information about how this VPN proxy app works and what the benefits are…
Features of Hotspot Shield
Hotspot Shield is a feature-rich mobile app for Android devices. It allows you to:
Conceal Your Real IP Address – Whenever you go online, there is always a risk of someone spying on your sensitive data. Hotspot Shield VPN hides your real IP address and assigns you a new US-based IP address.
Secure Online Activities – Hiding your IP address alone can secure your online activities because hackers, spammers, or snoopers will not be able to identify your real location, which provides you with secure and private connectivity to the Internet.
Protect From Malware – There are many unsecured websites infected with malware and malicious content and some are phishing and spam websites, this is where Hotspot Shield's built-in security feature automatically detects and blocks those sites from infecting your phone.
About Hotspot Shield for Android
Hotspot Shield for Android is designed to create an encrypted Virtual Private Network (VPN) and then route all the Internet traffic of your mobile device through that VPN proxy server that hides your real IP address to make sure your identity is protected and you can browse the Internet securely and privately while remaining online anonymously.
However, usage of VPN is not only limited to protecting one's online identity, many Internet users opt for Android VPN apps too because they want to access specific content, information, or website that has been restricted in their county. And then there are other Internet users who are scared that someone might be snooping on the information being accessed, those users use Hotspot Shield VPN service as an added layer of security to secure online activities.
Whether it is a mobile device or computer, setting up an average VPN proxy requires you to go through complex and lengthy configurations. But there is a reason why Hotspot Shield has become the favorite VPN app for many. Because it is simple and easy to use for anyone and does not require technical knowledge. Just one tap on the button and the connection will be secured.
All you really need to do is download and install Hotspot Shield APK on your Android device, open the app, and tap on the button. That's how simple it really is.

Benefits of Hotspot Shield
Apart from offering you protection for your privacy from snoopers and allowing you unrestricted access to geographically blocked content and websites, here are some of the most notable benefits of using Hotspot Shield on your Android device: