Here we have included the 10 best calendar apps that are suitable for Android smartphones as well as tablet devices and will keep reminding you about your important events and appointments ahead of the time without any delay.
#1. New Calendar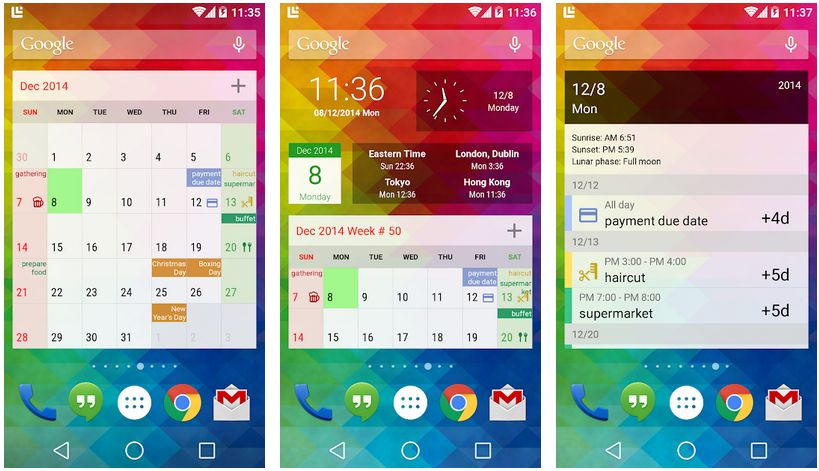 New Calendar is one of the most simplified, user-friendly, and includes some of the most common calendar functionalities that will enable you to manage your schedule while helping you keep yourself organized and productive. The plus point of this app is that you can even sync it with your existing schedules stored within the Google Calendar.
The app provides you with several calendar views, including daily, weekly, monthly, and yearly. And you can even search for all of your scheduled events using the built-in search feature. You will also get a To-do list as well as time for every city in the world, which will make it easier for you to schedule foreign events.
Pros
Support public holidays for more than thirty regions.
Voice reminder functionality.
Support over ten different widgets.
Cons
#2. Month: Calendar Widget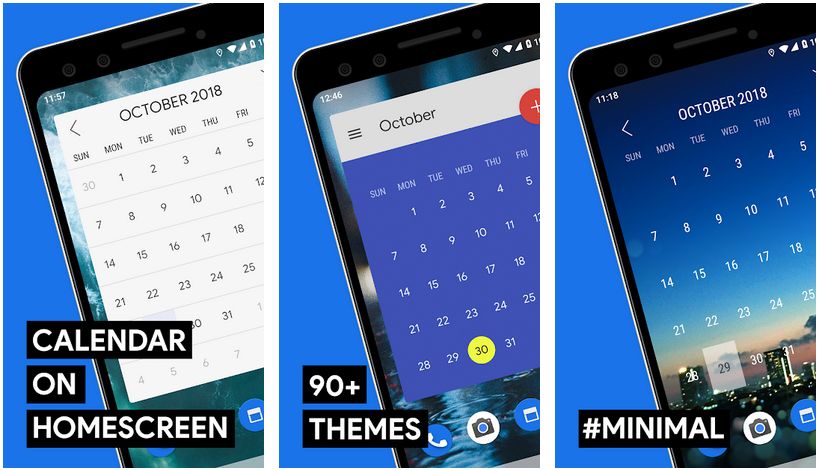 As the name of the app itself suggests, Month: Calendar Widget is simply a widget app that provides you with quick access to calendar and agenda to keep track of your daily schedule right from the home screen.
Since it is a basic widget app, it contains over eighty exceptionally designed modern and beautiful widgets. And the widgets are perfectly designed so that it can integrate seamlessly into any home screen layout.
Pros
Sync with Google Calendar.
Access your schedule and to-do list right from the widget.
Cons
Does not include some basic calendar features.
Additional widgets need to be purchased individually via in-app purchases.
Contains ads.
#3. Business Calendar 2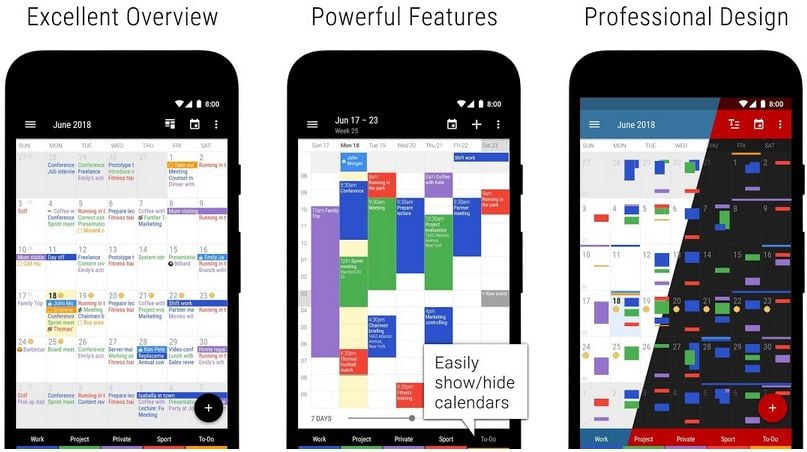 Business Calendar 2 is one of the most powerful calendar apps that are fast and easy to use and provides you with access to weather, tasks, and widgets. There are different calendar views, including month view, week view, day view, and agenda, so that you can keep track of your day-to-day tasks.
The app provides you with numerous functionalities, including a custom reminder functionality for each event with several choices such as days, hours, and minutes. The user interface is well designed. There's also an option that lets you assign your choice of color to the event to make it easier for you to distinguish.
Pros
Offer over twenty-two themes and seven widgets as well as more than fifty customizable widget options.
Feature to move and delete multiple events at once.
Provide access to pro features via in-app purchases.
Sync events with Google Calendar and Exchange.
Cons
Some worthy features have been removed from the app.
#4. aCalendar
aCalendar is the most simplified, effective, lightweight, and classic-styled calendar app that is developed by a team of developers based in Germany. Just like any other calendar app, you will have three overview options, i.e., month, week, and day.
Once you have installed the app, it will synchronize with your Google account and will then display all the available calendar events automatically. And because it connects with your Google account, you can easily create an event and associate it with the relevant contact. You can use different types of reminders to make sure you don't miss an important event.
Pros
Assign your event a unique color.
Swipe function to quickly move forward and backward.
It can be upgraded to the premium version to remove ads and add additional premium calendar features.
Cons
The free version contains occasional ads.
#5. DigiCal Calendar Agenda
DigiCal Calendar app makes it easy for you to schedule and review your events. It has a great, intuitive, and straightforward design that provides a clear overview of all the events, allows you to copy and paste events along with the unique ability to customize the calendar according to your personal tastefully.
The app gives you easy access to the calendar while making it simple for you to manage events and appointments. You can assign a different color to a different event. And it can sync all of your events stored in Google Calendar, Microsoft Exchange, and Outlook.
Pros
Over six different calendar widgets.
Material design, along with a dark theme for nighttime usage.
Provide in-app purchases for DigiCal+ premium version with innovative features and no advertisements.
Cons
Contains ads.
Less frequent updates.
#6. Jorte Calendar, Personal Planner and Diary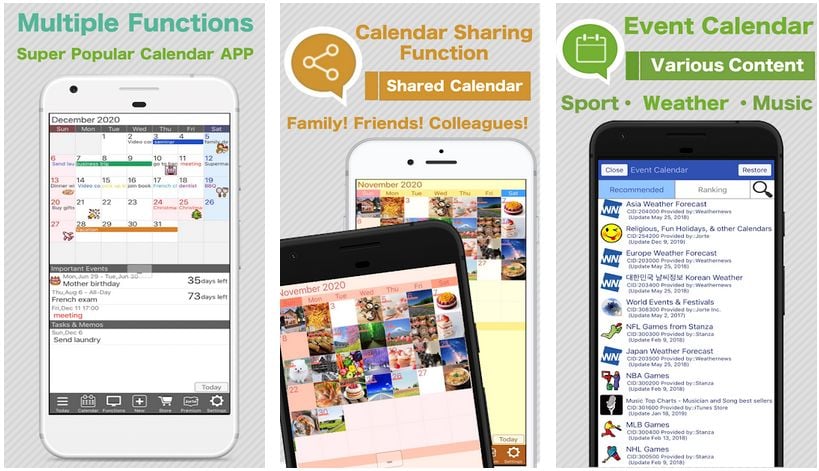 Jorte is not just a calendar, but it is also an organizer app that has a pleasant looking, a natural calendar that will fulfill all of your scheduling and organizing needs. You can easily use it for both businesses as well as personal events.
The app provides you with a wide variety of widgets so that you can keep track of your events right from the home screen. The app has the capability to sync with numerous calendar services, task managers, and note apps, including Microsoft Office 365, Google Task, Google Calendar, Evernote, and several others.
Pros
Receive frequent updates for bug fixes and improvements.
One of the most highly customizable calendar apps.
Have an in-app purchases option that allows you to remove ads and add premium features.
Cons
Contains ads.
Several features that were being offered for free are now premium.
#7. Google Calendar
Google Calendar is the official calendar app for Android phones, and most probably, you are not satisfied with this app, which is the reason why you were looking for the best apps. However, many Android phones do not come preinstalled with Google Calendar. And if you are one of those, then I will recommend you to try this app.
The reason is that the official Google Calendar app is well integrated with other Google apps like Gmail and Google Now. So let's suppose you have received an email about your flight confirmation or hotel reservation, the Google Calendar app will automatically add that to the events list.
Apart from that, the app works pretty well with Microsoft Exchange too!
Pros
Receive frequent updates for bug fixes, performance improvements, and new features.
No ads.
Cons
The interface of the updated app might look clumsy and cluttered.
#8. Cal – Calendar + Widget
Cal is basically a combination of both Calendar and Widget, and both of them will help you keep an eye on your schedule so that you can accomplish more in a day. The interface is clutter-free, and there are no complicated steps between you and your agenda.
The sync feature supports both Google Calendar as well as Microsoft Exchange. It even allows you to naturally merge both event types, business and personal, in one place. In contrast, the Android home screen widget will allow you to review your day without even opening the calendar app.
Pros
Contains over nine photo-based themes.
Reach your event location faster and easily with built-in support for Google Maps, Uber, and Waze.
No advertisements.
Cons
Less frequent updates.
The developer usually never responds to the issues.
#9. SolCalendar
SolCalendar will help you to get yourself strikingly systematized and stay on track and ahead of your schedule. It allows you to manage your tasks and time during your busy day effectively. The built-in weather forecast system will keep you updated on the weather changes every day.
The best feature of SolCalendar is that it allows you to synchronize and manage all of your calendars in a single app, including Google Calendar, Microsoft Exchange, iCloud, Yahoo! Calendar, and any other calendar service that supports CalDAV.
Pros
All-in-one solution to manage multiple calendars.
It is frequently updated.
Contains no ads and no in-app purchases.
Cons
The developer doesn't usually respond to the user's issues.
#10. Tiny Calendar
Tiny Calendar is a hashed version of Google Calendar and Apple's iOS Calendar. The developers have taken all the most exceptional features from both apps and have merged them into their apps. They have also designed their app in such a way that it gives you increased control over your entire schedule.
To serve the event tracking purpose well, developers have included over seven different calendar views along with some unique widgets that give you daily, weekly, monthly, schedule as well as mini month view of your calendar. Moreover, the app has a unique 'drag and drop' function that allows you to move events in a matter of seconds.
Pros
Drag and drop feature.
Sync calendar events between multiple platforms.
Ability to add and edit events while offline.
Ads can be removed by purchasing the Tiny Calendar Pro version for $5.
Cons
Contains ads.
Some features require polishing.
Which Calendar App Is Your Favorite?
It does not matter which app you use on your Android phone. What matters is that it should suit your requirements, fulfill your needs, and help you to keep yourself organized.
Do you have any favorite calendar apps? Please share with us your views and opinions in the comments section down below. We would love to hear about them! 🙂