Are you in search of a SimCity BuildIt mod apk for Android phone and tablet devices with unlimited SimCash, Simoleons, NeoSimoleons, Golden Keys, Platinum Keys, money, and coins? You have come to the right place as here I have a working SimCity BuildIt hack latest version that works on every Android device without root.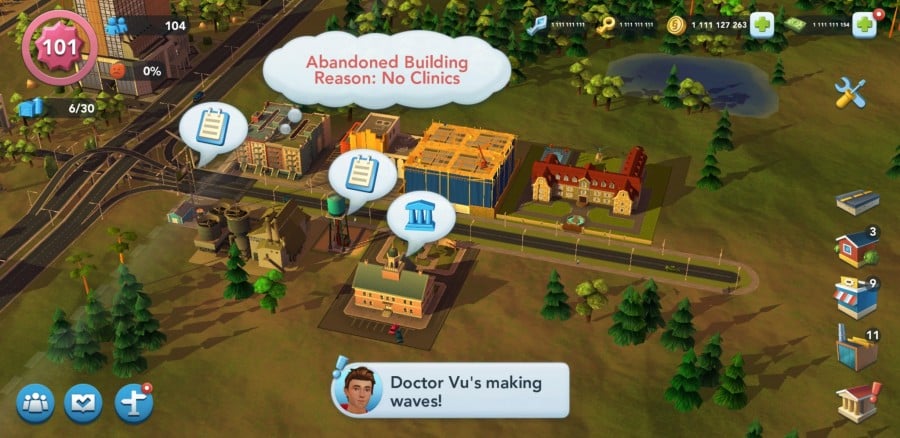 How To Install the Mod
IMPORTANT: Installation of the SimCity BuildIt mod version will remove all of your existing save game progress. I will recommend you make a backup of your save game before proceeding with the installation.
The SimCity BuildIt mod apk installer provided here contains modified SimCity BuildIt apk, Data (OBB), mega mod, and save files. To be able to properly install and run the SimCity BuildIt mod apk on your Android phone/tablet device, you need to follow these simple steps:
If you have the original SimCity BuildIt app already installed on your phone then first you need to uninstall it.
Download the SimCity BuildIt mod apk from the link given below.
On your Android phone, you need to enable the option that allows the installation of apps from unknown sources.

Start the installation of the SimCity BuildIt Mod Installer apk.

Once installed, the installer app will appear on the home screen. Simply tap on it and the installer will automatically begin extracting and preparing all the required files for the installation of SimCity BuildIt mod on your Android phone.


When all the files are extracted, you will see a prompt asking you to install an update to the existing version of SimCity. Tap on the Install button.

Once successfully installed, you will see the SimCity icon on the home screen. Do NOT launch the game yet.

First, you need to turn off both, WiFi as well as Mobile Data connection. Your device should NOT be connected to the Internet.
Now launch the SimCity BuildIt game. After loading, you will see the screen that says, "Mayor, your city has not been online for 3 days. Please connect to the internet to continue."

This is when you need to close the game and turn on the Internet connection.
Now install the InternetGuard app from the Google Play Store or use this link.

Once installed, launch InternetGuard and tap on the toggle button located at the top-left corner to enable InternetGuard.

A popup box will appear about traffic filtration and VPN setup. Tap on the OK button to continue.

A connection permission request popup window will appear. Tap on OK to allow.

The battery optimization guide window will pop up now, asking you to remove InternetGuard from Android battery optimization. Watch the on-screen tutorial and tap on the OK button.

Now, once you have entered the Battery Optimization section on your Android device, use the search bar to search for InternetGuard and then tap on the toggle button to disable battery optimization.

Now, go back to the InternetGuard app and use the search bar to search for SimCity.

Tap on the WiFi and Cellular Data toggle buttons to disable the internet connection for the SimCity game.

Now, leave the InternetGuard running in the background and launch the SimCity game.
A loading screen will appear. Wait for a while.

Now, SimCity will show you a message that says, "Your offline progress will be saved to the server when you reconnect." Tap on the OK button.

You can now start playing the modded SimCity BuildIt game with unlimited resources, money, cash, Golden Keys, Platinum Keys, Simoleons, NeoSimoleons, and SimCash.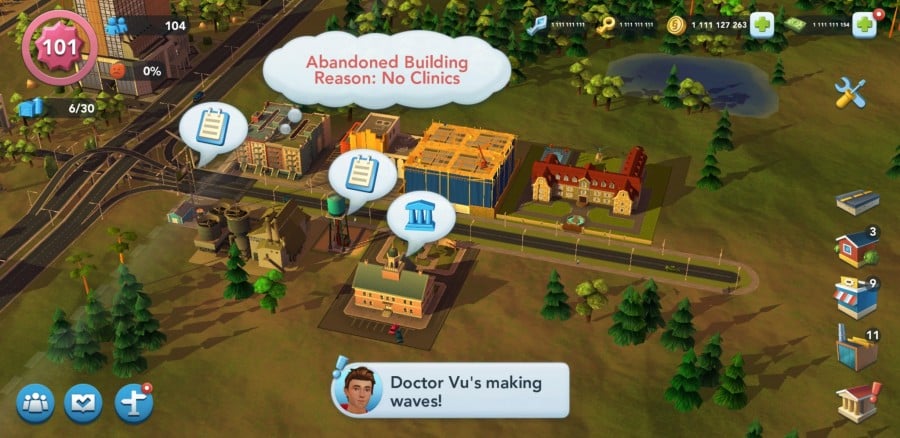 Since it is a modified game and having active internet connectivity could crash the game, whenever you want to play the game again you need to turn on the InternetGuard first and then launch the game. Otherwise, the game will not run and you will be stuck in SimCity BuildIt connecting to the server screen.
Have fun! ;)
Features of SimCity Mod APK
SimCity BuildIt mod apk for Android has certain key features that make it easy for everyone to enjoy the modded version of the game with all the functionalities enabled from the beginning:
No Root Access Required – This version of the mod does not require you to have a rooted Android phone/tablet device.
Connect To Facebook – Even though it is a modded version, you will still be able to log in and connect to your existing account and sync your SimCity BuildIt game progress.
Unlimited In-Game Resources – You will get unlimited Golden Keys, unlimited Platinum Keys, unlimited Simoleons, unlimited NeoSimoleons, unlimited SimCash, unlimited coins, unlimited money, and unlimited cash so you can purchase whatever you want.
Already Constructed Buildings – Most of the buildings are already constructed and upgraded to their highest level.
Full Happiness Level – Your city will have a 100% happiness level.
Omega Buildings – All the buildings and resources are upgraded to the omega level.
Massive Population – Your city will have a population of a whopping 8 million.
Demo Screenshots of SimCity BuildIt Mod
I have attached some screenshots of the SimCity BuildIt mod in action so you can see what you will get in the modified version of the game.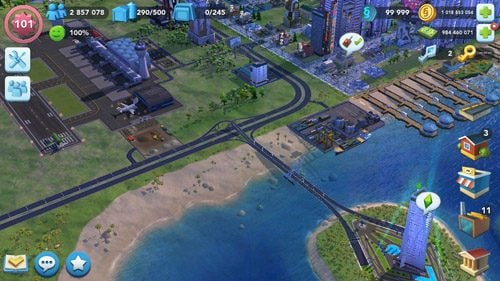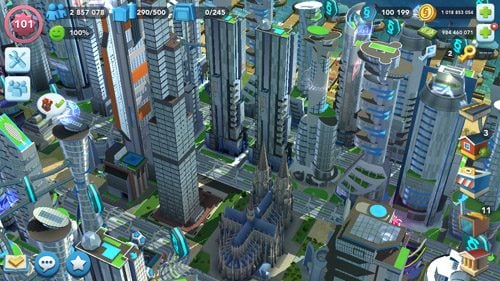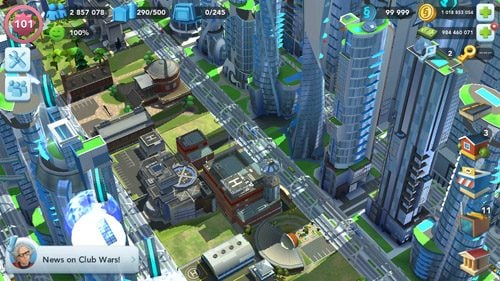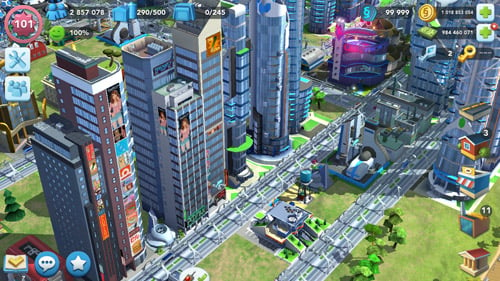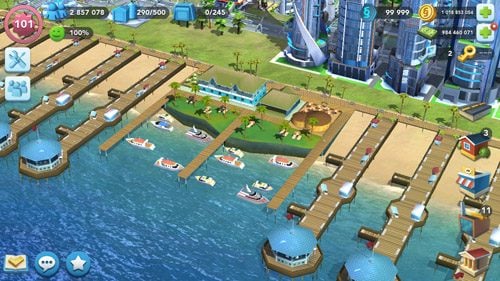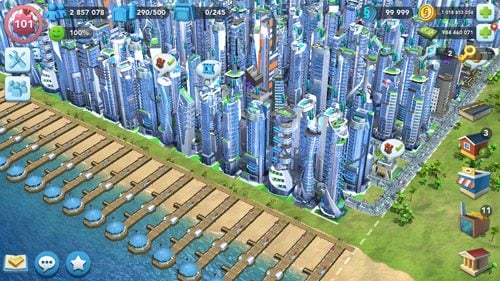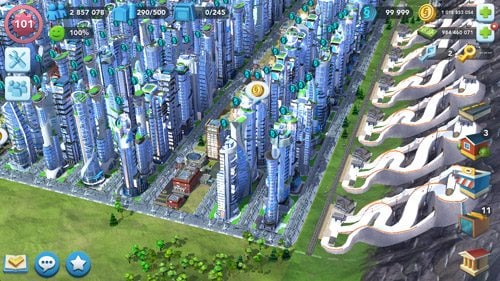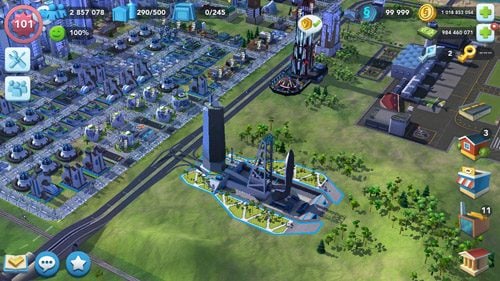 About SimCity BuildIt
SimCity BuildIt is an Android variant of the popular computer game SimCity by Electronic Arts. It is a free-to-play game and includes in-app purchases if you want to speed things up by spending real cash/money.
The key element of the game is to build the city of your dreams, where you are the mayor and completely responsible to create and design the city that people love. You need to make smart decisions to keep your citizens happy.
The game has three main zones i.e. residential, commercial, and industrial. Each zone has its own set of buildings and each building can be upgraded to higher levels, which increases its revenue generation, population, as well as their impact on its surroundings.
As your city starts to grow, you need to make sure that your citizens are receiving all the required services that include power, sewerage, water, and waste management. Apart from those necessities, you are also responsible to provide the residents with services like police, fire, health, and CNet towers.
There are five in-game currencies i.e. Simoleons, SimCash, Golden Keys, Platinum Keys, and NeoSimoleons. All of these can be earned or purchased (depending on the currency type) and can be used to purchase buildings, upgrade resources, or perform other in-game purchases like trading or shipment.
That is all about the intro to the game. Now I will tell you about the features along with the installation of SimCity BuildIt mod apk on Android phones and tablet devices…