Developed by UCWeb (a subsidiary of Alibaba), the UC Browser apk for Android is one of the most popular web browsers among smartphone and tablet device users. The simplistic interface and the presence of added features make it one of the most trusted browsers among users. Features like feature controls, support for voice commands, download booster, and PiP mode.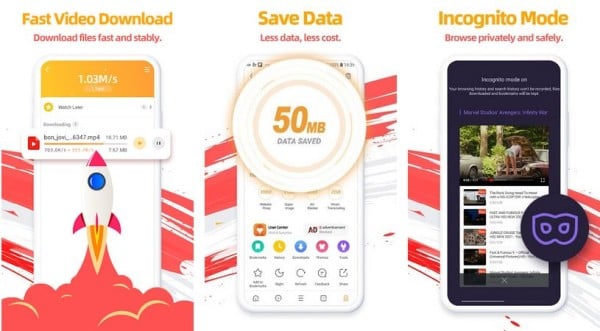 How to Install UC Browser Mod APK?
The installation is easy, simply follow these steps to install the UC Browser mod apk on your Android smartphone or tablet device:
Note: You may need to enable the installation of apps from unknown sources through the Android security menu to be able to sideload/install the app.
Download the UC Browser apk file from the download section located at the beginning of this post.
Tap the apk you just downloaded.
Follow the onscreen process to install the app.
Once it is installed, locate and launch the app from the app drawer. You should be able to enjoy all the features we have mentioned in the next section including the ability to experience enhanced web browsing, boosted downloads, and adblocking.
What's Modded in UC Browser?
Here are the modded features in the UC Browser mod apk:
YouTube Video Downloading: You can download videos from YouTube through the full-screen video player mode.
Tab Limitations Removed: There are no limitations on the number of tabs so you can open as many tabs as you want.
Removed Popups: If you have used UC Browser then you must have noticed popups in the video player that says, "Share videos and win money." This popup has been removed.
Modify User-Agent: You can easily change the user agent of the browser to the one that suits you well.
Removal of Unnecessary Processes: Most of the unnecessary processes that consume processing power in the background have been removed to make the app efficient and less resource-hungry.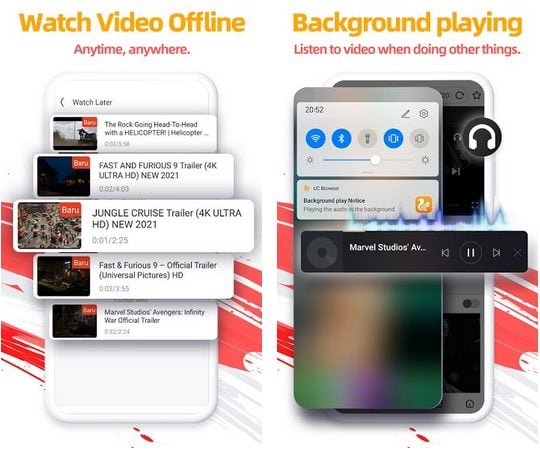 Features of UC Browser
UC Browser is a feature-rich app for Android smartphone and tablet devices users; however, here we have highlighted some of the most prominent features:
Enhanced Web Browsing Experience: The latest version of UC Browser is powered by a U4 engine that improves the performance and web browsing experience by over twenty percent including the improvement in connection speeds, video streaming, overall stability as well as better storage management.
Night Mode: Also known as Dark Mode, it is designed to make the bright white-background page easier for you to read especially in those scenarios when you are in a room with a dim illumination, which causes less stress to your eyes.
Ad Blocker: Comes with a native ad blocker that helps you block intrusive advertisements that usually disturb you while you are browsing a page that is filled with countless ads especially popup banner ads and forced full-screen ads.
Picture-In-Picture Mode: If you watch any video on the web browser then the browser will allow you to minimize the app and let you enjoy the video in small PiP (Picture-In-Picture) mode while you can use any other app on your phone.
Speedy Downloads: When downloading videos or any other file through UC Web Browser you will experience faster downloads as the browser uses its own servers to boost downloading speeds while stabilizing downloads. Another plus point is the option to resume downloads if in case the connection is interrupted.
Data Saving: The browser has a built-in compression that compresses data and the whole web page elements including scripts and images, which in turn saves your cellular network data from being exhausted.
Dedicated Videos Section: There is a separate videos section in the browser that allows you to watch TV series as well as enjoy full-length movies. The section has a categorization for anime, short clips, humor, films, and several others.