We have reviewed the best alternatives to FaceTime for Android to help you with making and receiving video calls on your Android phone and tablet.
All the video calling apps mentioned here provide you with group video calls as well, which can help you with family and professional virtual meetings.
We have outlined the key pros and cons of each alternative option for Android that can help you make a better decision about the app you need.
One of the major prebuilt and most popular apps FaceTime comes pre-loaded on almost all Apple devices. A solid iOS-based app offering video calling solution for almost every Apple user using iPhones, iPods, Macs, and iPads. Which is the reason why you are here looking for an alternative to FaceTime for Android.
In this blog post, we have shared a detailed review of the best FaceTime alternatives along with the pros and cons of each of them so you can read and decide the best app for your video calling needs to connect with your loved ones.
#1. WhatsApp Messenger (Best Option)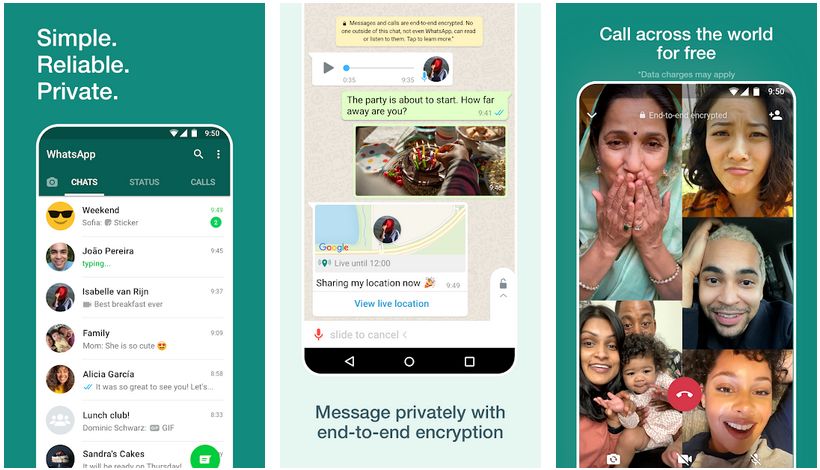 WhatsApp has become a basic necessity for us and is used worldwide for sending and receiving texts, audio, video calls, and sharing media files. It's one of the best alternatives to Facetime. This app gained its popularity through fast text messaging services and media sharing options. And the same is now widely used among smartphone users.
WhatsApp is well known for its speed and stability, with regular updates and improvements. It also gives you the liberty to back up your chats to the cloud or your phone's local storage. So you do not miss out on your chats/media while switching the device.
WhatsApp is secured with end-to-end encryption and all the conversations are stored on your device locally instead of on servers. The app also allows you to send group messages, and you can create a group for up to 256 people.
WhatsApp allows you to make video calls along with the group calling capability where you can have a video call with up to 4 persons and talk to them simultaneously. To call someone using this service, you just need to have the phone number of that person, which is registered with the WhatsApp service.
The service is highly efficient despite its popularity and a huge number of users. And the good thing is that you don't need to install any additional app or add-on to be able to use it for video calling.
Pros: Fast and highly stable, receive frequent updates, widely used.
Cons: To be able to call someone through WhatsApp, you just need to have their phone number registered with the service.
#2. Facebook Messenger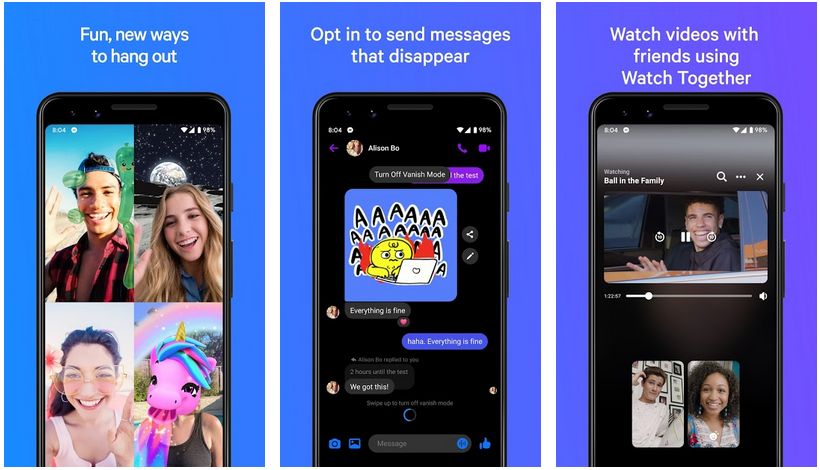 Facebook Messenger is also one of the most popular apps being used these days. It allows you to send and receive text-based messages, exotic stickers, media sharing as well as audio and video calls. You can use it as an alternative to Facetime.
In comparison to the other similar video calling apps, Facebook Messenger does not require you to have a person's phone number to call them. You can simply add the person using their username and start calling.
Facebook Messenger also offers a group video calling feature that allows you to video call, multiple persons, simultaneously. You can have a video call with up to 6 persons at a time, along with a group voice call with up to 50 persons. Which makes it one of the good alternatives to FaceTime on Android devices.
Moving forward, the app has Augmented Reality stickers that help you interact in a more personalized way over a video call. You can also log in to multiple Facebook accounts and manage each of them using a single Android device. Also, all the conversations and media files are stored on Facebook servers, so it does not consume any space on your cellphone.
Pros: Consumes less space on the device, allows you to add up to six persons for video call
Cons: Requires a faster internet connection.
#3. Skype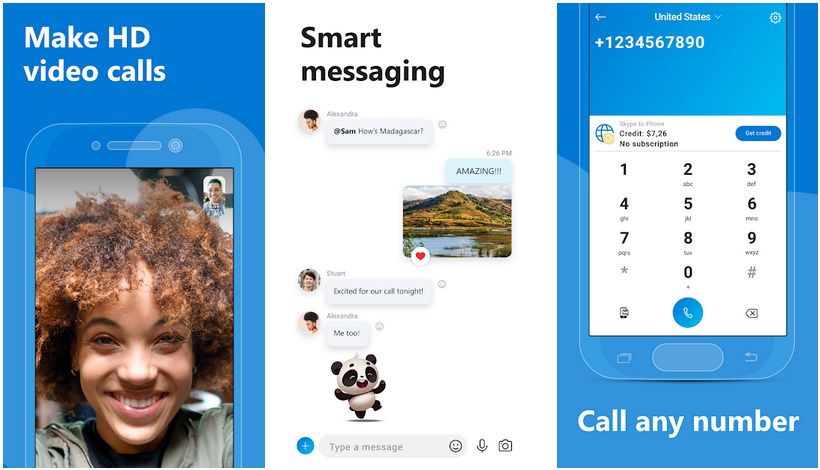 Skype is one of the oldest and most stable solutions for chats and video calling. Due to its stability, the service is being used by most businesses and other organizations that require various mediums of communication between their employees including video, verbal, and text, and it even helps in file sharing.
Skype is a cross-platform app that allows you to communicate with the other Skype users without any bounds of the platform you both are using, including Android, iOS, Windows, or Mac.
Skype has a group video call feature, and it allows you to add up to 25 users in one video session, which makes it one of the most suitable solutions for someone who is looking to have a group calling with more people.
Some other noticeable features include media and document sharing, through which you can share files with other users; and screen sharing options that allow you to share your computer screen with the other person over a video call.
Pros: Skype is highly stable and allows faster communication; over 25 users can be added in a single video call session.
Cons: Skype consumes comparatively more processing power than its competitors consume; the app tends to get slow at times.
#4. Viber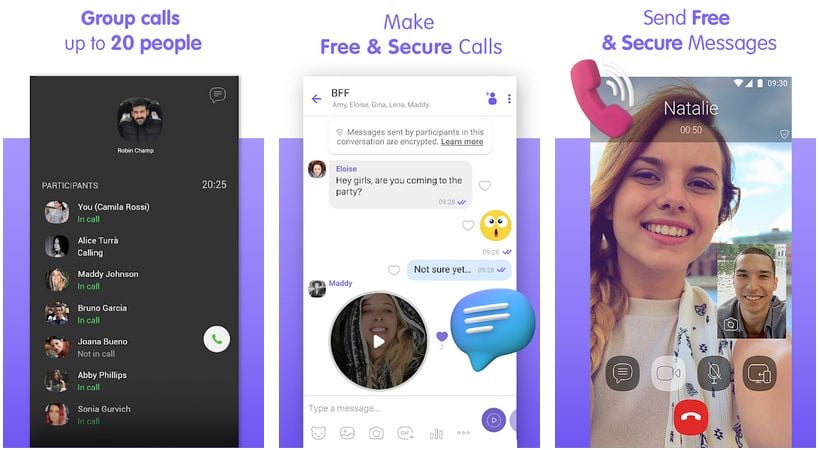 Viber started to gain popularity as a voice messaging service provider and became quite famous for its vibrant and eye-catching stickers. Over the span of time, they introduced the video call option as well for its users.
Viber has a minimalistic interface that enables fast communication and ensures lesser lags in calls. It is fairly lightweight on the processor and consumes relatively less battery power to work.
The only drawback is that Viber does not support group calls as of writing. And you are only allowed to initiate a video call with one person at a time.
So if you are not looking for an app to make group calls, and all you require is a communication app with a smooth and simplistic UI, Viber is your go-to app.
Pros: Minimalistic user interface; light on hardware.
Cons: Does not support group calls.
#5. WeChat
WeChat is another multipurpose app that is popular among smartphone users as a FaceTime alternative for video calling purposes. It allows multiple ways to communicate like text messaging, media sharing (photos and videos) as well as audio and video calls.
Although, as the name of the app suggests, the core focus is on text messaging the video calling feature is pretty strong too and does not feel lagging at any point. It allows you to make high-quality video calls with lesser interruptions and disturbances.
WeChat video calling functionality also offers you to make group video calls, and you can add up to 9 people and chat with them simultaneously on a video call. Additional features include attractive stickers and support for GIFs. The only drawback is that not everyone is on WeChat. Also, you need a person's phone number registered with WeChat to contact him or her on this platform.
Pros: Light and multipurpose; store messages locally on the device.
Cons: Comparatively fewer users.
#6. Hangouts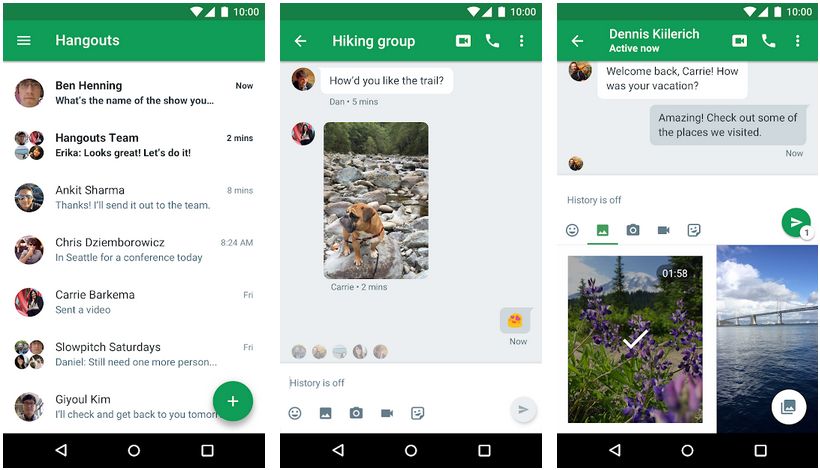 Probably the most simplistic and efficient FaceTime for Android alternatives is offered by Google itself, and they named it Google Hangouts. The key feature that sets it apart from other apps is that you just need to send an invitation link to the person with whom you want to have a video or voice call, and once they click on the link you can then connect and start a video chat with them.
Google Hangouts allows you to initiate group video calls with up to 10 persons at a time and group chats with up to 100 persons.
Additional features include screen sharing and remote access, which means you can get access to the other person's device with their permission through Hangouts and can use their device. This feature is proven to be greatly beneficial for people working in the IT industry for troubleshooting and remotely fixing errors.
Pros: Simple to connect with other people for video calls; provides screen sharing and remote access capabilities.
Cons: Not multipurpose like the competitors.
#7. Line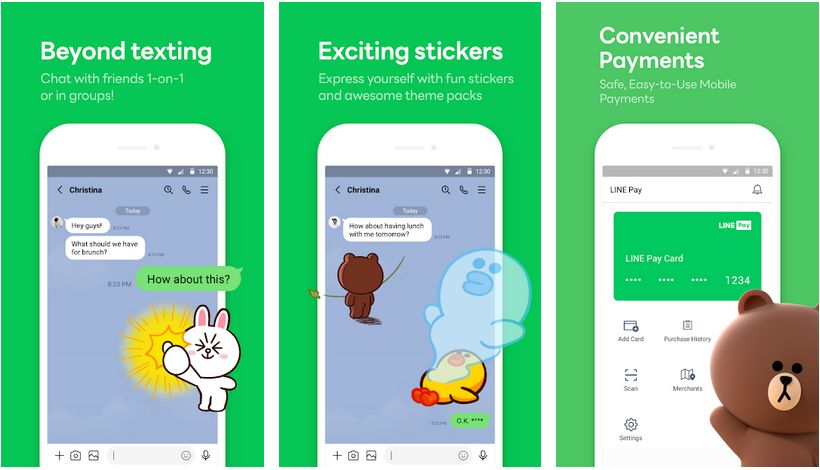 The core focus of the Line app is on chat and text-based conversations, but they also offer voice and video calling services. It has attractive and immersive stickers as well as other fun features for chats. Also, customized tunes are pretty interesting and make chatting much more fun.
However, the scope of the Line app is limited, and they only offer one-on-one communication services, unlike other alternatives like WhatsApp, Skype, or Hangouts, all of which offer group calling functionality.
Pros: Solid and minimalistic interface; it does not lag.
Cons: Does not allow group calls.
#8. IMO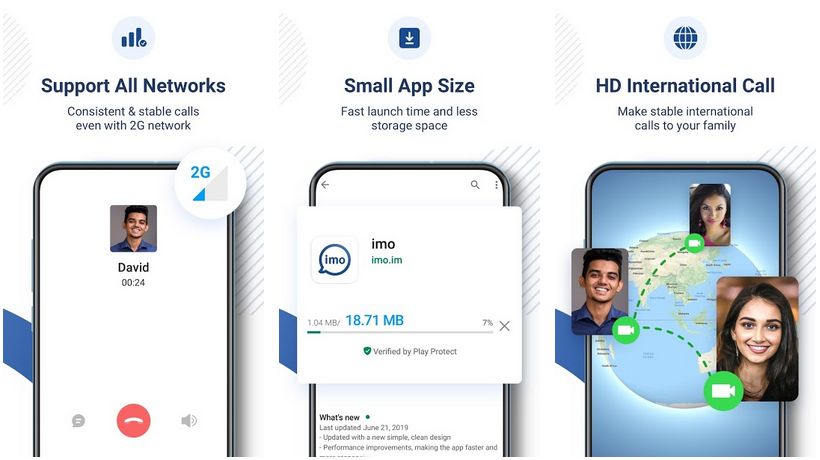 IMO is among one of the top FaceTime alternatives on Android that comes in handy and proves to be extremely useful if you are tired of all the complex apps.
IMO is still one of the most reliable when it comes to video chatting because it has a strong architecture topped with regular updates to ensure the stability and efficiency of the app.
IMO supports large group calls for up to 25 persons at a time. Through this app, you can also live stream broadcasts and let people see you. The live streaming feature is a great plus for users who are trying to convey messages to a group of people.
You can also watch broadcasts from other persons live streaming from within the IMO Android app. You can even join a live stream if the sender allows you. People will know when you join the live stream.
Pros: Light and minimalistic interface; live streaming option.
Cons: Can be a bit sluggish on slow Internet connections.
Which App do You Think is the Best Alternative To FaceTime?
We have tried our best to ensure we provide you with an honest review about alternatives to FaceTime for Android so that you can read in-depth about all the apps and compare them to see which option would be best for your needs. We hope this helped save the hassle of going through all the apps yourself.