We all are aware of the fact that how easily our brain can get distracted by funny dog videos on YouTube instead of actually getting the real work done that we have already planned to do. This is where productivity apps for Android come in handy as they help create the perfect environment that forces you to achieve your everyday tasks.
We have reviewed twenty Android productivity apps, however, it is important to note here that these apps won't help unless you are self-disciplined, laser-focused, and have the productive mindset to achieve your goals.
The way to get started is to quit talking and begin doing.

Walt Disney
Don't have time to go through the whole list?
Here are a few apps that we will highly recommend you to install on your Android device to maximize your productivity:
Google Keep – A powerful tool to note down ideas and collaborate with your team.
Brain Focus – Track your time and performance with the Pomodoro technique while blocking distracting apps.
IFTTT – If This Then That. Allows you to connect your smartphone to almost any service and create automated tasks or you can control things with voice.
TypeApp Mail – Email client that provides unified inbox with support for IMAP, POP3, and Exchange protocols and easy configuration.
WPS Office Suite – Gives you a complete office suite on your portable device including Word docs, Excel sheets, PowerPoint presentations, and PDF.
Office Lens – Portable scanner app uses your phone's camera to scan documents and store them in high-quality PDF format.
To-do Lists and Tasks Manager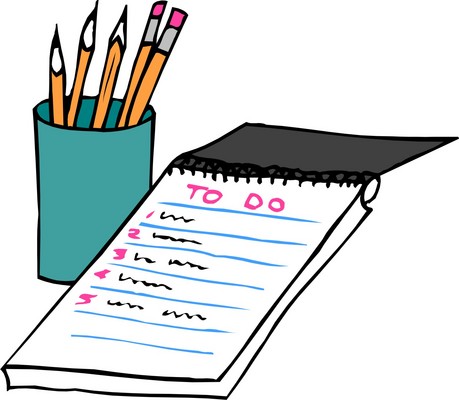 #1. Any.do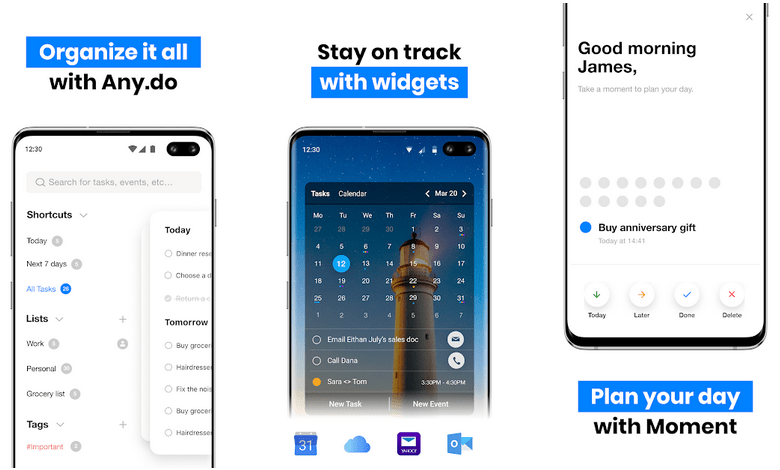 Any.do is an emerging to-do list manager app for Android while keeping in mind the ease of use, maximum practicality as well as the ultimate flexibility to organize your day-to-day schedule, set reminders, along the ability to watch over all the current tasks that are on your today list.
What's good about Any.do is in case you were unable to complete any task on a due date then it will automatically be rolled down to the following day to make sure you won't miss it. Once your task is completed, you can mark it as done using a swipe gesture. You can even reorganize your tasks using the intuitive drag and drop.
Reliable reminder and notification system, visually appealing and user-friendly design.
Cross-platform compatibility along with the option to sync tasks, attachments, and notes.
Active support and development team that will help you fix any issue as soon as possible.
Lacks calendar integration with Google Calendar (but new integration options are in works).
Tasks with recurring reminders will require you to purchase the premium version.
#2. Trello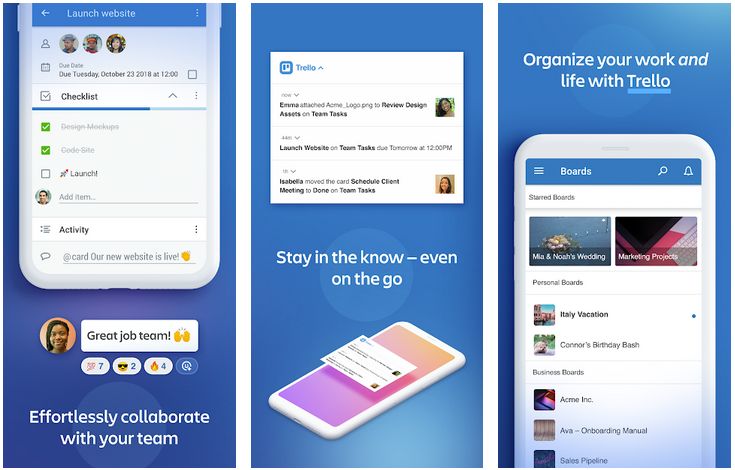 Trello is an intuitive and flexible task organizer app for Android that is quite different from Wunderlist and Any.do. The card and board-styled design of the app will help you gain perspective of the entire task list in just a single glance and will let you see the real-time status of all the tasks, whether they are done or needs to be completed.
Whether you are managing a project with your business team or planning a vacation with your family, this app will help you collaborate with them without any hassle. And with the reliable notification system, Trello will keep you updated with the progress of each and every task. You can even leave comments on the task along with the ability to add attachments and links.
Freely organize all of your projects and tasks along with the option to collaborate with your coworkers.
Support for Android Wear allows you to create cards and reply to comments.
Cross-platform support to enhance productivity.
Offline capability is missing, which sometimes results in infrequent syncing and restricts editing while there's no Internet connectivity.
Widget and app are not synced in real-time and requires manual refresh.
Bugs and stability issues make Trello unreliable at times.
---
Note-taking Apps to Stay Organized
You can't remember everything you hear no matter how much important it is unless you are highly intelligent, so why not keep note of every important thing that matters.
#3. Evernote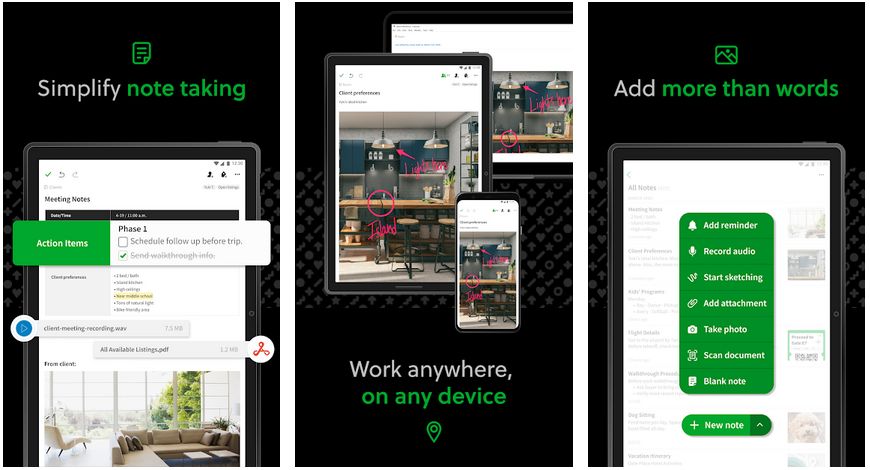 Evernote is an outstanding note-taking app that is fully compatible with other platforms including Windows, Mac, and iOS so that you can seamlessly access and work on your projects while keeping track of your notes. The app will help you effectively organize your projects where you can collect and capture ideas and work on them alone or with a team.
If you are a business person then you need to opt for the paid version, i.e. Evernote Plus for $34.99/year with a 1GB monthly upload limit, or Evernote Premium for $69.99/year with a 10GB monthly upload limit. Paid subscriptions will allow you to sync your notes with unlimited devices as well as the ability to access your notes and notebooks offline. The free account gives you about a 60MB upload limit.
Full-featured note-taking app with seamless sync capability and cross-platform support.
Option to take notes in different formats including text, photos, video, audio, sketch, web clipping.
Businesses can maximize productivity by assigning a project to multiple team members and stay updated on the status.
Free plan is downgraded, which removed essential features and forced limitations like sync between two devices only and no offline support.
Pricing model for paid plans might be costly for an individual or a startup.
The app consumes a lot of space on Android device and sometimes become laggy.
#4. Google Keep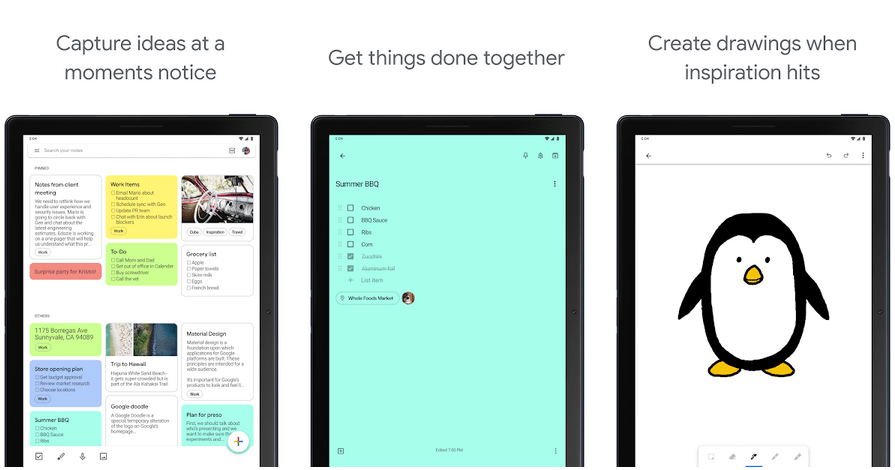 Unlike Evernote and OneNote, Google Keep gives you an incredibly fast and simplified interface to help you organize all the notes whether they are work-related or personal. You can quickly capture an idea or add reminders in a form of photo, text, weblinks, checklist, or voice (that converts your speech to text).
Use color and labels to quickly organize notes and the integrated search helps you find them later. To make sure everything is accessible from any device without limitation, Google Keep seamlessly syncs with Google Drive so you can concentrate on productivity. You can even add location-based reminders that will pop up whenever you are nearby that location.
Quickly add reminders, notes, or capture ideas and share them with your friends or family.
Notes are always within your reach, accessible everywhere on any device including Android Wear.
Natively integrated with every other Google service.
Option to pin important notes so they remain at the top.
Missing undo/redo function, in case you deleted something accidentally while editing.
Advanced text formatting options are not available, like bullets, bold, italic, underline.
---
Time Management
Do you want to complete all those tasks you have scheduled in your routine planner? Did you ever wonder why you were unable to accomplish them? Because you plan unhealthy routines. Don't worry. Now you can master your routine and become proficient at time management which will increase your effectiveness, efficiency & productivity. All with the help of the apps mentioned below.
#5. TimeTune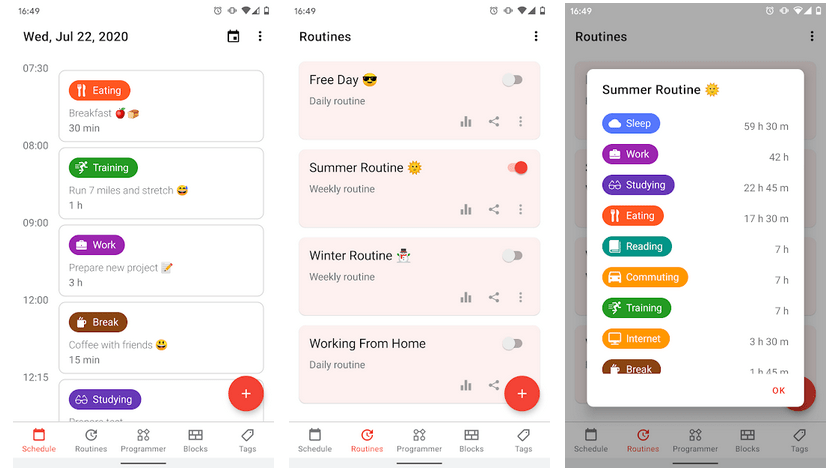 TimeTune is a routine schedule planner app that is designed to help you boost your productivity by optimizing your time, creating good habits, and accomplishing everything in your daily schedule. The user interface is stunningly crafted that gives you several personalization possibilities. Usage of custom tags and individually customizable notification assist you in identifying your schedule.
The app has different time management options specifically designed for those who value their time, want to squeeze every available minute, and then use it to accomplish tasks. The app can help you conveniently design routines based on a daily or weekly basis along with the finest flexibility. You can observe your routine statistics to analyze your performance and detect time leaks.
TimeTune will assist you with tweaking your time so you can use it to your advantage.
Routine statistics to help you analyze and improve your time distribution as well as find suitable periods to work without interruption.
Customizable notification reminders (including vibration, popup message, and ringtone) for every task to keep you updated with what needs to be done.
Some advanced features require the purchase of a premium version.
Lacks countdown timer/reminder to keep you updated with the total time left to complete a task.
---
Block Distracting Apps and Monitor Phone Usage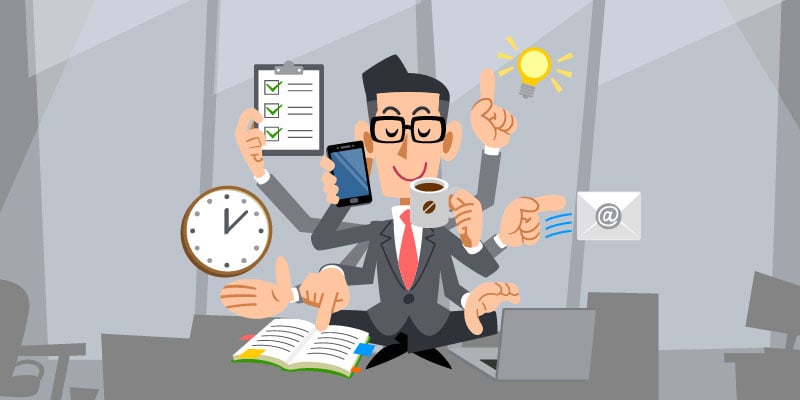 Did you ever notice that a simple 10-15 minutes task sometimes takes an hour to complete? That's because you get distracted, which leads to procrastination where you lose track of the total time spent and only realize this after completing the task. This is where the Pomodoro technique will help you force to stay focused, avoid potential burnout, and get the work done efficiently.
#6. Brain Focus Productivity Timer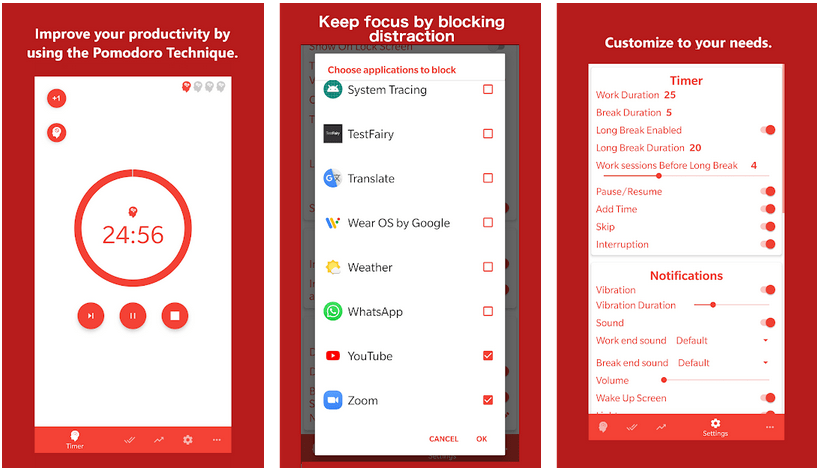 Brain Focus is somewhat similar to ClearFocus but the amount of customization and personalization options available in this app is simply mind-blowing. You can change the duration of working sessions and breaks. Moreover, you can amend the long break trigger and even modify the length of long breaks to best suit your desires.
What's more interesting is most of the Pomodoro timers do not allow you to pause the session but that's not the case with Brain Focus as you can easily enable or disable the pause/resume option right from the settings. And yes, if you get easily distracted by your smartphone, the app can even disable WiFi and sounds during work sessions.
Visual representation of productivity and total time spent to help you evaluate, review, and analyze the sessions.
Keep track of individual working sessions by projects or accomplishments.
Give you freedom to customize and configure timer for each task.
Lacks data of pause used during working sessions.
#7. App Usage – Manage/Track Usage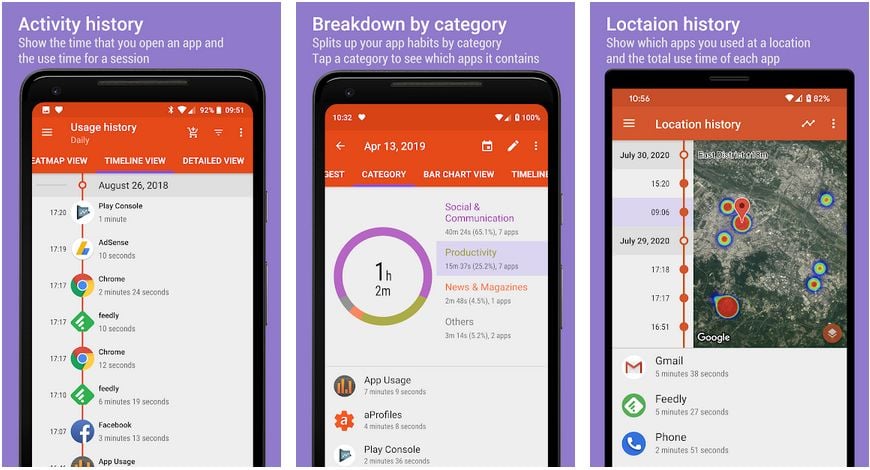 App Usage is designed to help you track and manage your overall smartphone usage. It collects detailed usage info about all the apps that you have used as well as the total time you have spent on each app. The app also records the number of times you have checked your phone. It even gives you a detailed activity history and the timestamp for the apps you have opened.
The graphical representation of collected data can be easily sorted in various order including ascending and descending to help you find which app you used the most. You can also switch between calendar view and bar chart view to better understand your usage stats.
Get detailed information about your daily app usage and the total duration you have spent on each app.
Give you an over-use reminder whenever you spend too much time on an app.
Contains a lot of popup advertisements but it can be removed with the purchase of pro version.
Lacks option to change the day cycle timing if you follow late-night working hours.
#8. App Block – Stay Focused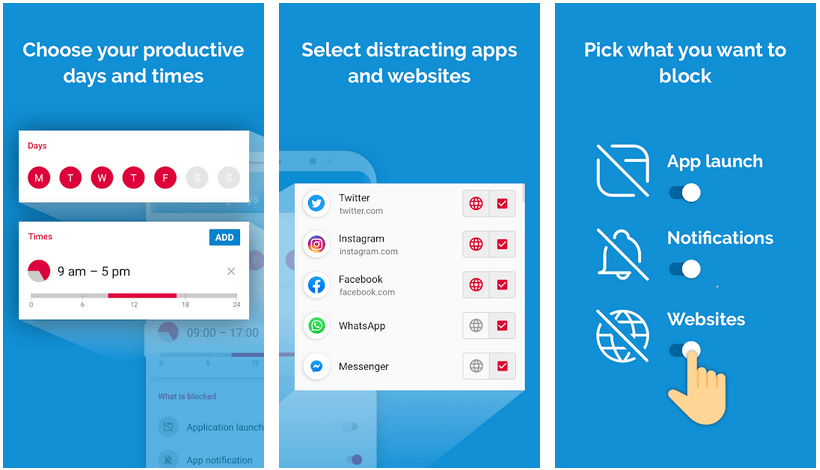 If you are trying to control your smartphone addiction and want to spend less amount of time on those addicting apps then App Block can help you out. The app is aimed to make it quick and easy to block any particular apps during specified intervals and days of the week, which will help you stay focused on the work you are doing while keeping the distractions out of your life.
The App Block allows you to create multiple entries for different days and specific working hours as well as the apps you want to be blocked. Then you can quickly enable/disable those entries using a toggle key. Now, during the blocking period, if you launch the blocked app then you will see a toast message that it has been blocked along with a number of times you have tried to access it.
Temporarily block distracting apps for specified time intervals.
Ability to protect the AppBlock dashboard with a PIN code for an added layer of privacy.
Free version allows you to block up to five apps, to remove limitation you need to purchase pro version.
---
Tasks Automation
You may have never heard about task automation but your Android device is so much power that you can configure it to perform specific tasks automatically and then it will be executed without you even touching it. Yes, that is possible and you can unleash the true potential of your Android device using the exceptional automation apps mentioned below.
#9. IFTTT (If This Then That)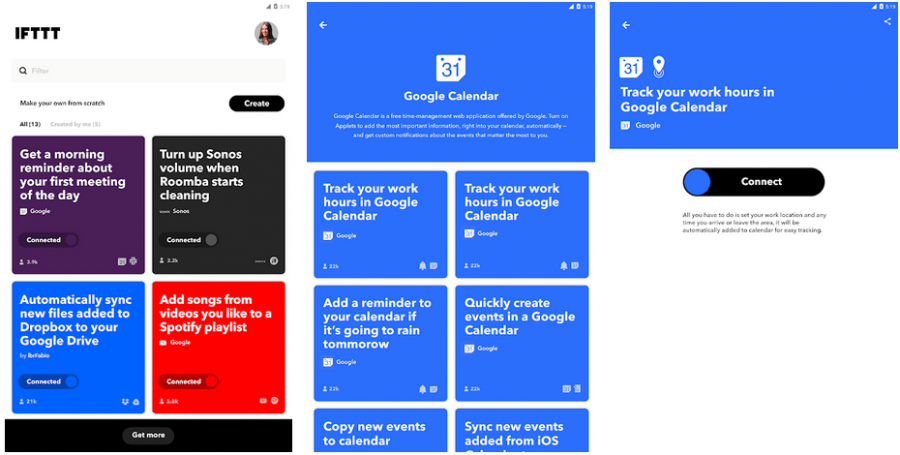 In a nutshell, IFTTT is an absolutely free web-based automation service that enables you to create a sequence of conditional statements called "applets", which are automatically activated based on the signal/variation originated from any connected web service. For example, a premade recipe that triggers whenever you receive a new email with an attachment in your Gmail account, and then it automatically saves attachments to a folder in Google Drive. Or it can even save popular productivity tips from Reddit's productivity subforum to your Evernote notebook.
There are millions of premade recipes and you can even create your own, the only limit is your imagination. There are more than four hundred apps that can easily be connected with the IFTTT interface including weather, social media services, emails, cloud storage, location, and even your home appliances. An example related to an appliance, it sends you an email or message notification when the thermostat's battery is low.
Hundreds of apps and services can be connected with IFTTT using the applets and recipes to achieve automation.
IFTTT applets help you connect your favorite web services together and save time.
Powerful automation service that is ideal to make those tedious tasks automated.
Lacks possibility to add multiple IF, AND, OR conditions in the recipes.
---
Cloud Storage Services
The cloud-storage service apps give you online space where you can easily store your documents, PDF files, photos, music, videos, and any other file or data with the flexibility to access them through any smartphone, tablet, computer, or web interface, without any limitation.
Recommended App: Internxt Secure Storage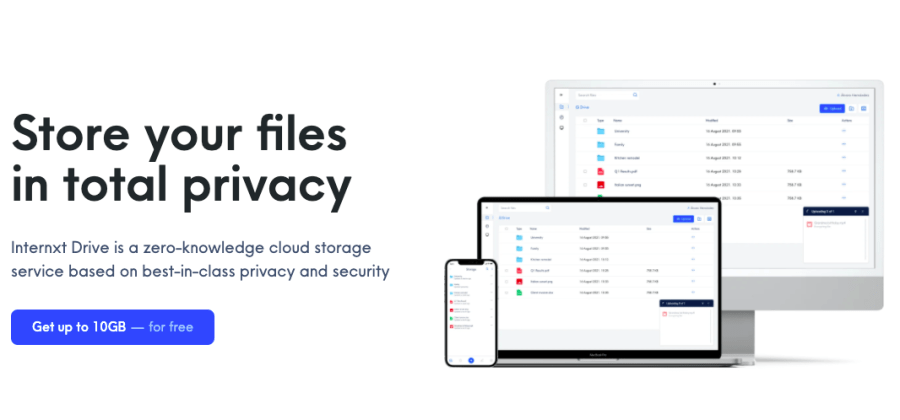 Worried about online privacy? Store your files away in secret with Internxt, an open-source blockchain-based cloud storage service. Designed to protect users' fundamental right to digital privacy, all files uploaded to Internxt's cloud are end-to-end encrypted and scattered across a decentralized network. Basically, that means the account owner is the only one who can access and share content, not even Internxt can access users' files.
Internxt is available on all devices, equipped with most of the industry-standard features you expect from a modern cloud storage service, and integrates seamlessly with Google Drive, Microsoft OneDrive, Dropbox, and Apple iCloud. The service offers a free 10GB of cloud storage for everyone. If you need more affordable space, paid plans begin at 20GB for $1.15/month, continue to 200GB for $5.15/month, and end at 2TB for $11.50/month. Pay annually or monthly, plus business plans are also available.
Military-grade encrypted cloud storage and file sharing.
No first or third-party access to data.
Open-source and verifiable.
Ability to limit the number of times a file can be shared.
Young service, lacking some quality-of-life features.
#10. Dropbox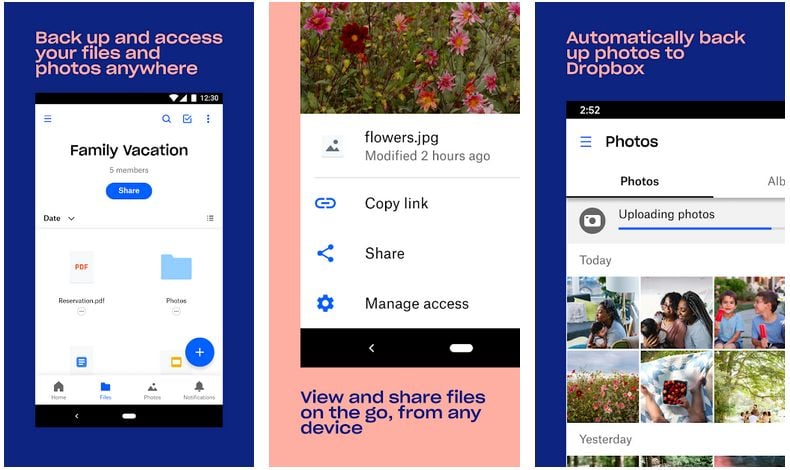 Dropbox is a rock-solid and dedicated cloud storage provider with simplified and easy to use Android interface. With offline access option, you can keep an offline copy of important files and folders, which will enhance your productivity when you are traveling. Dropbox gives you up to 20GB of free cloud storage space and about 90% of that can be earned by completing small tasks and referring friends to Dropbox.
Do you want more space? Dropbox offers pro plan for individuals @ $9.99/month with 1TB of storage limit. And if you have a team, it's better to opt for a business plan with unlimited cloud storage, file recovery & versioning, phone support, data protection, and much more for $15/month for each user, which equals to $75/month for five members.
Cross-platform cloud service with support for every device, along with the secure two-step authentication.
Built-in passcode feature that allows you to add a layer of security while opening the app.
Shared folders enable your team members to work with you on the same project, along with change notifications.
Share large files using a link with anyone, and they can preview and download the file without a Dropbox account.
Shared links have traffic limitation of 20GB/day, so if your link generates excessive traffic then it will be banned.
Missing detailed change log or description for modifications/updates by team members in shared files or folders.
#11. Google Drive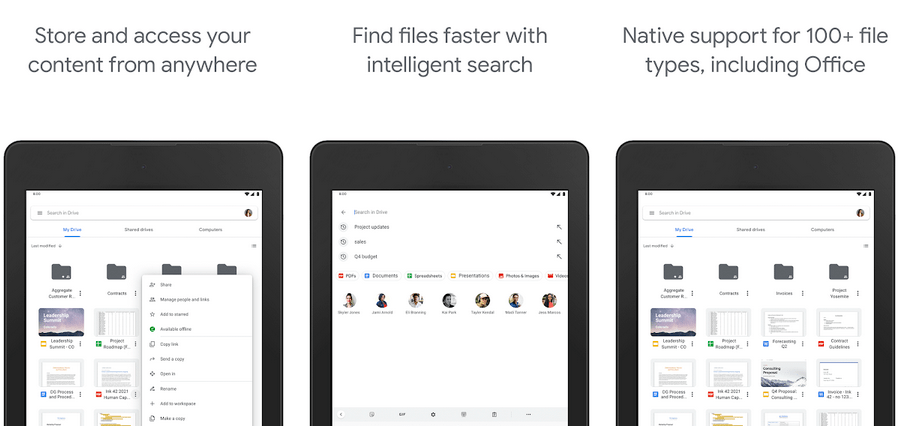 Google Drive is one of the best cloud storage services available for Android and because it is developed by Google itself so you can use it as online storage and productivity suite with unified syncing, which also works perfectly as a collaborative office suite.
The basic account gives 15GB of free space and this same storage is used across all Google services including Gmail. If you want more storage, Google offers different storage plans at a nominal monthly fee:
100GB storage @ $1.99/month,
1TB storage @ $9.99/month,
10TB storage @ 99.99/month,
…and there are more plans. But, if you are running a business with five or more members then it'll be better to opt for premium Google Suite Business @ $10 for each user, which gives every user unlimited cloud storage along with Google Vault. Overall, the business plan will cost $50/month for five members.
Easily share files and folders with others, and the option to modify the access level to view, edit or comment.
Option to store selected files as offline for viewing.
Preview documents and spreadsheets directly in Google Drive.
Less secure, as there's no native password protection for the app.
Syncing is buggy on some devices.
---
Team Communication
Do you know that every day countless hours are wasted on follow-ups, checking & responding to emails, and switching between different apps just to communicate with the team about project status? This is where the implementation of a team communication solution becomes essential to help members save time, stay productive, and focused on getting the real work done.
#12. Slack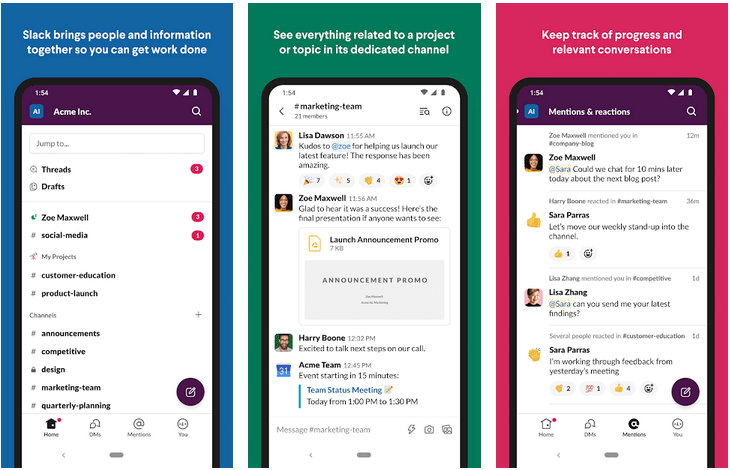 Slack is one of the most widely used team communication solutions as it is easy to integrate, simple enough to be learned by anyone along with the ability to create dedicated communication channels related to the project. The members can share photos, documents, and files with a simple drag-and-drop interface.
Slack is perfectly compatible with numerous mobile and desktop platforms can integrate well with third-party services like Google Suite, Twitter, Dropbox, ZenDesk, and countless other apps which will help you receive all the notifications and updates in a single place. Moreover, everything shared by the members is indexed and archived so you can search for them anytime.
Slack is free to try for a team without any time limitation and offers affordable paid plans.
Sync instantaneously with all your connected devices.
Notifications settings can be precisely personalized for email, mobile, and desktop.
The Slack free version gives 5GB storage space for the team and ceiling to search the last 10,000 messages only.
Sometimes push notifications do not work as expected due to Internet connectivity issues, making them less reliable.
#13. Asana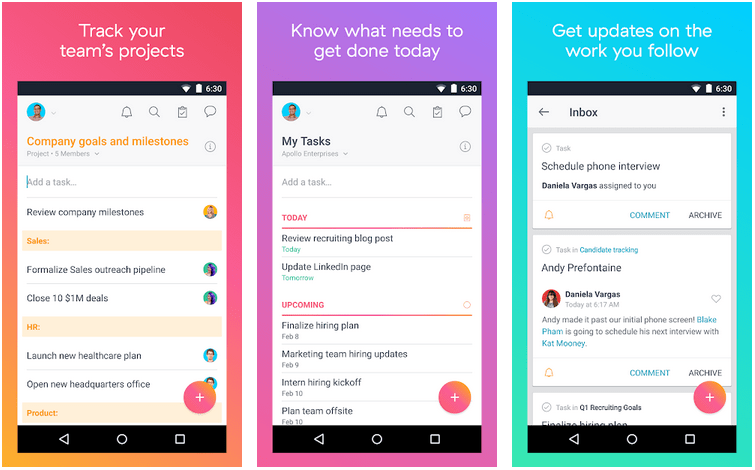 Asana has a great potential and is powerful enough to help your team complete gigantic projects by letting them split those projects into smaller tasks, which are easier and quicker to accomplish. Those smaller tasks can then be assigned to the team members along with the deadline. Once everything is set up, teammates can then have a conversation within the task and share relevant files or documents.
To keep all the team members updated about their assigned tasks, Asana will send a notification whenever there is something updated along with a graphical chart to help keep visual track of the current progress as well as the deadline. And the best thing is, Asana help you track work even when you are out of Internet connectivity.
Completely free with unlimited usage for a team of up to 15 members.
Ability to split huge work into smaller tasks along with the option to distribute it among multiple team members.
Support for integration with few dozen services let you connect task to different apps and then track progress from within the Asana app.
Hard to add & manage recurring tasks.
The interface is slightly difficult to understand making it challenging to navigate around the projects and tasks.
---
Unified Email Management
When you have more than one email account then it becomes tough to manage them promptly, this is why it is recommended to opt for a unified email apps that offers clean interface and bundle of features along with the option to see all of your email messages in one place.
#14. TypeApp Mail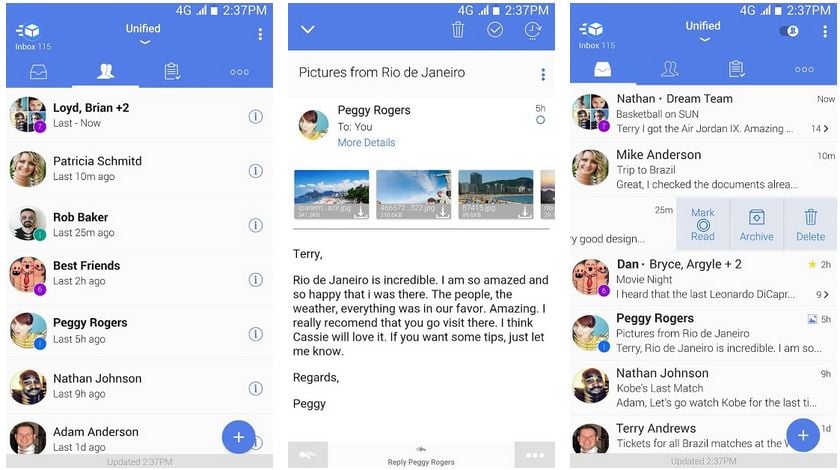 TypeApp is a beautifully designed email managing app for Android that provides a clutter-free user interface along with the ability to easily manage and navigate around multiple email accounts right from the home screen. There are numerous features to help boost email management skills like swipe gestures to quickly mark an email as read or delete it, apply bulk actions to emails, smart mailbox, and filtrations automatically categorizes emails into predefined groups.
The best feature of TypeApp is the ability to snooze emails, which can be configured to send reminder alert at later date or time. Moreover, the appearance customization options allow you to freely customize the menu according to your personal liking. And the app supports almost every email service provider including Gmail, Yahoo, AOL, iCloud, Outlook (Hotmail), exchange accounts.
Reliable, efficient, versatile, easy to configure, and provides premium functionalities along with widget support.
Personalizable push notification alert, quiet hours, and snooze alert for each email account.
Native mobile printing support.
Compatible with Android Wear to intelligently check emails on the go.
Might get slow and laggy on some Android devices.
---
All-In-One Office Suite & PDF Manager
All-in-one mobile office suite and PDF manager is one of the most essential apps for Android smartphone and tablet devices. These apps are so powerful that they enable you to view, edit, and share almost any file type related to office including documents, spreadsheets, presentations, and PDFs.
#15. WPS Office Suite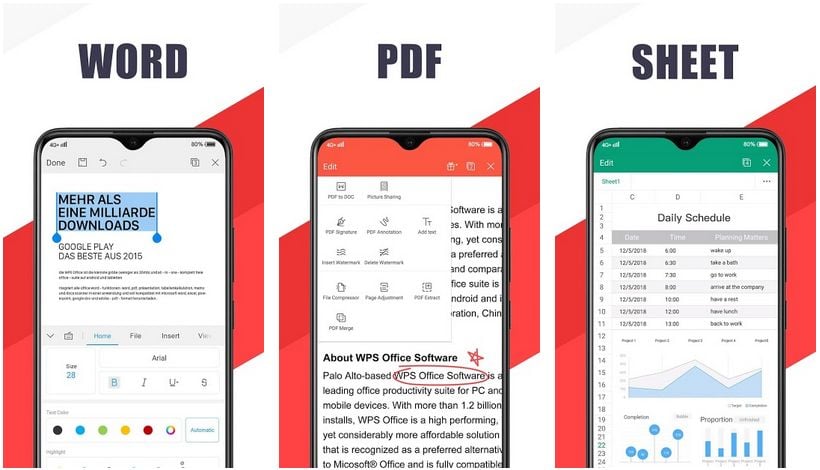 WPS Office, previously known as Kingsoft Office, is the most prevalent and reliable office suite ever designed for Android mobile devices. No matter where you are, you can create amazing documents, complete your presentations, work on spreadsheets, view/read PDF files and convert office files to PDF without any limitation.
The fully-featured WPS Office app is available for download for free but it is ads supported which might bother some users the developers have recently added an option to opt for paid version and remove advertisements. However, if you don't have any issue with occasional ads then free version is best for office tasks.
Quick and easy to view, edit, and share office documents anywhere anytime without any restriction.
Multi-window/split screen support let you manage multiple tasks at the same time.
Ability to view and edit any Microsoft Office file format.
Intrusive ads but can be removed via in-app purchases.
Recent update has increased the overall file size of the app.
---
Portable Documents Scanner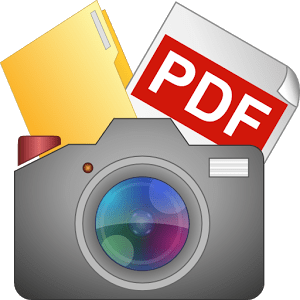 While working on several projects we come across printed documents, memos, receipts, handwritten notes, business cards, or information on boards, all of which are time-consuming if you start inputting them as a note on mobile for later reference. This is where text scanner apps become helpful to let you quickly save a digital OCR copy of every physical document and stay organized.
#16. Microsoft Office Lens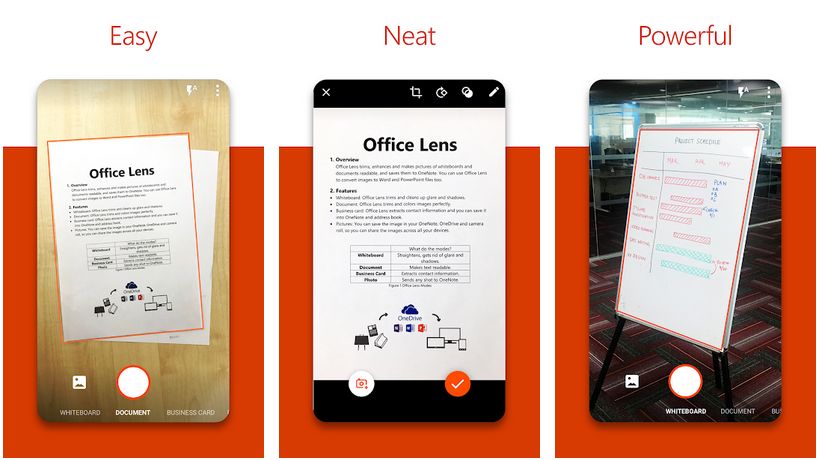 With Office Lens, you can accessible capture pictures of notes/text on whiteboard and documents. And using the advanced transformation functionalities of the app, you can then convert those pictures into a readable document format.
The Office Lens app is better than your camera app because it has the capability to capture perfect photos and then allows you to enhance it to make them clear, readable, and free from shadows. Furthermore, you can convert those photos to Word, PowerPoint, or PDF document as well as save them on a cloud storage for quick sharing.
Variety of modes to capture text including the photo, handwritten note, business card, document, whiteboard.
Built-in review and editing options let you optimize captured picture before saving them to your device.
Best for extracting name and contact info from business cards.
Lacks batch mode, so there is no option to scan multiple pages/documents for quick digital storage.
---
Password Manager
Considering the variety of social media services, online shopping accounts, Internet banking, and the number of email accounts we possess these days, having a unique and strong password for each one of them is paramount for security. But then, on the other hand, it becomes hard for us to remember them all. This is where highly secured password manager apps will help you out.
#17. LastPass Password Manager
LastPass is an exceptional password manager for desktop along with an outstanding support for mobile devices. The app not only fulfills the role of password manager, but it is also a strong password generator, built-in web browser, auto-fill username and passwords, as well as the capability to let you store secure notes. You only need to have one LastPass account, which then syncs seamlessly with desktop and mobile.
The app can detect and save passwords for the apps installed on your device so you won't even need to remember any password. To make sure no one gains unwanted access to your password vault, the app is protected with an additional layer of PIN code security that is required every time you open the app. LastPass Premium provides the option to sync with unlimited devices, 1GB encrypted file storage, and family password sharing for just $12/year.
Feature-rich password manager, simplified material UI with easy to use options.
Ability to instantly add any website info or notes and keep them secure with bank-level, AES 256-bit encryption.
Option to log in to the apps without typing a single letter.
App autofill sometimes not works on slow or older Android devices.
#18. Dashlane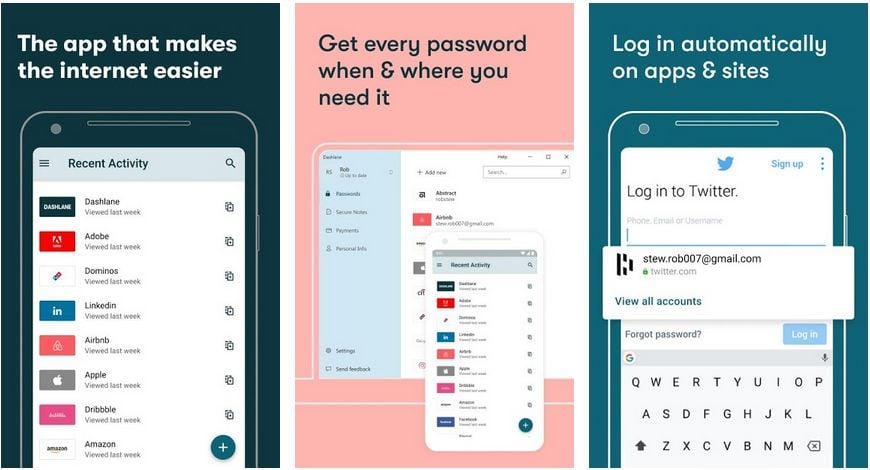 If you are looking for a free password manager for your Android devices then Dashlane Password Manager and Mobile Wallet will be the best choice as the app is designed to make it simple for you to securely and safely keep your login credentials in the password vault equipped with unparalleled AES-256 security encryption.
Dashlane's user interface is so simplified that anyone can understand how to manage and edit stored passwords and credentials. The app comes integrated with a secure web browser and Secure Notes section where you can store security codes, confidential info, and other data. You can seamlessly sync with other devices and create secure account backup but you need to opt for Dashlane Premium for $39.99/year.
Cross-platform password manager service with almost every required feature without any subscription charges.
AES-256 bit encryption for every data and information stored on Dashlane.
Dashlane Premium is quite expensive.
---
Remotely Access Your Devices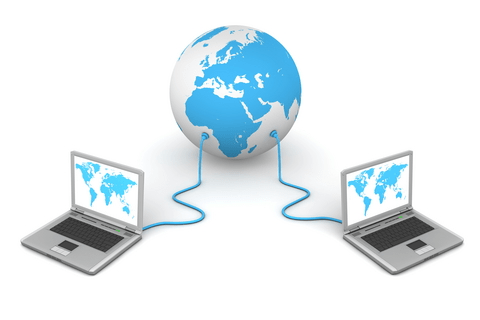 Access your files from your Laptop and office on the Go with these apps
#19. TeamViewer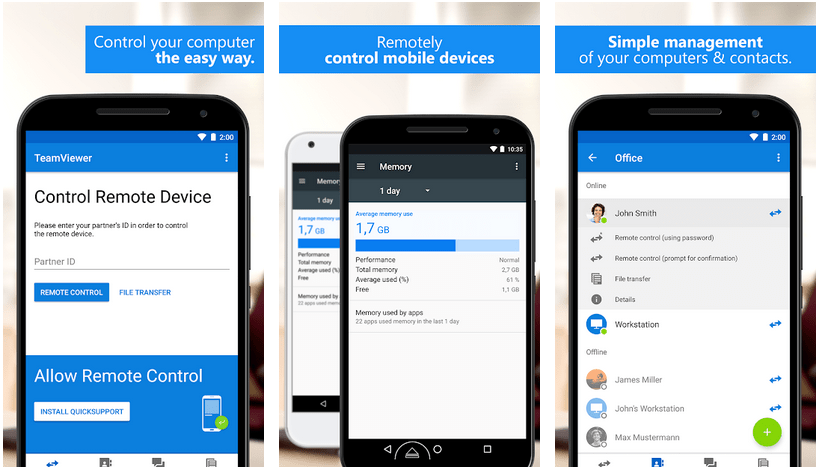 TeamViewer is a free remote control app for Android that allows you to remotely control computers, servers, or any other mobile device right through your mobile device as well as transfer files or data between devices remotely no matter where you are, even when you are traveling. All you need to have is consistent Internet connectivity.
TeamViewer is widely known for providing secure, fast, and stress-free remote access to billions of users and companies around the world. The interface is intuitive and provides gesture support for a simplified user experience. The app even allows you to have a high-definition voice and video communication along with 256-bit session encoding for the highest security.
Flawlessly gain remote access to and control Windows, Mac OS, Linux based computers as well as Android and Windows 10 based mobile devices.
Capability to transfer files in both directions.
Push notifications for chat messages.
Sometimes the app gives connection error due to intermittent Internet connection.
#20. Chrome Remote Desktop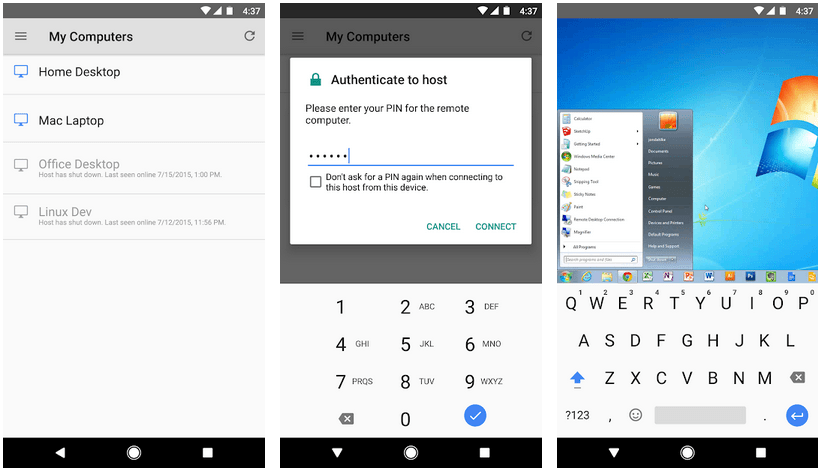 Similar to the TeamViewer app we discussed above, the Chrome Remote Desktop app also lets you securely access your computer from your Android device. Your desktop must need to have a Chrome web browser as well as the Chrome Remote Desktop app installed to accept the remote connection request. And both devices must need to be logged in to the same account.
However, if you compare it with TeamViewer then you will find some limitations. Chrome Remote Desktop only allows you to connect to the desktop and not to another Android device. But performance-wise, Chrome Remote Desktop is a lot more powerful and reliable.
The remote desktop app is so much powerful that it can mirror the desktop on your Android device.
The interface is modestly designed to make it easy for anyone to enjoy remote desktop capabilities.
Lack many basic functionalities, which make the app less useful for advanced users.
Conclusion
We all are well aware that only downloading and installing these apps on our smartphones will not automatically boost our productivity. We need to make a habit of using these apps consistently to get the most out of our daily schedule, which will help us get some real work done without spending an enormous amount of time.
Share your opinion with us know in the comments down below about the apps you have tried from our list. And how you are going to use them to increase productivity? 🙂