Without any doubt, Kodi is a well-known software for its media playback capabilities and has been around for several years already since it allows you to customize and encoded in such a way that it let you watch movies, TV shows, and even stream live TV channels for free. Which makes everyone question its legality and people are forced to look for Kodi alternatives, just to be on the safe side.
To help our readers, here we have reviewed eight best Kodi alternatives that are compatible with Android, Windows, Linux, iOS, and several other media player devices.
#1. Plex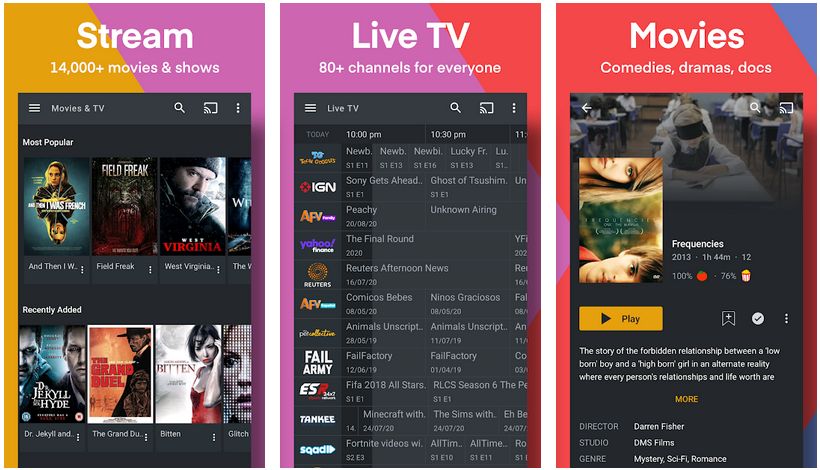 Plex is one of the best top Kodi alternatives for media streaming. With its client service architecture, it allows you to create your own personal server without having to rely on the media stored on other servers or the Internet. And you can have easy access to your media files on all the devices remotely.
You can start by setting up your computer as a server and storing your media on that computer. Plex gives you the liberty to access that media from any client device of your choosing. The best thing about this media streaming service is that the Client and the Server do not need to be on the same network. Though the only thing it requires is that both devices must have an active internet connection.
Plex client version officially supports various platforms including Android, iOS, Windows, Mac, Amazon Fire and can also be installed on other platforms unofficially. There are plug-ins and add-ons referred to as Plex Channels, and these plug-ins are installed on the server so you don't need to install them individually on each device you use.
Plex offers a paid version as well with some of the most premium features like streaming online TV channels and DVR, an option for Camera Uploads and more.
Pros – Helps you access your media remotely on any device, and offers plug-in support.
Cons – Some premium features, which should be available for free, are only offered in the paid version.
#2. Emby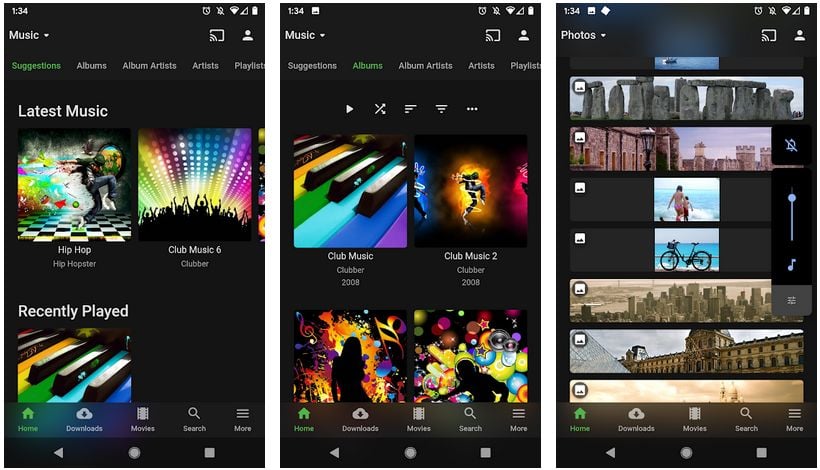 Emby works on client-server design and allows its users to stream media on different client devices. The general functionalities are somehow similar to Kodi and Plex as it runs on multiple platforms like Android, iOS, Windows, PlayStation, and Xbox.
In addition to its user-friendly interface, Emby also has an active community that loves to help you with any questions or queries you might have and provides you with the best assistance, in case you require it. The app provides you with some of the most extremely useful features including live TV recordings so you can access your favorite TV show episodes later at your leisure on any of your linked devices.
The smart processing in Emby enables the app to evaluate the hardware capabilities of all your devices and plays the media at optimum settings suitable for your device so you can truly have an immersive and seamless experience.
Parental controls on Emby are widely appreciated and come in handy if you have kids accessing your servers and media stored on it, making it one of the top best Kodi alternatives. The media streaming service also offers some exquisite features in a paid subscription like Offline Media Access, Cloud Sync, DVR streaming, and more.
Pros – Parental controls, simplified setup, user-friendly interface, and smart hardware assessment,
Cons – Does not offer its own server or media.
#3. Stremio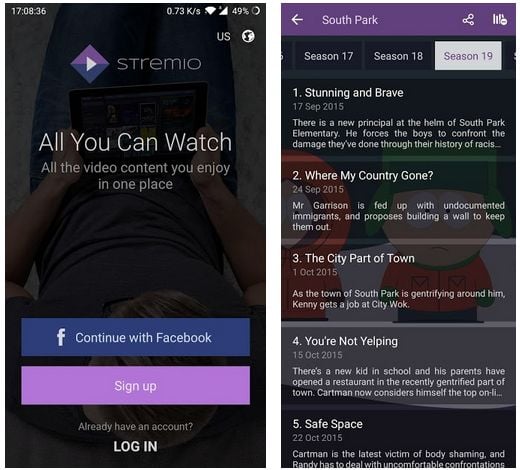 Stremio qualifies as one of the best and most popular Kodi alternatives due to a number of similarities, one of which is its ability to run on multiple platforms like Android, iOS, Windows, Linux, and Mac OS.
Being based on Linvo Database, it ensures optimized data management across multiple devices. It is a smooth running application and doesn't put much strain on your hardware whether it is a smartphone or a computer device.
Unlike Kodi, extensions are installed on the server and you have access to them through all of your connected devices. You can simply install any add-on on one of your devices linked with your Stremio account and later you can access it on all the devices that you are using through that linked account. For example, streaming your favorite TV shows to your Android TV device.
In addition to that, you do not have to look for the add-ons manually. Stremio has an in-app add-on section that allows you to get your required add-on installed in a single click.
Stremio offers a unique user-friendly interface and without any learning, you can get started right away. It offers access to the featured content on the right screen based on your preferences, and there is always an option to discover more if you need to explore for more choices between the content you want to watch. It also allows you to manage your library with great ease and convenience.
The only drawback is that it is not as easy to customize as Kodi and you do not get the options to choose the theme of your choice or get personalized add-ons. However, if you are looking for a user-friendly Kodi alternative that will not exhaust your hardware resource, then Stremio is your best choice.
Pros – User-friendly interface, light on hardware and resource consumption, in-app add-ons,
Cons – Not customizable, only stock add-ons.
#4. MediaPortal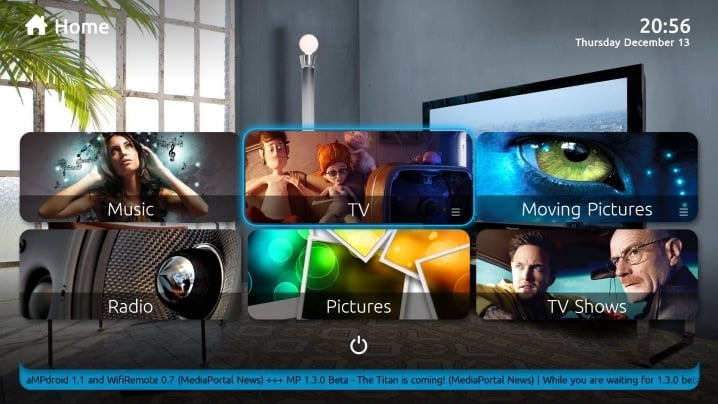 If you are looking for a Microsoft Windows-based Kodi alternative then Media Portal will be your best bet. It is a Windows-based open-source app that is absolutely free and has a user-friendly interface as well as the liberty to connect all types of devices like your DVD players and TVs to your computer with great ease.
MediaPortal converts your PC into a media hub so you are able to manage the content and media on all your devices in the most convenient way possible. It currently supports Windows only but is highly stable and almost bug-free.
If you use a computer as the primary media source then MediaPortal will work as the best alternative to Kodi. The app does not require high-end hardware and can easily run on all the new as well as old computer systems.
MediaPortal has a huge number of add-ons and plug-ins to choose from that adds different features to your media setup like live TV streaming, ability to stream media to any connected PC on the network, as well as some other tools that come handy to arrange your media efficiently. It also lets you customize the interface according to your preference.
Some salient features of MediaPortal will be the ability to listen to music, live TV recording, access to updated weather info as well as support for various formats like .mp3, .mp4, .mkv and much more.
Pros – Absolutely free, a wide range of formats supported, comes with a variety of customizations and add-ons,
Cons – Currently support Microsoft Windows platform only.
#5. Infuse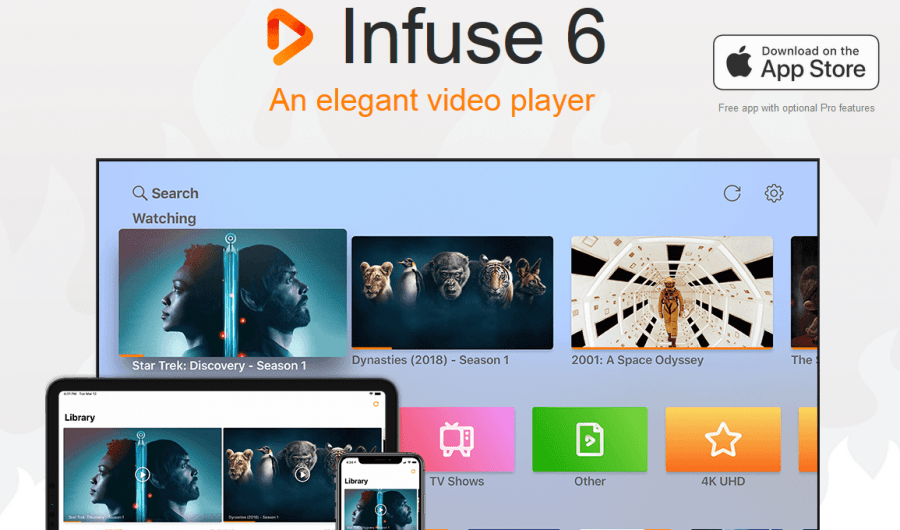 Are you an Apple TV user but you are unable to enjoy the great features offered by Kodi because it is not compatible with the Apple TV device? Don't worry as Infuse is the best Kodi alternative in this case. It has one of the best layouts for streaming media players and the most exquisite user-interface among all the Kodi alternatives I have ever used.
Infuse offers you a premium feeling and vibes from the very first look to the last of your experience. It has the ability to import media files from any third party medium like Google Drive, iCloud, Dropbox, and it supports a great number of file formats ranging from mp4, Avi, Mkv, MPEG to WMV and what not.
With the feature of importing the media, you do not have to worry about syncing and can have a very smooth media experience with the help of Infuse. It also supports a very high-end resolution of up to 4K, giving Infuse an edge over all the other alternatives of Kodi along with its split-screen feature that allows you to manage and organize your media without having to pause the current video you are watching.
Infuse has a very simplistic process and you do not need to be a computer geek to be able to enjoy the features of this awesome media player. This media player is all about innovation and has gestures to offer that are highly responsive and useful to help you steer through your media and have an experience that none other streaming media player has to offer.
Pros – Top-notch interface, Gestures Support, 4K media support, and innovative features,
Cons – Can lag a bit on moderate hardware and need high system specifications and resources to run properly.
#6. Mobdro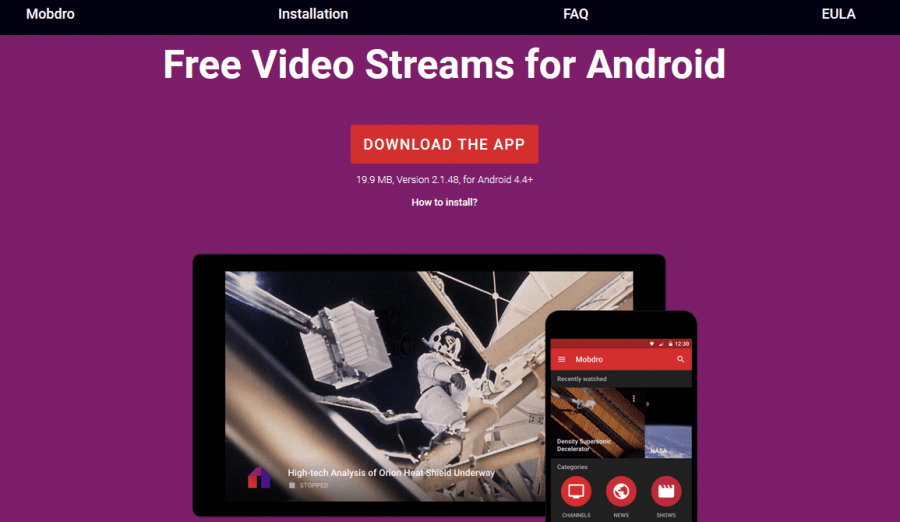 If you like to stream live TV channels online or want to stream movies and TV shows then Mobdro is the perfect application for you. The app is developed solely for online streaming of live TV channels and media from their database.
In case you are wondering, Mobdro is an Android-based app that is available for everyone who is looking for a hassle-free way to stream media from various online sources. It has a minimalistic interface that does the streaming job in a similar way as compared to the Kodi so it is a great Kodi alternative for online media streamers.
Unlike Kodi, Mobdro provides you with the majority of the media and it consists of different channels and all the content is neatly categorized too.
We all have experienced buffering issues while streaming online media with usually happens with Kodi but this problem has been resolved with Mobdro as it allows you to stream your favorite TV channels without any buffering issues because the app is highly focused on providing the best streaming experience.
Mobdro is available in both free and paid versions. The free version allows you to watch a limited number of TV channels and media files, however, with the paid version you will get access to their huge database of TV shows, TV channels, music, movies, and anime.
Pros – No buffering at all, minimalistic and user-friendly interface,
Cons – Only support Android OS, can be used for online streaming only.
#7. SPMC (No Longer Maintained)

Developed by a former Kodi developer, SemperPax Media Center (SPMC) focuses on fixing the bugs and issues that Kodi users had to face on Android OS. It is fully focused on Android users.
The interface of SPMC shares a number of similarities with Kodi and the developer has even added several additional features to improve the delivery optimization for Android devices and provide users with a seamless media experience.
The development team behind the app was constantly working on improving it and keeping the app up to date and used to work on updates regularly to fix any bugs that may occur. But recently, the developer working behind this project stopped further development and started working on a different media streaming project.
We have included this app just in case any of you happen to be using an old Android TV device and want to stream movies and TV shows without investing in a newer or expensive media streaming device or a smart TV.
SPMC boasts of various unique features like the ability to organize audio and video media separately, voice recognition and HQ scaling along with an immersive GUI (Graphic User Interface) that makes it the best Kodi alternative for Android users who are looking for a trouble-free solution for their media streaming needs.
Pros – Addition of exquisite new features, an immersive GUI,
Cons – Only support Android devices, no further development.
#8. Universal Media Server (UMS)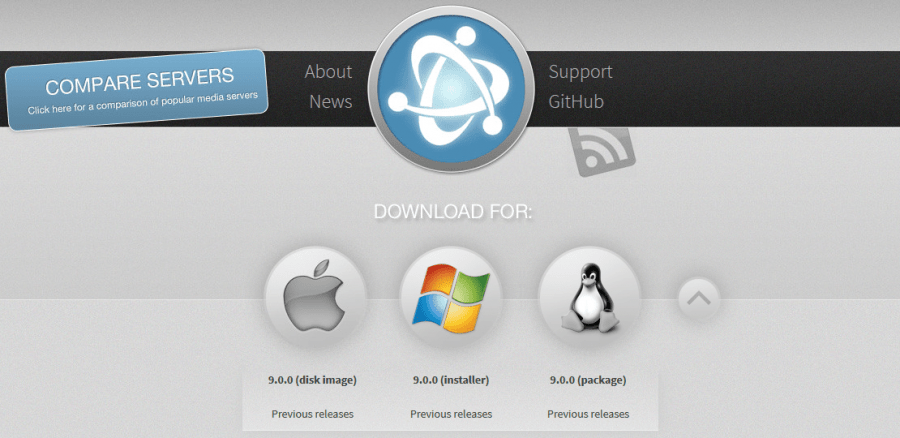 Universal Media Server or UMS will be your perfect media streaming option if you have multiple devices that run through DLNA protocol and you do not want to fill up the storage space on all the devices. UMS allows you to share your own media through a number of devices that may range from Gaming Consoles to personal computers, TVs, or even your smartphones.
The Universal Media Server app supports all major platforms like Windows, Mac OS, and Linux so you do not have to worry about compatibility while trying it on a new device. Looking at the compatibility, it might not be the best Kodi alternative but depending on your requirements, it could be a good option.
UMS offers a web interface for those devices that do not support DLNA, and once the connection has been established you will then be able to access your media through this feature. The interface is quite simple and the user does not have to be proficient in computers in order to use the app to manage all the media files.
The first-time users can get themselves familiar with the interface in no time and start experiencing one of the best media sharing applications among all their devices. You can quickly begin streaming your favorite movies on your linked devices.
Universal Media Server supports a huge number of media types and file formats so you do not have to look for any add-ons if you want to run some specific media file type. In addition to that, you can customize the media settings according to your network speed to enjoy a more soothing experience without worrying about lags or buffering issues.
UMS has an active team of developers and they work tirelessly to roll out frequent updates, fixing all the possible bugs that may occur. In my opinion, if you are looking for a Kodi alternative to share the media on your own devices and do not want to store it on all your devices, this is the perfect solution for your needs.
Pros – Frequent updates, easy-to-use interface,
Cons – Does not support external media sources.
What is Kodi and how does it work?
All of us always want to have our own personalized version of Netflix/Amazon Prime, Kodi helps us fill that gap. If you don't want to install Kodi then you can use the Uwatchfree site online.
Having no content of its own, Kodi is the best media player and streaming app with an interface that looks similar to that of a smart TV and allows you to organize the media stored on your device and play it your way. You can add third-party extensions and play media from other online sources. The app also lets you add several add-ons so you can enjoy additional features and streamable content.
If you have got media stored on a storage medium, which is connected to your Kodi-compatible device, then you can use Kodi to organize, manage, and play the media the way you would like it. And as we have already mentioned, it is an open-source platform and can be downloaded for free. A vast community of developers is also supporting the platform to hold its importance by developing add-ons.
Conclusion
Please share with us your views about Kodi alternative apps and tell us in the comments below which app you have found to be the most useful for your online media and video streaming requirements.