Are you looking to download a communication app that provides end-to-end encryption and allows you to stay in touch with all of your friends and relatives around the world without any charges? Simply download WhatsApp APK for Android tablets and phones from the link below and you are good to go.
Features of WhatsApp Messenger for Android
Messaging – Use WhatsApp messaging instead of SMS messaging to save extra subscription charges,
Voice & Video Calling – Talk with your friends using voice functionality or have a face-to-face conversation using the video calling feature no matter where both of you are physically located,
Voice Messaging – Don't want to type the whole story? Simply record a voice message with just a tap,
Share Photos and Videos – Quickly share videos and photos with your contacts to keep them updated with the latest happenings,
Document Sharing – Share any word documents, slideshows, spreadsheets, and PDF files from within the app (supports file sharing up to 100 MB in size),
Group Chatting – And you can do all of the above within a group too.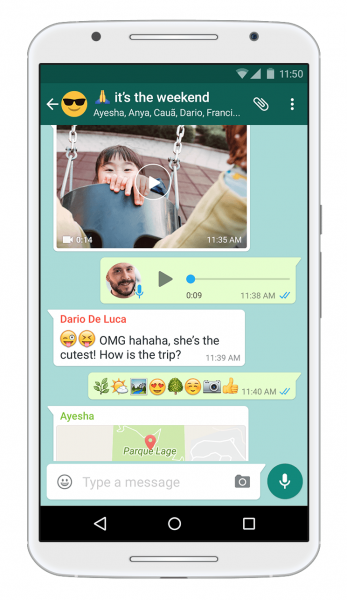 About WhatsApp for Android
WhatsApp is one of the most popular and widely used communication apps by people from all around the world as it is a cross-platform mobile messaging app. It has native support for a variety of communication channels i.e. messaging, voice messages, video chatting, and audio chatting.
That is not all. You can even send and receive multimedia files like documents, photos, and videos directly with your contacts, without any limitations.
You can also create personalized groups to keep in touch with a group of people like family members or work fellows and keep all of them updated within a matter of seconds. You can add up to 256 people in a single group.
All for free.
WhatsApp UI
As far as UI is concerned, it is really simple and straightforward. All of your recent chats are displayed on the first page, displaying the most recent on the top and the least recent on the bottom.
There is also a search bar on the top right corner of the screen as well as a settings button. By tapping on that button, you'll see a drop-down list that has some more options.
Through these options, you can make a new group, open a new broadcast, see all of your starred messages, or go into the settings menu.
WhatsApp for Web
There is also an option called Whatsapp Web. What this does is it allows you to open WhatsApp on your desktop so that you don't have to check your phone again and again. You can access this easily. Just go to your desktop and open any of your browsers and search "web.whatsapp.com", There you'll see a barcode that you'll have to scan from your phone.
To make your phone read this barcode, you'll need to tap on the Whatsapp web option from that drop-down list and scan that barcode. Once you scan that, you'll be able to see that all of your recent chats are going to show up there making it easier for you to work and communicate at the same time.
Record Video and Take Photos
Now, coming back to the phone's UI, if you swipe right from that recent page, the camera is going to open up to take pictures right from the app. By swiping up on the screen, all of the pictures in your gallery are going to show up for you to select the picture and send it to someone. You can also record a video from there if you want by pressing and holding the shutter button.
After you take a picture or a video, a green tick is going to show up on the bottom right corner of the screen, and depending on the video or picture it is going to give you options to write something on the picture or video, put an emoji or even trim the video if you want.
Talking about photos and videos, these wouldn't be sent at the most high quality as Whatsapp compresses your pictures and videos to send them quickly without consuming much internet data.
Sending High-Quality Photos via WhatsApp
So, to overcome that, we've come up with a solution to send high-quality pictures. Just go to your chat, and right beside the camera icon, there is an attachments button. Tap on that button and select documents. After that go into your gallery and select the photo you want to send.
Please keep in mind that this might take more time to send depending on your internet as it is a much bigger file.
WhatsApp Status
Now coming back to the different tabs, by swiping left from the chats tab, you'll see a status tab, this is a new feature added to WhatsApp a while ago to tell or show people what you're doing in your day. It is like a story in which you can upload photos or videos of where you are or what you're doing. Your saved contacts can only see these photos or videos and they disappear within 24 hours of uploading.
You can even put privacy to your story, so if you don't want to show your story to someone, you can go into the settings and type in the names of people you want to hide your stories from, and they wouldn't be able to see your stories.
WhatsApp Audio and Video Calling
By swiping right from the status tab, you'll get to the calls tab. All of the calls that you've received or made will be shown here along with all of the calls you've missed from someone. There is also an option to clear the call logs on the top right corner of the screen if you want to clear all of your call logs.
If you go into the settings menu from the drop-down list located in the top right corner of the screen, you'll be able to change your status as well as your display picture.
Customize Your WhatsApp Profile Picture
To change your display picture and your status, first tap on your name at top of this page. There is going to be a circle, and under that circle, there will be a camera, tap on that and it will ask you if you want to take your display picture right now, choose your display picture from your gallery or remove the recent display picture.
Under that, you can also change your username which is going to display in front of your number to people who haven't got your number saved. Right under that, there is an option to change your status as well.
WhatsApp Privacy Settings
There are also some account settings under the status settings. If you go into the account settings, you can change your privacy settings like who can see your info which includes last seen, profile photo, about, status as well as live location. Please note that if you don't share the last seen, then you wouldn't be able to see other contacts' last seen as well.
Under the privacy option, there is security that lets you know that all of your chats and calls are end-to-end encrypted, meaning that no one will be able to see them other than you. Not even Whatsapp itself.
Two-Step Authentication for WhatsApp
After that, there is Two-step authentication which if you enable it, is going to make it safer and more secure when you change your phone and will require you to enter a pin code if you want to transfer your Whatsapp data to another phone.
Below that, there is a change number which is pretty self-explanatory. After that, there is "Request account info", If you tap on request report, WhatsApp itself is going to send you the whole report of your WhatsApp usage in about three days, which you can also use to port to another phone.
And right under that, there is the delete my account option which is going to delete your account.
WhatsApp Chat Settings
Now, if you come back to the main settings menu, you'll see chat settings. Under this option, you can change the language of your app to your liking and also set wallpaper on the background of your chat. You can choose from the given backgrounds as well as choose pictures from your gallery. Note that this will only change your chat's background and the person you're talking to can't see this background.
You can also set up when the app should back up your chats and also tell it if you want to back up your photos or videos as well.
Customize Notifications and Ring Tones
After that, comes the notification settings. Under this setting, you can turn the conversation tones on or off, change the notification tone of your chats, set the vibration pattern of your notification as well as set a specific notification color to determine if it's WhatsApp or another app.
You can also set different ringtones for group chats as well. And it also allows you to set a specific notification tone for a specific person or chat. And at the end, you can also set different ringtones for Whatsapp calls.
Check Data and Storage Usage
After notifications, there's a tab called "Data and storage usage". Under this tab, Whatsapp allows you to set a limit to network usage as well as turn on or off auto media download depending on your internet and also gives an option for low data usage calls, which restricts the use of the internet for calls.
Overall Whatsapp messenger is a great communication tool that helps you talk to your friends and family for free.
Yes, all you really need to have to be able to use WhatsApp is active Internet connectivity. WhatsApp doesn't charge you for any call or message. And there are absolutely no subscription fees avail all of those facilities.