Do you find it hard to complete missions, and unlock vehicles, and weapons in the GTA San Andreas Android version? With JCheater San Andreas Edition, you can enable cheat codes and hacks in GTA SA and get all those vehicles, weapon sets, and maximum player stats without completing missions.
We all know that Rockstar Games and Rockstar North have disabled cheat codes and modifications in Grand Theft Auto San Andreas for Android, which has made it harder for beginners and GTA fans to play the game without cheats.
There are very limited numbers of working apps and workarounds you can use to enable cheat codes in the GTA San Andreas Android, and the JCheater aka GTA SA Cheater app is one of them. Because the app is complicated to use and requires some configurations so here I have written an in-depth tutorial to help you guide through all the steps.
In this tutorial you will learn:
What is JCheater,
How JCheater allows you to cheat in GTA San Andreas,
List of cheat codes and hacks supported by JCheater, and
How to use JCheater to cheat in GTA San Andreas.
How to Download, Install, and Use JCheater in GTA San Andreas Android?
Here is a detailed step-by-step guide on how you can use JCheater: GTA San Andreas Edition to enable cheat codes in the Android version of the game: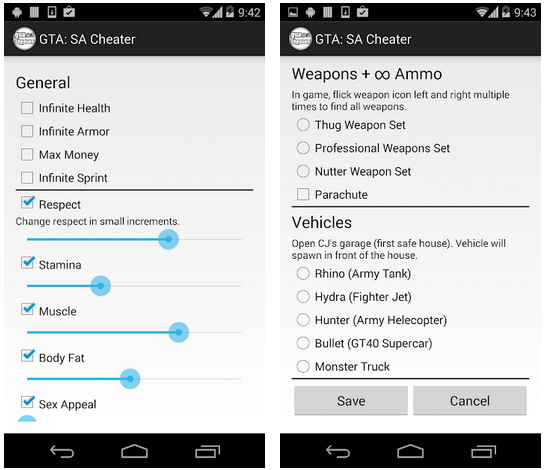 Even though the GTA SA Cheater app is simple to use and does not require root access but it is not free and will cost you a one-time fee of $1.99. In case you are looking for a free option then try CLEO Mods Scripts to cheat in GTA San Andreas on Android. 😀
There is a possibility that the save game files modified by the JCheater app could get corrupt and might not work after applying cheats, so to be on the safe side, I will suggest you create a copy of your existing save game in a new slot and then apply cheats on it.
Step 1 – Download and install JCheater on your Android phone/tablet from here.
Step 2 – Before you launch JCheater, you need to save your existing game in a new slot by going to one of the two recognized safe houses i.e. Johnson House or Santa Maria Beach.
So first, open GTA San Andreas on your phone and start a load game. Once the game has been loaded, go to either the safe house located in Santa Maria Beach or Johnson House and save the current game in a new slot/empty slot.
In case you don't have GTA San Andreas for Android then you can grab one for free along with the complete save game data. 😀
NOTE: Going to the mentioned safe house to save the game is only required if you want to spawn a vehicle, otherwise that step is not necessary.
TIP: There are 6 slots in total, and the first one is occupied by default while the rest are empty. I will suggest you save the game in the sixth slot.
Step 3 – Do not close the game yet, simply use the home button to minimize GTA SA and then open JCheater app.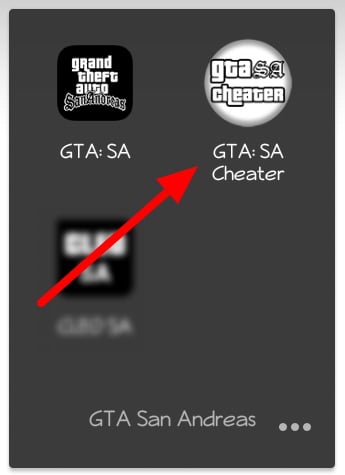 Step 4 – You will see a launch page along with the warning and instructions. Simply tap on "Skip".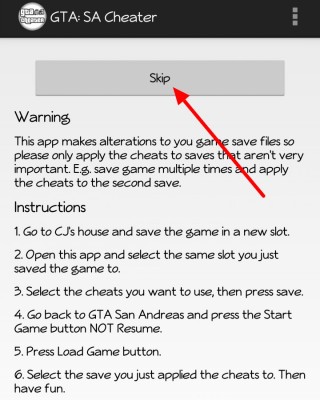 Step 5 – JCheater will scan your save games list and show you the slots where all your games are saved. As I saved my game in the sixth slot so, I will tap on "Save 6".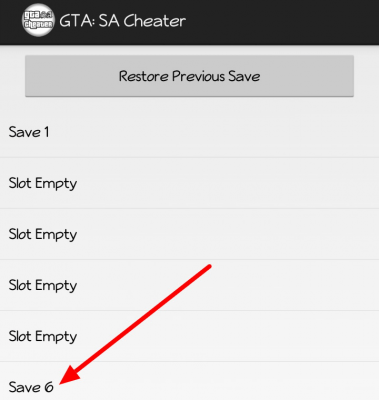 Step 6 – The GTA SA Cheater will now begin loading data from the selected save game. This process will take a while.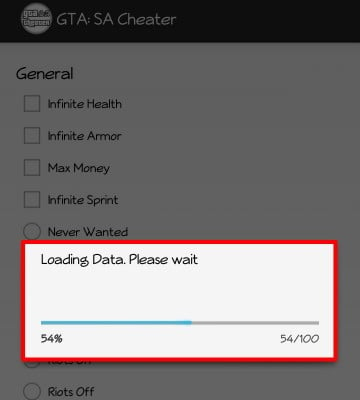 Step 7 – Once the data from the save game has been loaded successfully, GTA SA Cheater will show you a list of cheats and hacks you can apply to your saved game.
Go through the list and make your selection wisely. I have already mentioned in the previous section about what are the available cheat codes and what each one of them will get you in the game.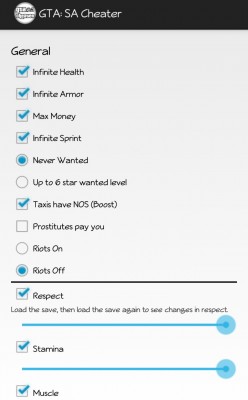 Step 8 – When you are done, tap on the "Save" button.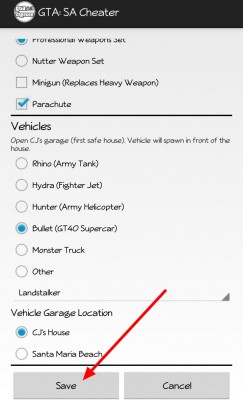 Step 9 – JCheater will now apply your selected cheats and hacks. Progress will be shown in a popup window. It will take a few seconds to complete.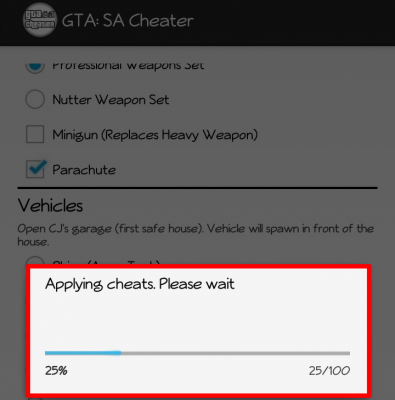 Step 10 – Once completed, JCheater will automatically close and show you a toast message that says, "Cheat Activated. Now load the save in GTA".

Step 11 – Open GTA San Andreas (it must be already running in the background). Then go to "Start Game" -> "Load Game" -> and from here select the sixth slot.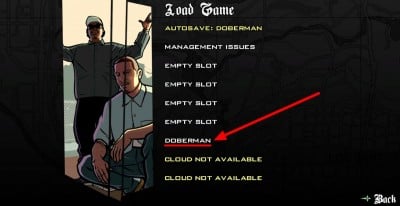 Step 12 – That is it. When the game loads, all the cheat codes and hacks you have selected in the JCheater will be automatically activated including weapon set, unlimited ammunition, infinite health, infinite armor, maximum money, and other cheats you had selected.
To spawn the selected vehicle: open the garage and the vehicle will be spawned in front of the house (as shown in the image below).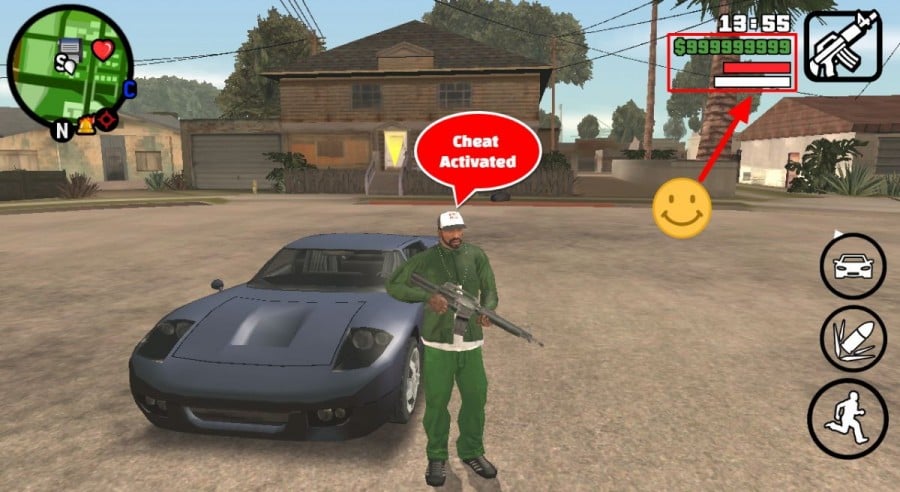 Have fun! 😉
What is JCheater/GTA SA Cheater for Android?
The JCheater: San Andreas Edition app (also known as GTA SA Cheater) is designed and developed by Net Tech Development Ltd. Their key motive behind the development of this app was to help players like you in spawning all the cars, bikes, helicopters, and other vehicles as well as providing all the weapons. All of these are locked and require you to spend a lot of time completing missions in an attempt to unlock those items.
With JCheater, you can get every vehicle as well as all the weapons along with the in-game stats without spending endless hours on completing missions and upgrading stats.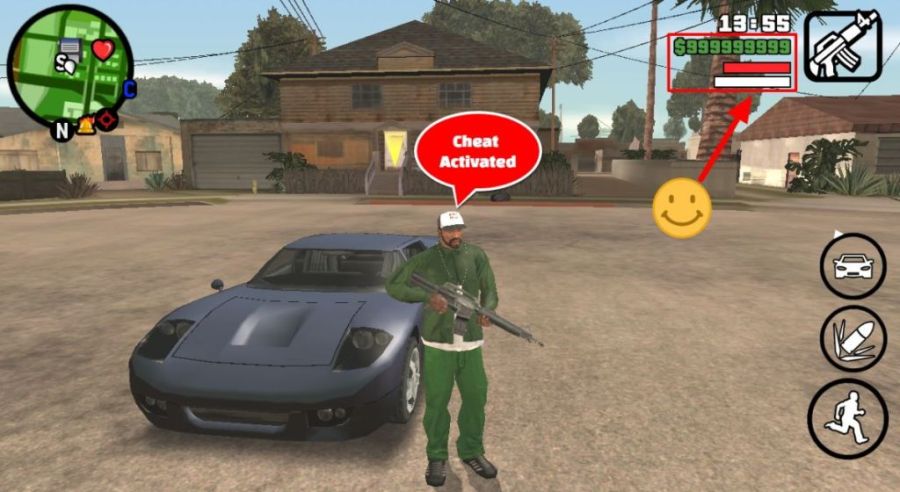 In a nutshell, the GTA SA Cheater app will modify your saved game data of GTA San Andreas and enables all of your selected cheats and hacks on the game, so you won't even need to enter any cheat codes.
JCheater app brings a completely new gameplay experience, as all the cheats will be enabled from the moment you begin playing your modified version of the saved game.
List of Cheat Codes Available in JCheater for GTA SA
Here are the cheat codes and hacks supported by JCheater for GTA San Andreas on Android. You can see the true potential of JCheater as well as what type of cheats and hacks you can enable in the game.
Infinite Health – Makes you invincible.
Infinite Armor – Gives you unlimited armor.
Max Money – You will have the maximum amount of money.
Infinite Sprint – Run as long as you want.
Taxis Have NOS (Boost) – All the taxis will be equipped with a nitrous tank.
Never Wanted/Up To 6 Star Wanted Level – Radio button to select either option.
Prostitutes Pay You – Prostitutes will pay you rather than you paying them.
Riots On/Riots Off – Turn on/off riot mode.
You can manually adjust the stats levels of CJ's:
Respect,
Stamina,
Muscle,
Body Fat, and
Sex Appeal.
Selection of three different weapon sets with infinite ammunition including:
Thug Weapon Set,
Professional Weapon Set,
Nutter Weapon Set, and
Parachute.
Option to spawn any vehicle you want including the popular ones:
Rhino (Army Tank), Hydra (Fighter Jet), Hunter (Army Helicopter), Bullet (GT40 Supercar), Monster Truck, and
Other – This option allows you to select any other vehicle of your choice from the provided list.
These are all the cheats and mod options of JCheater for GTA SA Android.
Conclusion
There you have it. You have now learned about the JCheater GTA SA Cheater app and how you can use this app to enable a variety of cheats and hacks in the GTA San Andreas for Android.
If you have any questions or queries about JCheater or have any issues related to using cheat codes in Grand Theft Auto San Andreas for Android then feel free to ask in the comments section below and I will help you out. 🙂