Manga has gained a lot of traction lately among the younger generation, which in turn has increased demand for Japanese and Korean manga comic reader apps. Especially for mobile devices due to the ultimate portability and the ability to take your favorite manga wherever you want.
Moreover, enthusiastic manga readers are always looking for an app that provides maximum support for all the old and latest manga including the ones that are about to be released.
In this blog post, we have compiled over six best manga reader apps that you can install and try right now on your Android smartphone devices.
1. MangaToon – Manga Reader
MangaToon is a globally popular and well-known HD manga reader app that has a fully functional website version as well.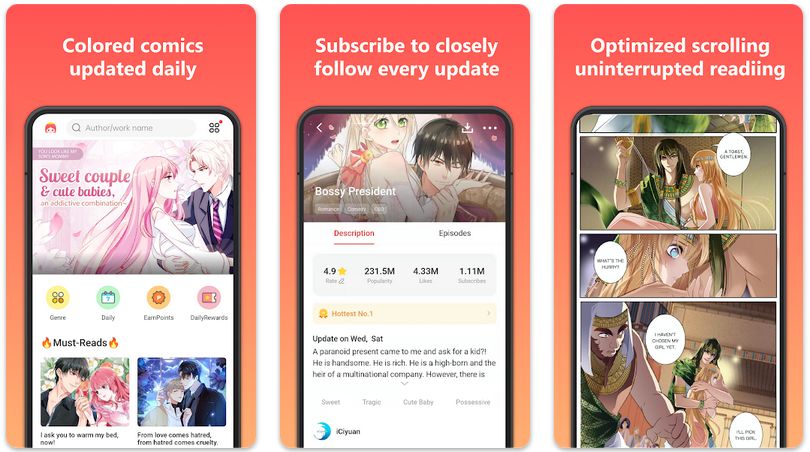 You can use the app to read comic manga from almost every genre including action, fantasy, romance, sci-fi, horror, and comedy.
The database is updated regularly with fresh content including Korean comics. You can download your favorite ones for offline reading too.
MangaToon offers you manga comics in a variety of languages including English, Thai, Arabic, Vietnamese, Spanish, and French along with support for other languages.
2. Tapas – Comics and Novels
Tapas is a community based comics manga creator that has currently produced and published over 103,000 stories, at the time of writing this blog post.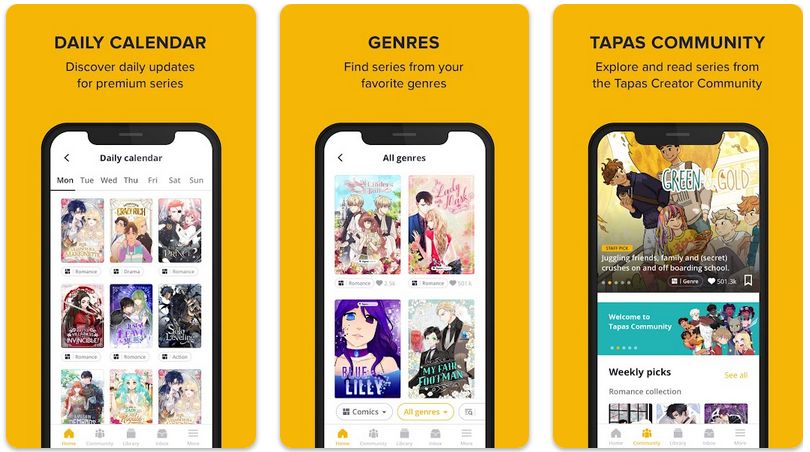 The app offers you a daily calendar that can provide you with regular updates for all the current manga series. Moreover, you can find manga from your favorite genres too.
One of the most highly popular comics published by Tapas is "The Beginning after the End", an action and fantasy based series, which has managed to get millions of views.
That manga comic series is translated into six languages and it has topped the charts globally.
3. MANGA Plus by SHUEISHA
Just like other manga readers, Manga Plus is also available in two variants i.e. online website based and the other is an Android app. It is designed and developed by Shueisha.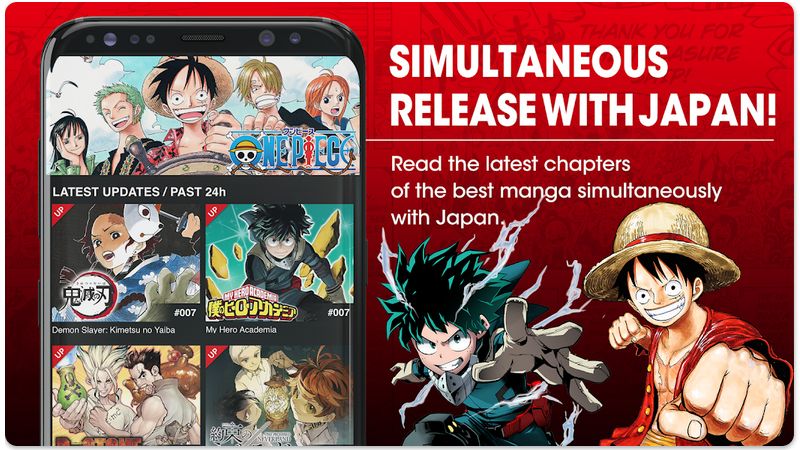 The service was launched in 2019; it is available globally apart from a few countries and is being widely used by millions of manga fans.
The app uploads the latest manga as soon as it is released and made available in Japan. You can then quickly read them or add them to your favorites list to read later.
Also, once you have added any manga series to your favorites, Manga Plus will make sure to send you a notification whenever a new chapter is released.
4. Manga Box: Manga App
With the Manga Box reader app, you can access and read all the popular and newly released Japanese manga comics for free. All the content available on this app is free and the developers don't charge.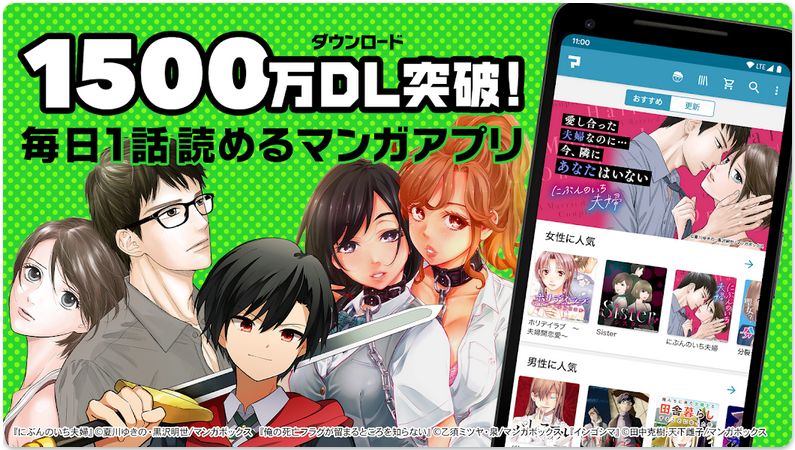 The interface is neatly designed and easy to navigate so you can browse manga by genre or release date or chapter-wise and find the one that you want to read.
There is a wide range of genres including action, comedy, horror, sci-fi, time travel, and fanfic. Apart from that, you can find a separate list for manga with the hottest and those which are recently updated.
5. Toomics – Read Premium Comics
Toomics offers you an endless collection of free as well as premium manga comics. Whether you are going to read manga for the first time or you are an avid fan, Toomics is the perfect app for you.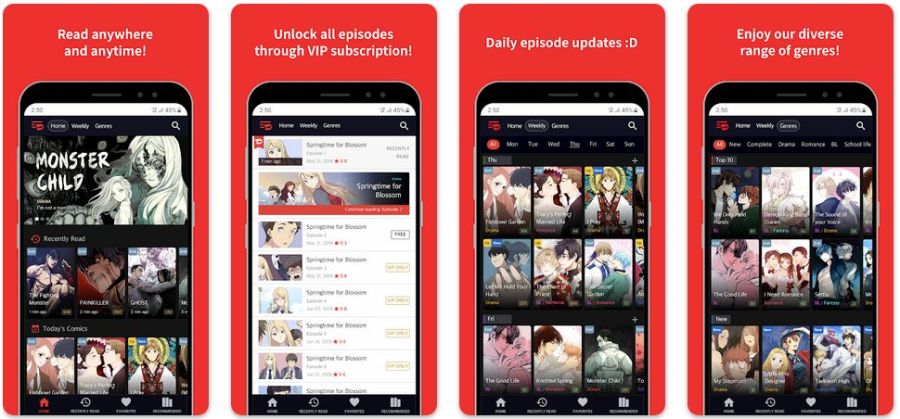 As there are premium comics, which makes this platform one of the top ones where you can find manga from fantasy and every single genre including romance, thriller, and action.
The manga comics are designed and published by professional manga artists and industry experts as the app will introduce you to full-color stories and high-definition sketches.
You can easily signup for an account and add your favorite episodes and series to favorites, and the app will then keep you updated with future releases and recommendations.
The best thing is that there is a family-safe option too, which makes the app suitable for every audience.
6. Ur Manga: Comic and Novels
Ur Manga offers you a wide range of manga comics and novels where you can access the world of personalized and recommended manga right on the homepage of the app.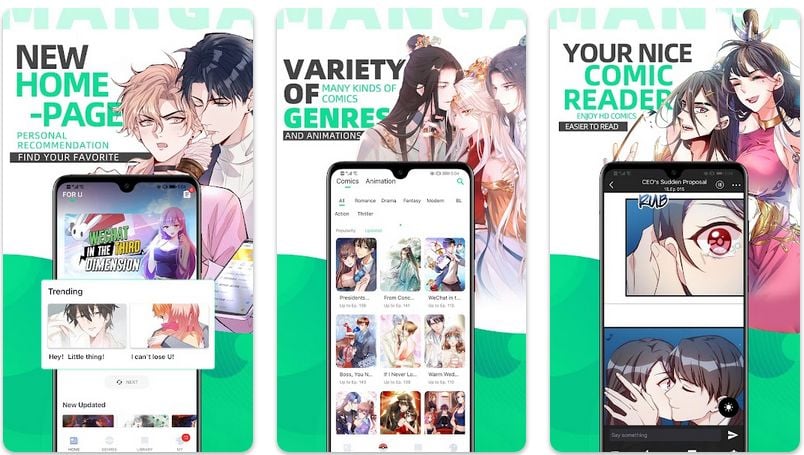 The app and the website offer you manga in a variety of genres and you can choose your favorite ones to get further recommendations based on the selected ones.
You can add your favorite manga to your favorites list, which you can download as well for offline reading and that too in full HD quality. Making it easier for you to read.