A step-by-step guide for downloading Instagram photos and videos on Android using the Instagram downloader apps for free.
Some apps even let you download Instagram TV, i.e., IGTV videos on your Android as well so that you can share them somewhere else.
You can quickly download Instagram stories and highlights of your friends and favorite celebrities.
Save and reshare Instagram pictures and videos within a matter of minutes.
While scrolling through our Instagram feeds, we come across many posts that we find related to our day-to-day life. And that is exactly when we want to save those photos and videos so that we can reshare them with other people.
There could be several reasons for wanting to save Instagram photos and videos on Android like saving a beautiful scenic photo and setting them as your phone's wallpaper, sharing some funny videos with your friends on WhatsApp who do not use Instagram.
Although sharing Instagram photos and videos within the social network is easy, however, to be able to save or download those images or videos or IGTV videos and share them outside Instagram, you will need to have a dedicated app.
Here we have reviewed the best ways to help you download Instagram photos and videos on Android. We have also included a step-by-step guide with each method to make it easier for you to save pictures and videos from Instagram quickly.
#1. Save Reposter for Instagram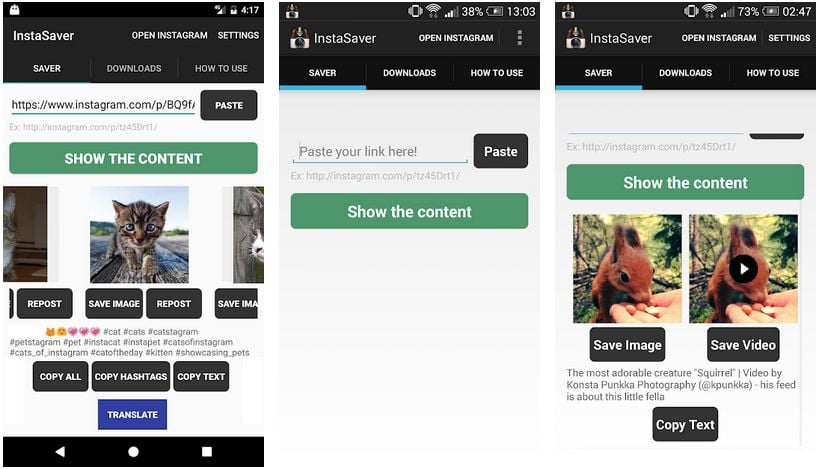 A popular app for downloading photos and videos from Instagram, Save Reposter has an impressive 4.6 rating and over 5 million downloads on the Play store. If you need the quickest and easiest tool to download the posts, their captions, or their hashtags. Save Reposter is made precisely for this purpose.
Save Resposter allows quick repost of the whole package, i.e., post and caption, which other apps do not provide. The downloaded photos and videos go directly into the gallery. Just download your favorite photo or video, and the process will be running in the background, and you do not have to worry about anything.
With a one-tap process to change between Insta and Save Reposter also vice versa, the transition is fast and smooth.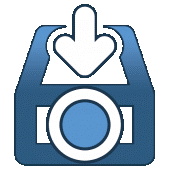 Features of Save Reposter
Here are some noteworthy features of Save Reposter for Instagram:
No login required
Gives you the option to view the downloaded Instagram content in the phone's gallery
Provides an additional feature to copy the hashtags or description without hashtags from the post
How to Use Save Reposter?
Click on the "Share URL" option on Instagram.
Either paste URL in the Save Reposter app or a more straightforward method is to click on the Saver icon that will appear in the notification bar.
Select between downloading the image, and video, or copying the text and hashtag.
#2. Quick Save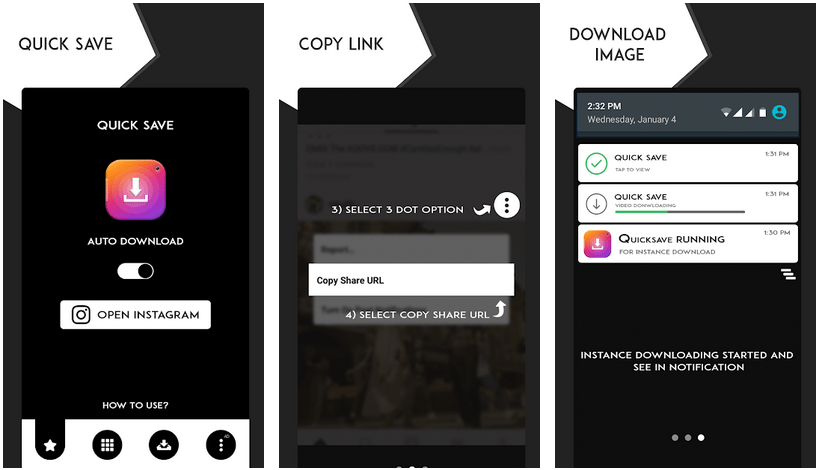 Ever wanted to create a good Instagram collection comprised of posts you love? Quick Save does it for you, one of the fastest photo downloader apps out there.
Unlike other apps that only provide the functionality of downloading a single post, Quick Save gives you the feature to make that nine grid images for Instagram, or you can also photo-split with just a button click on the spot.
Quick Save also comes with the technology to edit your favorite picture or videos with different types of colors, and filters on the spot so you share those edited posts directly to Instagram.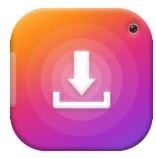 Features of Quick Save
Highlighted below are the features of Quick Save for Android:
No login required
Provides an in-built feature that lets you edit photos or videos with different color filters
Provides additional feature to make a 9-grid image (for Instagram)
Gives you the option to share pictures through the Quick Save app on various social media platforms
How to Use Quick Save?
Open Quick Save and minimize it.
Open Instagram and look for pictures or videos you want to download and click on "Copy Share URL."
Open Quick Save, and there will be a list of images and videos you like, click download on any of the ones you want.
#3. FastSave for Instagram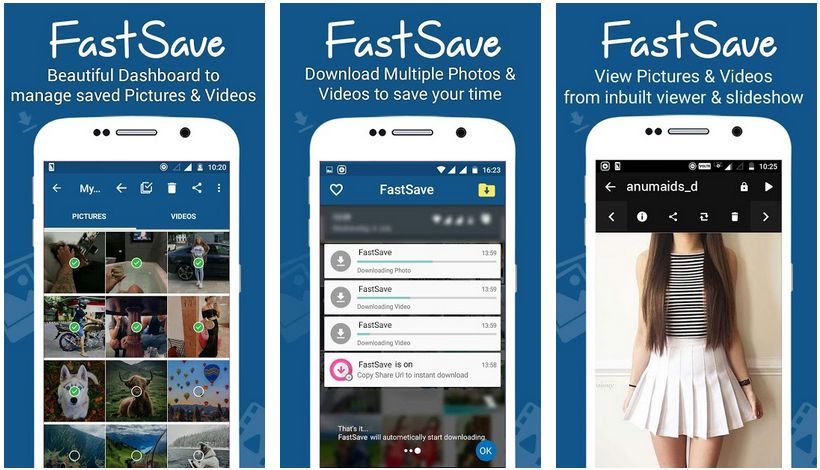 Arguably one of the best third-party apps as a downloader for Instagram, Fast Save, has been downloaded more than 10 million times on the Play Store. Its features include saving multiple photos and videos at once. Saved stories appear in the notification bar above for quick access. Long press on the media to get information about the original user.
To top it off, it has a fast download speed to get you off and running. The Fast Save app is well designed. It has a minimal yet beautiful UI, which makes the overall user experience pleasant. The app allows you to Repost, Share, and Delete photos, and videos from the app directly. Furthermore, you can hide all of these photos within the app's Secret locker feature.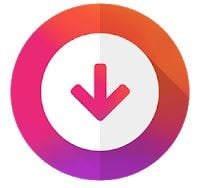 Features of Fast Save
Here are all the features of Fast Save for Android:
No login required
Automatically saves photos and Videos
Downloaded images or videos do not contain any watermarks
Easy sharing of saved pictures and videos on social media platforms (through the app)
Provides a Secret Locker to hide your saved photos and videos
Provides details about the user by long pressing on the saved picture or video
How to Use Fast Save?
Open Fast Save, toggle the "Fast Save Service" option and then click the "Open Instagram" button below the Fast Save service option.
Open Instagram and find your desired picture or video.
Click on "Copy Share URL," and the download will start automatically (progress is shown in the status bar).
#4. Regram – Repost for Instagram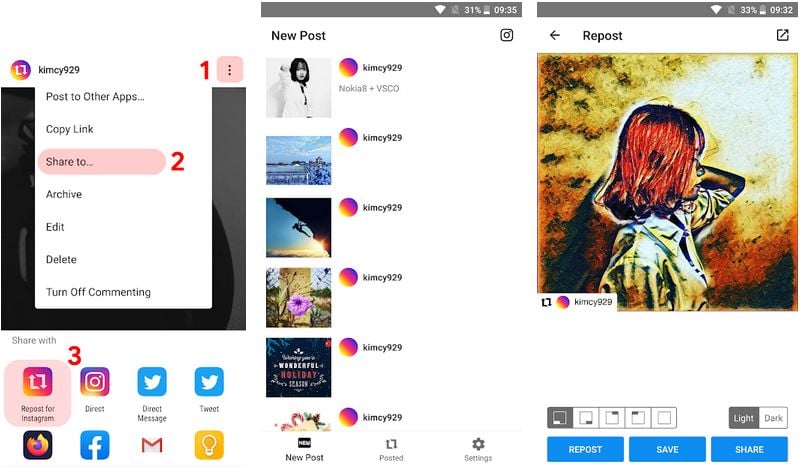 We all have those favorite Instagram artists we follow, right? And time after time, we want to share the amazing content they produce, and when we share those posts, we want others to admire the creators of the content.
Repost for Instagram allows precisely that and much more with the option to download photos and videos with ease and without any hassle. You can download photos and videos with the watermark, so if you want to share them with others. It also downloads with no watermark just like other apps.
Reposting for Instagram also supports the reposting of pictures and videos with the original caption, therefore copying the caption or remembering is negated, and more of your effort can be put into the post itself.  The app receives regular updates and is strongly backed up by its developers. For instance, the app's Android 10 version was out before its competitors.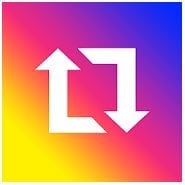 Features of Repost for Instagram
Gives you the option to add a watermark
Enables you to repost with a caption
No login required
How to Use Repost for Instagram to Save Photos and Videos?
Open the Instagram app and find the picture you want to download.
Tap on those three dots and then tap on "Copy Link or Share."
Open Repost for Instagram and paste the link there.
The download of that photo or video will start.
Lastly, enjoy as you repost the picture and video with the original caption.
No Longer Available on Playstore
#5. Regrann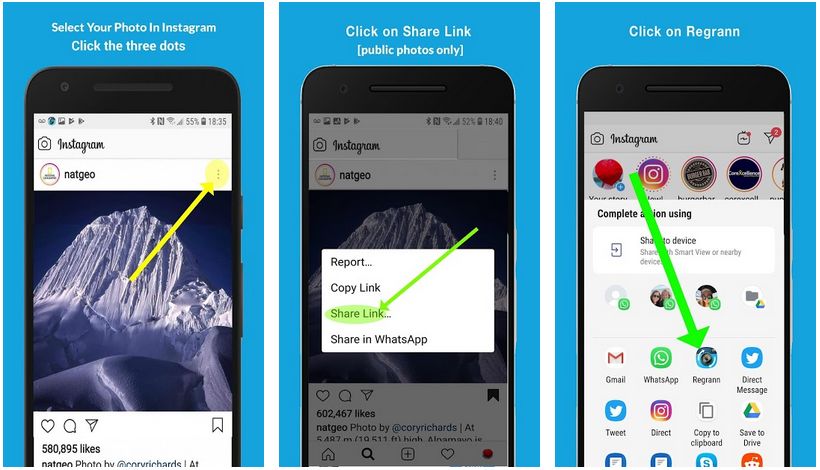 Regrann is a popular app on the Playstore with over 5 million downloads and an impressive 4.7 rating. It's an easy-to-use photo downloader app and has a simple 3-step process to download posts, and we have shared those steps below.
Regrann is a single-screen interface with a pop-up that contains a download button. Just click it to download your desired post. The pictures and videos will be saved in the Instagram folder.
A free photo downloader that doesn't require you to log in to save those authentic posts. Speaking of authentic posts, Regrann also gives the option to repost those posts you want from that single-screen interface. All of this can be achieved with a few simple steps without leaving Instagram. The only negative aspect of this app is that it includes in-app purchases.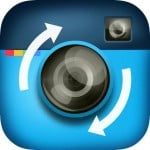 Features of Regrann
Does not require you to leave Instagram
No login required
Gives you the option to add watermarks when you repost (for crediting the owner)
Gives you the option to add signatures when you repost
How to Use Regrann?
After going through the initial set-up of the app, please follow these steps:
Open Instagram and select the picture or video you want to download.
Then tap on the 3-dot option on the top right side of the post and select the 'Copy Link' option.
Go back to the app (Regrann), and a preview of the image or video will appear.
Tap the 'Save' option on the bottom left side of the screen. The app will instantly download the photo/video on your phone.
#6. Repost IG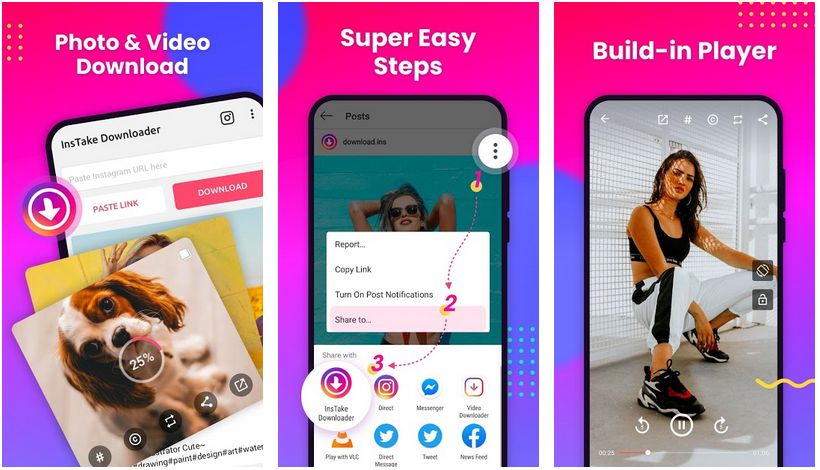 With an impressive 4.9 rating and over 5 million downloads, the app satisfies its user base. A 100% fee and a super-fast downloader for Instagram photos and videos, allow for super-fast downloading with their multi-thread tech, which is USP considering other great apps do not offer. Supports download of all HD videos and photos and saves them in the gallery.
Repost IG has a built-in video player that can be used to play videos offline, also a built-in album for viewing photos offline as well. This app supports the copy link, share, rename, and repost for photos and videos downloaded, so you customize the posts (reposts) as much as you want.
To make reposting even better, you can copy hashtags and captions through this app. Moreover, this app takes less space as compared to other similar apps.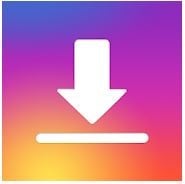 Features of Repost IG
No login required
Built-in video player
Gives you the option to copy hashtags or captions
How to Use Repost IG?
A unique 2-step downloading process that makes it even more, more comfortable to download as many posts as you want.
First Method – Open Instagram and click on the "Share Link" of the post you want to download. Then select InsTake Downloader to share. That's it! The post is already downloaded.
Second Method – Open Instagram and click on the "Copy Link" of the post you want to download. Then open Repost IG Downloader and your post have been downloaded.
No Longer Available on Playstore
#7. Downloader for Instagram by ZN Studio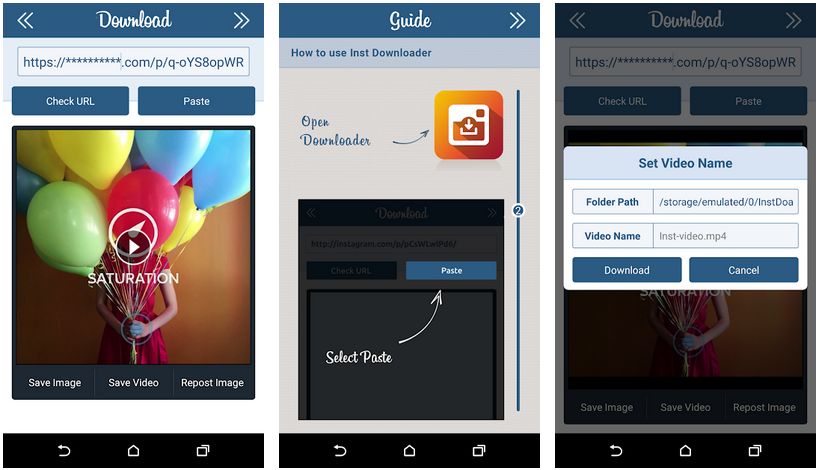 Downloader for Instagram by ZN Studio is another useful free app, that has no login requirement, and provides easy (2 steps) to download photos and videos. This app downloads photos and videos by using the link of the selected photo or video.
A unique feature that Insta Download gives to the users is that you can use this app to easily explore the files shared from your Instagram to Facebook or Twitter.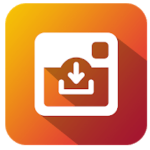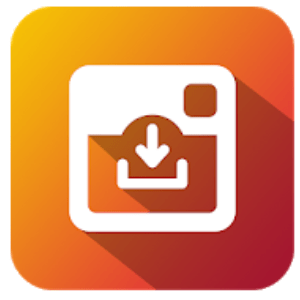 Features of Downloader for Instagram
Easy sharing options of downloaded photos or videos on Facebook and Twitter
No login required
How to use Downloader for Instagram?
Open Instagram and copy the link to the post you want to download.
Open Insta Save, paste the link in the given box, and tap "Check URL" this verifies if the link is authentic.
Once the link is confirmed, you will have three options on the screen "Save Image," "Save video," and "Repost," click on the one you desire, and it will be done.
Instagram is one of the most popular and increasingly growing social media platforms that has been reaching new heights and has become a lot more popular than ever before. Hundreds and thousands of users are creating and publishing millions of posts, stories, pictures, videos, and IGTV videos on the platform daily.
Which Instagram downloader app did you use on your Android? Which app is your favorite? Let us know in the comments below if we missed any and we will add them to the list. :)