Do you struggle to find a reliable and trustworthy web browser for your Android device that provides privacy along with all the features to fulfill your web browsing requirements?
Here I have personally tried and tested each web browsing app and prepared a list of the eight best non-Google web browser apps for Android that are the most steadfast. These browsers come bundled with features like ad blocking, download manager, private mode, synchronization, data saving mode, and browsing speed booster.
1. UC Browser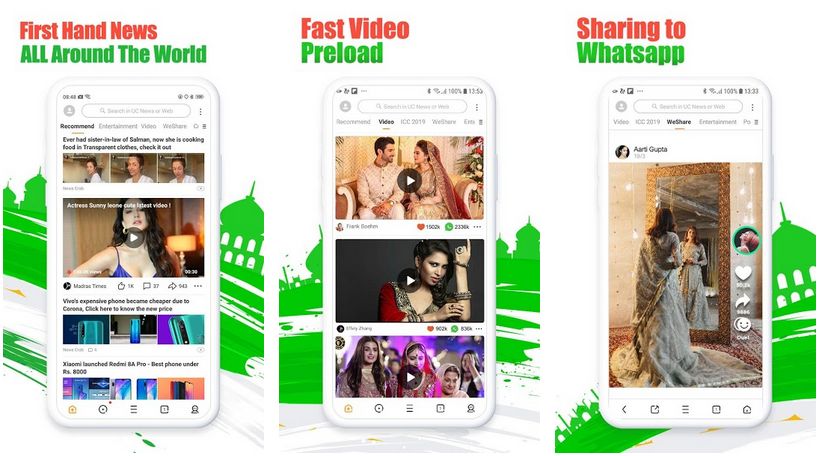 Do you want to download files from a website but struggling with unstable downloading speeds?
UC Browser has a built-in download manager and makes use of its servers that will keep all of your downloads at their maximum speeds without any stability issues. And in case your download is dropped due to connectivity then it will resume from the same point.
UC Browser features an integrated ad-blocking system and manages to block most of the advertisements to provide you with an ad-free web browsing experience.
And in case, your smartphone or tablet has limited resources then you can download UC Browser Mini, which will give you a smooth web browsing experience.
2. Firefox Fast and Private Web Browser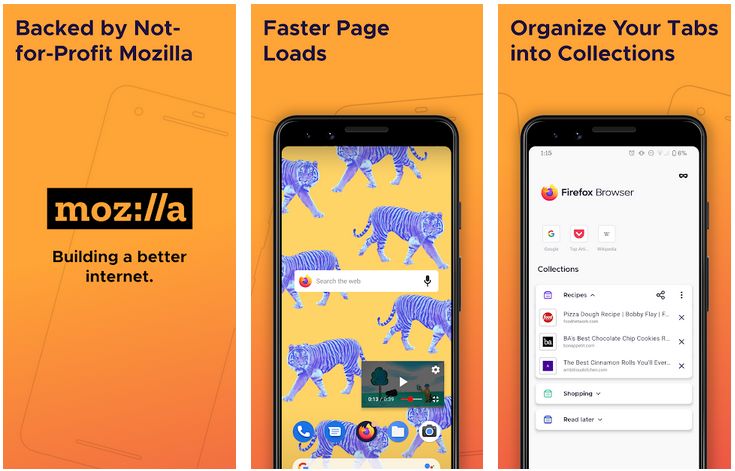 Similar to Google Chrome, Mozilla Firefox is one of the most reliable web browsers available for Android. Its ability to personalize the web browsing experience according to your taste is what makes it the favorite browser for millions of users.
Firefox will let you customize your browser using add-ons, which is available for everything like password managers, download manager, and ad blocker. And with the sync capability, you will be able to access your bookmarks, opened tabs, and history on different devices without a glitch.
3. Dolphin Browser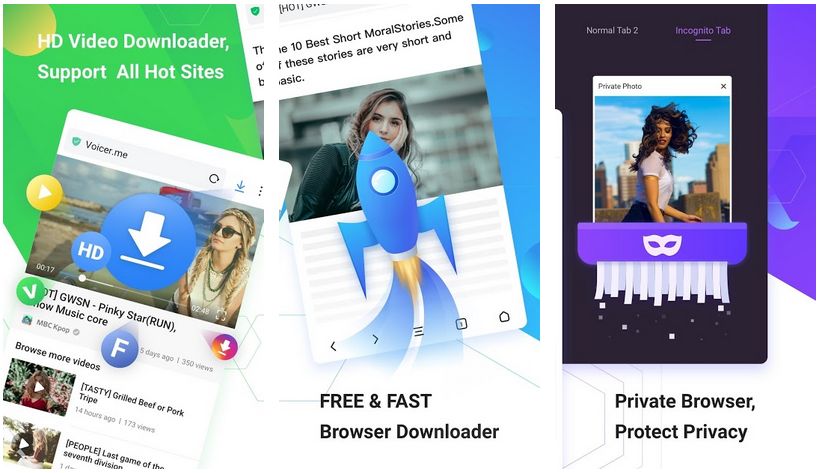 Dolphin web browser gives you a unique feature, which is not provided by any other browser in the list i.e. gestures. Yes, you can add your personalized gesture to access your favorite website like drawing a letter "F" to navigate to Facebook quickly.
Dolphin web browser also supports Flash player so can get the best video and gaming experience right on your Android smartphone or tablet.
4. Opera Browser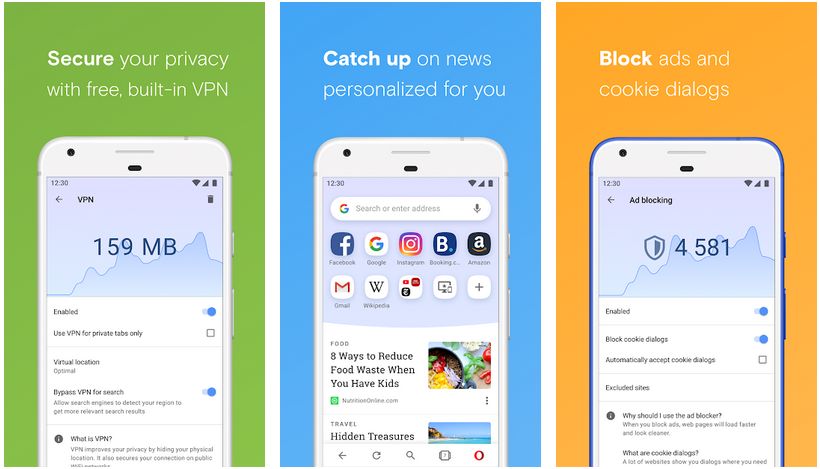 If you are looking for a web browser that will improve your web browsing experience even on a slow Internet connection, then I will recommend you to go for Opera browser.
The web browser is powered by Opera Turbo which is designed to boost the web page loading speeds by over 70 percent and even save your data.
Moreover, the video compression feature uses Opera's compression servers that will enhance your video experience and will prevent it from delaying.
5. Puffin Cloud Browser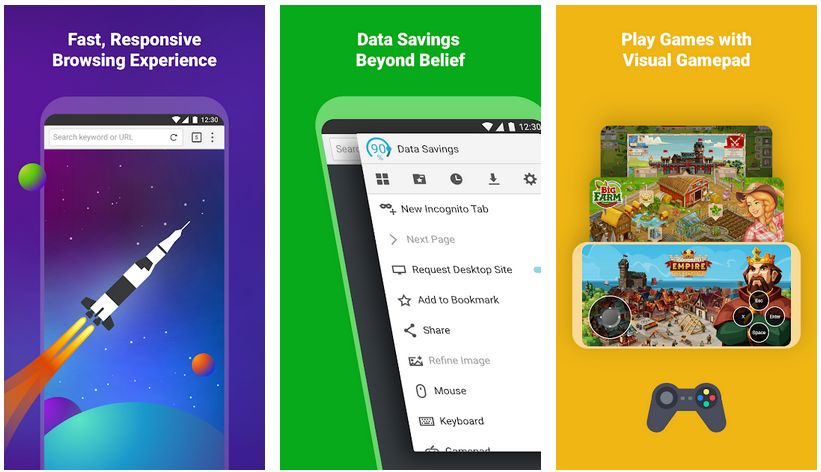 Are you looking for a web browser that will give you a faster page-loading time? Try Puffin Web Browser. The developers have designed a technique that uses their super-fast cloud servers in an attempt to load resource-hungry web pages without any delay.
Also, if you are using public Wi-Fi network to access the Internet and are worried about your privacy, then Puffin's cloud protection will keep you secure as all the traffic that reaches Puffin cloud servers are encrypted to ensure that your identity remains protected from intruders.
6. Maxthon Browser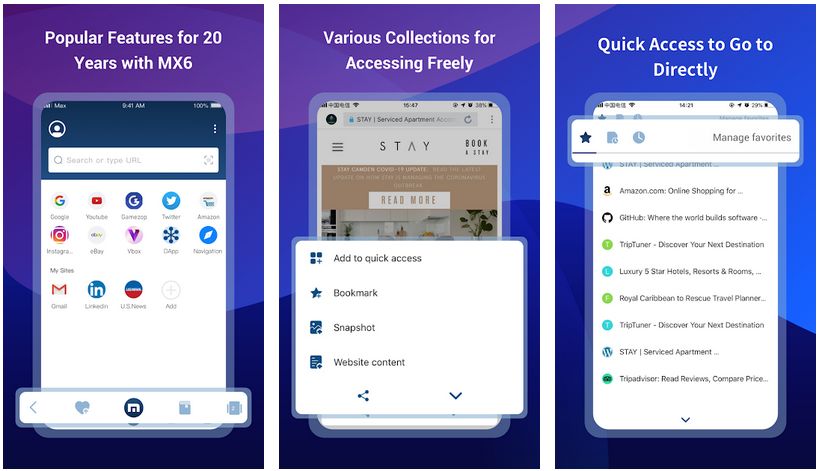 Maxthon web browser is a secure, simple, and lightweight browser that is downloaded by over five hundred million trusted users.
It has a built-in ad blocker system powered by Adblock Plus, which is powerful enough to block most types of advertisements on your Android device.
The browser features a private mode, download manager, and quick access toolbar that can be customized to keep all of your favorite websites at your fingertips.
7. APUS Web Browser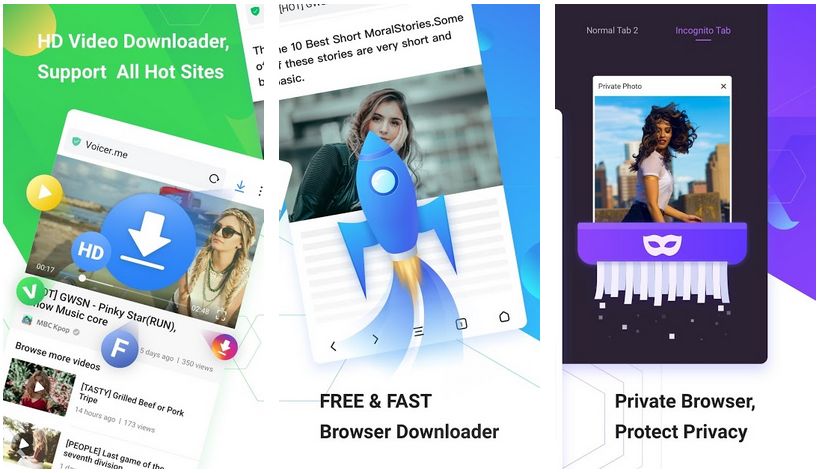 APUS Browser is designed by keeping in mind the requirements and needs of those users who are using slow Internet connections like 2G. The APUS browser accelerator will ensure that all of your web pages are loaded a lot faster even on slow Internet connectivity.
Similar to other web browsers, APUS is lightweight and does not require a lot of system resources. And with support for multi-tab browsing, you can quickly switch between several tabs without any issues.
8. Google Chrome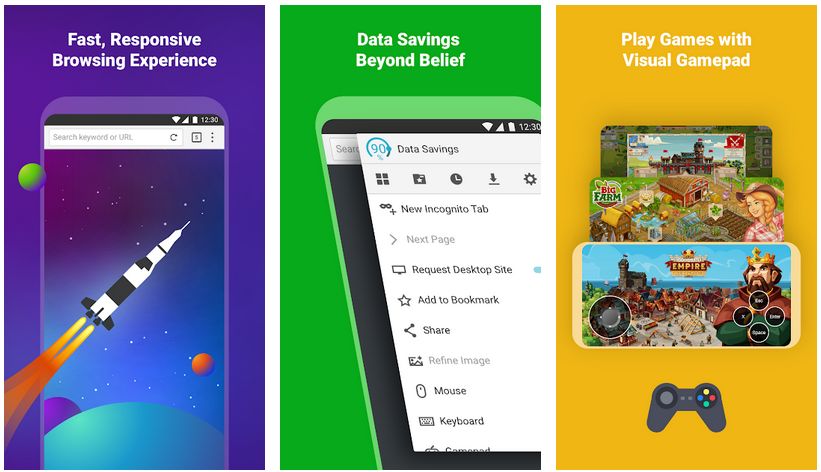 Google Chrome is one of the most popular web browsers for all platforms and devices. Developed by Google, which is why the browser is capable enough to let you quickly initiate your search using your voice.
Once you sign in to your Google account, you will notice that all of your bookmarks, tabs, browsing history, and even all of your saved passwords are synced with your Android device, which allows you to move your work from one device to another seamlessly.
Which One Is Your Personal Favorite?
My personal favorite is the Firefox web browser as it provides seamless synchronization of all my bookmarks between desktop and phone, and I can even personalize my experience using the support for add-ons.
Is there any other web browser app that is your favorite but I didn't include in the list? Share in the comments below, I would love to read your opinion 🙂