Do you want to unleash the true potential of your Android device and want to perform hacking? Here I have handpicked some of the best hacking apps and tools for Android so you can transform your Android device into a powerful hacking device and experiment with different hacking and attacking stuff.
Believe it or not, our smartphones have now become smart, capable, and powerful enough that now we don't even need access to our computer systems to perform various hacking tasks like ethical hacking, network attacks, find possible exploits, and numerous security checkups, thanks to the open source Android operating system that is based on the Linux kernel.
Anyways, the hacking tools and apps mentioned in the list below will help you execute various types of hacking. Some of the apps included in the list may require you have a root access on your Android device as well as some extra modules like Xposed or BusyBox to function properly. Though most of the apps should work flawlessly without root.
Okay so without any further ado, here are the 29 best hacking tools and apps for Android devices that will let you perform a lot of hacking, specially the type of hacking you would have never thought is possible on Android before. Continue reading to find out… 😀
#1. Fing – Network Tools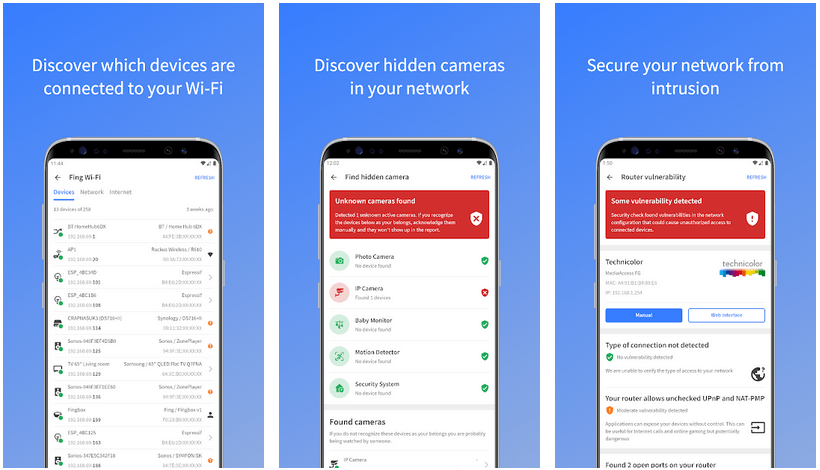 Fing is a network management toolkit that enables you to take complete control over your WiFi network and help you in the assessment of your network's security, setting up your personal network, troubleshooting link problems, and detect intruders all from the comfort of your Android device.
The app includes some tools, and some of them are subnet scanner, port scanning, ability to connect to SSH or FTP ports, advanced exploration of NetBIOS and UPNP.
Frequently updated.
Does not require root.
Contain ads.
Lacks user manual.
#2. Hackode Penetration Tester
Hackode is a penetration tester app specifically designed for cyber security experts, ethical hackers and network administrators. If you are one of those and looking for some administrative tools, then this app is for you.
The app includes tools that will let you perform Network investigation, Whois, pinging, MX records lookup, finding exploits within your network.
Does not require root.
Poorly designed user interface.
No help or FAQ section.
No update for a long time.
#3. Network Mapper
Network Mapper, which is also known as Nmap, is an open-source app that is designed to help you with the downloading, installation, and proper usage of Nmap on your Android device. The app supports various Android architectures including x86 and ARM.
For those of you who don't know, Nmap is a tool designed for networkers and will help in discovering protocols, services, open ports and possible vulnerabilities within the network.
Open-source.
Simple and effective.
Lack of update.
#4. Nipper – Toolkit Web Scan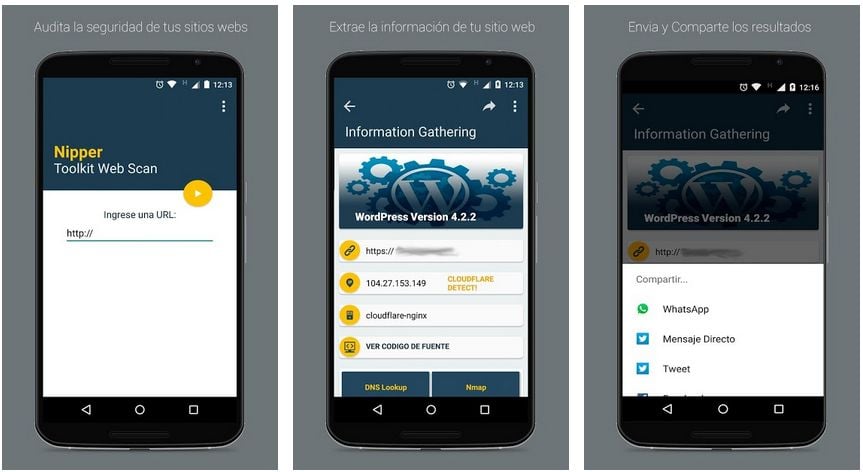 Nipper is a toolkit specially designed to check the security of the websites based on the popular web CMS (Content Management System) including Joomla, Blogger, WordPress, Drupal and several other.
The app consists of over fifteen modules that will help you perform various scans to gather all the information and possible exploits within the CMS so that you can strengthen your website's security.
Active support and development.
Not properly translated to the English language.
The app requires some polishing.
#5. X Privacy Installer
Are you worried about the privacy of your data being accessed by apps? Did you ever want to gain complete control over the access required by the apps installed on your Android device?
If yes, then X Privacy Installer will let you install XPrivacy on your Android device to give you complete control over the apps on your device and prevent them from leaking or even accessing privacy sensitive data stored on your Android device.
What XPrivacy does is that it will provide no data or fake data to the apps you have added to the restricted list. For example, if the restricted app tries to access your location then the app will provide it with fake coordinates.
Very powerful app.
Ads free.
Requires root access.
Requires Xposed framework to work properly.
Might be tough to setup for a beginner.
#6. cSploit
cSploit, designed and developed by tux-mind, is one of the most advanced forms of IT security toolkit available for the Android devices. The app is powerful enough to help you find vulnerabilities, compute local hosts, perform a security assessment on your network, find all the possible exploits and then use those exploits to gain access to the target device.
The tool allows you to do real-time traffic manipulation and network mapping which will even let you perform man-in-the-middle attack on the target and do password sniffing. The app comes preloaded with Metasploit framework RPC daemon.
Active development.
Open source.
Requires root access.
Requires full version of BusyBox.
#7. aNmap Network Scanner
aNmap (Android Network Mapper) is a network scanner app and is one of the most extraordinarily useful toolkits for network administrators and hackers trying to perform hacking right from their Android device.
The goal of this app is to let you scan the whole system and create a map of all the devices that are connected to the network. The app is designed to send and receive special packets to each IP address within the network and then show you a map based on the responses.
Useful for network managers.
Would help in discovering a list of devices connected to the network.
Requires root access.
Requires BusyBox.
#8. zANTI Mobile Penetration & Hacker Toolkit
zANTI is a Mobile based PenTesting toolkit for Android devices. The app has been developed by Zimperium and is based on their award-winning mobile penetration testing framework and known as one of the best Android hacking apps.
The app is not only useful for hackers but can be used by the network administrators to understand better and manage their network as well as the connected devices and computers. zANTI is capable enough to automatically create a network map and reveal all the possible vulnerabilities of the connected devices.
Powerful toolkit for hackers with a lot of features.
Compatible with Android 2.2 and above.
Compatible with ARM-based devices only.
Requires root access.
#9. MoboClean
Now you can gain more control over the apps installed on your Android device with MoboClean without even rooting your smartphone or tablet. It will let you create a cleaned version of any app and will allow you to disable annoying features like background running, auto-start on the boot, and privacy access.
Gaining control over these aspects of the apps will allow you to boost your smartphone's performance, save battery, and minimalize load on the CPU while making your Android device work more efficiently.
Designed for non-rooted Android devices.
Fully compatible with Android 4.0 and above.
Ads free.
Would not be able to clean system apps.
Apps cleaned using MoboClean might be recognized as 'unsafe' or 'pirated' by security software.
#10. AndroRAT – Android Hacking Apps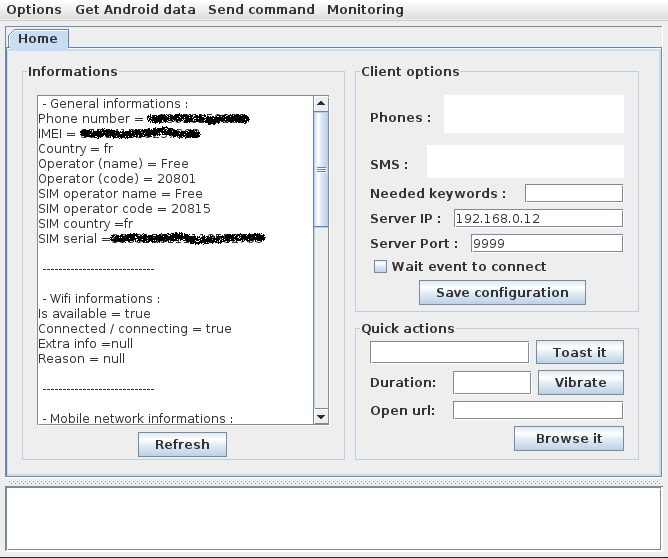 AndroRAT, which actually stands for Android Remote Administration Tool, is a very powerful remote administration tool designed to hack Android devices. It let the attacker gain remote access to the target phone or tablet device to remotely control it and retrieve data or information. It's a great hacking app.
AndroRAT is actually developed in Java environment and comprises of two applications i.e. client side and server side. The client-side app needs to be installed on the Android device, which will collect and forward information. And the server side app will be installed on a computer, which will send a request to the client app and receive all the forwarded information.
The AndroRAT Android client app can be attached with any app apk using a binder so that it can be mischievously installed on a target device. Once installed, the AndroidRAT client app will automatically run as a service during the boot without any user interaction. You can also configure how the connection to the server can be triggered i.e. via SMS or call.
The server app can be installed on various platforms including Windows, Linux, and Mac. It has a clean and easy to understand GUI where you can see a list of all the connected Android clients. The list is dynamically updated whenever a new client connects or disconnects. Also, there's a log panel where you can find a log of all the connections.
You can interact with the client in numerous ways and request for different information including call logs, messages, contact details, get current geolocation, capture a picture from front or back camera, open any URL of your choice in the default browser, vibrate the phone/tablet, sent SMS, make a phone call, stream sound from the microphone, check browser history.
#11. Shark for Root
For a security expert or a network hacker, Shark for Root will be one of the best Android hacking apps that let you sniff WiFi, 3G, and tethered Internet traffic in the simplest way possible. The app can capture all the packets that are being transmitted or received over a network.
If you have ever used AndroShark or WireShark app then you must be able to understand how Shark for Root actually works. This is an updated and redesigned version of the same app. Anyways, I am explaining a bit about the working of this app for those who are hearing about it for the first time, the app is based on tcpdump so you can basically use all the tcpdump commands to capture packets.
The developer of Shark for Root also developed an app named SharkReader that gives you the possibility to open captured .pcap files and see all the sniffed packets directly on your Android device.
#12. DroidBox
DroidBox is a unique app that is designed with an aim to let you dynamically analyze the Android apps for the existence of any malicious code or hacking element that might leak your sensitive data.
In case you don't know, there are two known methods for Android app analysis i.e. static and dynamic. In the static method, you need to disassemble and decompile the apk file and then perform the app-manifest analysis. While on the other hand, the dynamic method launches the app in a separate environment and then performs a real-time analysis of the app for malicious code.
Once the Android app has been successfully analyzed by DroidBox, it will show you the results in graphical as well as text format. You will then be able to observe the behavior of the app. All the details included in the result are as follows:
Data of all the outgoing and incoming network packets,
All the read and write operations being performed by the app,
List of all the sent SMS and phone calls,
Report of any sign of information leak through network or SMS,
List of broadcast receivers,
Cryptography operations performed using Android API.
#13. APKInspector
APKInspector is an open source project that has a capability to reverse engineer and analyze Android apps. Similar to DroidBox, this app also shows the results and detailed report of the analyzed app in an easy to read GUI interface, which makes it easier for the reader/analyzer to visualize the structure of the app and find out if the app is safe or not.
APKInspector is a great tool for those who are interested in inspecting apps for the presence of any forensic malware that might leak important user data to the third party. All the available options include:
List of permissions being requested by the app,
Ability to search/filter strings, classes, and methods,
Static instrumentation,
Combine permission analysis.
Moreover, you can even gain access to detailed insights of the malicious app including smali, dalvik, java, option to call graph.
#14. SSHDroid
It is an SSH server implementation app for Android that enables you to directly connect to your Android device from a PC. Once connected, you can then access/edit files through software like SFTP, Cyberduck, WinSCP as well as execute various commands like adb shell and terminal.
SSHDroid is a tiny little app and upgrading it to the SSHDroid pro version will unlock a variety of new features including:
Removes all advertisements,
Whitelisting WiFi autostart,
Extended controls over notifications,
Authentication for the shared key (can be used with WinSCP/Putty),
Automation with the support for intents,
Adds home screen and lock screen
#15. Kali Linux NetHunter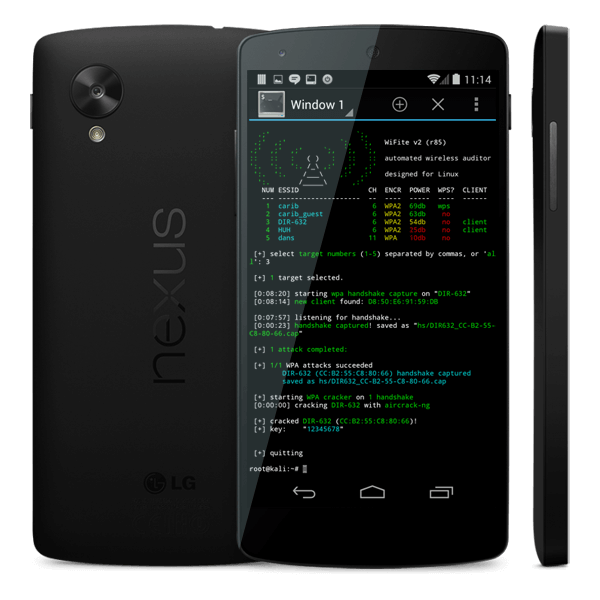 Kali Linus NetHunter is a penetration testing tool developed by the developers behind Kali Linux OS, which is also known as Offensive Security. Actually, NetHunter for Android acts an overlay that features a strong mobile penetration-testing platform.
The Kali Linux NetHunter overlay includes Kali Linux Chroot Manager, custom kernel, and an add-on Android app, all of which combined will help you easily interact with various attacks and security tools. Not only that, but it also gives you the ability to perform various attacks including BadUSB (Man-In-The-Middle) attacks, HID Keyboard Attacks, Evil AP MANA attacks.
This Android hacking tool is one of the most powerful and inexpensive penetration testing tools for Android devices.
#16. USB Cleaver
USB Cleaver is an Android-based password hacking tool designed to capture all the passwords stored in the Windows OS including Windows 2000, Windows XP, and above. This hacking tool is so powerful that it can silently capture all the passwords stored inside the browsers like Internet Explorer, Firefox, and Chrome and even has a capability to capture system information and WiFi passwords.
The USB Cleaver is actually developed by a developer named x3Maniac on XDA Developers with an aim to recover passwords from your locked Windows-based PC. This hacking tool makes use of different payloads, which can be selected based on your requirements to shorten the hacking time.
USB Cleaver is a powerful little app that remains completely silent while retrieving information from the target computer. The information this app can hack includes LSA secrets, password hashes, and IP information. The app is super clean and remains invisible because it doesn't touch the system file nor use network traffic.
The app will then create a log file in your phone's SD card and store all the captured information there so you can review it anytime you want.
#17. Orbot: Tor for Android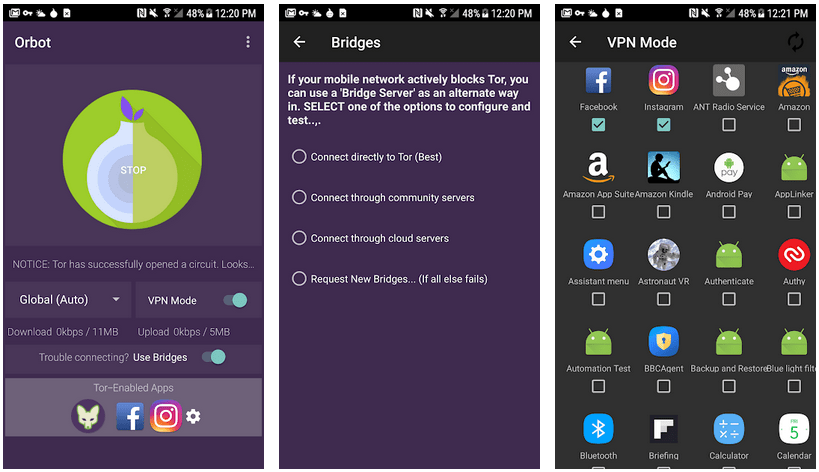 If you are looking for a way to privately browse the Internet with enhanced privacy on your Android smartphone or tablet devices then Orbot will be your best bet. The powerful proxy app is designed to help you enjoy the Tor onion routing service, which is officially developed by The Tor Project.
Orbot enables all your apps installed on your Android device to use the Internet more securely by routing all the Internet traffic through the Tor onion routing service. The service works by encrypting the Internet traffic and then hides it by routing it through a series of computers connected to the Tor network around the world.
This app and the Tor routing service helps you protect your identity from the Internet surveillance systems like traffic analysis, which threatens your personal privacy and freedom while you are online. So whenever a traffic arrives through a Tor network, you will not be able to find out where and whom it is actually from.
Moreover, the Orbot app is user-friendly and allows you to choose which apps should use the Tor routing services, so it can be enabled for selected apps only like the Chrome web browser and Facebook.
#18. Haven: Keep Watch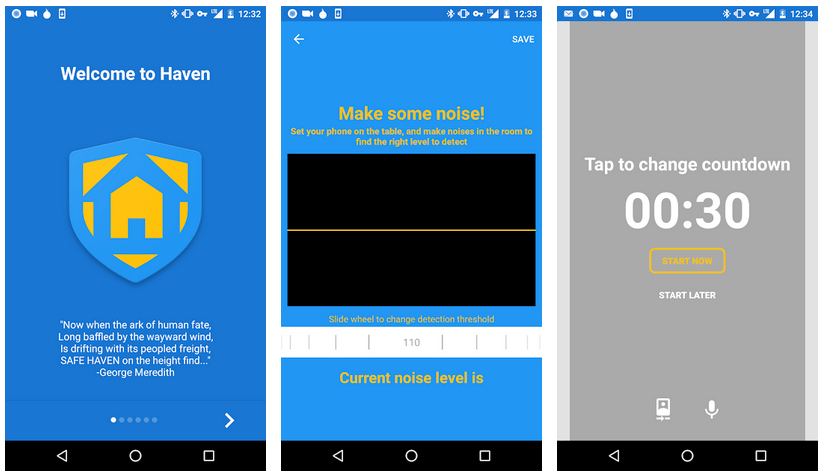 Did you ever want to have someone to look after your personal space or belongings all the times while you are away? The smartly made Android tool app named Haven: Keep Watch will let you hack into your Android device and can convert all the equipped on-device sensors into a surveillance and security tool.
Now you must be wondering how a simple app can transform the Android phone into a surveillance device, right? The idea is to install and setup Haven on any Android device and then leave it the area that you want to monitor. The sensors will work as a sound, movement, motion, light, and vibration detector to watch for unwanted intruders.
The on-device sensors like microphone will act as a sound detector, the camera will detect any movement or motion, in-build sensors like gyroscope, proximity, and the ambient light sensor will work as a vibration and light detector. If the sensor is triggered then the recorded movement will be automatically stored on the device.
Whenever a sensor is triggered due to intrusion, an entry will be made in a log and you will instantly receive an encrypted notification over a secure network. Also, you can access the logs remotely or anytime later when you physically gain access to the surveillance Android device.
#19. Text Converter Encoder Decoder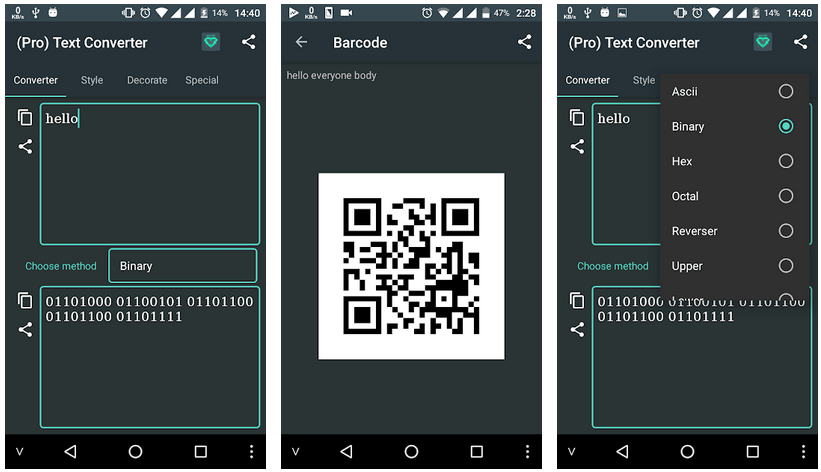 While communicating with your friend, if you are scared someone else could read your messages then you might want to give a try to Text Converter Encoder Decoder app for Android as it allows you to encrypt any message, which transforms it into a non-readable format, and then send it to your friend. Then your friend can decrypt the message using the same app.
This way no one else will be able to read a conversation happening between your friend and you. However, both of you must need to have the Text Converter Encoder Decoder app installed on your Android phones.
That is not all. The app even has some unique text transformation methods like an upside down text, superscript text, Base 64, text to octal, text to binary, text to ASCII.
#20. DriveDroid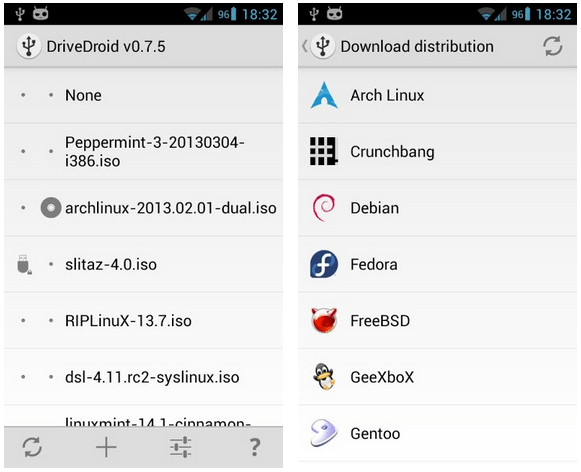 Do you know with DriveDroid you can boot any PC, even if it is locked or password protected, using ISO image files stored on your Android device?
Most of the Android devices have a built-in capability of Mass Storage, thanks to the Linux/Android kernel. Using the same feature, DriveDroid app can simulate USB flash drive and the ISO or IMG files stored on the phone can be used to allow booting of OS, installation of new OS, or even let you have a portable OS of your choice on the go.
Though the most important point is that DriveDroid app requires root permission on the phone, which means you must need to have a rooted Android device. Also, the kernel of your Android phone/tablet device must need to support simulating a USB flash drive as well as CD-drive. However, if your device's kernel doesn't have a native support for these features then there are kernel patches available for various Android devices to add support.
What's more interesting is that the DriveDroid app includes a large number of downloadable images (somewhere around 35 operating systems) like Arch Linux, FreeBSD, Fedora, Linux Mint, OpenSUSE, Ubuntu, Kali Linux. This will help you directly download and have an image of portable OS of your choice with you at all times.
#21. PixelKnot: Hidden Messages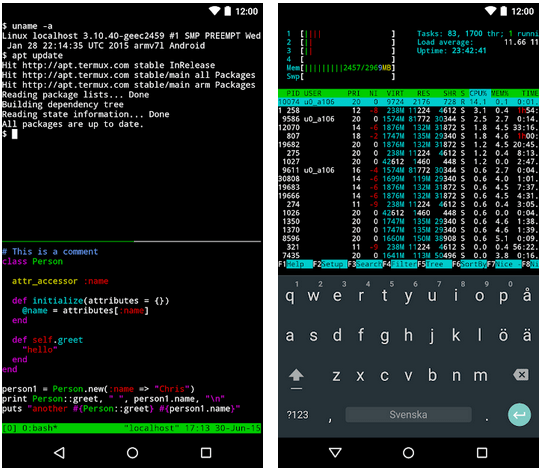 PixelKnot: Hidden Messages is a unique Android hacking app that helps you hide secret messages inside the picture's pixel and password protect it so that only those with the password can see, that is why the app is named as PixelKnot.
PixelKnot: Hidden Messages is a popular tool among hackers who use this app for sharing hidden special messages within their group so that no one else can find out what's being discussed. Moreover, if anyone gains access to the pictures with the hidden message then they will only be able to see the picture and not the disguised message.
The message can be hidden in any picture and the app will let you choose between capturing a new picture using the camera or use an existing picture that is already in your phone's gallery.
What's more interesting is that the PixelKnot app is free from any advertisements and the pictures with a hidden message are mathematically secure and safe from attacks.
#22. Netcut for Android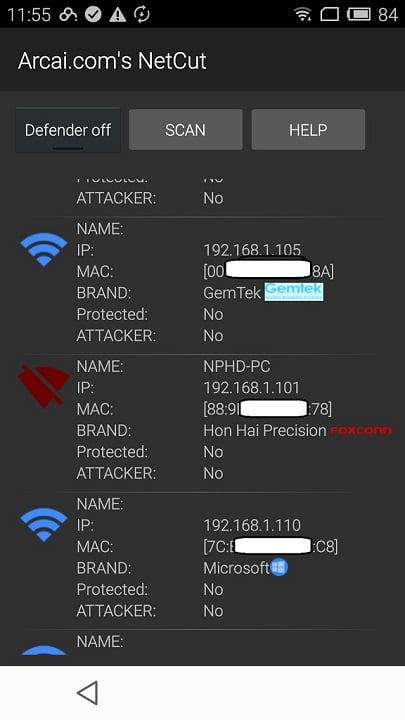 Netcut is designed and developed by Arcai.com and is capable of blocking Internet access to other users on the same WiFi network. The app will let you hack into the wireless WiFi network and shows you a list of all the devices that are currently connected to the network. You can simply select the device to which you want to block Internet access.
Since Netcut makes use of an advanced Android WiFi hacking feature, so it requires you to have a rooted Android device. But if you don't have root access then you will only be able to use a few simple features of the app.
The app comes handy in those scenarios when you find out that some intruder got hold of your WiFi network password and is illegitimately using your Internet connection without your permission. And the app takes just a few seconds to completely block Internet access to the targeted device. There's no limitation on the type of device you can restrict, which means you can block phone, tablet, Xbox, PS3, PS4, computer.
What is more interesting is that the Netcut app allows you to rename the name of devices that are connected to your WiFi router so that you can better identify the known network connections and don't accidentally block the legit device from accessing the Internet.
#23. Change My MAC – Spoof WiFi MAC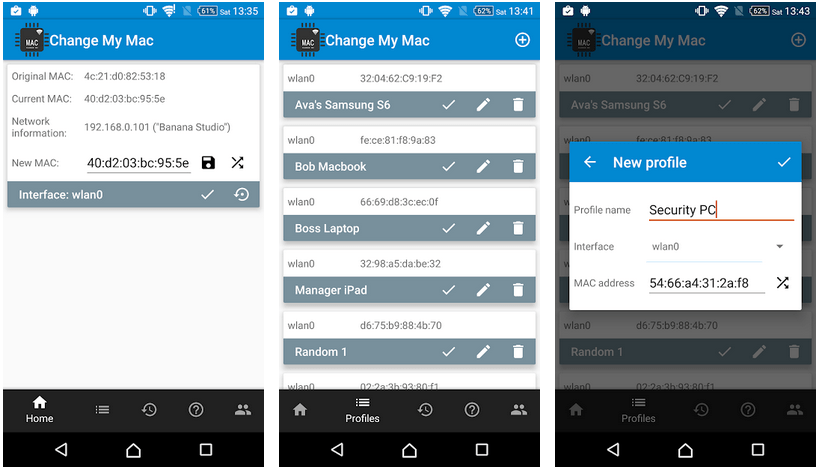 If you have ever used any public WiFi network, especially the free ones, then you must have come across a time or bandwidth limitations to restrict excessive usage of the Internet. These publically shared Internet connections are usually found in areas like coffee shops, airports, railway stations, and hotels.
These restrictions are usually linked to your device's MAC address, which is unique for every WiFi chip/device. This is where Change My MAC app comes into action as it allows you to hack and spoof your Android device's WiFi MAC address.
Once installed, whenever you are on the public WiFi network and the time limit is reached then all you need to do is launch the app and in the provided box enter the new MAC address or you can also generate a random MAC address from within the app. And your device's MAC address will be spoofed in a moment.
#24. Termux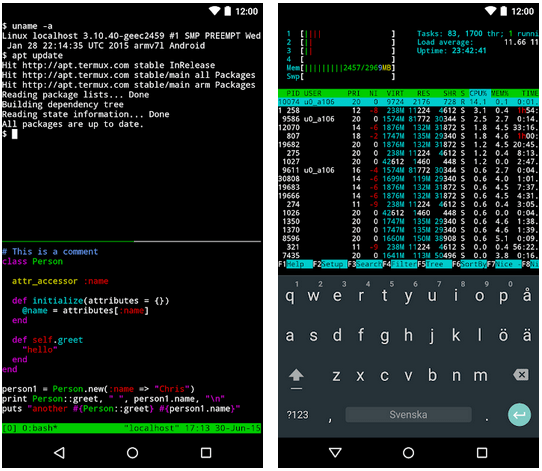 If you have ever used Ubuntu CLI then you will find Termux for Android a lot identical. It is basically a powerful terminal emulation software that comes bundled with a collection of an extensive Linux package.
The Termux app will allow you to download, install, and run a number of Android hacking apps and tools like Nmap, Metaspoilt, NetCat, and several others. Moreover, the app supports Linux commands too so you can use those as well.
#25. Lucky Patcher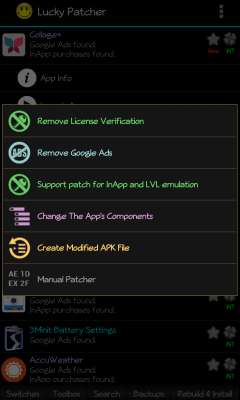 Lucky Patcher is one of the best hacking apps for Android that let you modify apps, bypass license verification, and patch in-app purchases so that you can purchase in-app items for free without spending a single penny.
Even though the app requires you to have root access on your Android device, but most of the features like creating a modified version of an app with LVL emulation, removal of license verification from premium apps, removal of advertisements from the app can still be achieved without having root access.
Once all the modifications are applied, you can then create a modified APK file of the same app, which can be installed on any device.
#26. Hash Suite Droid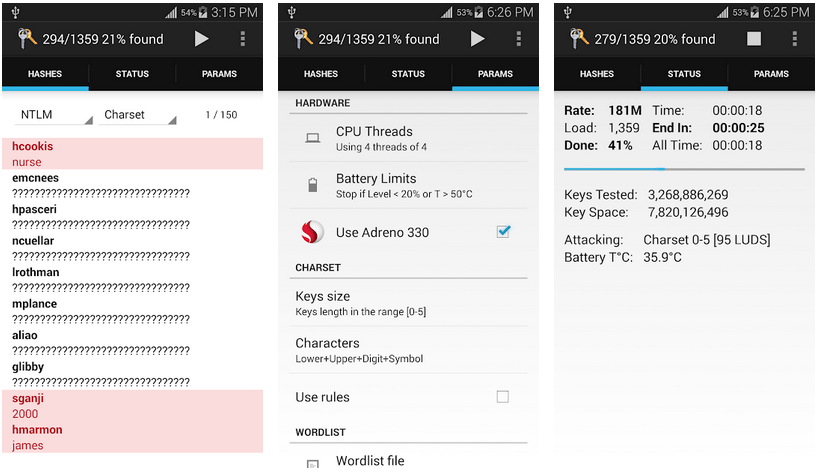 Hash Suite Droid is an open source and completely free multi-hash cracker developed for Android devices. And as claimed by the developer, it is the first of its kind app ever designed for the Android mobile OS.
The Hash Suite Droid is a feature-rich app, which includes always-on cracking functionality that will continue the cracking process in the background even if the device's screen is off or you are running another app, you can configure the temperature and battery threshold that if crossed will automatically stop the attack.
Moreover, similar to the PC version of Hash Suite Droid, the Android version includes all the features like the ability to resume the interrupted attack, compressed wordlists, handcrafted ARM NEON assembly code, ability to crack GPU via OpenCL. The only known feature missing from the Android version of Hash Suite Droid is the Reports.
#27. Market Helper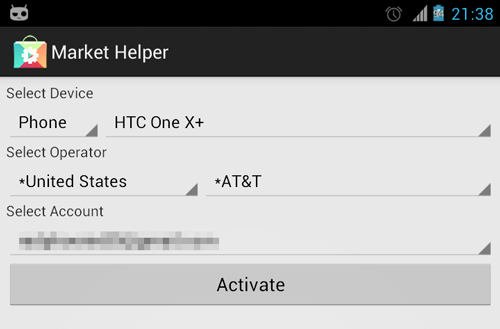 Market Helper is developed by a developer named redphx with an aim to help you spoof your device model number so that you can download and install apps that are incompatible with your version of Android phone/tablet device.
For example, you can transform your Google Nexus 7 to Samsung Galaxy S7 within a matter of seconds without even rebooting your device. The app will override the model number and other relevant details and change it according to your selected device's specs.
Usually, in most of the cases, if you look for a method to spoof your device model number then you will be suggested to edit build.prop file. However, Market Helper will spoof your Android device without modifying any system file, which makes it safer.
The restoration process of reverting your original device settings is easier too. All you are required to do is restart your Android device. Alternatively, you can use the Restore feature found within the Market Helper app.
#28. mSpyLite
The app mSpyLite is a perfect secret solution if you suspect that your partner is cheating on you. These days, easy access to the internet, tons of social media, and instant messaging apps make it easy for any person to fall into a trap and become unfaithful. And to top it off, apps like WhatsApp even offers fingerprint for an added layer of security.
mSpyLite is a powerful app for Android devices that gives you remote access and lets you spy on all the activities without having physical contact with the smartphone. It takes a few taps to properly setup. Once you have installed and configured it on the targeted device, it gives you access to all the media files, calls log, and messages without physically touching the phone.
Which Hacking Apps Would You Prefer?
These are some best hacking apps for Android, do you know some more amazing hacking tools or did I miss including any of your favorite Android hacking apps? Please let me know about them in the comments below and I will add them to the list! 🙂