The major advantage of having a smartphone or tablet device with Android OS is the ability to customize it according to your requirements and needs. One such customization option comes in the form of widgets, which can be placed right on the home screen and provide easy access to any specific feature of the app.
This is a handy feature, especially for those who receive a lot of email messages but don't like to frequently open and refresh the email app to check for messages as one can easily add email widgets on the home screen and set it up to display all the emails or some messages from any specific label.
Since there are many amazing email widget apps for Android in the Play Store, so to make your hunt easier, here I have reviewed the five best Android email widgets which are fully compatible with smartphone and tablet devices.
1. Gmail Widget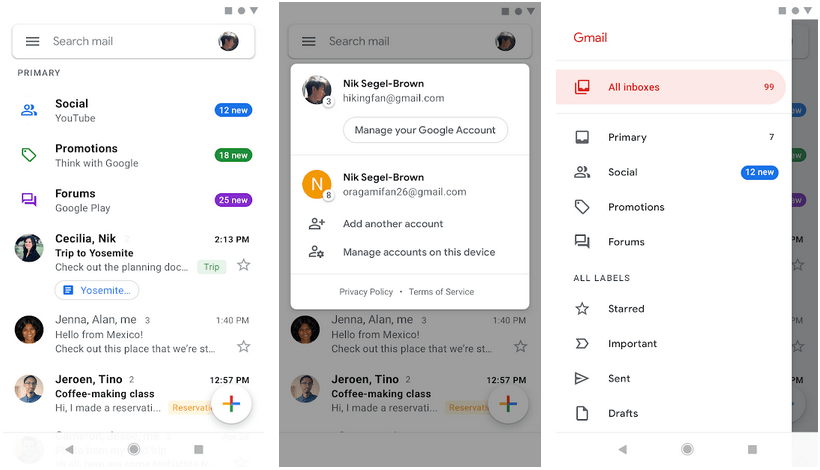 Gmail is an official emailing app that comes preinstalled on the majority of Android devices. Originally, it didn't support any other third-party email service but after the release of other apps that provided multiple email account support, the developers over at Gmail decided to turn up their game and added support for popular email providers.
The widget enables you to check and compose new emails right from the home screen. You can easily scroll through the emails and even resize the widget according to the space available on your home screen. The advanced option will also ask you to select any specific folder/label you want to see on the widget. So, if you are captivated by the simplicity of the Gmail app, then you can use their widget that works pretty well.
2. Email Blue Mail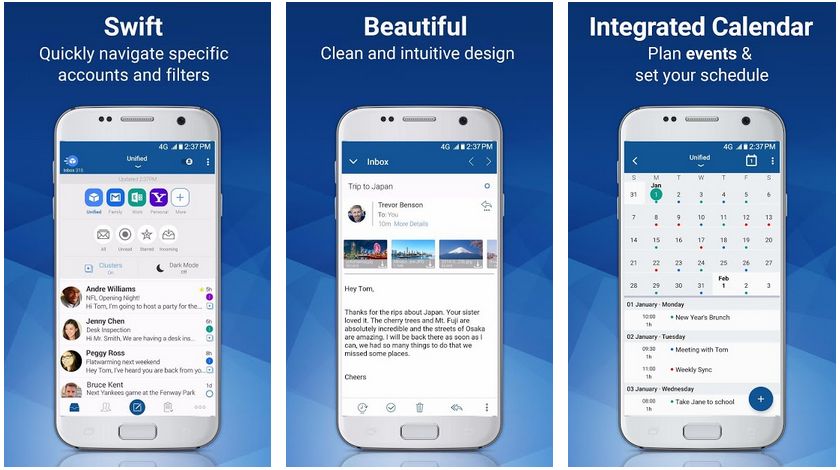 Blue Mail is a unique app as it offers you email management in a single unified interface. In case you are wondering how that works, suppose you have three email accounts and add all of them to the Blue Mail app then it's going to merge all of them in one place. Apart from that, it is highly configurable in every aspect.
Other than the app, the widget option is personalizable too so that you can make sure that it matches your home screen and blends perfectly with the other elements in the best way possible. The widget is scrollable so that you can quickly scroll up and scroll down to check unread emails without opening the app.
3. TypeApp Widget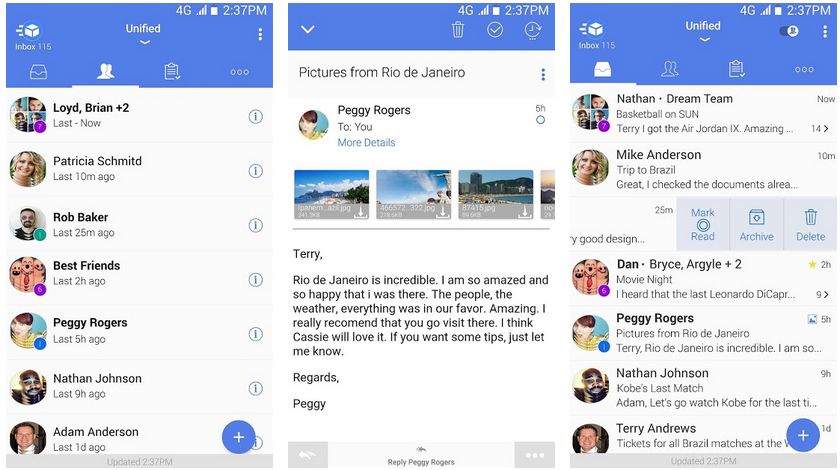 TypeApp has a material user interface and beautifully designed theme that comes bundled with a lot of options to customize the usability and notifications including the VIP notifications, which remind you about any new incoming emails from your important contacts.
The widget comes in two different visuals i.e. light and dark so that you can pick the one that suits your home screen layout, wallpaper, and most importantly your taste. The widget is customizable too with a resizable width and length, transparency, and an option to scroll the list of recent emails. The widget allows you to open the email (as well as attachments) right from the home screen.
4. Aqua Mail Widget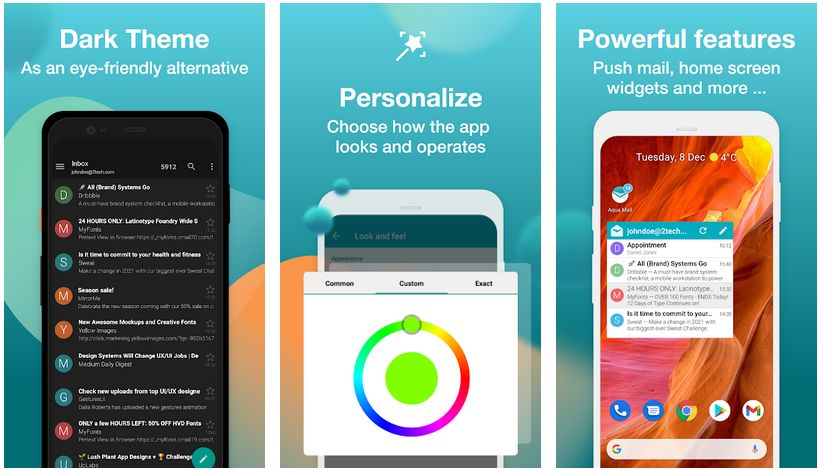 Aqua Mail is one of the versatile emailing apps for Android. Its native support for multiple email services makes it the most preferred app among those users who are looking for flexibility to manage two or more email accounts from one app.
It supports home screen widgets along with the badge for unread email counts. The widgets provided by Aqua Mail are highly customizable and include the option to select the email account you want to manage from the home screen, a selection of themes as well as custom labeling to identify the email account.
5. Microsoft Outlook
Microsoft Outlook for Android comes with amazing flexibility while making it easy for you to access all your emails in one place and you can use filters to keep everything neatly organized. The email app supports almost all email providers including Gmail, Outlook, Yahoo, Microsoft 365, and Microsoft Exchange.
You can add multiple widgets to the home screen depending on how many emails you are managing. You can configure each widget to display mails from a specific inbox or you can choose to see focused messages from one mailbox only.
6. Alto Mail (Discontinued)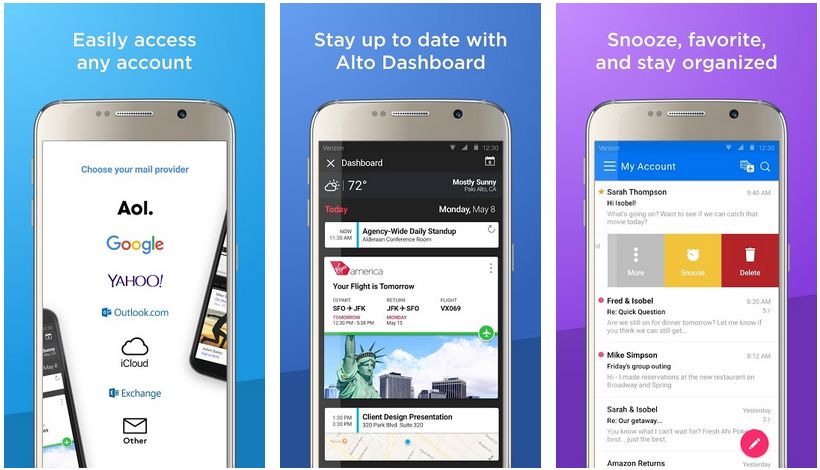 The Alto Mail app is designed by AOL Inc., which makes sure that you have ultimate control over your email inbox. And the app is so much advanced that it automatically organizes all of your messages properly in the most relevant category to give you one-tap access. With a unique Alto Dashboard, you can keep yourself updated with all the latest and most important information extracted right from your email messages.
The widget support further enhances the capabilities of Alto Mail that brings all the important emails and messages to your home screen so that you can update yourself with a quick glance, without even opening the email app. All you really need to do is select the email account you want to manage from the home screen.
Winning Widget App: TypeApp
The home screen widget offered by the TypeApp is one of the most feature-rich and covers almost all the aspects usually requested by the users including an option to open attachments as well as the ability to reply to email messages right from the home screen. The widgets are easy to customize too.
Let us know which Android widget app served your purpose. Share your experience in the comments down below! 🙂