The ability to hide apps on Android is one of the most demanded features among mobile phone users so to cater to the needs of the users and to adapt to the never-ending demands the developers behind launchers keep adding new features and one of them is the hide apps privacy and security feature.
This comes in handy in those cases when you have a confidential banking app or some private photos but you don't want anyone else to open them, so you can easily hide the app from the home screen and app drawer for an added layer of security.
No matter what your requirements are, here we have reviewed the five best free launchers that you can download today to hide apps on Android:
1. POCO Launcher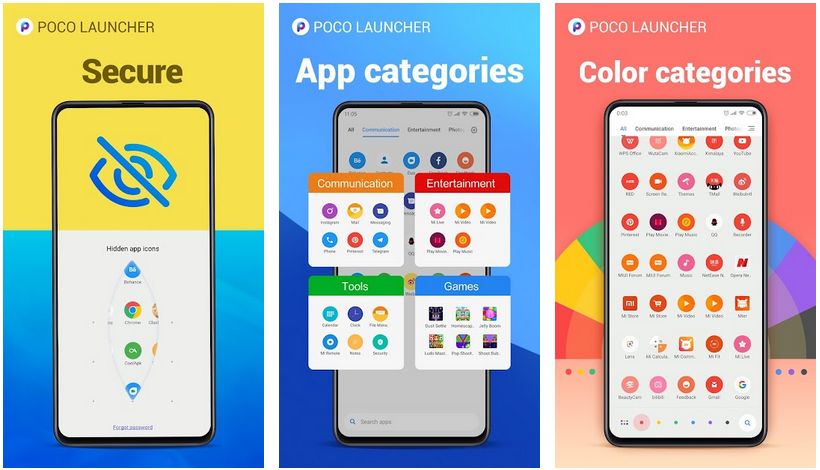 Designed and developed by Xiaomi Inc., POCO Launcher 2.0 is a highly customizable launcher with clean and fresh features and an interface for all Android smartphone and tablet devices. Yes, the launcher is not limited to Xiaomi phones only and is fully compatible with all mobile manufacturers including Google Pixel, Samsung, Motorola, and OnePlus.
POCO Launcher lets you play with various visual aspects including themes, wallpapers, animations, and home screen setups, all of which combined give your phone a minimalistic look and feel while keeping the home screen and app drawer clean and simple.
What Is This Best For: Offers a fluid and smooth usage experience; enhances the performance of the phone; gives you dark mode; full compatibility with the latest Android OS variant.
Unique Features: Allows you to hide apps from the app drawer; option to lock home screen icons; double tap screen to lock the phone's screen.
Ads: Yes, the free version is ad-supported.
Price: Free.
2. Microsoft Launcher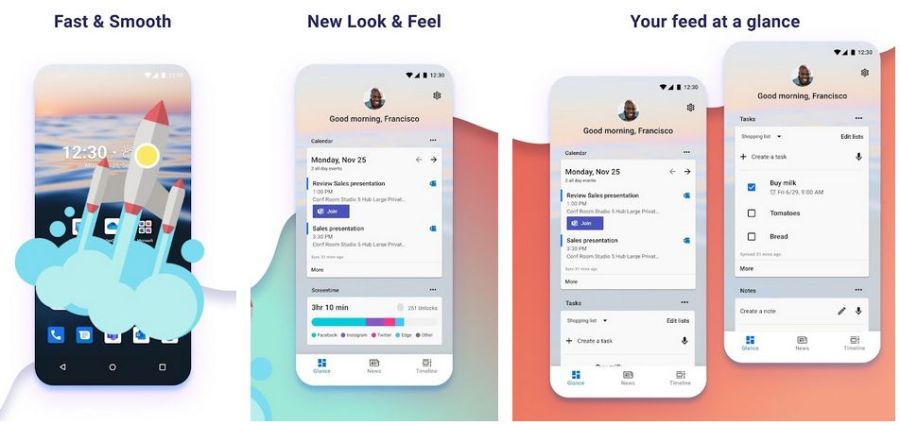 Microsoft Launcher is designed and developed by Microsoft Incorporation and strives to provide its users with a fresh look and feel along with smooth and fast performance. The launcher comes with the capability to hide apps on Android.
Similar to other highly popular launchers, Microsoft Launcher also makes your migration process simpler and easier by letting you import your current home screen layout from any existing launcher. You can then customize and personalize the appearance according to your preference. You can even modify the icons and use the dark theme when you are in a low-light environment.
What Is This Best For: Personalized feed with an easy and quick view of the calendar, and to-do lists; battery-efficient; and consumes less memory.
Unique Features: Let you hide apps from the home screen and app drawer; dark theme with compatibility to Android's dark mode settings; landscape mode.
Ads: No, ad-free.
Price: Free.
3. U Launcher 3D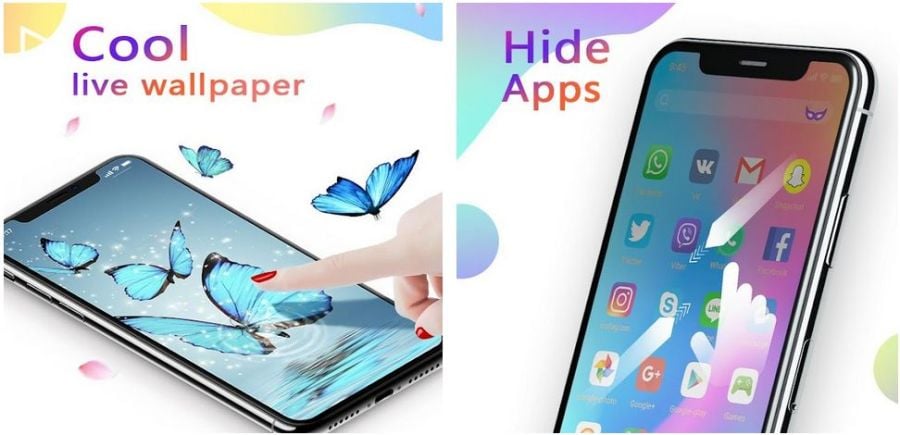 U Launcher 3D offers you an immersive experience by offering you an amazing collection of HD and live wallpapers along with the various live effects that appear on the home screen. The launcher also has a great collection of 3D animated themes, which includes wallpapers, icon packs, and amazing screen transition effects.
The app comes preloaded with security and privacy features that allow you to hide as well as lock apps to help you protect your privacy. Moreover, you get to enjoy other interesting features like smart gestures, speed booster, quick search, and home screen widgets and shortcuts.
What Is This Best For: 3D effects for icons, wallpapers, and transitions; preloaded with speed booster and smart gesture support.
Unique Features: Security features that allow you to lock and hide selected apps; protect your privacy; support home screen widgets.
Ads: Yes, the free version is ad-supported.
Price: Free, with in-app purchases.
4. Lawnchair 2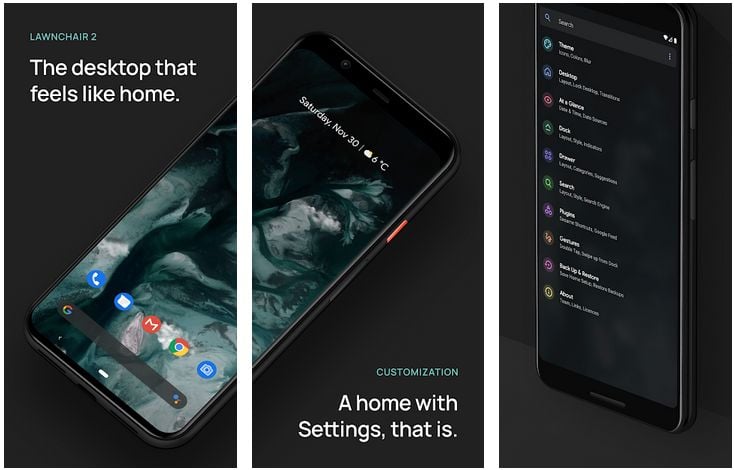 If you are into minimalistic home screens and icons for your Android OS then Lawnchair 2 is going to be your favorite go-to launcher. It promises to provide you with a home screen that will make you feel at home, with a comfortable and easy-to-use interface and amazing customizability that can be fully configured according to your liking and taste.
The support for adaptive icons is one of the most unique features offered by Lawnchair as it has native compatibility for flexible drawers, desktops, and docks. Drawers can be easily categorized and divided into folders and tabs. You will get automatic dark mode as well which syncs with the Android system and activates based on the scenario set by your phone.
What Is This Best For: Ability to hide apps; support for integration with Homefeeder and Google Feed; notification dots.
Unique Features: Adaptive icons, themes, and support for the dock, flexible drawer, and fully customizable desktop; integration with Android Recent.
Ads: No, ad-free.
Price: Free.
5. APUS Launcher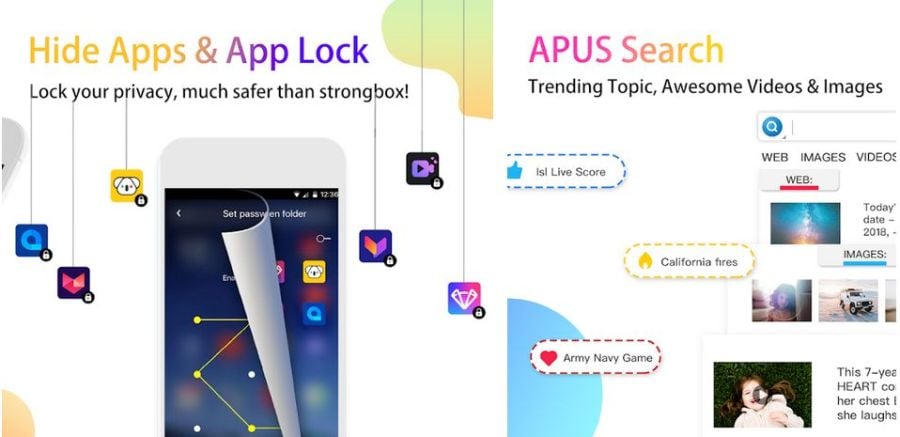 APUS is one of the most popular launchers for Android devices as it is not only a launcher but also a complete system for Android OS. It offers you all the features and customizability options that are needed to personalize the user interface of your home screen and the overall appearance of your phone's interface including wallpapers, icons, theme, and transitional effects.
One of the features that you are looking for is also present in this launcher i.e. hide apps, which allows you to protect your privacy with just a couple of taps and completely hide any app from the app drawer as well as the home screen. And with APUS Know, you can keep yourself updated with news related to the traffic, weather, and other happenings, all of which are just a swipe away.
What Is This Best For: APUS is one of the fastest, beautifully designed, smart launchers for Android; Offers you a bundle of add-on features including APUS Search, APUS Know, and APUS Discovery.
Unique Features: The hide app feature helps hide all of your secret apps within a matter of seconds; support for special HD icons and transition effects.
Ads: Yes, contains ads.
Price: Free.
Which app did you like the most?
We hope you found our app review valuable and managed to find the best launcher to hide apps on Android. If we helped you make a better decision in any way then please share your opinions with us in the comments down below, we read and respond to each one of them! 🙂
Also, if you have found an app we haven't included in our review but seems valuable then let us know what influenced you to make that decision. We will have a look at it and might include that app in our review during the next update.