Are you looking for working options to live stream and watch FIFA World Cup 2022 on your mobile or laptop devices for free? You have come to the right spot as here we have reviewed an updated list of apps and websites to live stream the FIFA World Cup with 24/7 working and 100% safe links.
Here we have listed high-quality streaming links to most of the major and well-known sports broadcasters including BEIN Sports, Fox Sports, Sky Sports, NBC, ESPN, DAZN, and tons of other regional sports channels. No matter where you are located in the world, these live TV channel streaming options will ensure you are able to catch up and watch your favorite sports event coverage live while being in your most comfortable spot. For free.
I have divided this blog post into two sections i.e. apps and websites. If you are looking for a quick solution then I will recommend you to jump to the "websites" sections and skim through streaming sites to find a working stream for your favorite match.
I will highly recommend you bookmark this resource page, as you will be able to easily access new sites and links in case the existing site or app stops working. If you are unable to find what you are looking for, you can leave a comment and one of our fellow sports enthusiasts will help you out!
Best Apps to Watch FIFA World Cup Online
#1. Live NetTV
Live NetTV is one of the most popular apps to watch live streams online of all sports including the FIFA world cup on your phone. There are over eight hundred channels from all categories and genres including sports, entertainment, movies, music, documentary, and TV shows. And with Chromecast support, you can cast live sports directly to your TV.
#2. HD Streamz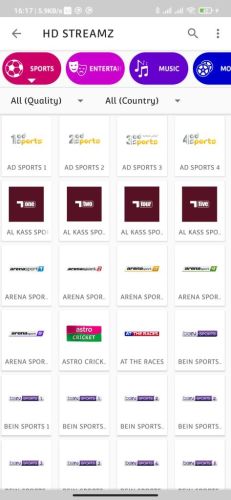 With HD Streamz you get the freedom to directly stream live TV channels from all around the world with a simple tap. The app features over one thousand channels including dedicated networks for sports and soccer matches apart from the entertainment, news, and movie channels. The streamable links are from various countries including France, UAE, USA, UK, Qatar, and Rome.
#3. Swift Streamz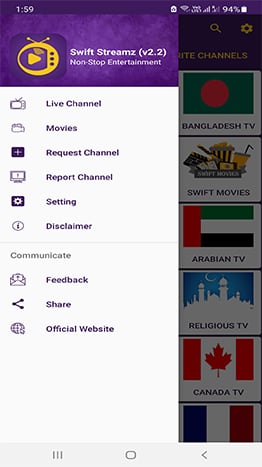 Whether you want to watch sports or quickly switch to movies, entertainment, documentary, or news, the Swift Streamz app will always have your back in providing you with quality live streaming links for over a thousand TV channels. The content is directly served from multiple international countries including Canada, India, Bangladesh, the USA, United Arab Emirates, and the United Kingdom, just to name a few.
App Link: SwiftStreamz.com
#4. RedBoxTV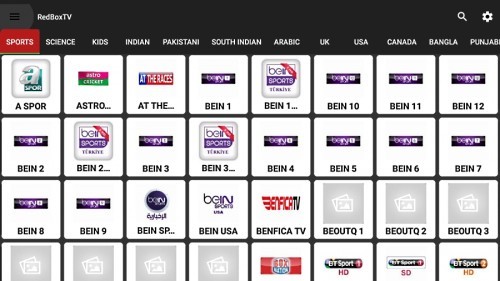 RedBoxTV app for Android is known for its capabilities to feature thousands of TV channel streaming links from all around the internet and makes them available for you for free. The major plus point of this app is its compatibility with multiple devices including NVidia Shield, Fire Stick, and Android devices. It is easy to use too because you don't need to create an account.
#5. HDTV + Yalla Receiver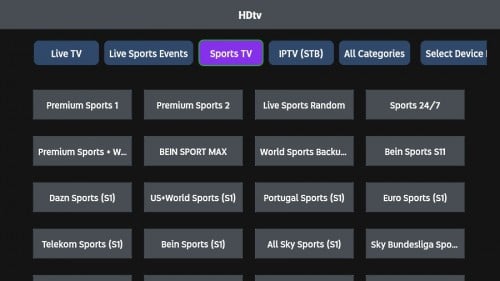 HDTV + Yalla Receiver is a combination of two apps and services to provide you with a reliable setup for streaming sports TV and tons of other live TV channels where you can even listen to radio channels too. And the content is scraped from IPTV services from all over the world and neatly categorized according to the country and media type.
#6. TVMob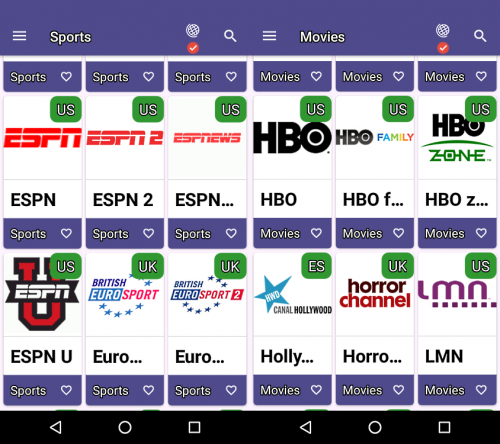 If you are looking to watch your favorite sports whether it is a live match of soccer, football, cricket, or any other sports event. TVMob app for Android will be one of the best choices as it provides a wonderful user-friendly interface along with the ability to add channels to your favorites using bookmarks for quick access later whenever you open the app next.
#7. TVTap Pro
Whether you want to watch a TV show, live sports event, or a movie TVTap Pro will ensure you are able to find the channels you are searching for without missing them, thanks to the proper categories and search feature. Interestingly, once you have found your favorite channel that you have looking for, simply add it to your bookmark, which means an easy option to access the channel again with just a tap.
#8. Ola TV
Ola TV is an IPTV-based app for Android that provides you with streamable links to live TV channels from all over the world. Interestingly, the app has native support for EPG (Electronic Program Guide) for compatible channels so you can figure out what is being currently played on the channel. Since it is IPTV based so there are over five thousand links to channels and there is no subscription.
#9. SonyLIV
Owned by Sony Pictures Networks India, SonyLIV is a freemium streaming app and is one of the first ones to feature OTT (Over-The-Top) media services that provide access to media via the Internet. Apart from that, the app gets praised a lot for its capabilities and is well known to let you find live matches and world cups whether it is a league, championship, tournament, or any other sports match. You can use this app.
#10. JioTV
JioTV is a part of Jio Platforms where you can easily find access to the entertainment portal for India's some of top entertainment channels like sports, music, game shows, and sports. The app features over eight hundred channels and you will be able to watch them in fifteen different languages. Moreover, you will find about two hundred channels in full HD quality.
#11. JioCinema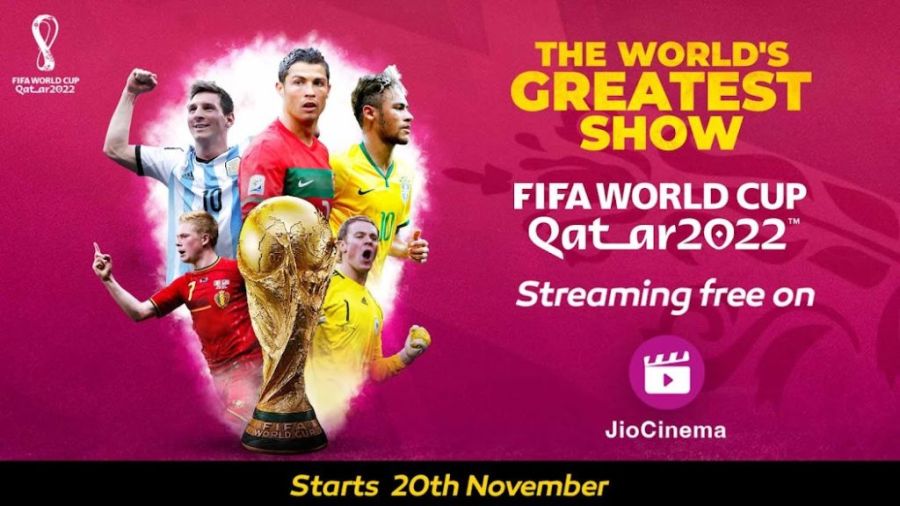 JioCinema is designed and developed by Reliance Storage and they are one of the few ones who are offering free streaming of FIFA World Cup 2022 for all the matches without any limitations. The app features scorecards and tournament highlights for all the sports along with commentary. The best thing is that streaming is available for both Jio and non-Jio users without any charges.
Best Websites to Watch FIFA World Cup Live
#1. SportSurge Club
On SportSurge, you will find live stream links for every latest sports event and championship readily available along with their schedule so you will know when you need to tune into the website. And the best part about this site is any latest and currently happening event is featured at the top for quick and easy access.
Visit Site: https://sportsurge.club
#2. FootyBite
FootyBite is known for its capabilities to provide sports enthusiasts with tons of working live streams for all the sports events including FIFA world cup 2022, premier league, boxing, tennis, UFC, MotoGP, and UEFA. They have their Twitter handle too which you can follow to get timely updates about current events.
Visit Site: https://footybite.to
#3. WorldCup FootyBite
For soccer fans, a dedicated site for football streams is no less than a gem. It helps you discover all the available live sports TV channel streams and links so you can watch events from any part of the world. The home page even provides you with the current schedule and location of the match.
Visit Site: https://worldcup.footybite.com
#4. SoccerStreams
SoccerStreams is well known on Reddit and they even have a dedicated discord server where you can easily keep yourself about every soccer and football tournament. You can tune into the website to find a direct link to live matches and watch them all in uninterrupted HD quality.
Visit Site: https://soccerstreams.net
#5. iStream2Watch
iStream2Watch has a huge collection of TV channels and high-quality streaming links. And for each sport event, you can easily find about twenty to over a hundred streaming channels. Some are location specific too like Sky Sports, ESPN, and NBA Sports. This ensures everyone can catch their favorite match online from almost anywhere.
Visit Site: https://reddit2.istream2watch.com
#6. BuffStreams
One of the best sports streaming sites suitable for all sporting enthusiasts is here you can find live streaming links for each one of the tournaments and matches including football, soccer, hockey, formula 1, moto GP, MMA, golf, boxing, tennis, and whatnot. You will find full coverage. And for each event, there are over twenty high-quality streaming links.
Visit Site: https://buffstreams.sx
#7. VIPRow
VIPRow offers you multiple services, which include unlimited access to online TV channels, sports on demand, and live sports stream for each and every tournament and match happening around the world. The website features trendy events at the top of the list for quick access and you can then access multiple working streaming links, even in a regional-specific stream.
Visit Site: https://www.viprow.nu
#8. WeakStreams
WeakStreams is a directory of sports streaming sites dedicated to specific sports types including football, soccer, boxing, tennis, cricket, NBA, NHL, MLB, MMA, and even motorsports. Within each of those sites, you are going to find hundreds of live-streaming links for tournaments and matches.
Visit Site: https://weakstreams.com
#9. TechClips
TechClips offers you fully functional live-streaming links for all the sports fixtures and games. The site offers you a section of current sports events, for instance, FIFA World Cup, so once the category for that is selected, you can find all the soccer matches currently happening along with their proper schedule and streaming links.
Visit Site: https://techclips.net/schedule/
#10. SoccerWorldCup
As the name of the website already suggests, this is a dedicated site to help you find working live TV channel streaming links where you can watch and enjoy all the soccer matches and the whole Soccer World Cup tournament right on your computer or mobile device.
Visit Site: https://soccerworldcup.me
#11. HesGoalTV
HesGoalTV is one of the most sought-after websites for soccer fans as it provides tons of high-quality streaming links to multiple sports channels including ESPN and Fox Sports along with a dedicated page for 24/7 live sports channels for Sky Sports, Sports TV, BT Sport, and a number of other sources.
Visit Site: http://www.hesgoal.tv
#12. TheGentleClass
TheGentleClass is a simple website with a direct streaming frame for Fifa World Cup in high quality and stutter-free streaming. All you need to do is open the site during the match and make it work.
Visit Site: https://thegentleclass.com/dhd/
#13. 1Stream
1Stream is a multiple sports content streaming site where links to the upcoming event are uploaded and updated exactly one day earlier. This ensures you have a working link before the beginning of the tournament and you will be able to tune in immediately.
Visit Site: http://1stream.link
#14. CrackStreams
Since the original CrackStreams has gone down, this alternative has dedicated multiple subreddits on Reddit, and not only that, you can even join their Discord server to keep yourself updated as soon as the online stream goes live.
Visit Site: https://crackstreams.io
#15. BuffStream
BuffStream is another alternative to CrackStreams that popped up immediately and has been working tirelessly to make sure all sports fans can watch their favorite content live, no matter where they are. The site provides some really high-quality streams.
Visit Site: http://buffstream.io
#16. Ronaldo7
Ronaldo7 has exactly the same theme as BuffStream I have just reviewed above, however, in those conditions when the site goes down or you are looking for an alternative to watch live channels that are broadcasting exclusive sports events and tournaments.
Visit Site: http://ronaldo7.io
#17. Time4TV
Time4TV offers you hundreds of live streaming links to TV channels that are broadcasting not only sports but multiple other channels from various countries where you can find content related to entertainment, news, cartoon, documentary, technology, and multiple others.
Visit Site: https://time4tv.stream
#18. SportSurge
Whether you want to watch basketball, motorsports, football, baseball, or boxing, SportSurge offers you streams and schedules for all of them so you don't have to go anywhere else. The site however doesn't always work and that is the reason why I have added it at the very end of the list.
Visit Site: https://v2.sportsurge.net
#19. MethStreams
Since CrackStream is no longer working and available, you can use MethStreams to watch live streams of all the sports, championships, and tournaments including Soccer, NBA, NFL, and Boxing matches.
Visit Site: https://methstreams.com/schedules/