Although it is a well-known fact that we as human beings waste about 5.7 hours a day thanks to the distractions caused by our smartphone devices as the majority use them for communication and entertainment. But there are handfuls of Android study apps for students that are actually useful for improving your study time and helping you stay focused.
Some apps even try to make sure you can achieve your academic goals by aiding you in completing your assignments and enhancing your communication with your instructor and colleagues.
Whether you are looking for ways to maintain focus while studying for a course, want some apps to help improve your learning experience using your Android device, or pursuing an online degree program, the ten best study apps we have reviewed here should help you improve your learning process and ensure academic success for undergraduate students.
#1. Google Socratic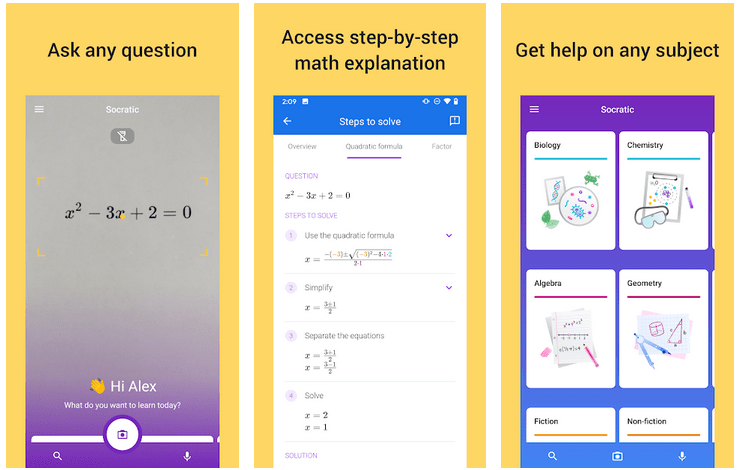 Socratic by Google is one of the most comprehensive apps for students with Android smartphones. The app offers modern-day technologies to help students learn new skills and do their homework swiftly. Using this app, students can ask questions or share a math problem and get an answer simultaneously.
Once the question has been asked, the AI analyzes it and brings up answers without any delay. In case the app is unable to find an answer to the problem, it will automatically respond with study guides and tutorials related to the question, ultimately helping you learn more about the subject.
What this is best for: Let you use your phone's camera to better understand your query; provide you valuable resources and study materials in the form of videos and written guides.
Unique features: Covers a wide range of subjects including algebra, trigonometry, and physics; all the study materials are provided in partnership with experts in that subject to help understand the key concept.
#2. Forest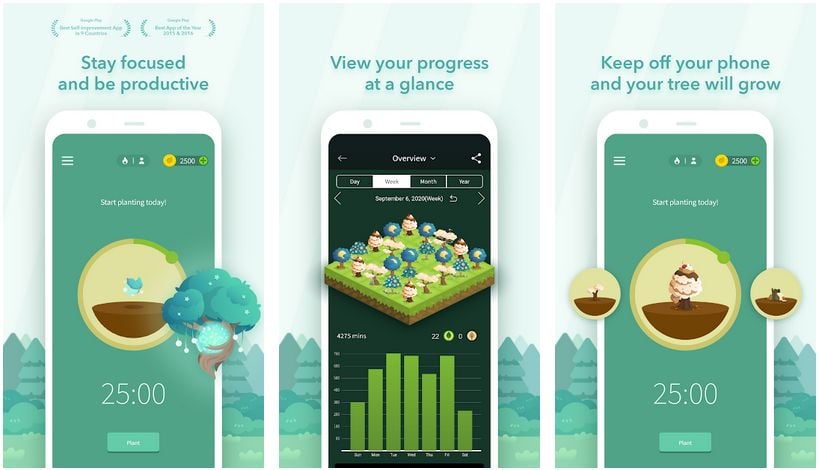 Distraction is the worst enemy of students as it lowers productivity and increases the overall time required to complete any given task. Because of this some learners opt to get writing paper help to be able to submit their assignments on time. This is where Forest comes to the rescue. It is a leading app designed to block digital distractions caused by various apps and forces you to keep your focus on a specific task only.
While studying, to start a focused session, all you need to do is set a timer and plant a tree. Now you need to keep your tree alive and growing by committing to a task and completing it without getting distracted.
If you close the app to check any notification before the session ends, your tree will die. However, if the focus session is completed successfully, the tree will appear in your virtual forest. And for every successful virtual tree plantation, the app gives you virtual coins, which can be redeemed to plant real trees on the earth.
What this is best for: Helps maintain focus and forces you to be productive; track your phone usage and screen time.
Unique features: Plants real trees; challenge your friends to stay focused together; create a custom whitelist.
#3. Google Drive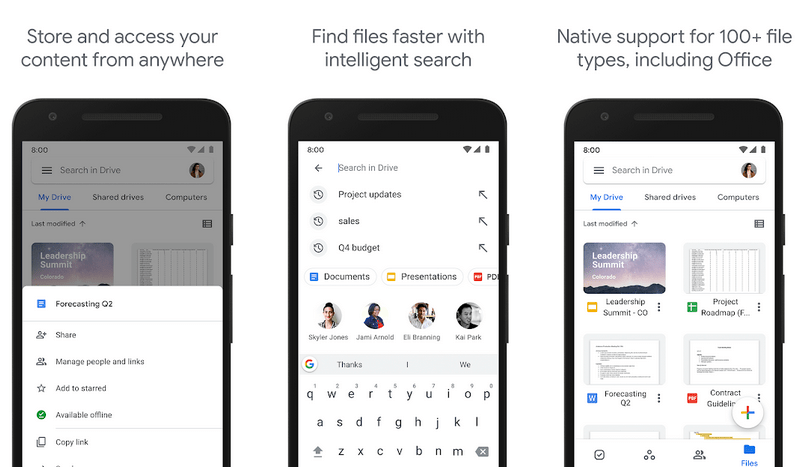 In the current era where distance education has become the trend, file sharing plays a key role. Students can send and receive assignments in a few clicks from any device using free cloud storage like Drive and advanced sharing features, which further allows you to collaborate and comment on files in real-time.
If you have a classroom, your instructor can create a dedicated folder and use that to share all the content like research work or essays with the students and everyone can easily access it through the shared drives section within the Google Drive app. Also, you can easily save any file for offline viewing and that will be stored locally on your device.
#4. Grammarly Keyboard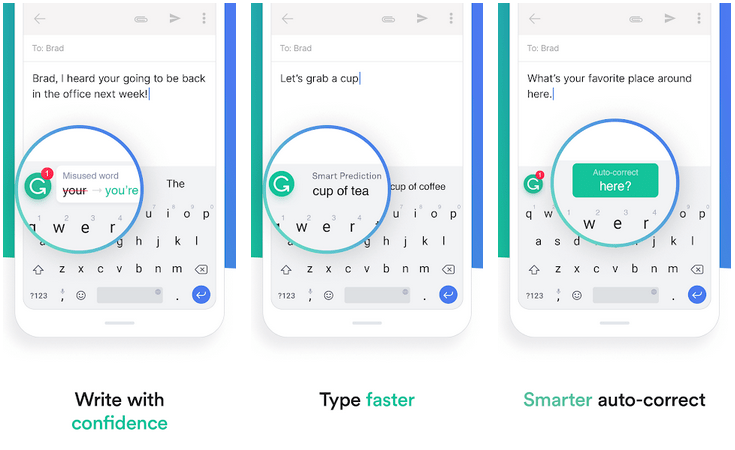 Undoubtedly, students who use their Android devices to write academic papers want them to be error-free with better words. That's where Grammarly comes to the rescue, it not only corrects all the misspellings and grammatical errors in the content but it can also work as a writing assistant that can help improve your writing and vocabulary.
With the help of smart compose and auto-correction features, you can type faster and create error-free content. And the built-in synonym tool enhances your overall writing capability. Although it is a great tool for both native and non-native English language speakers, it is always a great idea to double-check your work before submitting it to avoid any possible mistakes.
If you want to be confident about your paper's top quality, feel free to order the proofreading service at SpeedyPaper, as it is one of the best essay-writing platforms. A SpeedyPaper discount will be a great bonus in such a case.
#5. Zoom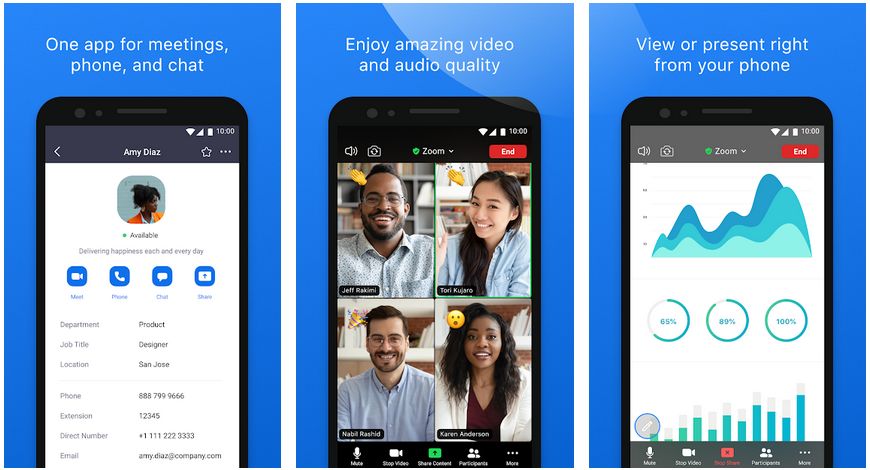 Due to the outbreak, the majority of the educational institutions are closed and instructors and students are forced to stay at home and have no opportunity to network or communicate physically. This is where the instant messaging app Zoom comes to the rescue as it provides the option to have virtual group meetings of 100 people with support for video, audio, and screen sharing.
The great thing about the Zoom app is its awesome compatibility. It is a cross-platform app and is compatible with Android, iOS, Windows, Mac, and even SIP room systems and telephones. Features like these are exactly what make it the best for online meetings and classes, and can be used by students and teachers for hassle-free communication.
#6. Coursera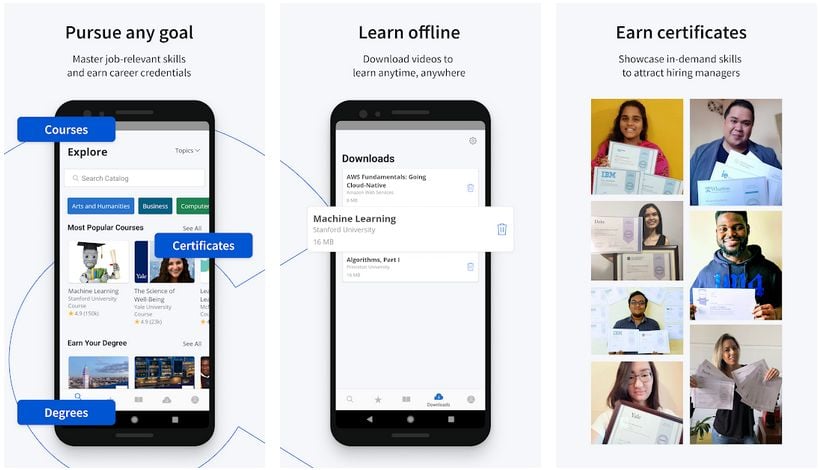 Coursera has been providing remote learning for several years already and this education service is well recognized throughout the world. It offers courses from some of the top universities like Yale/Duke University as well as industry experts who are working in companies like IBM and Google. They offer two types of learning options i.e. get yourself enrolled into a course/certification to secure a specific job position or opt for a degree program.
This learning service is available for everyone, no matter which part of the world you live in. And all you really need is an active internet connection and a mobile device, which could be a smartphone or tablet. There is also a learn offline feature that lets you download course videos so that you can learn anytime and anywhere without any limitations.
#7. RefMe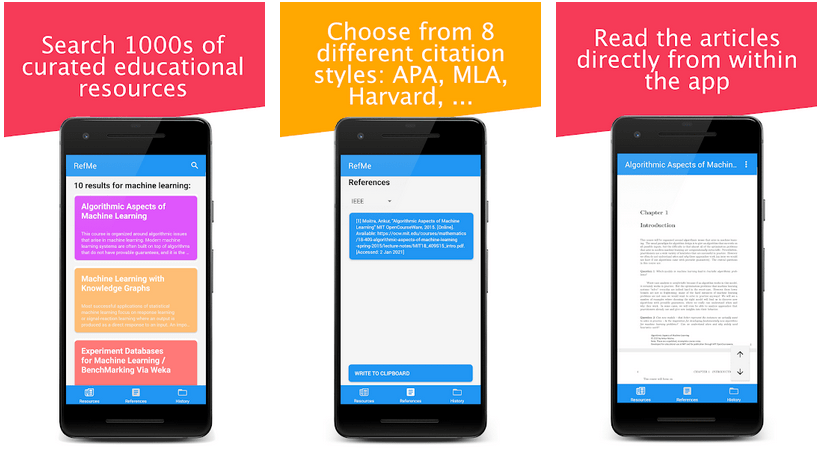 Citation and references are important to back your words, especially in cases when you are preparing notes for your course or writing an academic paper. RefMe uses your phone's camera to help scan barcodes on books and let you add a citation in over eight formats including Harvard, Vancouver, MLA, and IEEE. You can select the citation format that your course instructor asks for.
What's more interesting is that you can keep a track of all your cited books and papers, which can be useful when you are reading the paper again and wants to read in-depth about the referenced article. This app alone can improve your efficiency and productivity by several folds.
#8. Quizlet

Quizlet helps you learn a language and improve your vocabulary with flashcards. There are clear pronunciations in over eighteen languages to improve your speaking skills too. It is designed to make it simpler and easier for anyone to become a master in any subject or enhance any existing skill set.
The app lets you build your very own set of flashcards; you can make the learning process easier and fun thanks to the built-in games and tools; you can test your knowledge by taking practice tests and exams. Quizlet is perfect for anyone who is looking to take the ACT and SAT exams, or any test in school or university.
#9. Duolingo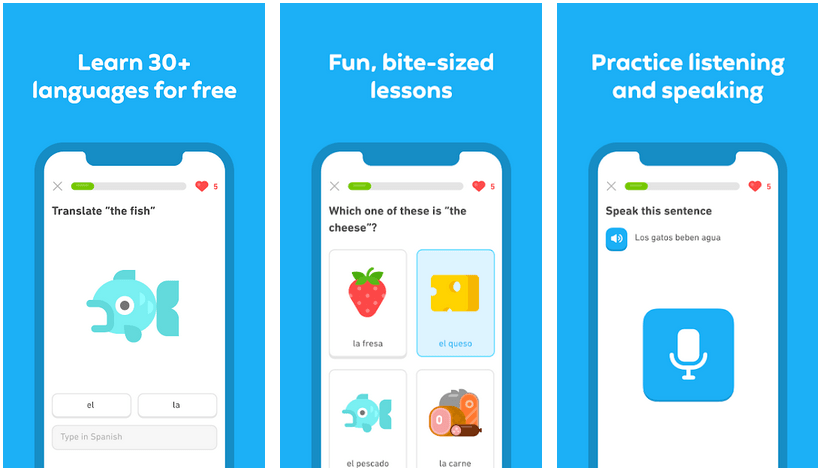 If you want to learn a new language or improve your communication skills, you definitely should download Duolingo, the best app in the industry. It offers well-shaped and interesting language lessons. The advanced functionality involves users in learning lexis, grammar, and pronunciation.
The app contains different levels to help you learn a new language from the very beginning or to sharpen your existing skills and become fluent. The app supports over thirty-five languages, which makes it one of the most, loved and trusted apps throughout the world, especially for English-speaking skills.
#10. Merriam-Webster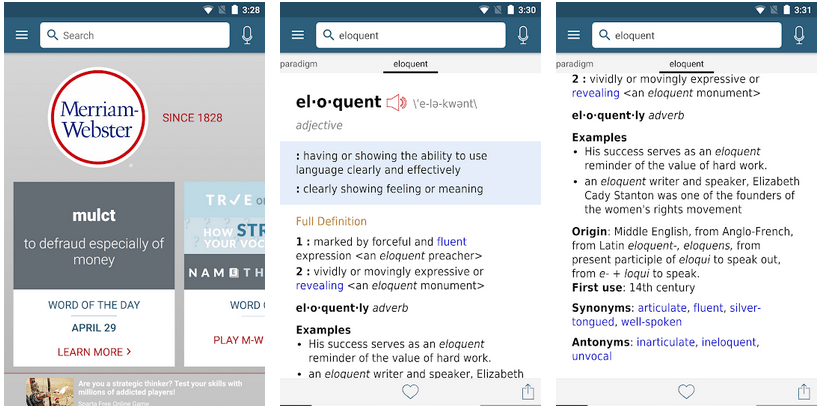 Who doesn't know about Merriam-Webster? It is being published by the company founded in 1831 and is a well for their dictionaries. Currently, it is the most trusted online English dictionary. Now that it is available for Android devices, anyone can access it for various purposes including education, reference, and vocabulary.
This application is a must-have for students who want to improve their vocabulary and language skills. Merriam-Webster is a comprehensive dictionary that delivers detailed information about every English word. The app has an inbuilt test so that users can examine how good their vocabulary is.
So Which Apps are You Gonna Use
The worst thing that a student can do is to study without a purpose. Undergraduates who learn new skills just for the sake of a degree usually hate education. So, if you are a student who doesn't want to waste your valuable time and money, you always need to set short as well as long-term goals. And work on it every day to achieve them. And if you were looking for apps for your kids then I hope you found some good options. Make sure your children stay safe online when browsing the internet.
We hope the study apps for Android we have shared above will make your learning process easier, more productive, and detraction free. Let us know in the comments down below which app helped you the most. 🙂