If you use your Android device to get most of the work done like watching videos, managing your social media accounts, or you might be using your smartphone to wirelessly manage your team then these utility apps are going to help you achieve a lot more in less time without making it look like a burden.
Let's just jump straight into the utility apps that everyone must have on their smartphones or tablets to make the most out of it:
#1. Smart Tools: Measurement and converter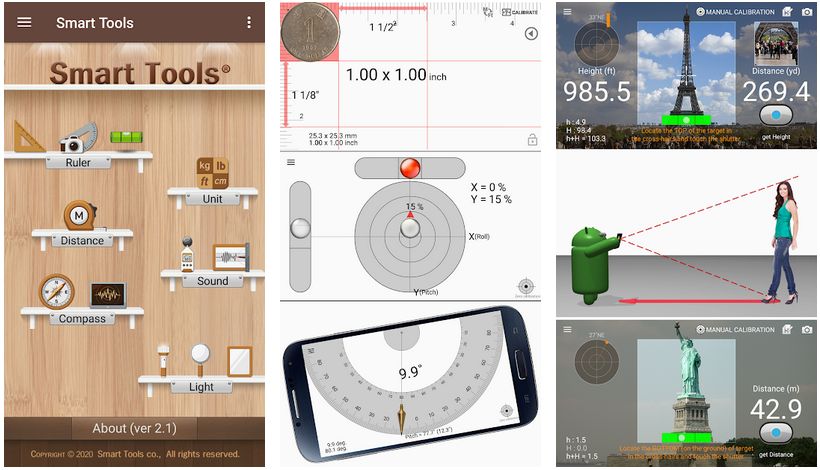 As the name suggests, Smart Tools is an app that will transform any Android device into an all-in-one measurement tool. It comes packed with over 15 tools and each of them is neatly categorized into 6 sets including a unit converter, ruler, measurement, compass, sound meter, and light.
Thanks to the loads of sensors that come equipped with our Android phones, the app can easily help us perform DIY tasks anytime anywhere without any requirement for measurement tools. Even though the provided data might not be precise, but it is sufficient for rough measurements.
Works without Internet connection.
The app is frequently updated to add new features, fix bugs, and improve compatibility.
The distance measurement is not accurate because it uses a camera but it is perfect for estimation.
#2. Twilight: Blue light filter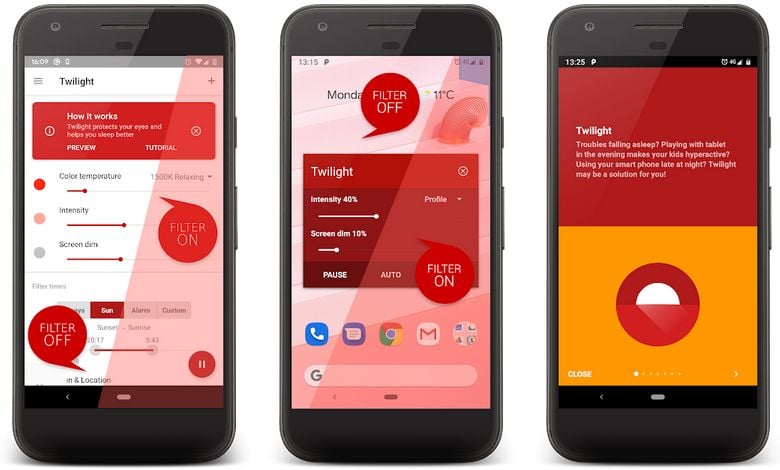 Do you suffer from eyestrains after lengthy smartphone usage? Or maybe you have a hard time falling asleep because of your cell phone usage right before bedtime? If yes, then you should install Twilight right away and see the difference for yourself.
The app filters the flux of blue light released by your phone/tablet by adding a red-tinted filter, which makes the screen pleasantly warm while reducing the eye strain and improving the sleep cycle. The app is easy to use and can be configured to automatically adapt a blue light filter according to the time of the day.
Completely free to use and provides a number of configurations.
Option to lower the screen backlight for nighttime reading.
#3. Truecaller: Caller ID and spam blocker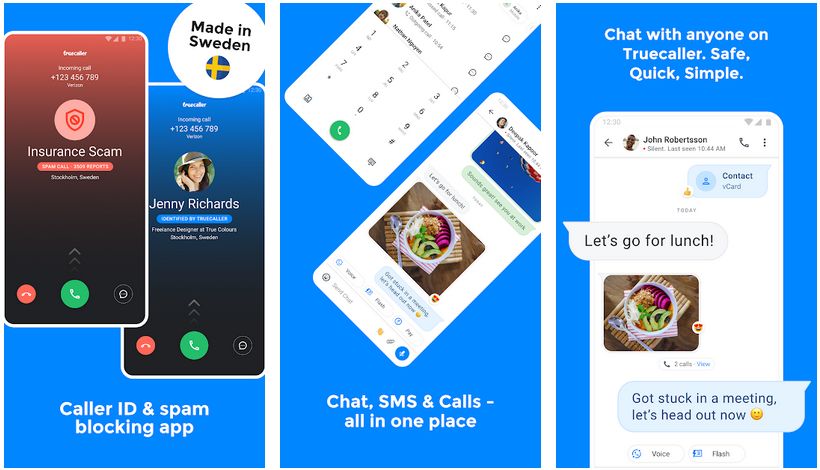 With the Truecaller app, you can identify unknown callers, block unwanted numbers like telemarketers and spammers, and you can see the name of people calling you even if the number is not saved in your contact list. The app also shows you if the person you are trying to call is free or on another call.
Ability to identify unknown callers, the option to auto-reject calls from spammers, and block unwanted phone calls.
Lookup for the contact name in the Truecaller directory using the phone number.
The app comes with ads to support the development.
#4. SHAREit: Transfer and share files without internet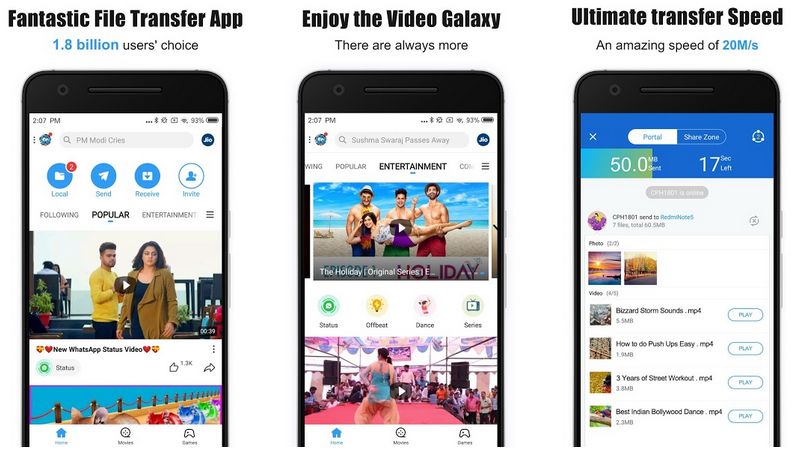 SHAREit is the best and the most reliable cross-platform WiFi-based files/data transferring and sharing app. You can easily transfer and share videos, music, photos, or any file format between any OS including Android, Windows Mobile, iOS, PC, Mac without compromising on the quality.
The app doesn't even require you to have active mobile data, Internet connection, or cable. All you really need is a smartphone with SHAREit installed.
The cross-platform compatibility makes it easier than ever to share and transfer files between any devices.
Support for group sharing without any requirement for network or Internet connection.
High-speed and swift file transferring with speeds up to 10MB/s.
The app must need to be installed on both, receiving and sending devices.
#5. KinScreen: Screen timeout controller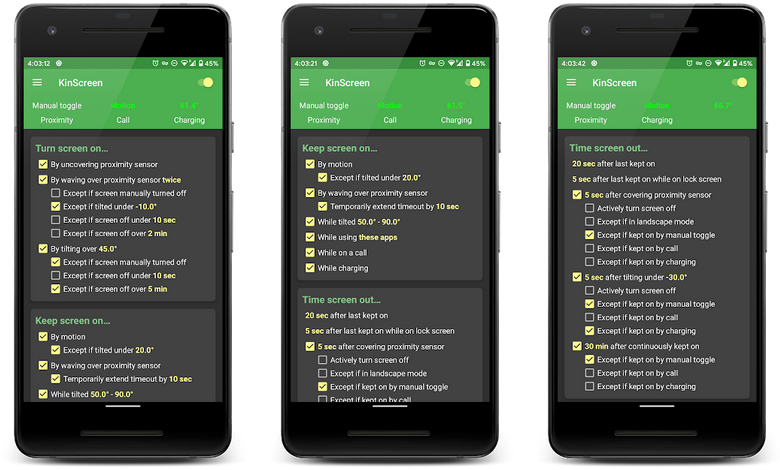 If you use your smartphone for reading, then you must be aware of the struggle of repetitively tapping the screen to keep it awake. Or maybe you increase the screen timeout interval.
Now, meet KinScreen. It will make it convenient for you to keep the screen awake by using your smartphone's built-in sensors like motion, proximity, and device orientation. You can even personalize the screen on and screen off rules.
Works perfectly in dark areas as the app uses the phone's sensors.
Usage of sensors makes the app battery efficient with little to no impact on the performance.
Does not work properly on MIUI (Xiaomi) based operating systems due to certain limitations.
#6. Universal Copy: Copy text from any app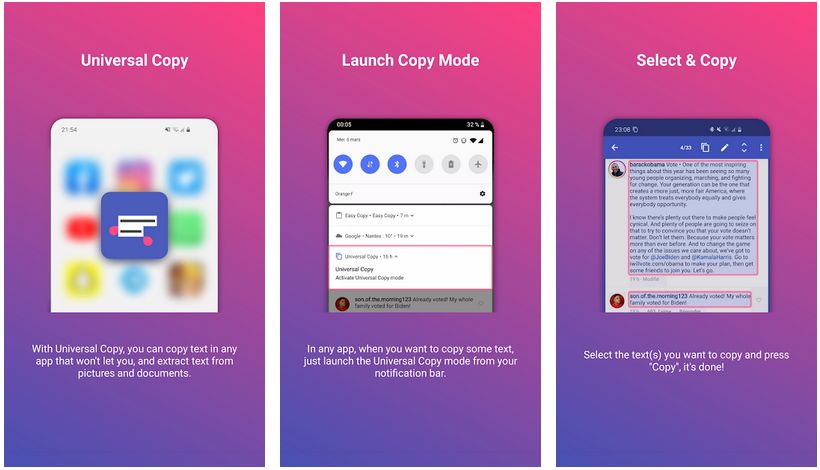 Clipboard manager solves your problem of copying multiple texts. But what if you want to copy text from apps like Facebook, Instagram, YouTube, Twitter, or any other? The long-press gesture is not supported on any of those apps, making it impossible to copy anything.
Look no further. Universal Copy is designed to help you copy text from any app. Enable Universal Copy mode from the notification area, tap on the text you want to copy, and then tap on the copy button. The copied text should be in your clipboard now.
Simple and easy to use, without any advertisements.
Copy text from any app within a matter of seconds.
The accessibility option automatically turns off and needs to be enabled manually.
#7. MacroDroid: Easy automation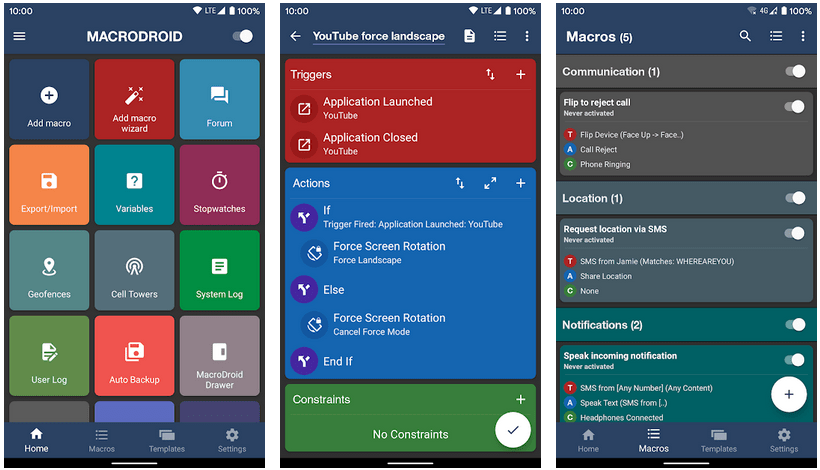 MacroDroid is an automation app designed for beginners who find it hard to use an advanced automation utility like Tasker, which is complex and a paid-only app too.
For starters, MacroDroid is the most suitable device automation app that lets you automate a variety of tasks using hundreds of predefined templates. For example, automatically turn on GPS when you open Google Maps and then turn it off when the app is closed. Isn't that amazing?
Hundreds of templates that can be easily personalized according to your needs and requirements.
Powerful, simplified, intuitive, and easy to learn.
The free version is limited to five automation commands and contains ads to support the developer.
#8. Parallel Space: Add support for multiple accounts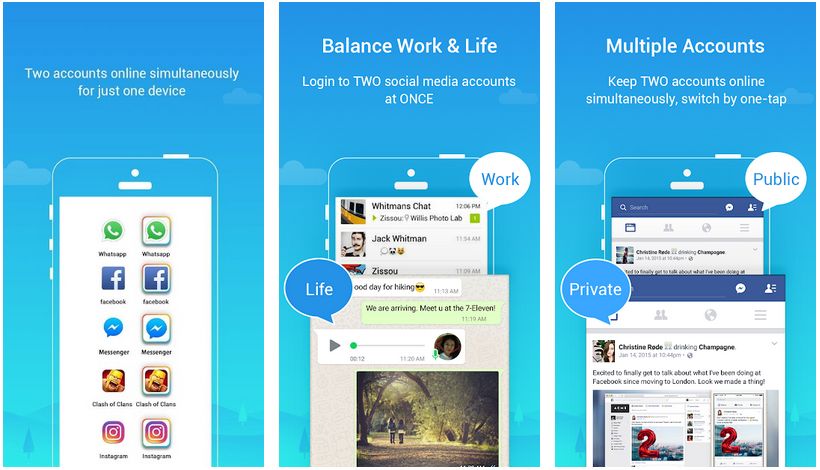 Do you want to run two WhatsApp accounts, gaming apps, or any other social media accounts on a single Android device? Parallel Space is a powerful app that can help you seamlessly run multiple accounts without any issues with an ultimate capability to switch between the two with one-tap.
Apart from cloning apps, Parallel Space can be used to protect privacy because it let you install apps in the incognito mode under a separate environment, which can be protected with a security lock.
Powerful, easy to use, and completely free.
Keeps a separate record of data for each app.
Intrusive ads, and there is no option to remove them.
#9. Nova Launcher: Lightweight and highly customizable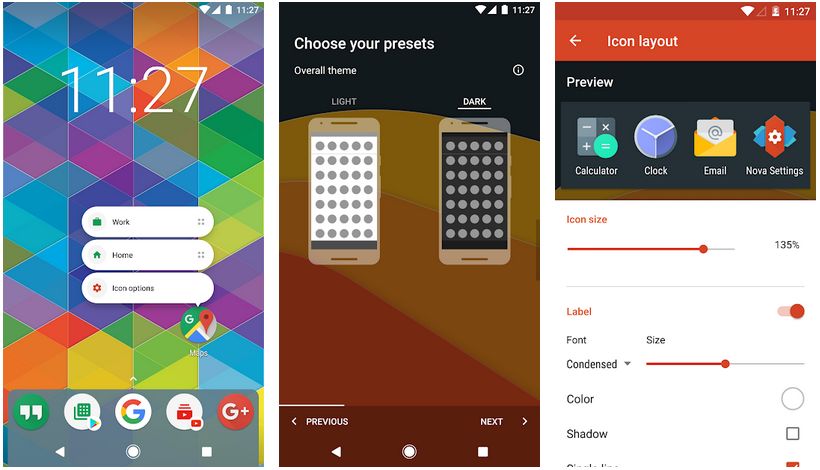 Nova is one of the most highly customizable, lightest, and performance-driven launchers ever designed for Android. It uses full material design along with the easy to configure options as well as the support for gestures.
You can modify your home screen just the way you like including the capability to change layouts for home screen widgets and icons, a wide variety of animations, thousands of icon themes.
Completely customizable and personalized home screen to suit your liking along with the fast and smooth user experience.
Backup and restore all your personalization and launcher settings.
Features like gestures, unread counts, and icon swipe requires Nova Launcher Prime.
#10. CamScanner: Portable document scanner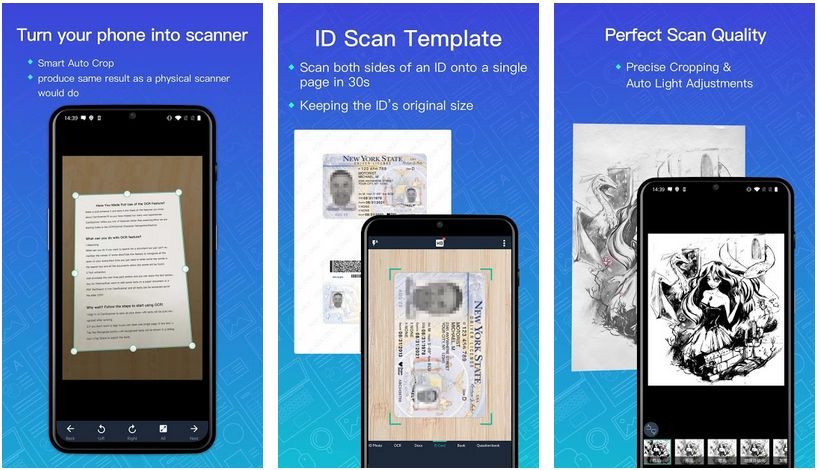 CamScanner uses your smartphone's camera to help scan any type of document, store them on your device, and syncs it with various devices. The app is smart enough to automatically optimize the scanned image and make it look detailed and sharp.
The app is equipped with OCR functionality to help you extract text from the scanned images for further editing along with an option to easily share images in PDF/JPEG format via email.
Easily scan any type of document including notes, whiteboard or blackboard discussions, certificates, photos, business cards.
Edit scanned images using the native editing advanced editing features.
Innovative features like OCR, cloud storage, password protection requires a premium subscription.
#11. Google Drive: Reliable cloud storage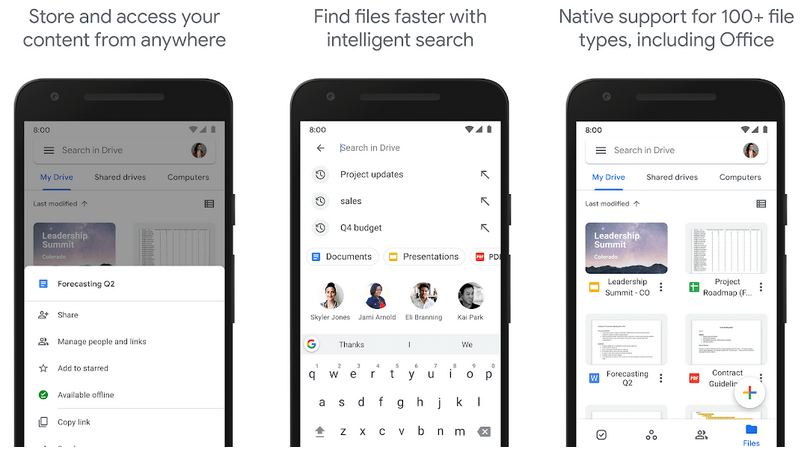 Google Drive is a popular cloud storage service where you can safely store all of your files —including images, documents, and videos— and keep them synced with all of your devices including smartphone, tablet, and computer.
Moreover, the most powerful function is that the Drive is hardwired with all of the Google apps including Google Keep, Google Docs, Google Slides, Google Sheets, and Google Photos. Along with the option to access, edit, and share files anytime, anywhere.
The safest cloud storage to save your files with an option to access them from anywhere.
Give you over 15GB of free storage upon signup.
Lacks passcode feature to protect the app from any unwanted access.
#12. Solid Explorer: File manager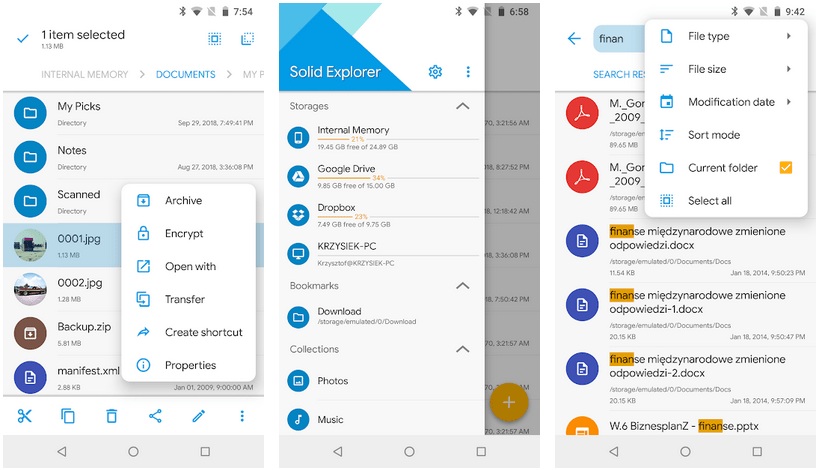 Every Android device comes preinstalled with a basic file manager but to be able to accomplish advanced tasks and manage all the files on your device, Solid Explorer is one of the best file managers available for Android.
Upon installation, you will get two weeks trial period to test all the features. Afterward, you must need to purchase the pro version through in-app purchases to continue enjoying all the remarkable features.
Performance-driven and simplified material design with access to cloud storage services.
Support for FTP, SMB/CIFS clients as well as the option to open any file format.
Password protects files and folders.
Lack some customizability and personalization options.
#13. MX Player: Powerful media player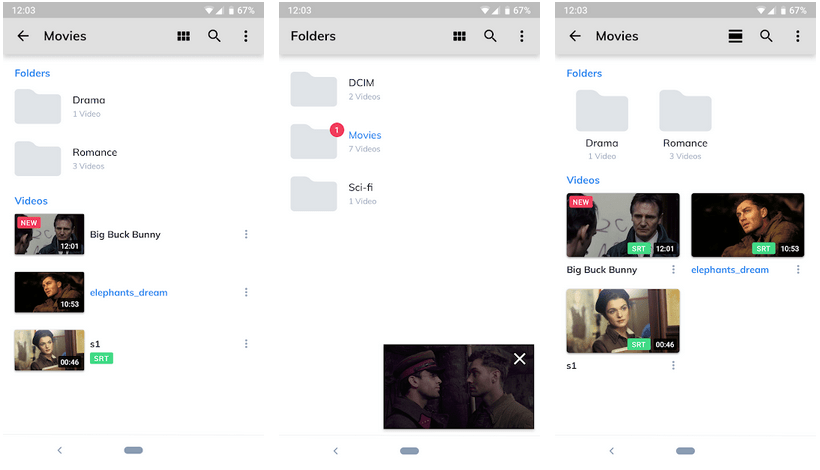 MX Player is one of the most versatile media players for Android as it is capable of playing almost all types of video and audio formats without any sign of a hiccup. It comes preloaded with hardware acceleration capabilities as well as multi-core decoding.
The player even has native support for subtitle gestures to make your movies and videos watching experience a breeze.
The most feature-rich player for Android with swipe gesture support for volume, seek position, brightness.
Free version shows non-intrusive ads to support the development but they can be removed with the purchase of MX Player Pro for $5.99.
#14. Pocket: Read any page later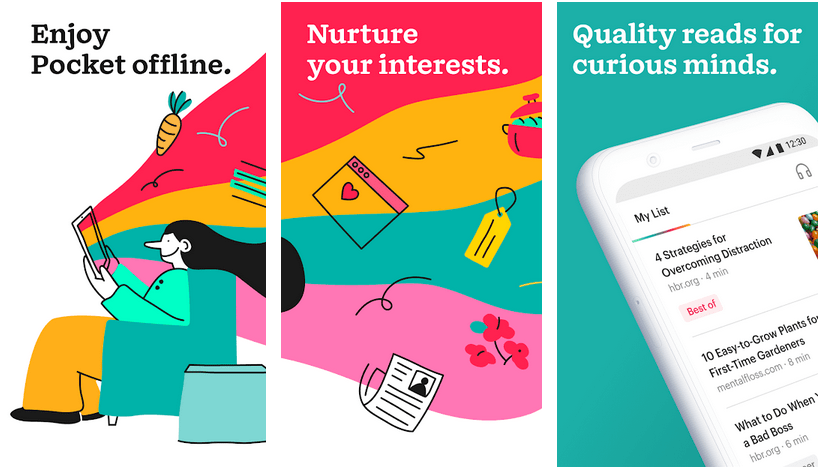 Originally, the Pocket app was known as Read It Later, which lets you manage your personalized reading list of articles and web pages. It is the most popular cross-platform online bookmarking app.
The greatest advantage of Pocket is you can save any link, content, video, or any form of a web link for later offline viewing. And your saved bookmarks automatically sync with all of your connected devices.
Provides the best and clean reading experience with a distraction-free layout.
Bookmarked content and web pages can be viewed offline along with the Text-To-Speech support.
#15. Google Maps: Real-time GPS navigation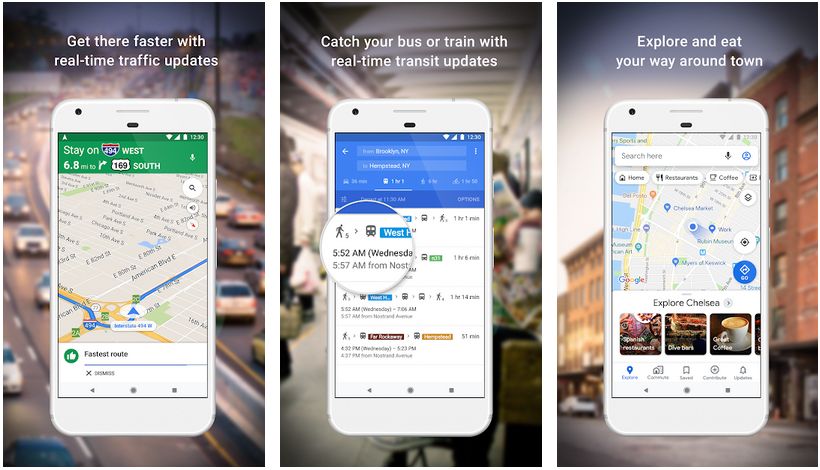 We all know Google Maps is the most reliable navigation app regardless of the platform you are using. It offers an unmatched accuracy and speed. And no matter where you are, it can show you the correct way with ease.
With the support for offline functionality, you can now download an entire country or any selected spot for seamless turn-by-turn navigation as well as intuitive search irrespective of Internet connectivity.
Real-time traffic updates and offline maps support enables you to navigate around the city, no matter where you are.
Support for indoor maps to help you find your way in huge areas like airports and shopping malls.
#16. Pocket Casts: Listen to podcasts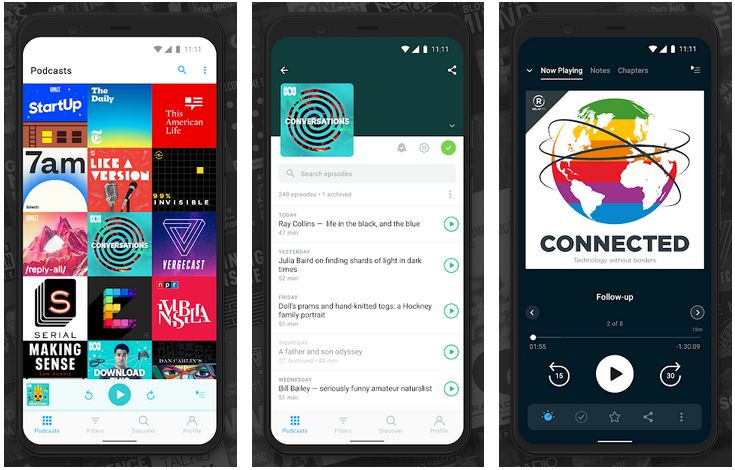 If you love to listen to podcasts that Pocket Casts is the app that you should install right away, as the app makes it easier than ever to discover new podcasts and the simplified interface makes it stress-free for you to sort existing podcasts.
Even though the app costs you a one-time fee of $3.99 but the wide array of elegant features like variable speed, volume booster, audio, and video playback, and support for Android Wear makes it worth every penny.
Material design and the selection of dark/light themes with cross-platform compatibility make it the best podcast app.
The smart tools and powerful playback functionalities enhance your podcast listening experience.
#17. AccuWeather: Your reliable source of weather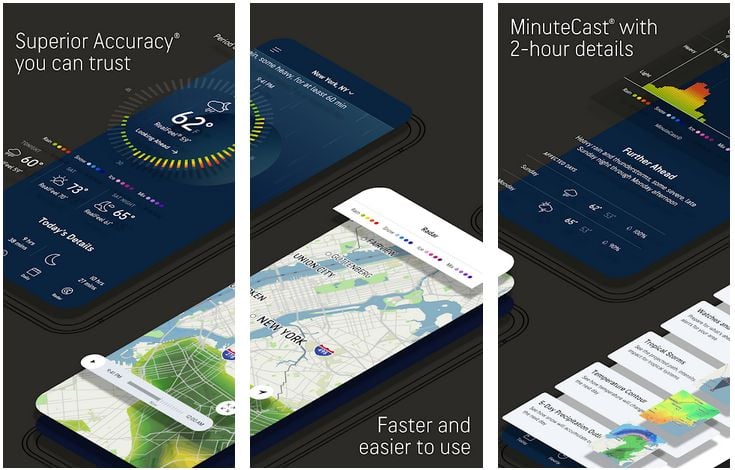 AccuWeather is a reliable weather app that keeps you updated with all the latest weather conditions with utmost accuracy thanks to the refined features like MinuteCast that provides a minute-by-minute participation forecast for your exact location.
It also shows you the weather forecast summaries for the upcoming five days along with a radar update for your geographic region.
Completely free and full-featured weather forecast app.
Up-to-date news, weather videos, and forecasts for your region to keep yourself updated with severe weather conditions.
The free version contains ads but you can opt for AccuWeather Platinum for $2.99 to remove advertisements.
#18. Google Translate: Your translation companion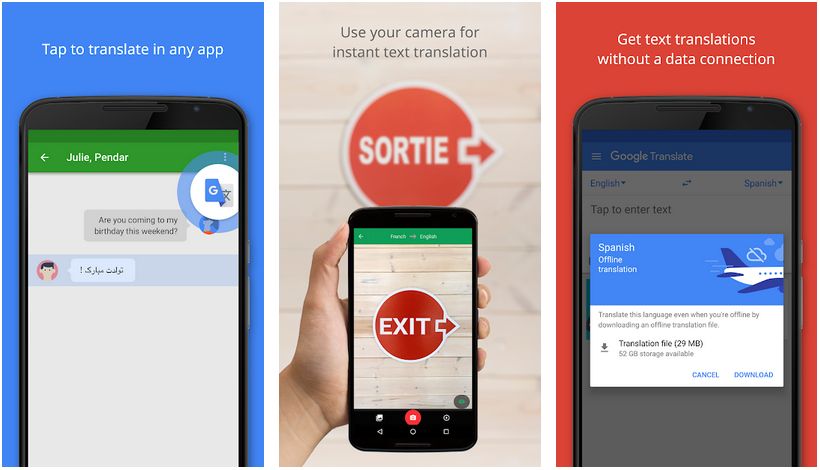 Google Translate has now become a lot smarter that allows you to translate text on Android devices easier than ever. You can translate using a wide range of options including typing, tap to translate, real-time translation using your smartphone's camera, and even an option for offline translation.
You can even draw characters, which will automatically recognize and show you a translation, making it the most appropriate option when you don't have the required keyboard.
A streamlined interface makes it easy for anyone to translate text into his or her own language.
An advanced and powerful tap-to-translate option that uses floating bubble UI for quick translations from any app.
Some languages/sentences are not translated correctly, which makes it slightly hard to understand.
#19. WhatsApp: Instant messenger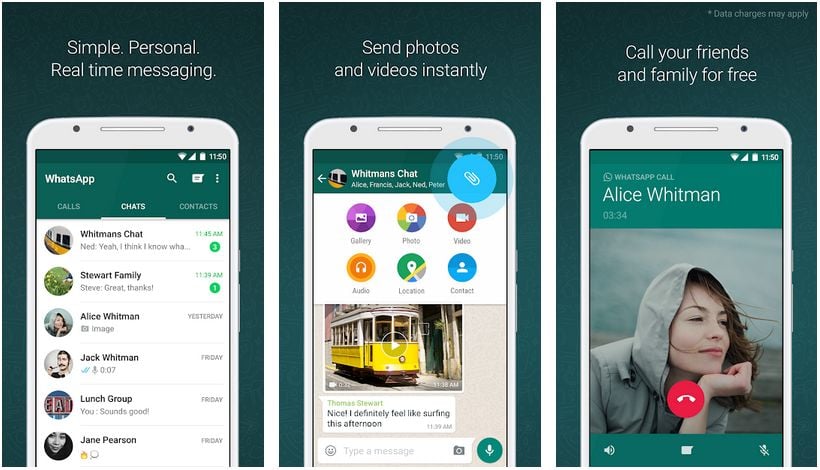 For communication, WhatsApp Messenger is hands down the best instant messaging app as it's completely free, contains zero advertisements, cross-platform, and all the messages are end-to-end encrypted.
The recent upgrades and enhancements have added some noteworthy capabilities like video/voice call, the option to share documents, videos, photos, GIF, audio notes, voice messages. All you really need is an active cellular mobile number and an Internet connection.
The best, free, and the most reliable instant messaging app that only requires an active Internet connection.
Create a group of up to 256 members and keep everyone updated in one go.
#20. Open Camera: Photography and videography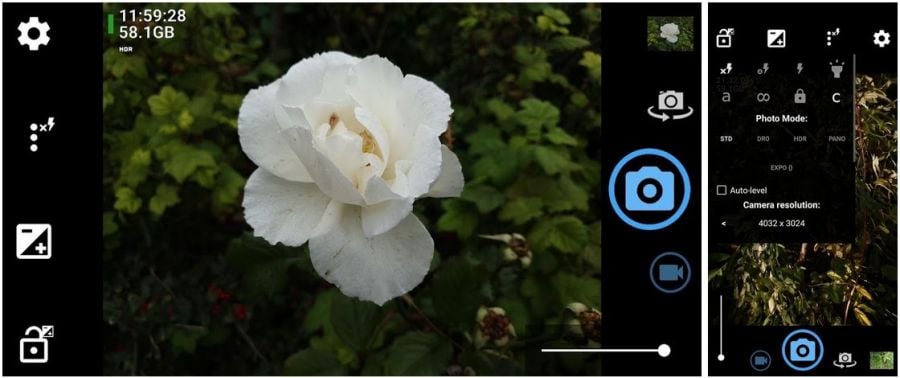 Open Camera is a lightweight and professional camera for the smartphone, which is open source and includes professional features like auto-stabilization, manual exposure/ISO controls, various focus/scene modes, personalizable GUI, capture photos using voice command, and a lot more.
Open Camera is a full-featured smartphone camera that doesn't cost you a dime. If you are looking for a paid option with enhanced support then you may like to check Camera FV-5.
A free and open-source camera app for Android smartphones with premium photography and videography functionalities.
Advanced features make it hard to understand for beginners.
Not tested on all Android devices so some preferences may not work as expected.
#21. SD Maid: Android cleaning and optimization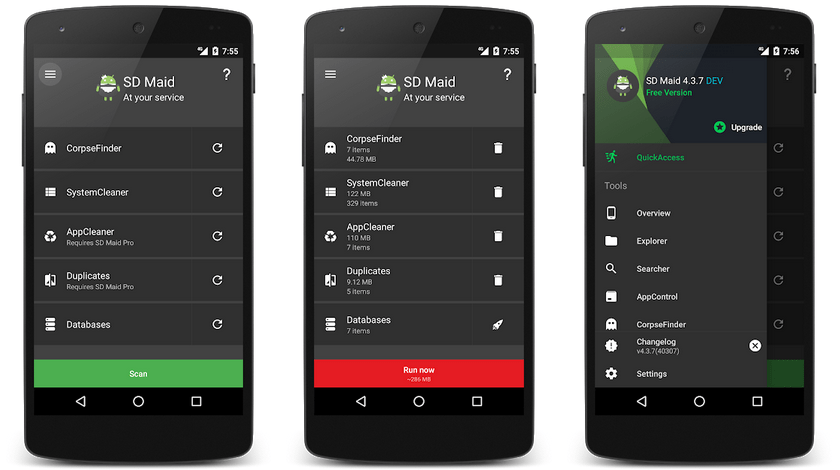 SD Maid is an advanced Android device management and system-cleaning app that helps you maintain the internal/external storage as well as your overall device to keep it at the optimal speed.
The app is powerful enough to find abandoned files and folders that are usually left behind when you uninstall apps. Moreover, the advanced algorithm can optimize databases and detect duplicate files to free up space and enhance the device's performance.
A naive interface makes it easy to use and helps you keep your device clean.
Manage your device storage usage as well as all your apps including backup, freeze, and uninstall.
Certain advanced options require root permission.
Some additional features need SD Maid Pro that costs $3.49.
#22. Snapseed: Professional photo editor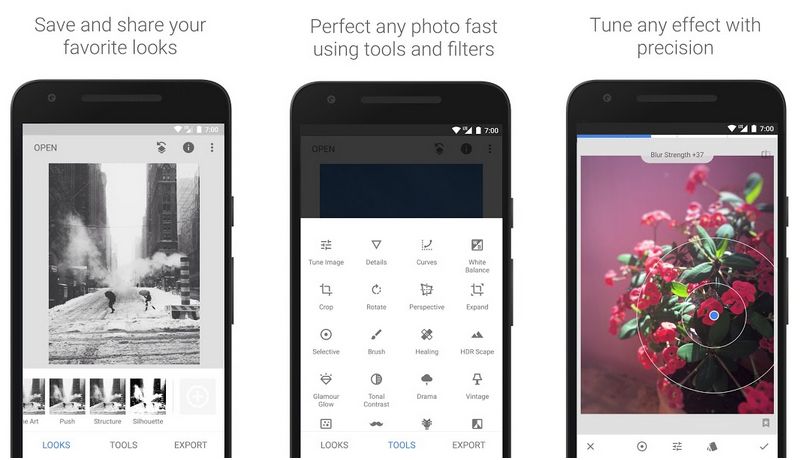 For mobile photography enthusiasts, all the features included in the Snapseed makes it the professional photo-editing app for Android. Comes equipped with over twenty-five tools and filters, support for RAW DNG/JPG photo formats, selective filter brushes, and precise controlling to achieve superior fine-tuning.
The user-friendliness and the UI make it super easy for anyone to achieve professional photo editing stats just by using the Snapseed app.
The most incredible and handy photo-editing app for Android without compromising the quality of photographs.
Lack a number of photo filters and effects.
#23. Greenify: Hibernate resource-hungry apps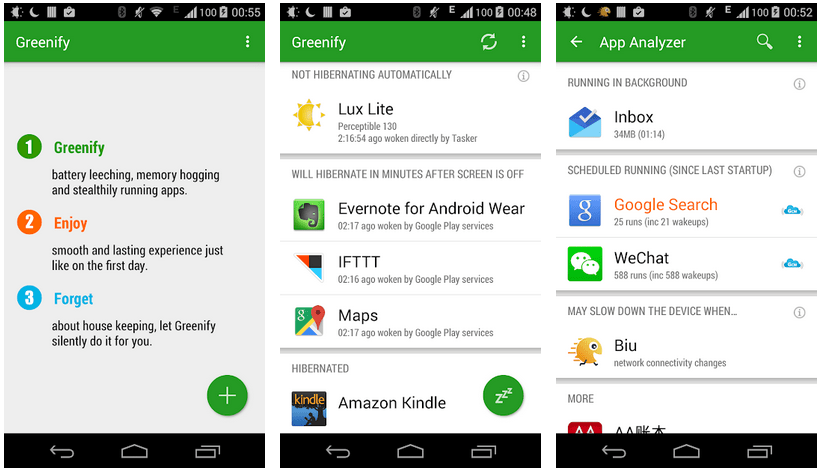 Greenify will help you keep your device running smoothly at its optimum pace. The reason you may need to use this app is that there are a wide variety of apps like Facebook, Messenger, Twitter, WhatsApp, Instagram, and many others that keep running in the background.
Having all of these apps running in the background can slow down your device and dramatically affects the performance as well as the battery time. And with Greenify, you can easily hibernate those battery-leeching apps when you are not using them.
An automated app that hibernates apps to stop them from running in the background.
Regain all the lost power and performance of your smartphone while saving battery life.
Some features require root privileges to perform properly.
Greenifying instant messaging apps will stop them from alerting you about new messages and notifications.
#24. Clip Stack: Clipboard manager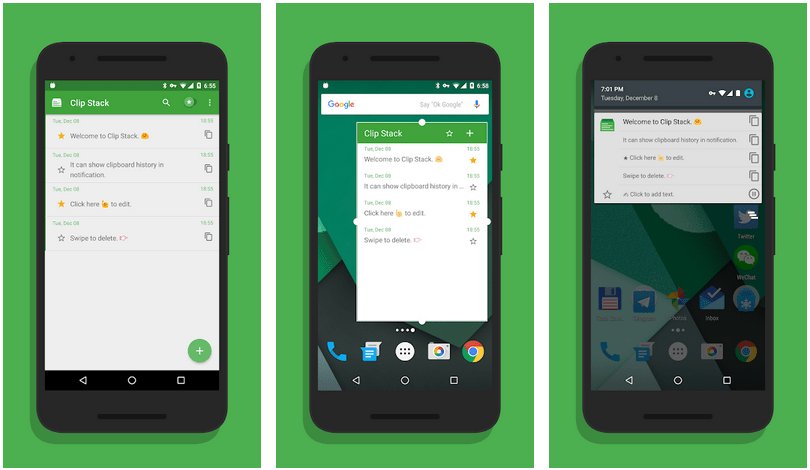 Did you ever wonder how you could copy multiple texts on your Android device? Ironically, if you want to copy/paste text from multiple places to a single document/message then you have to go back-and-forth between the apps numerous times.
But since we are using a smartphone so why not make the task easier, right? Clip Stack is all you really need to add a clipboard management capability to your device. The app saves everything you copy and keeps it in its clipboard history for quick access via floating bubble whenever you want. Even if your device is restarted.
Open-source, material design, easy to use, free of charge, don't show any ads, compatible with tablets, phone, and wear.
Protect your clipboard history with a PIN lock functionality.
Option to backup and restore clipboard history.
#25. Flynx: Read articles and blogs smartly
Flynx is a smart webpage reading utility specifically designed to help you read the Web smartly. While browsing through your WhatsApp messages, or Facebook or Twitter feeds, simply tap on the link you want to read and Flynx will pop a floating bubble where your page will begin loading in the background.
When you want to read the page, just tap on the bubble and you will have a distraction-free reading experience along with the option to modify the font and enable/disable night mode.
Open webpage links and read articles without leaving your favorite app.
Double-tap on any link to save it for offline reading.
Link loads in the background without any interruption, which saves time and removes ads.
It cannot be used as a web browser.
It may not work perfectly on all Android devices.
Conclusion
There must be hundreds of Android utility apps we could have added to this list, but rather than sharing all the apps here and making it an exhaustive list, we would prefer to share a few and then know about your preferences and your personal list of most useful apps.
In the comments below, share with us your favorite utility apps for Android. We would love to hear about them. And if the app is useful then we might add it to the list too 😉