If you are one of those people who do all of their photo/video editing stuff on their phones then these apps are perfect for you. We hand-tested many apps and listed our favorites down here. These apps can help you with editing and creating beautiful videos for almost any scenario right on your Android phone.
1. InShot – (Our Favorite)
InShot is designed to keep video editing as simple as possible while ensuring there are enough editing tools to make the app powerful.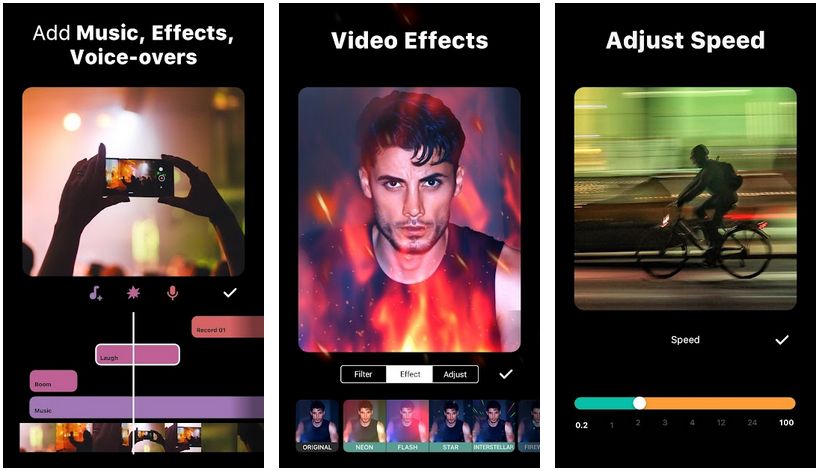 While editing and creating the video, you have the freedom to add stickers, blur effects, transitions, emoji, filters, text with a variety of fonts, and even music/voiceover.
Apart from the basics, there are also advanced editing tools, like changing the aspect ratio, merging multiple clips, and editing editor for TikTok and Instagram reels.
Depending on your creativity level, you can use each of these tools to create incredible videos to publish and share on your social media channels.
2. VivaVideo – (Second Best)
VivaVideo offers you a fantastic combination of primary and advanced editing tools and features to edit, but you can even record videos directly on your Android phone.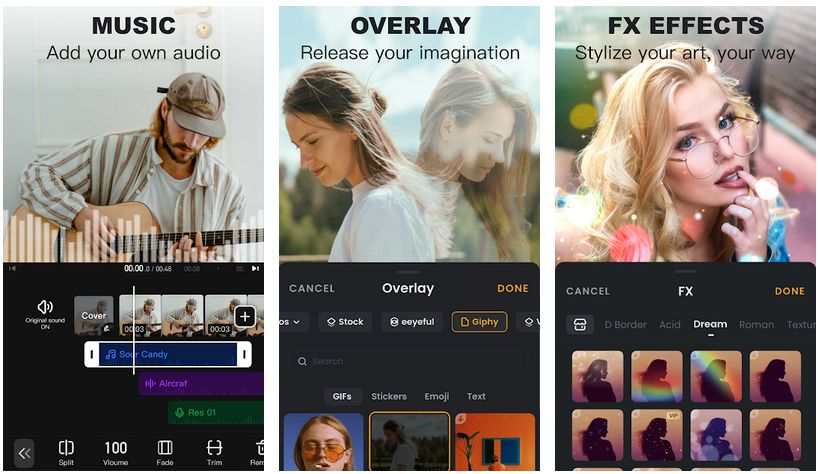 The app lets you create a visual storyboard using tools like adding transition effects, merging videos, cropping, and clipping extra sections from a video to make it concise.
You can change the overall speed of the video and have the complete freedom to modify the aspect ratio and crop it as per the requirements.
The video creator section of the app is mind-blowing as it lets you record and creates a masterpiece specifically for your social media profile.
3. VideoShow
VideoShow is more on the practical side, which is why the wide majority of the users are using it, as it offers occasion-based editing tools.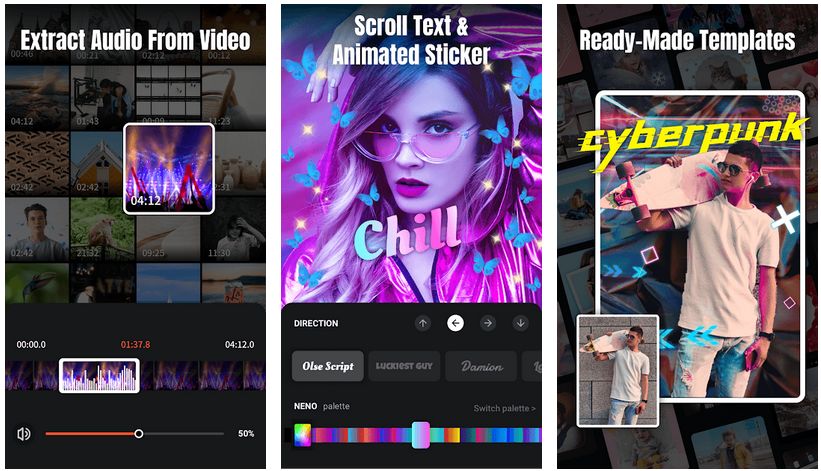 Whether it is a birthday, Valentine's Day, Christmas Eve, wedding, or you are creating a simple vlog. You will find customized music, animations, sound effects, and GIFs to match the theme of your video.
The all-in-one editor combines videos and photo editing tools in a single app. There are special lenses, the ability to add licensed music, and you can even export in 4K resolution.
Once you are done, you can then quickly share your final edit and finished video with your followers through social media channels.
4. KineMaster
If you are looking to make your video editing and video creating experience exciting, then KineMaster is the app you should install on your Android phone.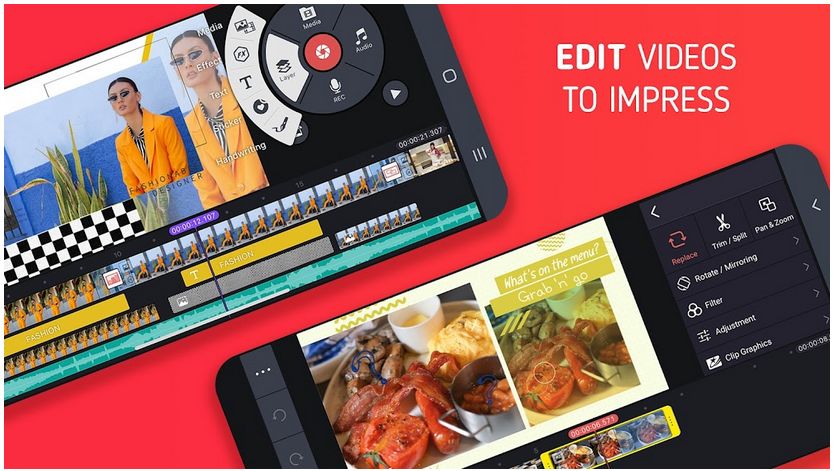 The app is well known for offering transition, video effects, and other in-app downloadable items. You even get advanced options like combining videos and creating visual effects with different modes.
You will also get advanced audio editing tools that include volume and ducking cover tools, and equalizer presets, all of which combined can help add a multidimensional effect to the audio, which is better than surround sound.
The KineMaster app is fully compatible with multiple Android-based devices, including mobile, tablet, and even Chromebook devices.
5. PowerDirector
PowerDirector is a feature-rich video maker and video editor that offers tools for editing existing videos, but you will find tools to record new videos.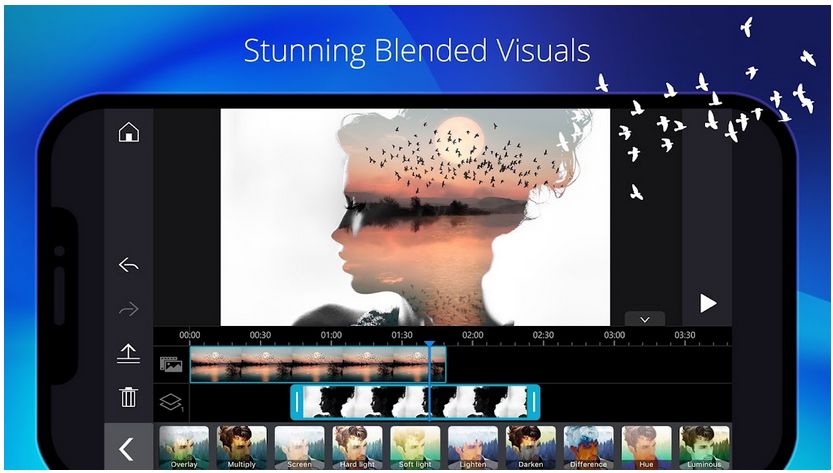 The app lets you capture cinematic-style videos from any occasion or memorable moments using the powerful tools and then enables you to edit those using a separate set of video editing tools.
Ultimately you will have a stunningly recorded quality video, exactly like a pro. Making PowerDirector a perfect choice for the vlog.
With the app, you can export videos in 4K resolution along with the option to adjust the speed of the clips, making them fast or slow for added effects.
6. Magisto
It does not matter whether you have any prior editing experience. Magisto is suitable for almost any user looking for an app to create amazing videos quickly in a matter of minutes.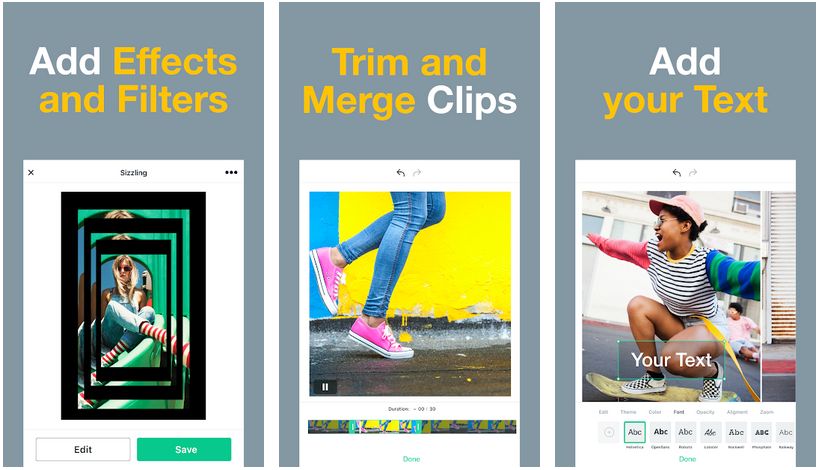 The app comes with a smart editor backed by artificial intelligence that can guide you with the appropriate addition of graphics, music, and various effects.
There are readymade templates designed for beginners for occasions like anniversaries, birthdays, announcements, or any other event.
The app is available on mobile and the web app. Anyone can make mind-blowing videos that people will love to share and tend to go viral.
7. FilmoraGo
FilmoraGo is a perfect video maker and video editor app that has the capability to let you edit videos and easily edit pictures.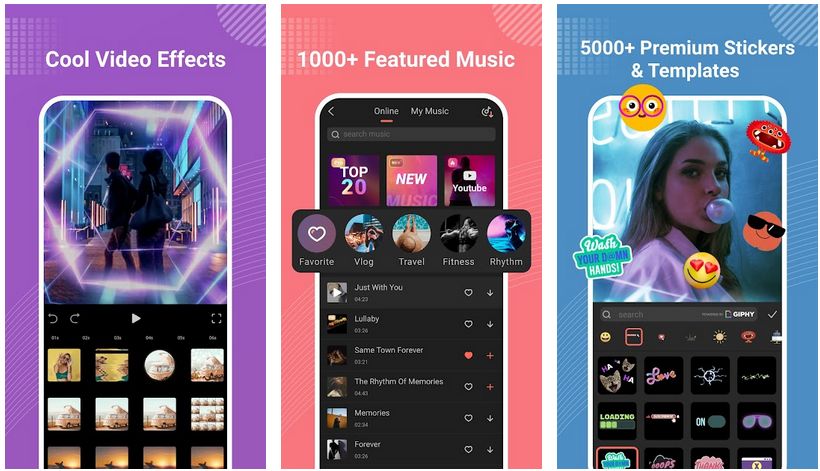 There is customizable text with a wide range of fonts that can help you annotate your videos or mention anything in the video.
Whether you are going to edit or create videos for your social media profile, the app comes loaded with various powerful tools that let you add stickers, music, sound effects, and pictures.
The best feature of FilmoraGo is the ability to add thousands of music into your video, which is suitable for almost every video type.
8. GoPro Quik
GoPro Quik helps you produce cinematic style videos using the videos you have already captured, and that too in just a few simple steps.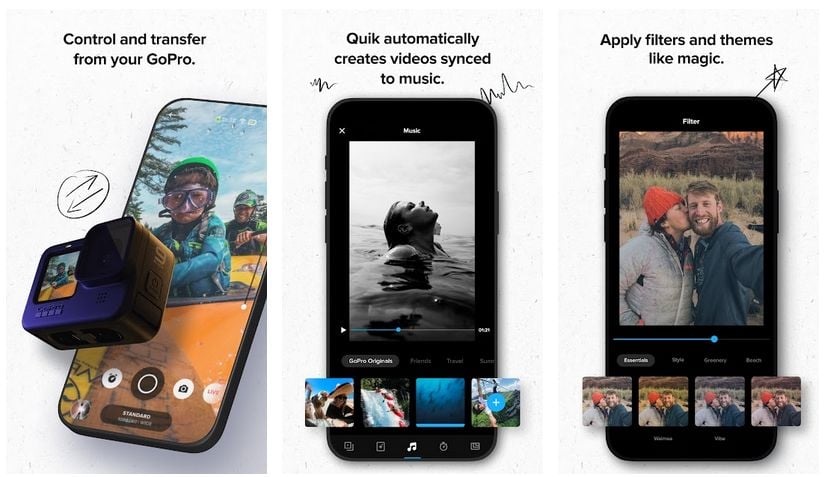 The app offers you a premium set of editing tools that you can use for quick and easy customization of your videos without learning about them first.
The most powerful feature is the ability of Quik to automatically create videos that are well synced to the music with the help of AI.
You can apply filters to the videos and even add a specific theme with just a tap, optimized for shooting environments like water or snow. Give greater depth to your videos.
9. WeVideo Editor
WeVideo Editor is not just the editor, but it also gives you the freedom to capture new videos and clips right from the app. You can also use any existing clips or pics from your phone's storage.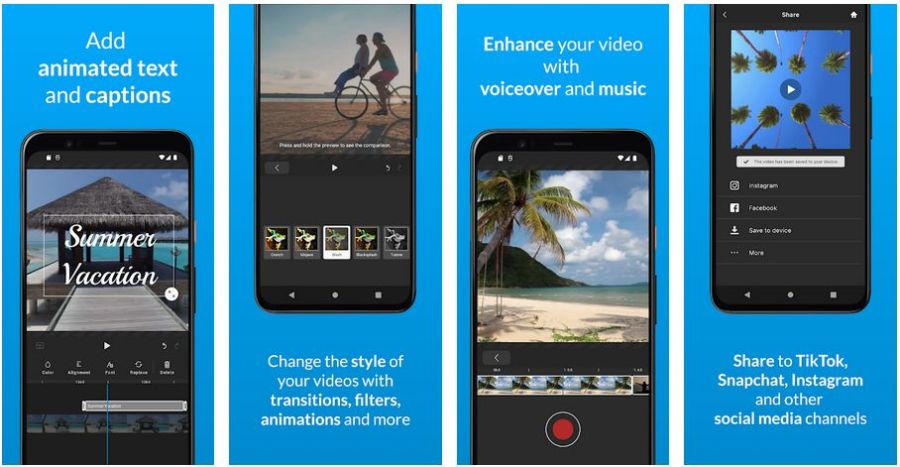 You will have a storyboard, and it allows you to trim as well as arrange all the clips and photos you have added to the video in the editor.
The interface lets you add text or captions, both of which can be animated to match your video's theme better.
With the help of ready-made filters, animations, and transitions, you can completely change the style of your videos. You can even add music or record voiceover to improve the video further.
10. ActionDirector
If you are someone new to the video editing world, then ActionDirector will be really helpful in the process as it comes with helpful guides and tutorials.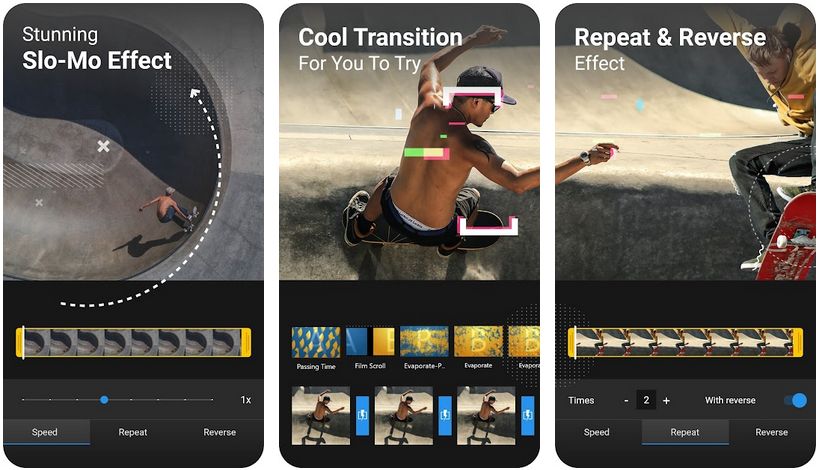 The app allows you to record videos and edit existing videos and unique video effects to create a video that people will love and have the tendency to go viral.
You will get full native support to record and edit videos in Ultra HD 4K resolution right on your mobile device, which works exactly like how one would edit videos on a desktop.
With ActionDirector, you can add animated titles and magnificent slow-motion effects, make your video artistic through the color filter, and add reverse and repeat effects.
Whether you recorded a simple video at a birthday party or a ceremony, these best video editing apps for Android are going to help you create share-worthy videos suitable for Facebook, Instagram, or even YouTube channels. Let us know which one is your favorite.