Do you find it hard to make new friends because of a lack of confidence or if it is tough for you to share your feelings with someone else in person? Look no further, these six best anonymous chat apps we have reviewed here will help you chat with strangers who share similar interests and willing to listen to what you have to say.
You can have text-based chats or communicate via voice messages that can be disappeared or have video calls to connect with the other person in a better way. The choice is yours; use any of the anonymous chat apps that make sure your identity remains protected unless you want to share your personal details.
#1. MeetMe
With MeetMe, you can find new people, have a conversation anonymously on the topic of your interest, and go live and let others find you from all over the world. The app is designed to promote anonymous conversations with strangers while helping others nearby to find and join you. The fun does not stop here, those people can have direct communication with you as well, only if you allow and want to have it.
The platform is powerful and has millions of users registered from hundreds of countries who use MeetMe every day to find new people, connect with them, and have a random discussion on any topic. The app allows you to have a video chat with strangers whether they are nearby or lives in any other part of the world. Starting live stream is really easy.
What Is This Best For: Find new people who share similar interests, chat with people who are nearby you.
Unique Features: Find friendly locals who are looking for someone to talk to with the same interest, connect with millions with just a single platform.
Ads: Yes, the app is ads-supported.
Price: Free with ads.
#2. Whisper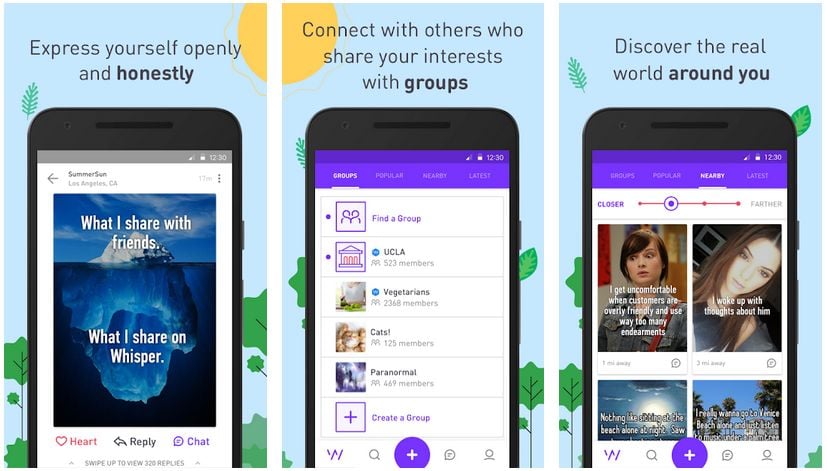 Have you ever wondered what would it feel to live in a world where you will be able to find out what people around you are actually thinking? Let us introduce you to Whisper, where millions of people share their thoughts and advice. And what's interesting is that the app classifies each thought into groups so that people who share the same interest can find and connect with each other.
Once you are in a group and connected with a link-minded person, Whisper then allows you to initiate a chat and communicate with them in real-time. And if both of you happen to be nearby then you can decide on a spot for a meetup as well. The best part is that you can choose to stay anonymous and continue hiding your identity during the chat phase.
What Is This Best For: Find new people who have similar thoughts like you; connect and chat with people who are nearby you.
Unique Features: You can easily find locals or people near if you are looking for someone to interact with; the ability to connect with millions is a great opportunity.
Ads: Yes, the app is ads supported.
Price: Free with ads.
#3. Chatous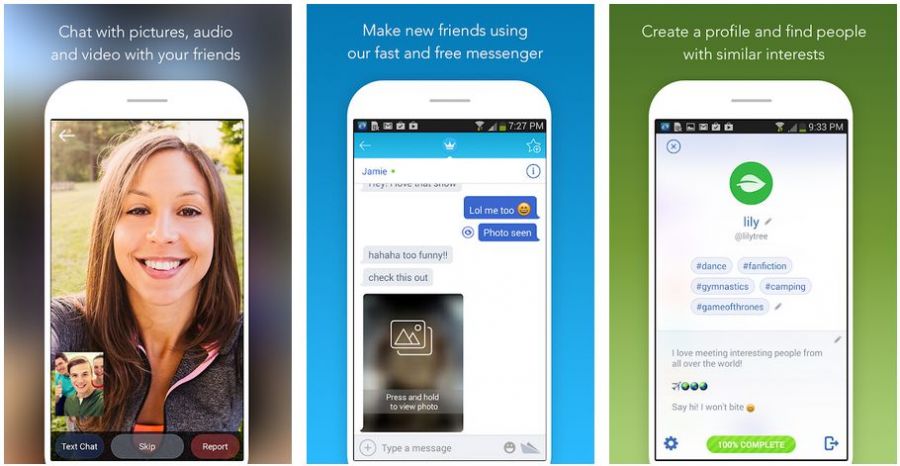 Developed by Castle Global, Chatous is an awesome app to chat with your friends or anyone who is on the same platform, no matter from which part of the world they are connected, you can have video as well as audio chat. Which plays a great role in helping you make new friends.
To keep things simplified, you can create an account and add your interest, the app will then do all the work and find and connect you with people who share similar interests from any part of the world. The app makes sure you can find a true and meaningful connection. Chatous allows both contacts to have a video chat as well as the capability to share photos.
What Is This Best For: Compatible with mobile app and desktop too; and the ability to chat with new people through text, pictures, videos, and audio messages.
Unique Features: Option to add and use hashtags to find people with similar interests; you can protect your identity by hiding your name and remaining anonymous; share expiring photos and videos.
Ads: Yes, the app is ads supported.
Price: Free with ads; allows in-app purchases.
#4. Connected2.me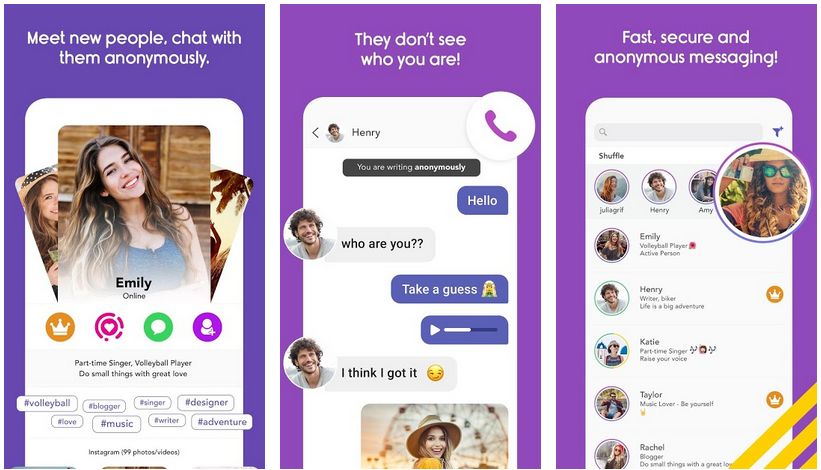 The platform offers you the best and free way to meet new people while keeping your identity hidden and gets to know them first before sharing any of your details, giving you one of the safest opportunities to find people who think the same way as you. Connected2.me is more like a social media platform but with more control over what you share with others.
The app has a unique shuffle feature that you can use to automatically connect you with any other online contact, who is already online and in the same group as you. The anonymity also allows you to share secrets and gossip with your friends while keeping your identity hidden.
What Is This Best For: Use the platform to connect with new people or chat with any of your existing friends; receive a notification whenever your friend comes online.
Unique Features: Gives you an anonymous link to easily connect with others without sharing any of your personal details that can be shared on other social platforms like Facebook, TikTok, and Twitter.
Ads: No advertisement.
Price: Free but offers in-app purchases.
#5. Frim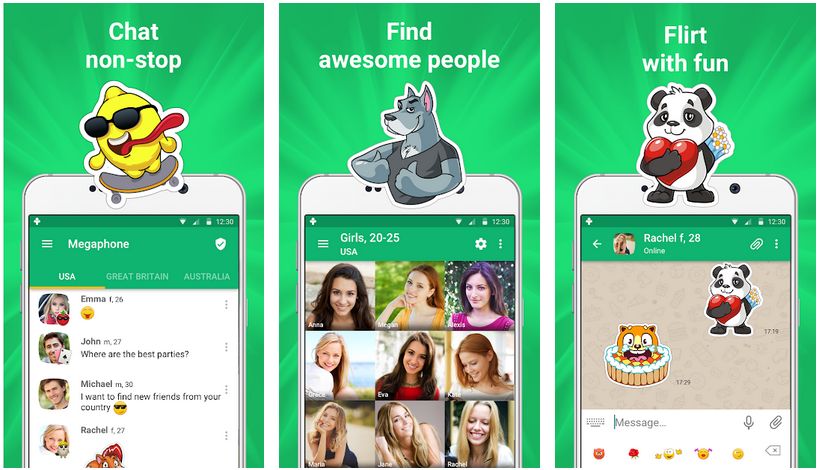 Are you looking to make some new friends from the comfort of your home using the internet, and that too without revealing your identity? Frim is going to help you out. The platform gives you access to chat rooms where you can chat and communicate with the locals as well as find someone who matches your interest.
You are going to decide whether you and the one you just met online want to meet physically somewhere for a hangout and a cup of coffee or just continue to talk online on your topic of interest. The best part is anonymity, you can just pick whatever name and picture you want and start chatting.
What Is This Best For: Begin chatting with new people while staying anonymous; support for badges allows you to express yourself without saying anything.
Unique Features: Create a group of up to twenty people or invite random people who have the same interest and chat with disappearing messages.
Ads: Yes, the app is ads supported.
Price: Free with ads and offers in-app purchases.
#6. Wakie Voice Chat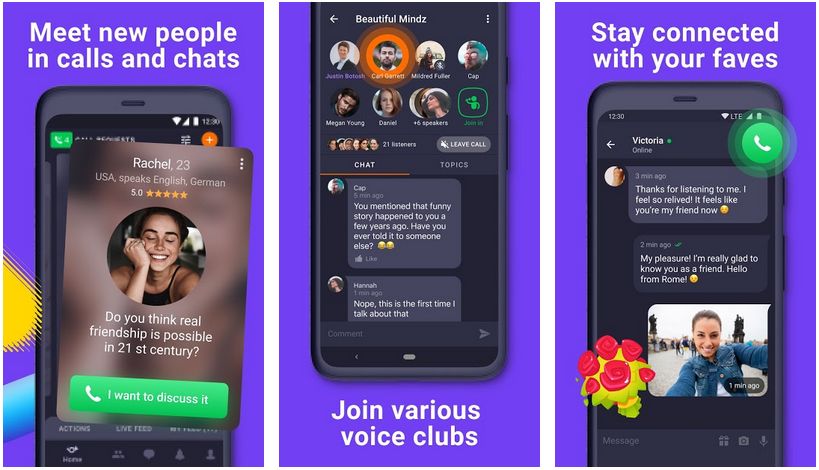 With just a simple tap of a button, Wakie will connect you to anyone from any part of the world and allows you to have a voice chat right off the bat. You can then discuss your interest or share your life stories to make new friends.
If you have found someone you actually connect with and feel comfortable sharing things with, the platform then allows you to keep the communication open with one-on-one chats. Wakie gives you a feed, similar to any other social media network, where you can openly express yourself and attract like-minded people.
What Is This Best For: Send special gifts to your online friends; join already established communities and clubs to share your thoughts and participate in discussions.
Unique Features: Be your true self by hiding your identity and the ability to share anything you want without the risk of being caught by someone you know in real life.
Ads: No advertisement.
Price: Free but comes with in-app purchases for added features.
#7 Slowly – Text Messages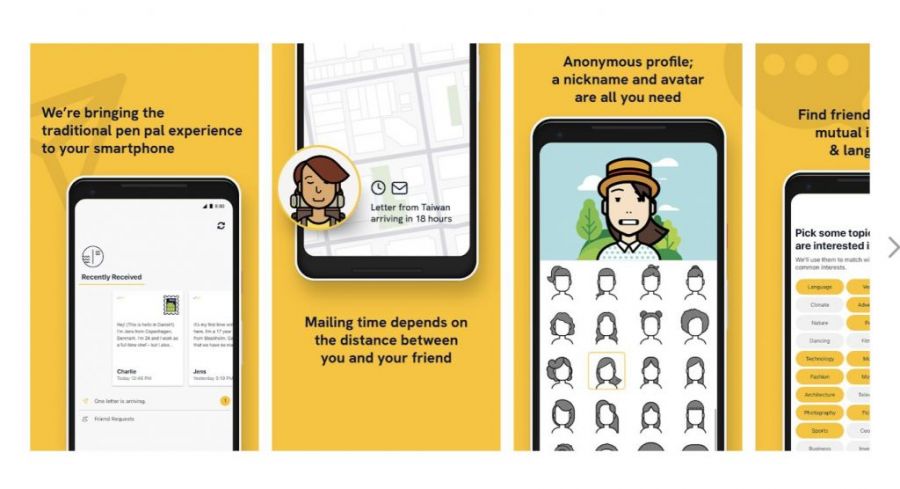 If you prefer to keep things old style then this is the perfect app. You can connect to people across the globe but you can't talk to them instantly, instead, you have to send a letter which takes few days to reach. The times depend on how far the recipient is. In my experience, it's more fun than other apps to connect with real and genuine people.
Back To You
We have reviewed over six best chat apps that allow you to have open communication with anyone from any part of the world while keeping your identity anonymous. You can discuss your favorite place, hobbies, or even any topic of interest. Let us know in the comments, which Android app worked best for you and how many meaningful friendships were you able to make.