At one point or another, all of us have experienced the feeling of losing valuable data and files like cherished photos and videos from our Android phone or tablet devices. And this is exactly when we search around for a reputable Android data recovery software and app that can easily recover deleted data like pictures, videos, contacts, or other valuable data like documents.
Here we have reviewed the best apps and software that you can use right now to scan your phone's storage and find and recover deleted data from your Android device.
Without wasting a minute let's jump onto the list of data recovery software:
1. Recuva (Our Pick!)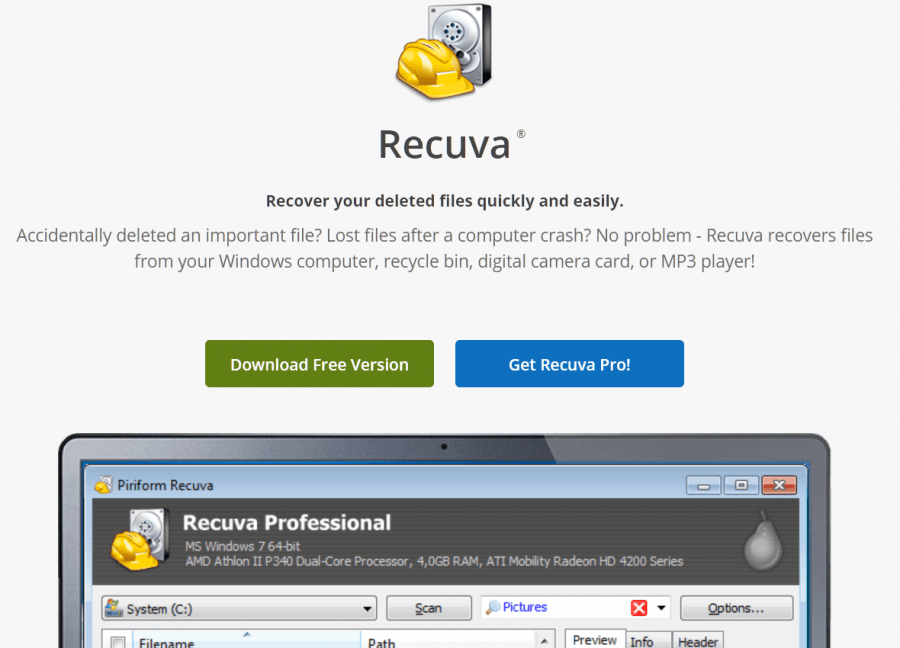 Recuva is a powerful file recovery software for PC and it is developed by Piriform. The program scans the storage device, finds all the deleted files, and shows you the ones it can undelete. Restoration becomes easy, as most of the storage space is not overwritten by new data. The software is available in over thirty languages.
Since its initial release i.e. 2007, this lightweight freemium software has gained a lot of popularity in the undeletion and files recovery market as it can easily find, scan, and restore deleted files from various storage devices including memory cards, digital cameras, hard disk drives, portable media players, USB flash drives, and even cell phones.
Best Known For: Recovering and restoring files and data which have been deleted from the computer, external storage, mobile phone, digital camera, or USB flash drive.
Software Type: Designed to run on Windows PC and computer devices.
Pricing: Freemium, costs about $19.95 for a lifetime license.
2. Dr. Fone Android Data Recovery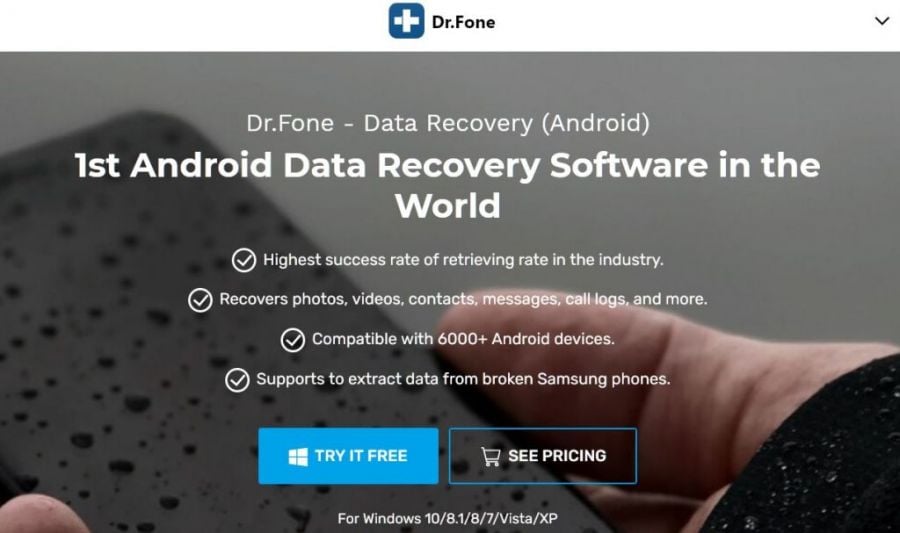 Dr. Fone Android Data Recovery let you recover any lost or deleted data from Android devices and SD card. This software is a part of Dr. Fone Toolkit, which other than Data Recovery functionality offers WhatsApp Transfer, Phone Transfer, Screen Unlock, Phone Manager, System Repair, Phone Backup, and Data Eraser.
The Android Data Recovery software by Dr. Fone offers one of the industry's highest success rates of data retrieval, as it is officially compatible with over six thousand Android smartphones and tablet devices and is capable of extracting data from broken Android devices as well. The app promises to recover not only files and photos but it can easily find and restore phone data including call logs, videos, messages, contacts, and other app data as well.
Best Known For: Recovering all types of data from Android devices including files, photos, videos, call logs, app data, and messages.
Software Type: Android data recovery software and app designed for both Android and PC.
Pricing: Freemium, lifetime license for up to five mobile devices, and one PC costs a one-time fee of $49.95.
3. Gihosoft Free Android Data Recovery

Android Data Recovery by Gihosoft is an absolutely free data recovery software for Android smartphone and tablet devices that offer a premium variant as well. With this software, you can perform a deep scan on your Android device and it will automatically show you all the deleted files and data even if those were stored in your internal or external storage. The powerful software can help you restore deleted data from broken and factory reset Android devices.
That is not all; the Gihosoft Free Android Data Recovery software is so much powerful that it can help you recover deleted data like photos, videos, WhatsApp messages, contacts, and other data with just a click of a button. The software is officially compatible with Android devices manufactured by OnePlus, Samsung, Motorola, HTC, LG, Google, Xiaomi, and others without any root access requirements.
Best Known For: Scanning and finding all the deleted as well as lost data and letting you restore each one of them with just a click of a button.
Software Type: The recovery software is fully compatible with Android devices and can be installed on PC and Mac.
Pricing: Freemium; the lifetime license is available for $49.95 and supports one PC and over six Android devices with lifetime support and upgrade.
Visit Site: gihosoft.com/android-data-recovery-free.html
How Do These Data Recovery Software and App Works?
Whenever you delete a file, whether it was on your computer or mobile device, the operating system simply instructs storage to show that space as an unused sector and virtually deletes the file.
Although the data has been visibly removed, in the storage it still exists and is rendered unreadable by the system even if the files are removed from the recycle bin. Surprisingly, it remains this way and the file is recoverable until new data or file is stored/written onto the exact same sector in the storage. That is exactly how every single data recovery software works.