Are you a heavy sleeper who struggles hard to wake up early morning & needs some apps to make it easier for you to get out of your bed?
Although every device, whether it is a smartphone or a tablet, each one of them comes preinstalled with a basic alarm clock app.
But sometimes, these basic apps do not fulfil your needs and requirements and needs to be changed to something more useful.
That is when Android apps come in!
We have included the ten best alarm clock apps for Android that are specially designed to meet your everyday needs and features all the innovative functionalities that prevent you from oversleeping so that you can kick start your morning without hitting that snooze button.
#1. I Can't Wake Up! Alarm Clock (For Heavy Sleepers)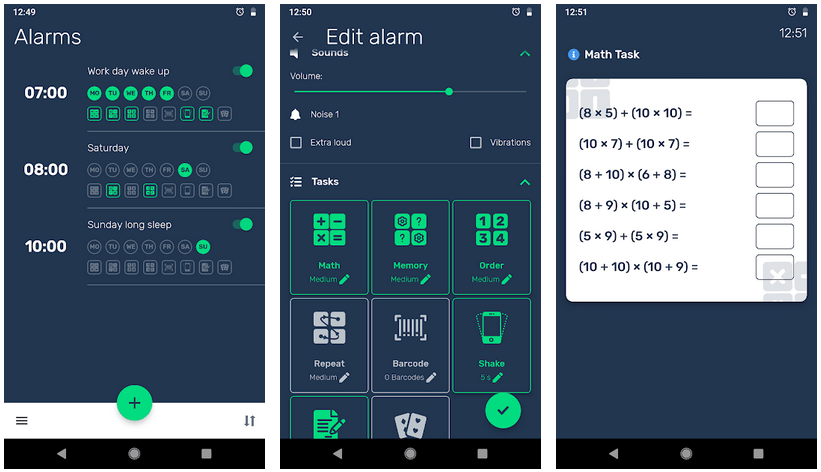 Do you say, "I can't wake up" every time in the morning? This app will not let that happen to you again.
This is one of the best apps designed for heavy sleepers to get them out of their bed. I am myself heavy sleeper too and use this app to wake up at any time I want, this app comes with a lot of functionality which makes it quite harder for you to snooze or stop the alarm without waking up, you have to solve math questions or play memory games to stop the alarm, I use phone shake task to get out of my dreams and that makes me aware of my surroundings so it becomes easier for me to get up.
This app also have a wake test, which again starts the alarm after you have stopped it to check whether you are wake or not.
Apart from the usual functionalities that are being offered by every alarm clock app, this app has numerous unique features like smooth wake up, snooze music that plays specific music while your alarm under snooze period, awake test to make sure that you are awake or not.
Moreover, to be able to turn off the alarm successfully, you will be required to complete eight wake-up tasks including math, memory, rewrite, barcode, repeat a sequence.
#2. Alarm Clock for Me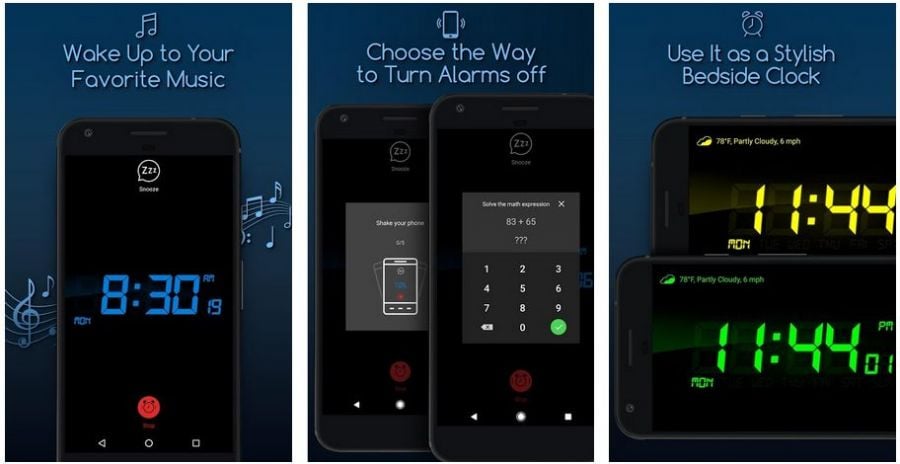 My Alarm Clock is a free app developed by one of the top developers Apalon Apps. This ultimate alarm clock app can quickly transform your simple Android phone into a fully-featured alarm clock that will never fail to wake you up!
If you want to add multiple alarms for different times, then this app is what you should go for as it provides unlimited support for wakeup alerts. The app even allows you to set your favorite ringtone as the alarm tune.
#3. Timely Alarm Clock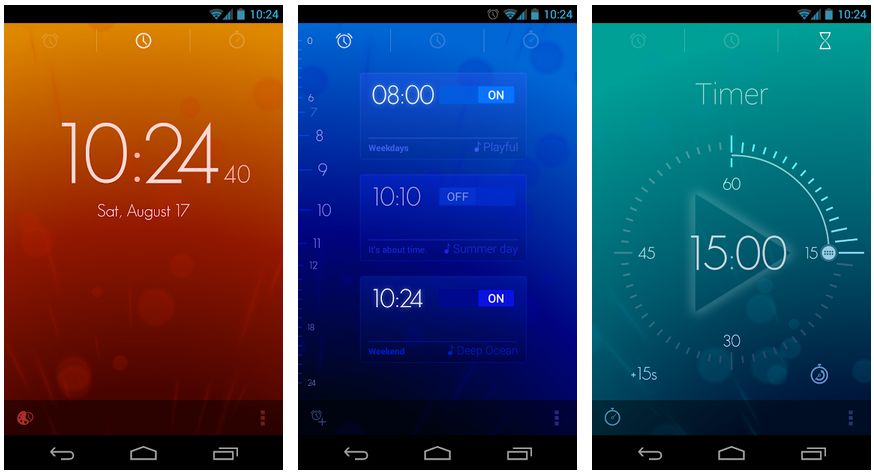 Timely is a beautifully designed alarm clock app that has a soothing UI and provides a cloud backup and synchronization that synchronizes all of your customized alarms with multiple Android devices.
The app features a Smart Rise feature that will completely transform your whole wake-up experience making it easier for you to wake up from your deep sleep.
#4. Sleep As Android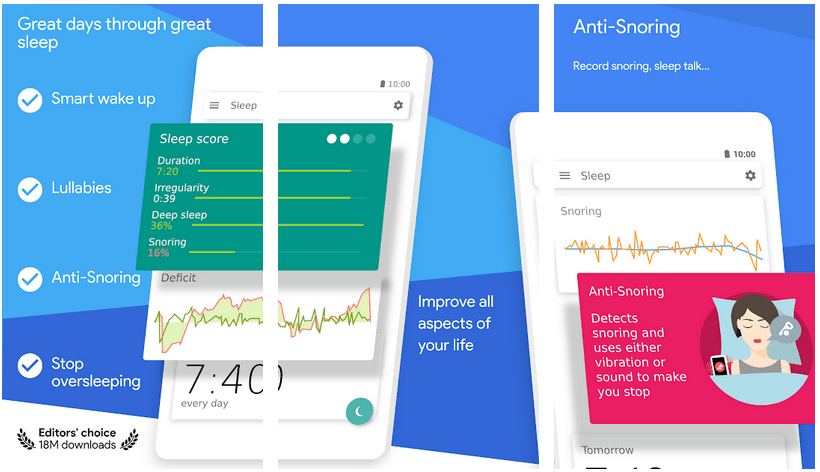 Sleep As Android is a smart alarm app for your Android phone. The main purpose of this app is to monitor your body's natural sleeping cycles and wakes you up at the most favorable time.
This smart feature is specially designed to make sure that the alarm clock wakes you up fresh and active rather than waking you up during your deep sleep cycles.
#5. Alarmy The Loudest Alarm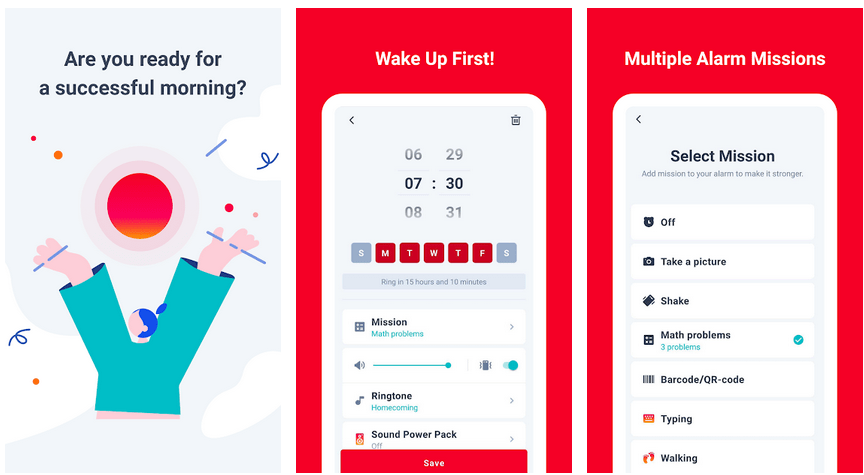 Alarmy is very much similar to that Alarm Clock Xtreme app. The app name dares you to sleep if you can because the developers know that it is an annoying alarm clock app.
To be able to snooze or turn off the alarm on the Alarmy app, you will be required to take a picture of some specific household item or object, and capturing the picture of the asked item is compulsory. And there is no other way to turn off the alarm.
Moreover, you can make it even harder for yourself by enabling a couple of other modes like math problem mode and shake mode.
#6. Alarm Clock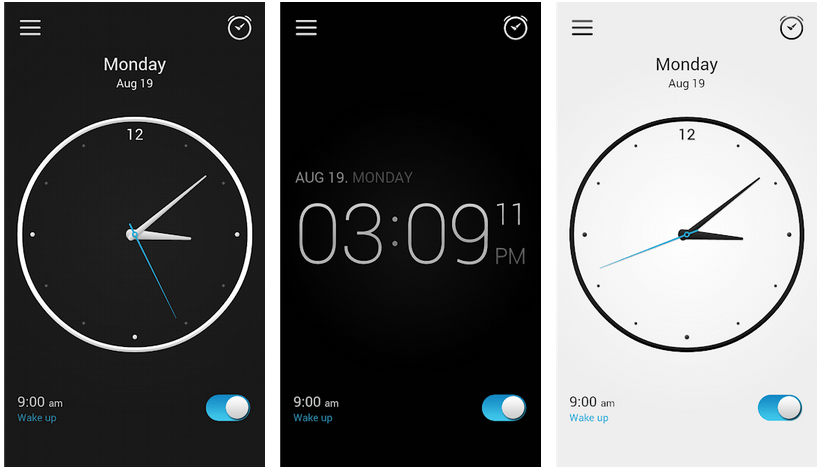 Alarm Clock is a simple yet elegant app for your Android smartphone as well as tablets. It comes preloaded with four types of exclusive clock themes including the digital and analog interface.
If you are one of those who frequently travels and finds it tough to change alarm timing whenever you enter a new time zone, then this app is for you!
It has a built-in algorithm that automatically adjusts all of your alarms to match the time zone you are currently following.
#7. Digital Alarm Clock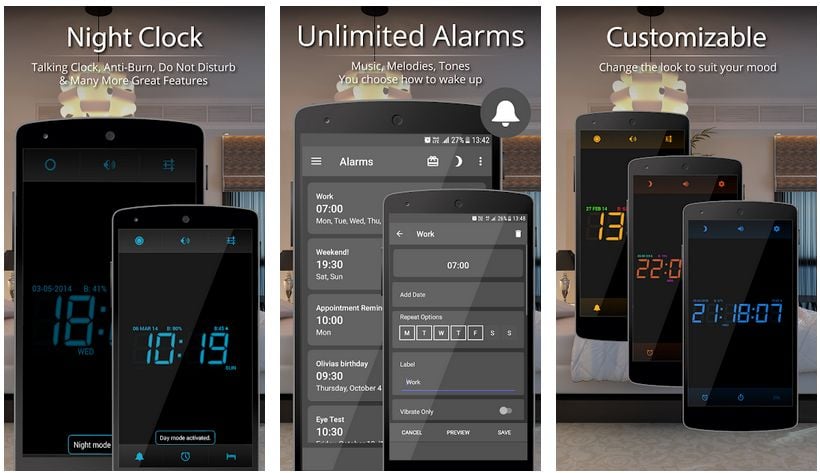 Are you looking for an alarm clock app that speaks? Digital Alarm Clock is the one you should install on your phone.
Apart from the speaking functionality, the app comes bundled with some of the handiest features, for example, turning off all the notifications to ensure disturbance free sleep, ability to set a nap timer quickly, and personalized profile for day and night time so that you won't have to readjust settings.
#8. Alarm Clock Xtreme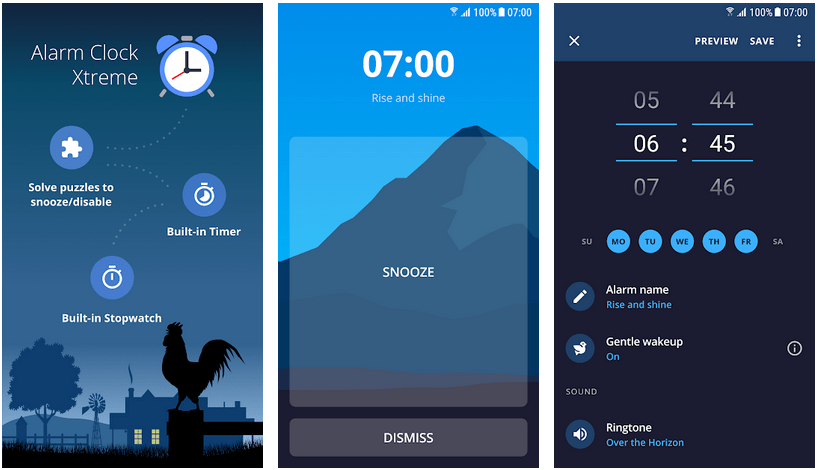 Do you have a tendency to oversleep and miss your important meetings? Or you get late for office because you accidently tap that snooze button in the morning? If yes, then Alarm Clock Xtreme should be the most suitable app for you.
This app will only allow you to snooze or dismiss the alarm if you solve some simple math problems correctly.
Moreover, if you find it easy to solve those mathematical problems, then you can even configure the app to reduce the snooze duration after every successful snooze.
#9. Alarm Clock Free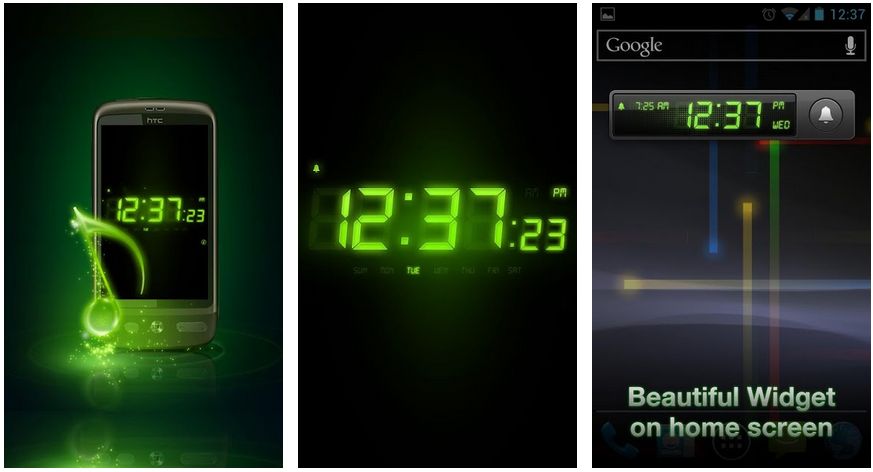 Are you looking for an alarm clock that has a giant snooze or alarm stop button? This Alarm Clock app should help you with that.
With this alarm clock app, you will be able to set multiple alarm clocks for everyday or weekends so that you won't have to reconfigure alarm every time before going to bed.
Furthermore, you can customize the snooze time, adjust alarm volume, and make use of fade in function to make sure that you alarm wakes you up smoothly every morning.
#10. Alarms, Tasks, Reminder (All-In-One)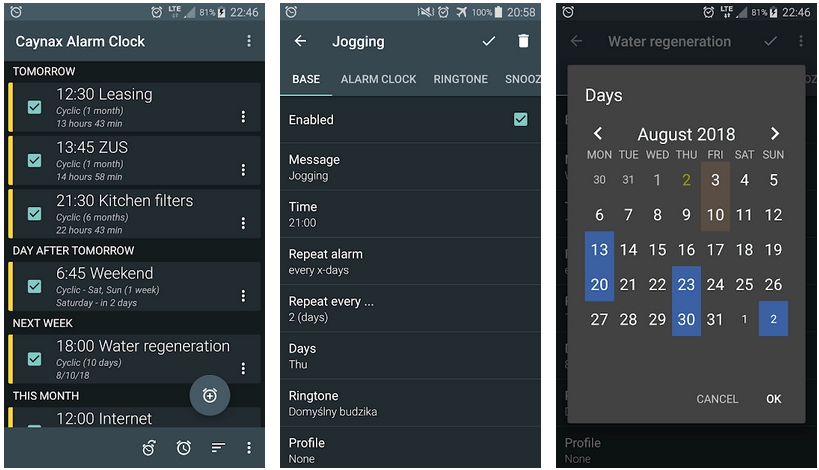 Caynax's alarm clock app is not just an alarm clock that helps you to wake up in the morning. The app is an all-in-one solution that will help you in your day-to-day errands and tasks so that you can improve your time management skills.
Rather than providing you with an alarm option that repeats every day or during weekends, the developers have included a range of predefined modes including a timer, cyclic, workdays, and quick.
Which One Is Your Personal Favourite?
Out of the ten best alarm clock apps for Android, the alarm clock app by Caynax is my personal favorite as it allows me to create an alarm for each task that I have to perform and helps me to manage my time while I can't Wake Up Free helps me to get out of bed when it is too hard.
Which alarm clock app do you use regularly? Please let us know by voting for your personal favorite app using the polling option below. 🙂