If you're one of the many people working from home full or part-time since the pandemic hit, you probably already know how challenging it can be to stay organized and on top of your work schedule and projects.
Without the strict schedule of getting up to go work in an office and without your co-workers around you to hold you accountable for certain tasks, it can certainly be more difficult to manage your time and stay productive.
Luckily, there are more apps than ever to help you stay organized and get more done. If you're an Android user looking for the best new apps to optimize your workflows, keep reading to find out what our favorite productivity apps for Android OS are for 2022.
Spike: the world's first conversational email app for Android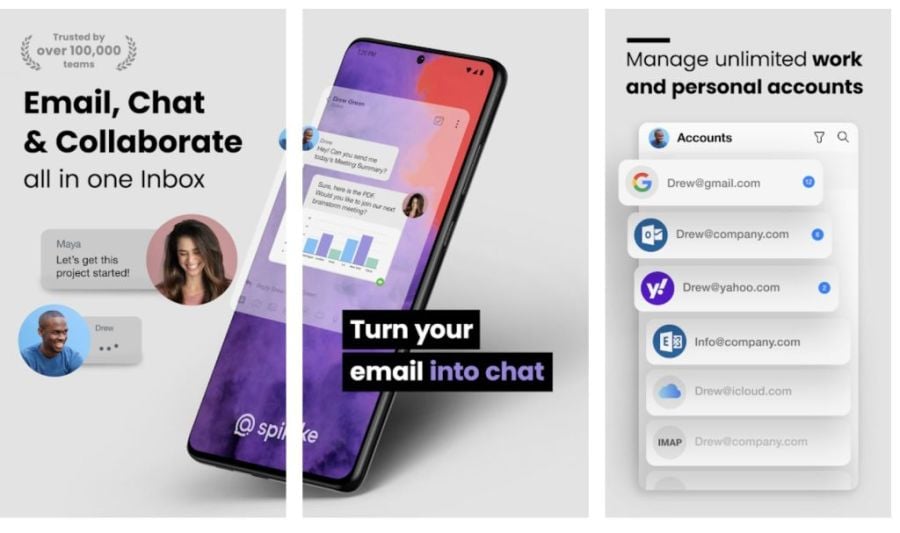 Have you ever wished emailing was as easy as chatting back and forth on Facebook Messenger, Slack, or another easy-to-use chat app? With Spike, it is!
Spike is an awesome new email app available on Android OS that turns your email threads into chat-style conversations to eliminate all the distractions in your inbox and help you communicate more efficiently.
Spike's Priority Inbox feature further streamlines your day-to-day emailing by moving low-priority emails, like newsletters and other promotional emails, to the side for you to deal with later.
Combined with its conversational email, this makes Spike our top pick for streamlining your emailing to give yourself more time for other things. But that's not the only reason Spike is at the top of our list of the best productivity apps on Android.
Spike also lets you create group chats, send voice messages, and start video meetings, so you can do all your communicating in one place, without the need to switch contexts by hopping back and forth between tons of other apps and platforms.
Besides all the benefits Spike provides for your professional communications, the app also offers built-in project management features to help you stay on top of deadlines and due dates, and hold everyone on your team accountable for their work.
The Collaborative notes with integrated sidebar chat and the ability to create tasks and to-do lists and assign them to you or someone else are really the icing on the cake that makes Spike a must-have productivity app for Android.
Trello: a Kanban-style project management platform available on Android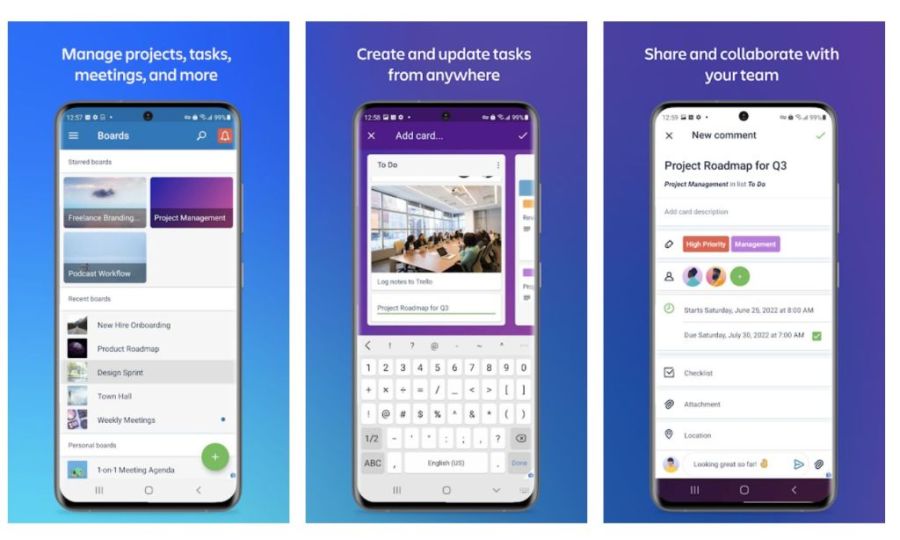 If you like to stay organized visually, Trello is a great digital Kanban board platform that you can use to organize your tasks and see your progress on all your different projects.
Whether you're a freelancer who works completely independently or you work with a distributed team, Trello boards are a great way to stay on top of each individual item on your to-do lists and see exactly where they are on the way to being completed.
You can create as many different project boards as you want, and add as many columns to them as required to represent different stages of different workflows.
Once you set up your boards and columns, you add cards to the columns for different tasks and move them from one column to another as they progress.
Each card allows you to add as much or as little info as you like. You can add descriptions, checklists, attachments, due dates, and more as needed to provide all the information needed to complete the task.
A simple board would just have a "to-do" column, an "in progress" column, and a "done" column. You can move cards above and below one another to prioritize them, then move them sideways through the columns as you work on them.
RescueTime: an Android time management app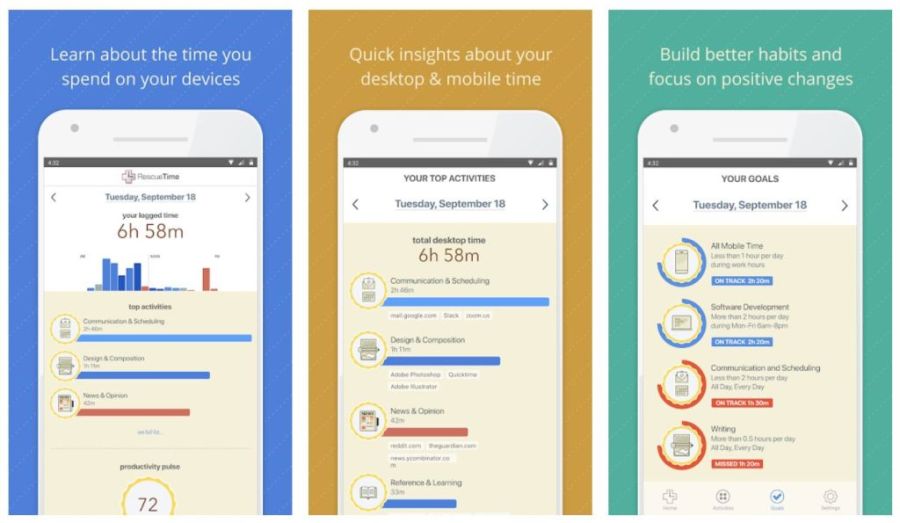 If you're someone who struggles with managing your time on your own and finds yourself wasting time on unnecessary distractions, RescueTime might be a good tool for you.
RescueTime tracks all the apps and activities you're spending time on from your Android device, so you can better understand where your time is going and manage it more efficiently.
You can then set goals, such as limiting the amount of time you spend on social media or reading news apps and sites and get notified when you go over your limit. These helpful reminders can push you to refocus on the more important work tasks at hand.
If you're really struggling to focus on your own, you can turn on RescueTime's FocusTime mode. This feature lets you block specific websites on your Android device for set periods of time, so you're forced to stay on track and productive and aren't tempted to visit sites that suck your time away.
Final Thoughts
Mobile devices are supposed to make us more productive, and they often do, but they can also provide a lot of distractions that hurt productivity.
However, with the right productivity apps, you can turn your mobile device into an indispensable tool for getting more done, in less time.
Try out our top productivity app for Android suggestions from this list to boost your productivity in 2022!