We have reviewed some of the most trustworthy, effective, and best spam call blocker apps for Android to help you get rid of spam calls and block robocalls on your phone.
There are call blocker apps that blocks calls from unknown numbers with not reachable message option.
You can completely block all the unwanted phone calls from strangers, telemarketers, and only receive calls from those who are already in your contacts list/phonebook.
Some apps even offers you one of the most wanted answer and hang up feature to block spam phone calls.
You will even find calls blocker apps that blocks calls without ringing your phone, all silently. And you can even choose if you want to receive notification for that or not.
Are you tired of rejecting unwanted calls from unknown numbers that disturb you while you are busy at work? Or are you in search of a way to block all the unknown callers from calling you while you are asleep? You are not alone.
We all are annoyed by those spam calls by scammers and telemarketing agencies. Let's look at the list of the best call blocking apps for Android devices.
All of the call blocking apps we have reviewed in this blog post are user-friendly, effective, trustworthy, and gives you complete control over all the incoming calls. You can even create a blacklist, which is a list of phone numbers or unwanted callers you want to block and from whom you don't want to receive any calls.
#1. Calls Blacklist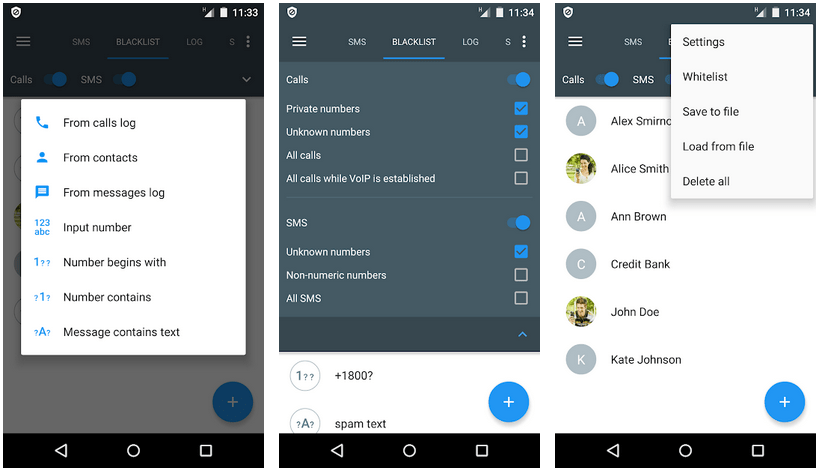 Calls Blacklist – Call Blocker is an all-in-one solution to manage your blacklisted numbers. You can block all the incoming calls as well as SMS from those numbers.
The app provides you with a clutter free and an easy to use interface so that you can concentrate on blocking unwanted callers rather than spending time to understand the working of the app itself.
For those who don't want to spend much time to maintain blacklist and looking for a straightforward way to block calls and messages, you can enable any of the preconfigured blocking option i.e. All Calls, Unknown Numbers, or Private Numbers.
Uses blacklist to block calls and SMS from unwanted numbers.
Completely block a specific number range using 'begins with' feature.
Option to block calls and messages from alphanumeric numbers.
Silently block spam calls without receiving notification about them.
Provides you with a complete log of blocked numbers.
#2. Mr. Number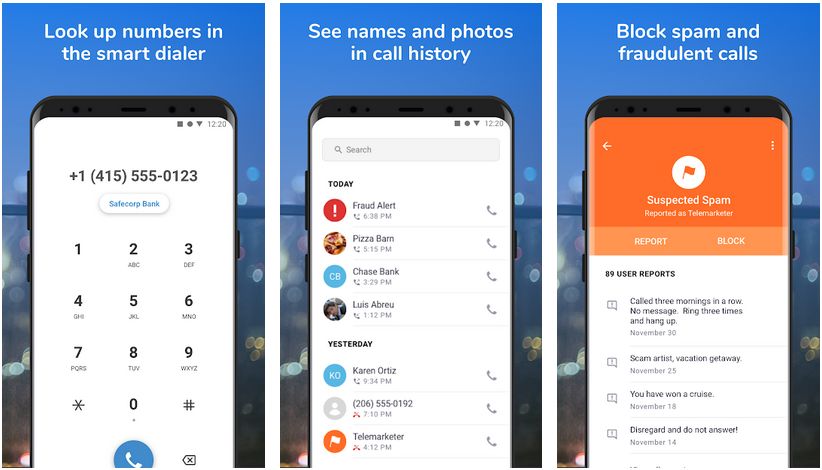 Tired of receiving spam calls every once in a while? Install Mr. Number app on your Android phone and get rid of all those unwanted phone calls.
Mr. Number, with its advanced call blocking features, allows you to block calls from any specific area code, a person, or even the entire world.
To make your personalized blacklist, the app provides you with a native search functionality that digs deep down into your recent caller list to help you find the numbers you want to put a complete block on.
Block fraudulent and spam calls.
Use the Mr. Number native smart dialer to look up numbers that are not in your contact list.
Call log shows names and relevant pictures of all the callers.
The huge number database helps you find out who is calling, all within a matter of seconds.
One of the best protection system from unwanted callers and robocalls.
#3. Should I Answer?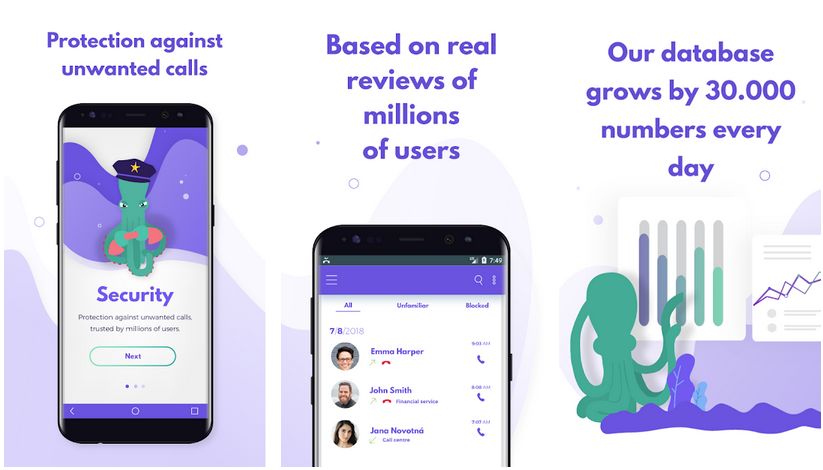 Yes, Should I Answer is the name of the call blocker app designed for Android. It is a two in one app, which means it can help you block unwanted and spam calls as well as an active database of reported and robocall numbers used by telemarketers and advertisers.
Should I Answer call blocking app has different call blocking levels and you can select the one that best suits your requirements. It can completely block premium phone numbers, foreign numbers, and alphanumeric numbers to provide uncompromised protection from spammers trying to reach you.
Best thing about this app is that it works even when you are offline and don't have an active Internet connection, which means continuous call blocking.
Ever growing database of spammy numbers and callers based on the anonymous user reports and ratings.
Blocks unwanted calls and robocalls to provide you with a disturbance free usage experience.
Three different levels of call blocking options including active protection, passive protection, and zero protection.
App automatically checks every call you receive for spam reports, even when you are offline.
#4. Call Blocker Free – Blacklist and Whitelist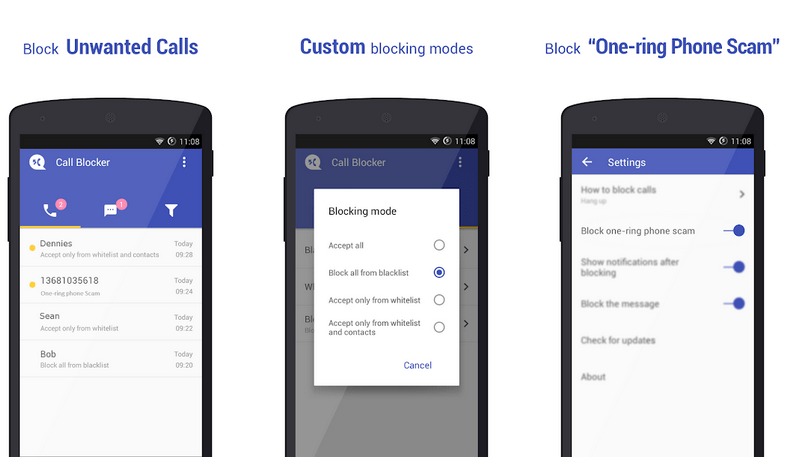 Call Blocker Free is another call blocker app that doesn't put any load on your phone's RAM and resources.
Apart from maintaining blacklist, you can even prepare a whitelist to make sure that you never miss any important phone calls and those whitelisted contacts can always reach you.
You can also configure the app to notify you whenever any incoming call has been blocked.
Block calls and messages from unknown and spammy numbers with multiple blocking modes.
Create a personalized blacklist where you can add all the numbers from whom you don't want to receive calls.
Option to create a whitelist in which you can add all those important phone numbers so they can reach you anytime they want and won't get accidently blocked.
Prevent phone scammers from reaching you by detecting the number and automatically stopping it at the first ring.
Custom calls blocking setup where you can select between accepting calls from white list and contacts or accept calls only from whitelist.
#5. Hiya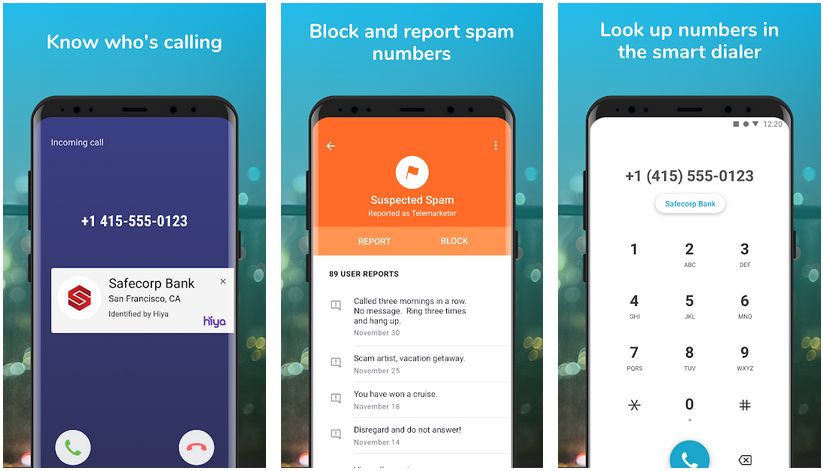 Hiya is a smart call blocker app that has a capability to block all the spam phone calls as well as provide you with a notification whenever you receive a robocall or phone call from suspected telemarketer or fraud.
Apart from the spam calls blocking capabilities, Hiya also provides features like phone number lookup, call management, caller ID functionality. Availability of these unique features all within a single app is what makes it one of the best call blocker apps for Android platform.
Simple and straightforward procedure to automatically block all the incoming spam calls.
Built-in spam alerts that warn you about all the spammy phone calls based on the user ratings and reviews for added accuracy.
Protect your phone and save your precious time by providing you with a phone spam protection that protects you from telemarketers and unwanted calls.
The number lookup feature will tell you who is actually calling, whether it is a robocall or your friend, you will receive a real-time update about the number.
#6. Call Control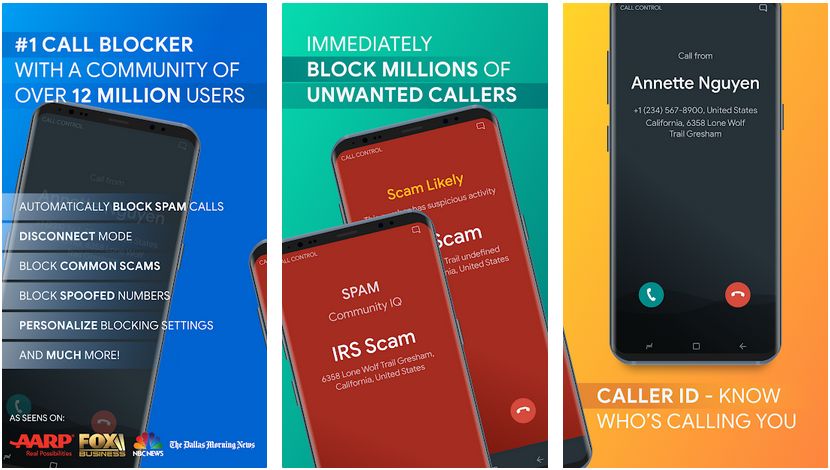 Call Control – Call Blocker by Kedlin Company is specifically targeted towards those who receive scam calls, robotic calls, automated calls, and any other spam calls.
The app is one of the most popular, have a healthy community of over 12 million active users who contribute everyday to maintain a Call Control database of spam callers.
Automatic call blocking functionality to protect your phone from spammers and telemarketers.
An active community that reports all the spam numbers and robocalls to further enhance the automatic call blocking.
Comes with smart dialer and enhanced caller ID to make and block calls as well as to find out who is calling you.
Do not disturb mode, once enabled and scheduled will not allow anyone to reach your number during the specified time.
As an added feature, Call Control can block spam text messages as well.
#7. Call Blocker
Unlike other call blocker apps, Call Blocker app by AndroidRock does not cause a lot of battery drainage because it is a lightweight app and also doesn't consume a lot of storage space.
This is what makes this app suitable for those Android phones that have limited CPU and RAM resources to run an app bundled with a lot of features and functionalities.
Easy to use and has a user-friendly interface to block unwanted phone calls.
Has the ability to block private numbers.
Organized and well informed log of all the blocked phone numbers.
Create a whitelist to allow specific numbers and contacts to reach you.
Block all the unknown and stranger number from reaching you including robocalls.
#8. RoboKiller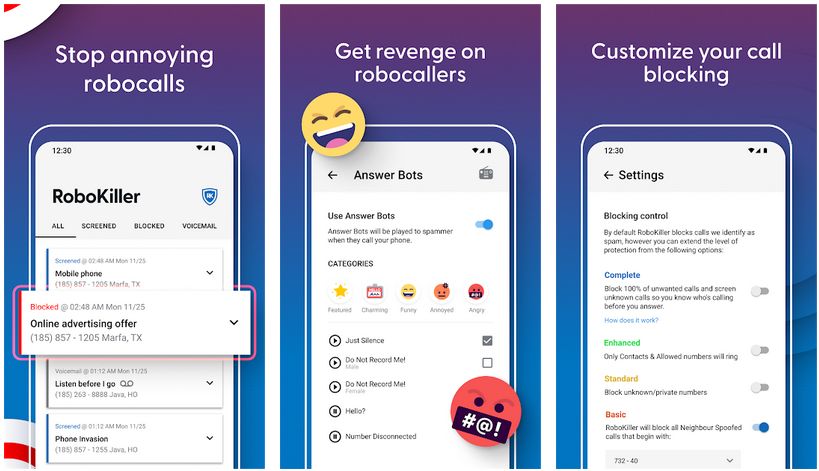 As the name of the app name suggests, RoboKiller protects you from unwanted phone calls and blocks spam numbers by using automated answer bots that are smart enough to automatically recognize whether the caller is a spam caller or a genuine contact. You are free to customize your answer bot.
RoboKiller is an award-winning call-blocking app that saves your smartphone from spammers and block phone calls. A well-known call blocker helps you in getting rid of telemarketers and spammers.
Protect your Android phone from telemarketers, spam calls, and robocalls.
All of your blocked numbers and contacts will be visible in a separate section within the RoboKiller app recent section.
Predictive call-blocking power with an award winning audio-fingerprinting technology to protect your phone from spam.
Automatically blocks spam numbers and add them to your blacklist without making your phone ring for once.
#9. Truecaller
Truecaller is one of the most popular and the most trusted app among Android users, especially due to their seamless caller ID functionality. They have recently introduced spam calls blocking feature to help people with avoiding robocalls and telemarketers from disturbing, thanks to their huge number database that they have built during the past several years.
One of the good aspect of Truecaller is its dialer. It can automatically identify who is calling you along with their other relevant details. You can even record all of your phone calls and save them on your phone's internal storage for later access. The recording feature may not work on latest Android versions though.
One of the best and matchless caller ID feature to find out who is trying to call you.
Built-in intelligent phone dialer.
Record and manage all of your phone calls and conversations for quick access later on.
Has a community based and ever updated list of spam callers and numbers to automatically block unwanted phone numbers.
Offers Truecaller Premium version to gain access to additional features like private profile, special contacts requests, remove advertisements.
#10. Whoscall
Whoscall is well known for providing its users with trustworthy and spam free telephonic communication system along with their state of the art spam calls and SMS blocking feature. Moreover, their caller ID feature will provide you with a real-time update on who is calling you and from which location. This also works even when you are offline.
The app Whoscall is trusted by hundreds and thousands of users from all around the world as they have been providing call blocking and robocalls from calling your number.
Identify unknown callers using the caller ID functionality and find out who is calling you within seconds.
Blocking spam numbers and calls to avoid fraud and annoying calls from reaching your number.
If you have any unknown phone number then simply use the search number feature and Whoscall will tell you the name and identity of that number.
Safe SMS messenger by Whoscall will keep your conversations secure and spam free, even if the number is not in your contact list.
Whoscall even offers premium bundle to provide exceptional spam and unwanted calls blocking services.
#11. Call Blocker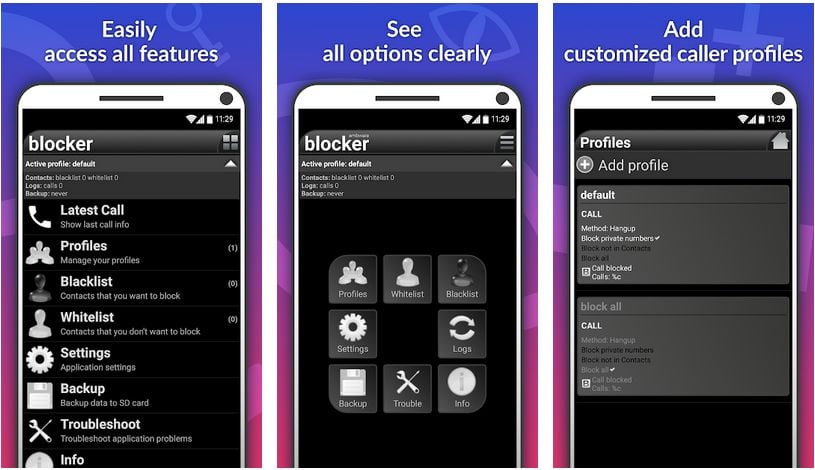 Call Blocker app by Sappalodapps is an emerging call blocking app that have the ability to block spam calls and SMS on Android.
Even though the app is packed with all the call blocking features, the developer has managed to keep the app lightweight, small in size and consumes insignificant amount of resources.
You can even put a password to protect and secure your blacklist from any unwanted access.
Provides a caller ID feature to let you know who is calling, even if the number is not in your contacts list.
Easy to block spam numbers with just a simple tap of a button.
Create a custom blacklist and whitelist for those numbers you want to allow and block.
Quick access to the call blocker app settings to customize the blocking method.
Build caller profile and define how you want the call blocker to block unwanted phone calls.
#12. AT&T Call Protect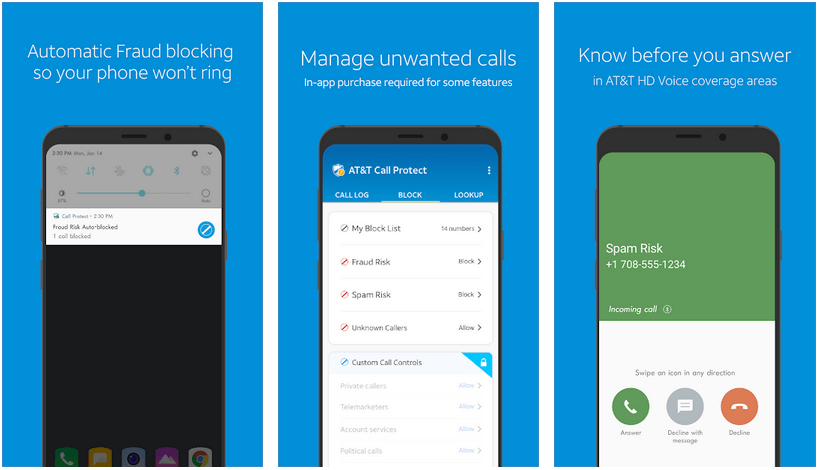 If you are AT&T customer and want to protect your phone from unwanted callers or spammers from reaching your number then AT&T Call Protect is your best bet. The company offers one of the best call blocking functionality for its customers using their own powerful network to keep their callers safe and secure from spam callers and fraud numbers.
AT&T always updates their database with new spam numbers but if you have received a phone call from spam number but it wasn't filtered by the app then you can safely report it to AT&T and identify suspected spam caller to stop them from reaching you again in future.
Automated calls and spam blocking without making your phone ring even for once.
Ability to manage unwanted calls and messages at your convenience from within the app.
The AT&T caller ID feature will inform you well ahead when your phone rings about who is calling you so you can decide if you want to answer or not.
View all the callers details and call log from within the AT&T Call Protect app.
Create your very own and personalized list of block list where you can easily add individual callers and phone numbers.
Which Call Blocker Is Your Personal Favourite?
Out of the 12 best spam call blocker apps for Android, my personal favorite is Calls Blacklist by Vlad Lee and Truecaller as both of these app are easy to use, allows me to save the blacklist, have caller ID functionality, provides scheduling, lightweight and does not consume much resources.
Which app did you install on your Android phone to block incoming calls? I would love to hear your experience in the comments section below. 🙂