Are you looking for some quality ringtones for your Android device? Or do you want an app that can easily cut a portion from your favorite MP3 music and set it as a ringtone?
Here we have shortlisted the eleven best ringtone apps for Android smartphones and tablets that will help you in finding the perfect ringtone for your device.
ZEDGE Ringtones And Wallpapers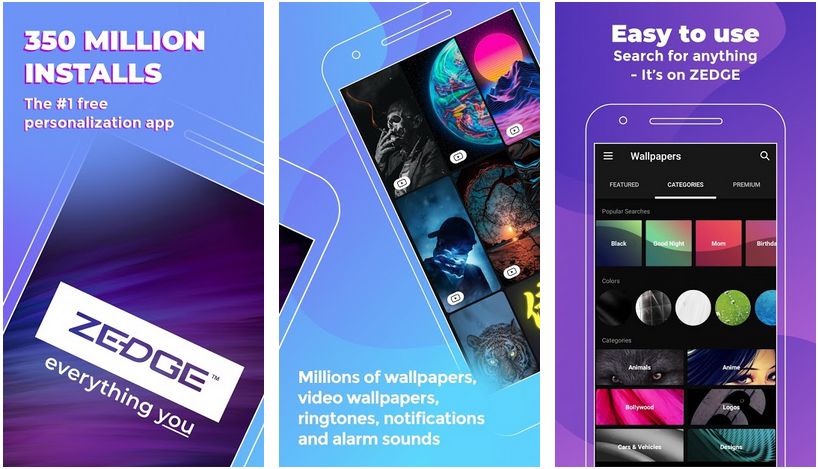 Zedge is one of the most popular apps that not only offers you an excellent collection of ringtones and notification sounds for your phone, but it also has a source of abundant wallpapers to customize your smartphones and tablets further.
It is the favorite ringtone app for most users because it has many handy features like preparing your personalized list of ringtones and wallpapers, all the contents are properly arranged in categories, and the ability to set your favorite ringtones right from the app.
MP3 Cutter And Ringtone Maker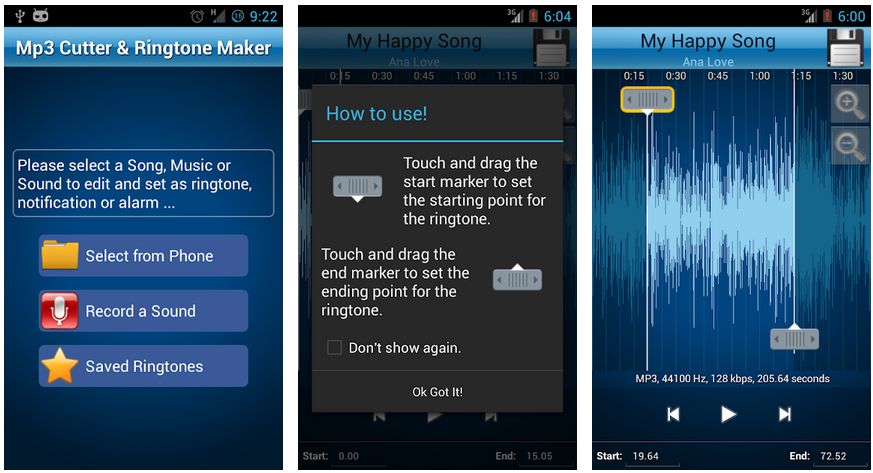 MP3 Cutter and Ringtone Maker will let you create a custom ringtone out of your favorite MP3 music or song without any requirement for professional computer software.
The app is not limited to trimming MP3 files only. It supports some other sound formats including WAV, AAC, AMR so that you can easily cut out a favorite part of any soundtrack.
Ringtone Maker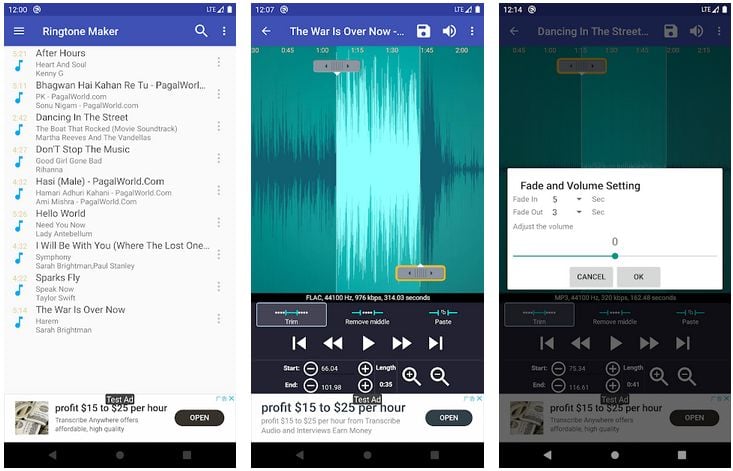 You can create personalized, and custom-made ringtones and notification sounds for your Android phone as set it as your ringtone, notification sound, or alarm right from the Ringtone Maker app.
You can trim the soundtrack either using the pointers or by manually typing in the timestamp for starting and ending. The supported file formats include WAV, MP3, AAC, M4A, AMR, MP4 and few other.
Popular Ringtones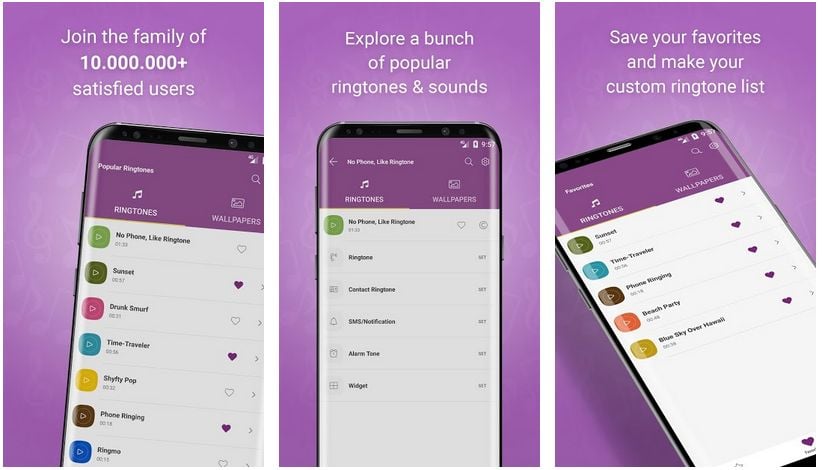 As the name of the app itself says, you will find all the popular ringtones in one place in this app. There are so many ringtones that you can assign a unique tone for each of your favorite contacts, but still, you will be left with many.
The app Popular Ringtones will also let you download ringtones to your phone so that you can share it with your friends.
Ringtones & Wallpapers For Me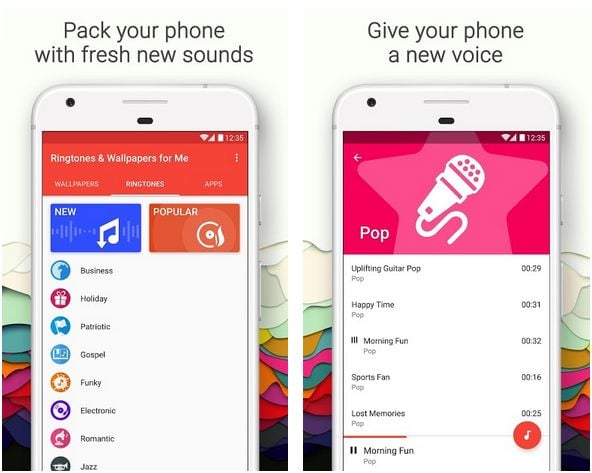 The Ringtones and Wallpapers for Me app is developed by Apalon Apps who is one of the top developers on the Google Play Store. The app is powered by the most wanted ringtones and wallpapers that will enable you to transform the look and sound of your device.
The app has some of the unique ringtones collection for different categories including romantic, formal, expressive, and funky.
Audiko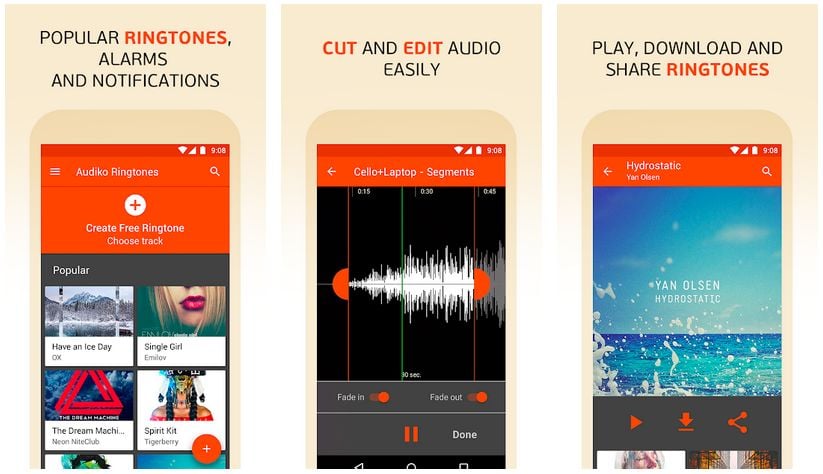 Audiko Ringtones for Android app provides one of the most extensive sources of notification sounds and ringtones for your device, which makes it easier for you to find some of the unique ringtones for each of your contact in your phonebook.
Also, it is important to mention that the developers have added a subscription option within the app that has somewhat imposed a limitation on the total number of downloads for the free version.
Cool Ringtones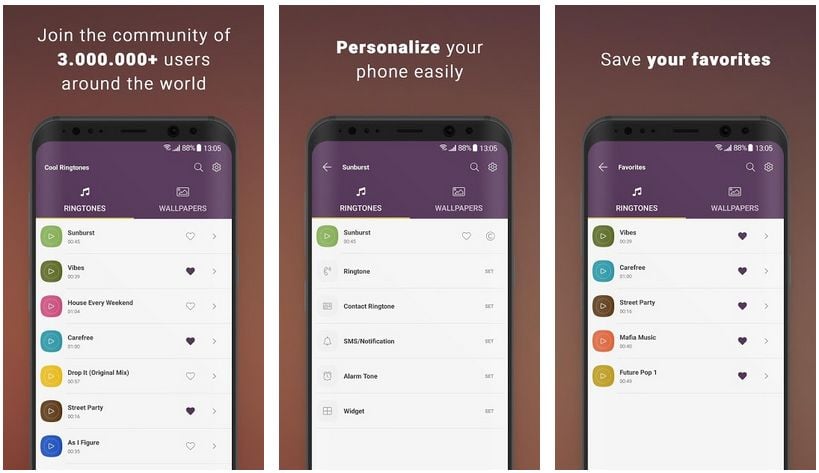 Cool Ringtones is another app that provides tons of free ringtones for your device, which you can easily set as a notification sound for your messages or even set them as a ringtone for your special contacts so that you can easily recognize who is calling you just by hearing the incoming caller's tune.
MTP Ringtones & Wallpapers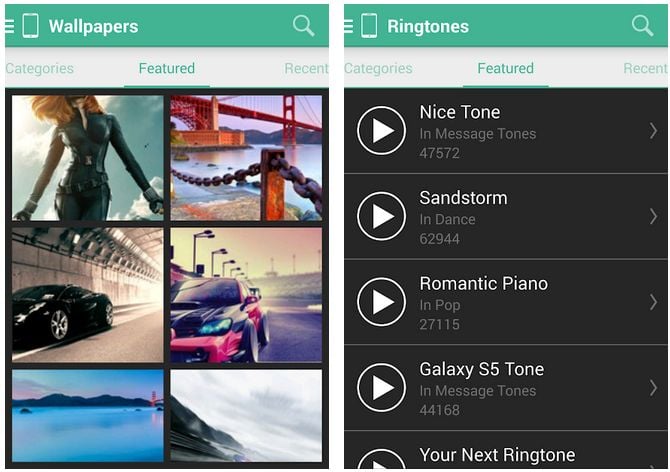 MTP Ringtones and Wallpapers app developed by MyTinyPhone, which offers a huge selection of ringtones, wallpapers, and other items to personalize your cell phone. The database receives frequent updates with new and popular ringtones as well as other mobile content for your Android device.
The tones are divided into various categories, and you can use keywords to narrow further down your search for any specific ringtone.
Super Loud Ringtones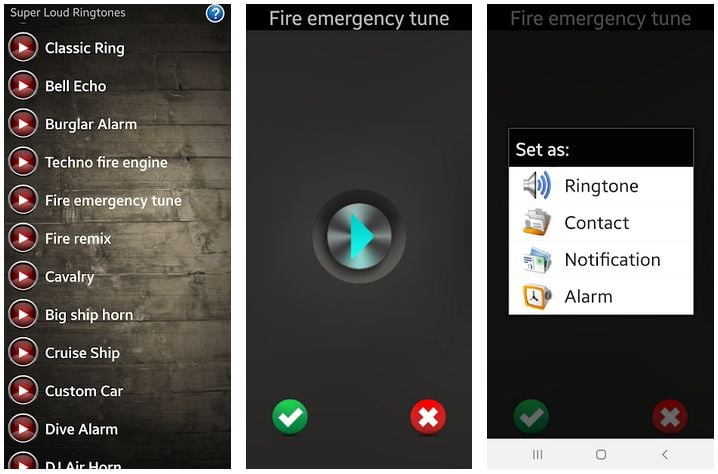 Do you commute in public transport and miss important calls because you are unable to hear the ringtone?
Super Loud Ringtones app is here to help you out! The app contains a lot of super loud ringtones and sound effects to make sure that you can hear the bell when someone is calling you.
Classical Music Ringtones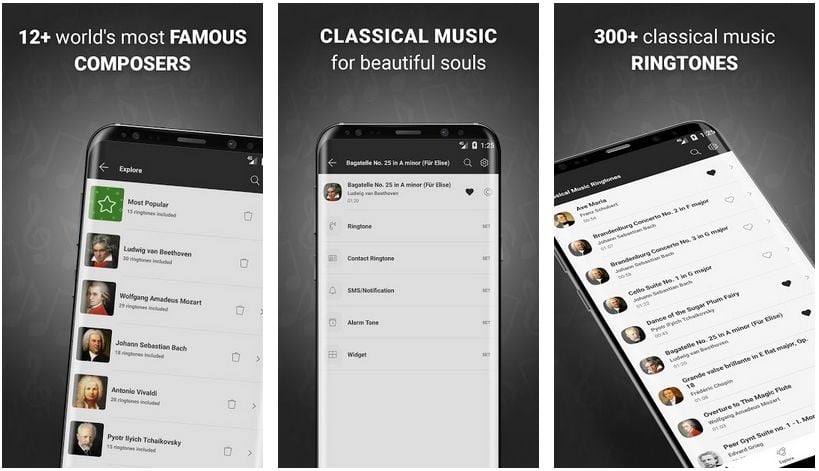 As the name itself suggests, Classical Music Ringtones is the app that features some of the most classical ringtones that have some traditional touch in it including tunes from some famous music by Beethoven.
The app provides you with a huge selection of classic tones that are decent in quality and similar to other apps, you can directly set any ringtone as your SMS, notification or contact tone.
Which Ringtone App Is Your Favorite?
Do you have any favorite ringtone apps that I missed to include in the list? We would love to hear about them in the comments below! 🙂