Usually, the stock keyboards are the most reliable and never cause any compatibility issues. However, these keyboard apps sometimes lack some of the advanced functionalities like swipe text input, personalization, ability to customize the look and appearance of the keyboard.
There could be any reason. And we all know there are awesome feature-rich keyboard apps. To help you out with your search for the best keyboard apps for Android, we have listed the ten best apps below.
1. Microsoft SwiftKey Keyboard

SwiftKey is one of the best keyboards designed for Android. It provides excellent customizability, is faster, and works pretty well across devices (obviously, only if you have multiple devices). It even supports the swipe-writing style.
For those of you who depend on the prediction mode while typing, then this would be the most suitable keyboard app for you as the prediction feature is the best. It can even predict emojis for you. And over time, with daily usage, it will learn your writing style; based on those inputs, it will suggest the next word.
Pros
Have a wide range of keyboard themes, designs, and colors (free + paid).
Predictions and autocorrects are powered by artificial intelligence that learns from you.
Support more than hundreds of languages.
Cons
Might be slow and lagging on some low-performance devices.
Swipe text input becomes buggy at times.
2. Ginger Keyboard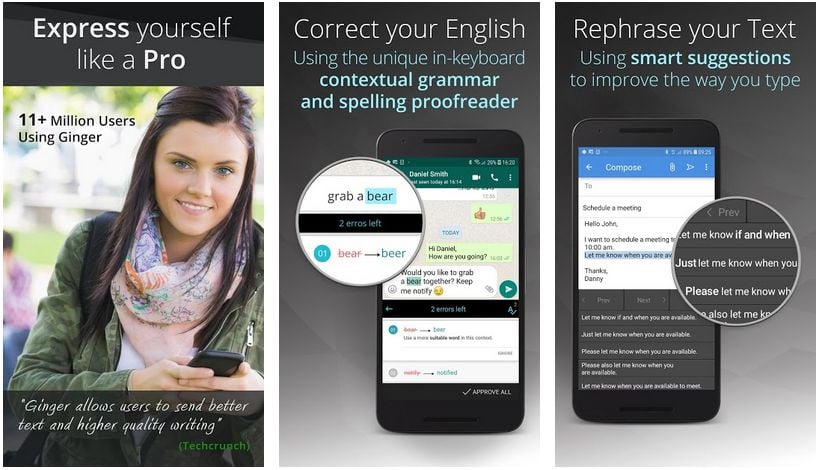 Ginger is a feature-rich Android keyboard that supports swipe input along with the quick and efficient correction of punctuations, grammar, and spell checking while you are typing so that you send concise and error-free messages.
The app has a built-in advanced artificial intelligence capability that learns your typing style over time, and analysis it. It then suggests an accurate prediction for the next word. And based on the emoji you use in the phrases, Ginger will even advise you to use the proper emoji accordingly.
Pros
Personalize the keyboard with hundreds of themes and an option to build a custom-tailored theme.
Keep your frequently used apps at easy access with Ginger's Smart Bar.
Spelling, punctuation, and grammar checker.
Support more than fifty languages.
Provide active support and frequent updates.
Cons
3. Chrooma Keyboard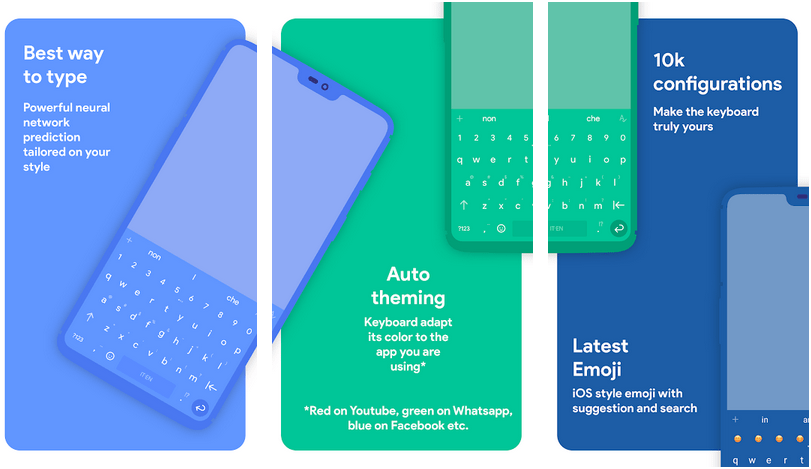 Chrooma is a fast and lightweight keyboard that has a unique ability to adapt its appearance to the app you are using, and this color adapting capability is what gives you a perfect integration as well as a pleasant chromatic feeling.
Looks-wise, the keyboard will look similar to the ones created by Google, but feature-wise the keyboard has a lot to offer. It supports gestures, almost everything! Has a one-handed mode and a split keyboard layout. It allows you to write a message using swipe gestures. And the keyboard has a configurable night mode too.
Pros
Personalize your keyboard with a variety of colors and font styles.
Compatible with tablet devices.
Support all of the standard and popular languages, including Indic languages.
Cons
Predictions might not be up to the mark.
Less frequent updates.
4. Hacker's Keyboard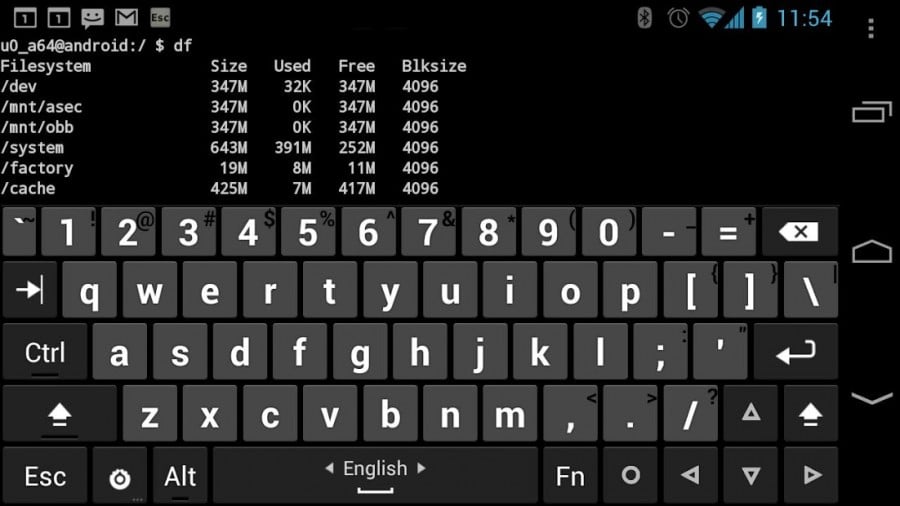 Are you one of those Android users who would love to have an advanced input method integrated right into the Android smartphone and is similar to the one you use on the desktop?
Hacker's keyboard is your answer! It is suitable for Android geeks. And is an open-source app.
The keyboard is one of the least resource hungry and the most lightweight keyboard apps designed for Android devices. The main benefit of this keyboard is that it features a full set of keys, including modifiers like alt, ctrl, tab, and function keys, which can be useful for programmers, advanced users, and system administrators.
Pros
Separate keys for every function, number, and letter. Almost identical to the one you use on the desktop.
Optional dictionary packs for several languages.
Support more than thirty different language keyboard layouts.
Cons
The app is not updated for a long time.
5. ai.type Keyboard Plus + Emoji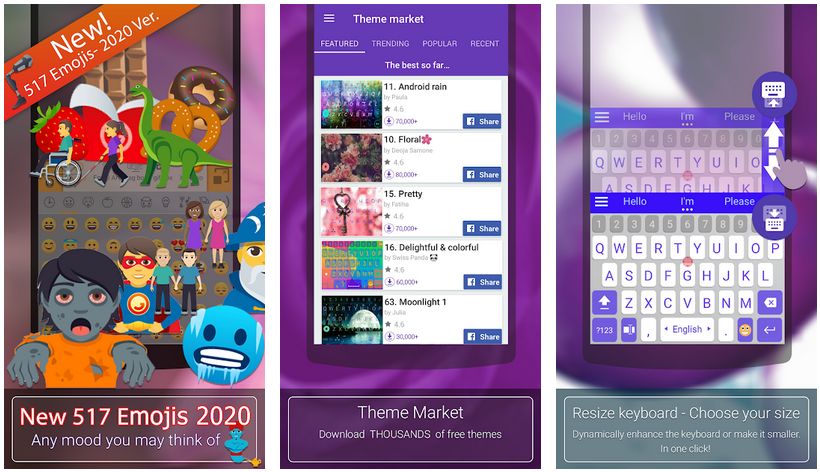 ai.type keyboard plus is a premium keyboard app and is the smartest, most feature-rich, and highly personalize-able that ensures one of the best messaging experiences on the Android device.
The keyboard supports swipe functionality as well as reliable next-word prediction, auto-correction, and word completion that is compatible with over fifty languages. The app provides you with a customizable fifth row that allows you to add punctuations, numbers, or emojis for easy access.
Pros
Customize your keyboard and typing experience with thousands of free themes. Also, you can create personalized themes.
Premium app with zero ads added features and particular themes.
Support over eighty languages.
Cons
It might not be fully compatible with a few languages.
If you are not much into typing messages and you find it tiresome then you can simply use some of the well-known Speech to Text apps for Android. That alone will save you a lot of time and you can become more efficient in getting back to people who are waiting for you to respond.
6. Fleksy Private Keyboard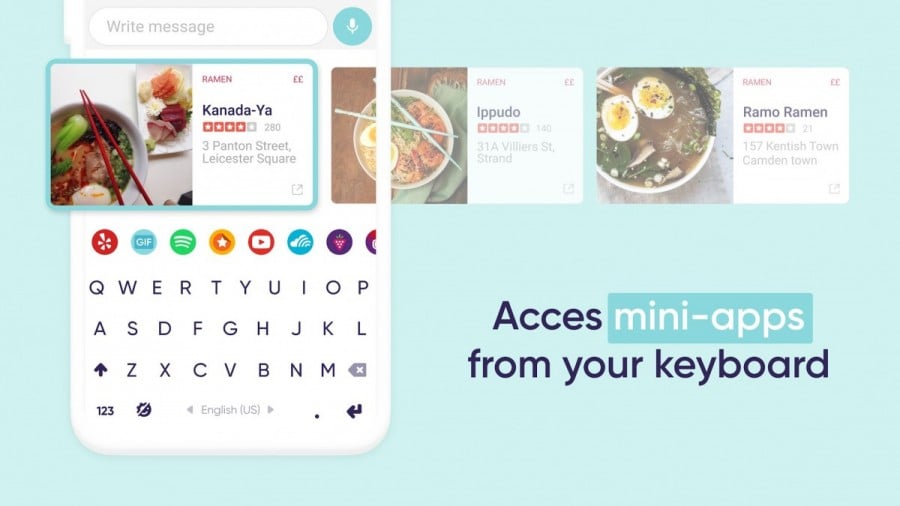 Fleksy gives you a large size keyboard along with simple gestures integration in an attempt to provide you with fast typing speeds. There are several inbuilt gestures to speed up your overall typing capability.
The most significant plus point of this keyboard app is that it lets you customize the size of the keyboard as well as the keys, which makes it suitable for those who find it hard to use regular-sized Android keyboards.
Pros
Customize your experience with more than forty keyboard themes.
Provide the ability to add custom extensions to improve usability.
Support more than forty-two languages, and the ability to switch between languages while typing seamlessly.
Cons
Less frequent updates.
You might face occasional lags.
7. GO Keyboard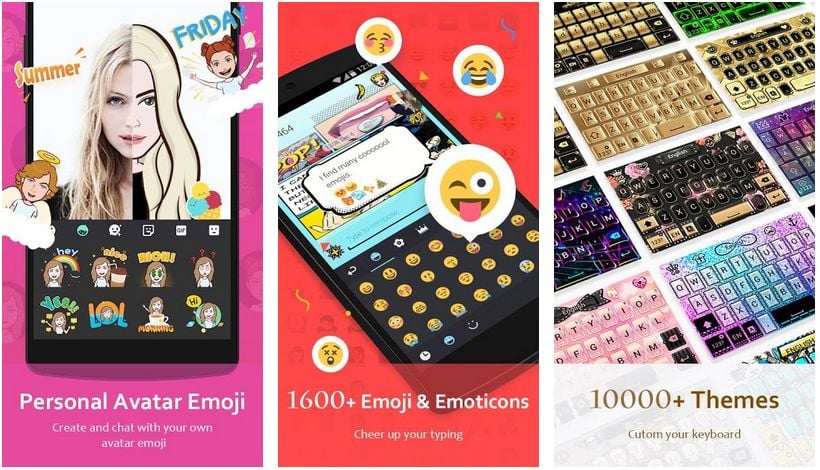 GO Keyboard is an excellent and quick keyboard for any Android device as it comes with great functionality and features that allow you to improve your whole typing experience.
The keyboard is designed to give you intuitive autocorrect and autofill suggestions that are entirely based on your day-to-day usage of phrases and your typing styles.
And for those of you who are looking to chat and communicate with your friends using emoticons, smileys, and emojis, then GO Keyboard will allow you to transform your plain and straightforward texts into relevant emoticons and emojis so that you can express more.
Pros
Give you an ultimate customizability experience with thousands of themes and font styles.
Receive frequent updates for bug fixes and improvements.
Support more than sixty languages.
Cons
8. Gboard Google Keyboard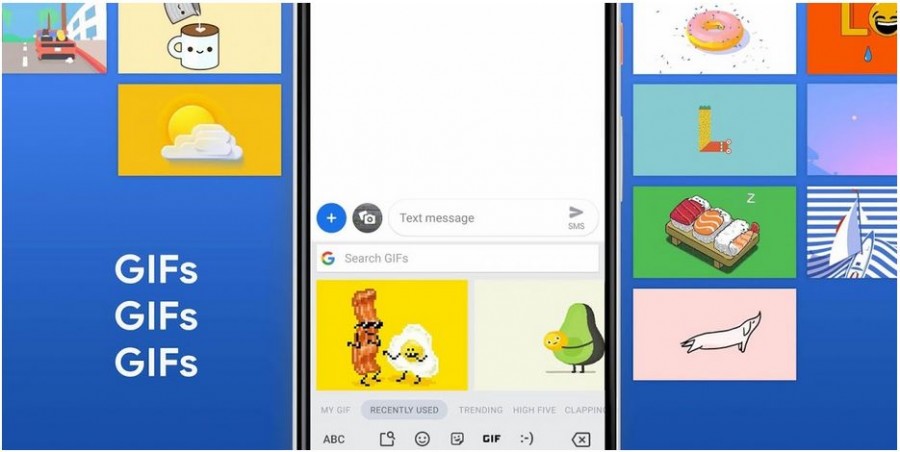 Google Keyboard is developed by Google and is one of those keyboards that come preinstalled on most Android devices, including smartphones and tablets. It supports gesture typing, voice typing as well as automatic word completion.
The developers at Google have tried their best to keep the design and theme material. And added support for almost every language and its layouts. Similar to most of the other keyboard apps mentioned in the list, this app also learns what you type to enhance the prediction capabilities.
And because it is by Google, so all of your saved words and predictions will be synced with your Google account so that it can improve your usability on your other Android devices.
The good thing about Gboard is that if you like emojis then you can use the Bitmoji Keyboard app to further enhance your messaging experience over all social media channels.
Pros
Ability to set the custom theme with your choice of color and photo.
One of the most reliable keyboard options.
Support up to hundreds of languages, including Indic language.
Cons
You will need to install a separate language pack for non-supported languages.
Might become unresponsive at times on some devices.
9. Swype Keyboard
Swype is a premium app and is one of those keyboard apps that have gained a lot of popularity due to the large number of features it offers, mainly the swipe character input method.
The app has a built-in mechanism that reads and learns your writing style and messaging habits, which then automatically updates its integrated dictionary and stores your phrases, which later is used to suggest new and relevant phrases as you type.
Pros
Offer some themes to customize your writing experience.
Ability to sync, backup, and restore personal dictionary.
Compatible with Android tablet devices.
Cons
It might become unresponsive.
Dragon integration sometimes slows your overall messaging experience.
10. Touchpal Keyboard
The Touchpal keyboard offers one of the most reliable integrations for swiping text input. The app is completely free and enables you to write faster than a conventional typing method thanks to the swipe, curve, and predictions.
Touchpal's contextual prediction feature is one of the more potent as it provides you with real-time error correction that fixes spelling mistakes, suggests the right words for mistyped words as well as automatic capitalization.
Pros
Highly customizable keyboard with hundreds of themes, and the ability to set a custom color, layout style, and background.
Receive frequent updates and bug fixes.
Support more than ninety-seven languages.
Cons
It might not be a suitable app for someone looking for just a keyboard.
The app comes with some additional bundled features.
Which Keyboard App Is Your Favorite?
Which one of the Android keyboard apps mentioned in this list did you like the most? Share with us in the comments section below! 🙂