Apart from the usual app cache cleaner apps, that specifically help you regain several hundred megabytes of lost storage space, Android cleaning apps are a little bit different in terms of features and functionalities they provide like the ability to find and get rid of junk, duplicate, and any unnecessary files or documents that are stored on your device.
That's not all. These cleaning apps can optimize your phone's performance as well, which can have a direct impact on the battery and you can enjoy longer screen-on time. Let's get started with our review of the best cleaning apps for Android…
1. AVG Cleaner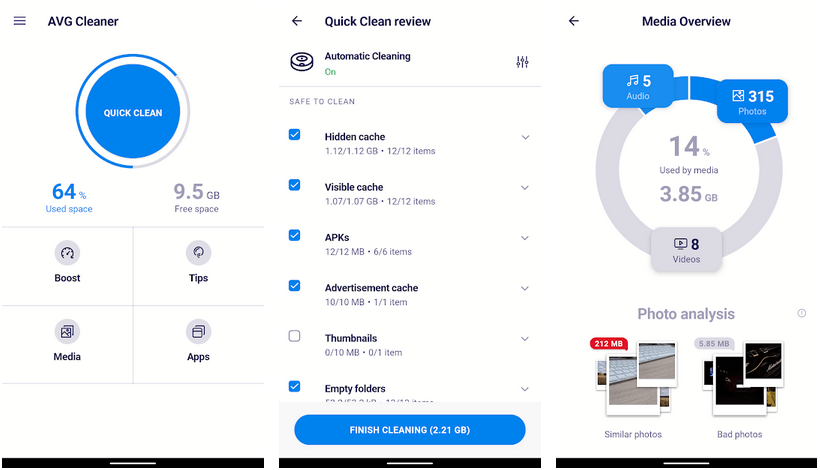 AVG is the simplified Android phone optimization app that can help reduce your space usage to the minimum by removing junk and similar files, increasing performance while maximizing battery life. It also sends you an automated reminder to keep your device optimized all the time.
Simplified UI makes it easy for anyone to use and optimize their device.
Find and delete unnecessary similar photos to free up space.
Offer a pro version that still shows advertisements.
2. CCleaner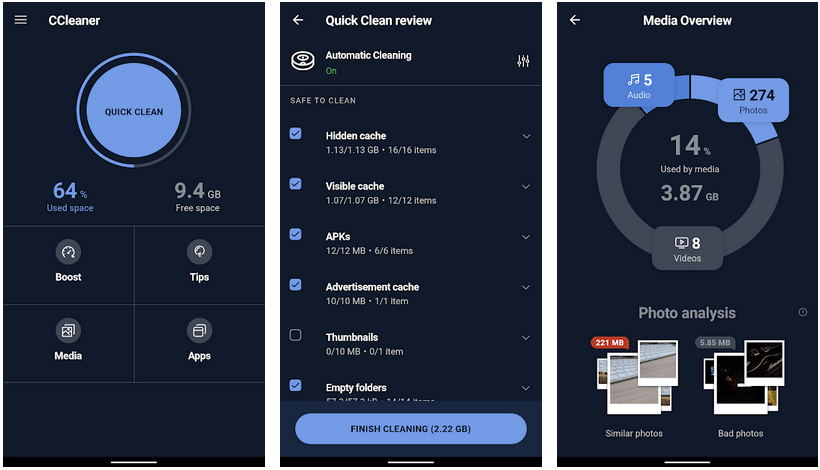 CCleaner is a flagship solution by Piriform that helps optimize and clean devices including PC, Macs, and Android. It comes bundled with device monitoring and optimization tools like a storage manager, RAM, battery, and temperature monitor. It scans and shows all the cache data and asks you to select the ones you want to delete.
Assist in regaining storage space consumed by junk data.
Efficiency and compactness along with ease of use.
Free from ads and provides a premium version too.
Combine the internal and external storage memory into one, making it harder to distinguish.
3. Avast Cleanup & Boost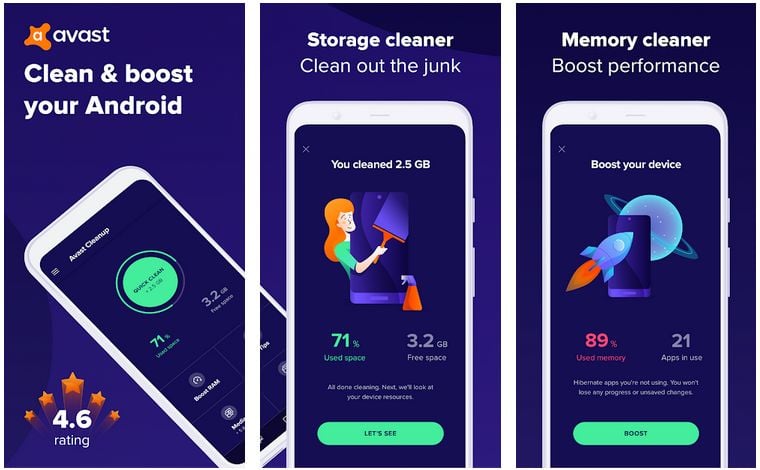 Avast Cleanup and Boost is the most effective optimization and cleaning app designed for Android devices. It can help you find and remove the cache, disposable files, advertisement cache, gallery thumbnails, and residual files, and you can scan for all of these with just one tap. And all the details are clearly organized in easy to understand manner.
Clean and optimize your device to boost speed and improve battery life.
The easy-to-use and neatly designed GUI makes it faster to find and clean the clutter.
Sometimes shows intrusive advertisements, but can be removed with the purchase of an Avast Cleanup Pro subscription.
4. Booster & Cleaner by CXZH
The CXZH Booster and Cleaner are a two-in-one Android device optimization and system cleaning app that can minimize power consumption while helping you find and scan for files that are consuming excessive space on your device or external micro SD card. Removing all these junk and cache data will help your device regain lost processing power.
Power monitoring feature lists down all the apps along with the amount of battery juice they are consuming.
Come bundled with a network-monitoring tool to keep track of Internet data usage.
Option to clean the cache of a specific app.
5. All-In-One Toolbox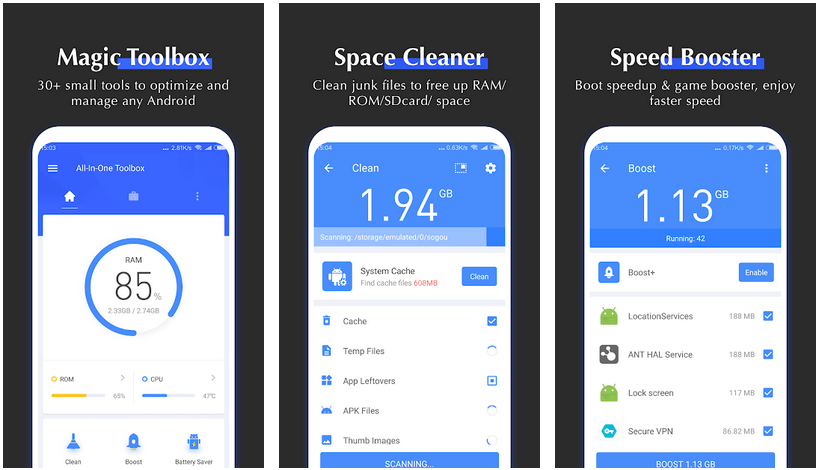 All-In-One Toolbox is an effective app to free space on your Android device, improve speed, enhance battery life, manage apps, and protect privacy. Quick in cleaning junk files, files, and folders left by apps as well as boosting the promptness with the one-tap boost feature.
Speed Booster help stop battery-hungry apps while improving speed and battery life.
Built-in file manager to browse and manage files stored on your phone.
Boost+ Game Booster clears up the RAM to let you play resource-hungry games.
The app constantly asks to leave a five stars review.
Shows non-intrusive ads, which can be removed with the purchase of the Pro version.
6. Advanced Task Manager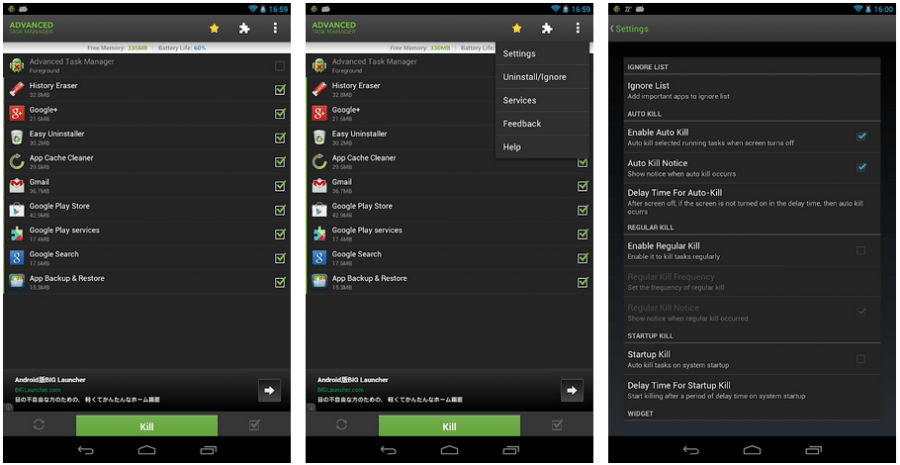 If you are a long-term avid Android user then you must have heard how task and app killers are bad. However, there are several instances where the Advanced Task Managers have helped in killing resource-hungry tasks, improving performance, freeing memory, and significantly increasing the battery timing.
Auto-kill specific tasks and processes.
Clear memory and boost RAM by stopping apps that are hogging resources.
Pretty-aggressive advertisements can be removed with the purchase of Advanced Task Manager Pro.
7. Clean Cache by Bazinga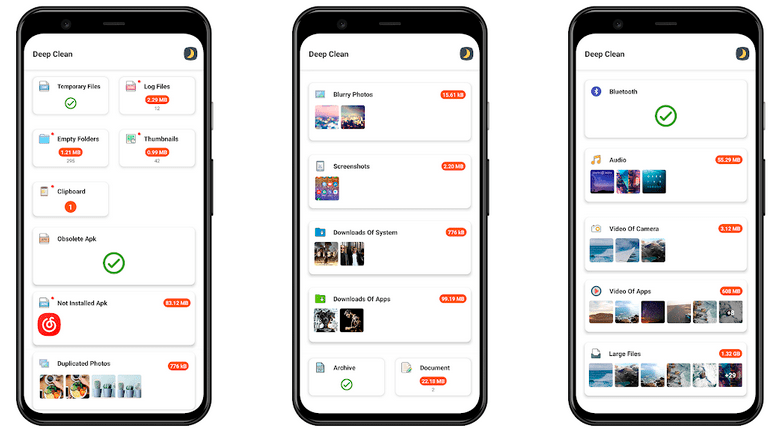 As the name of the app suggests, Clean Cache & Optimize is specifically designed to clean all the cache data stored by the apps including the cache files stored by the browser, web page, gallery, and other temporary files left behind by the apps you have already uninstalled.
Search and sort the list of apps according to cache size to help identify the apps that require cleaning and optimization.
Ability to set an optimization and cleaning reminder.
8. CLEANit by SuperTools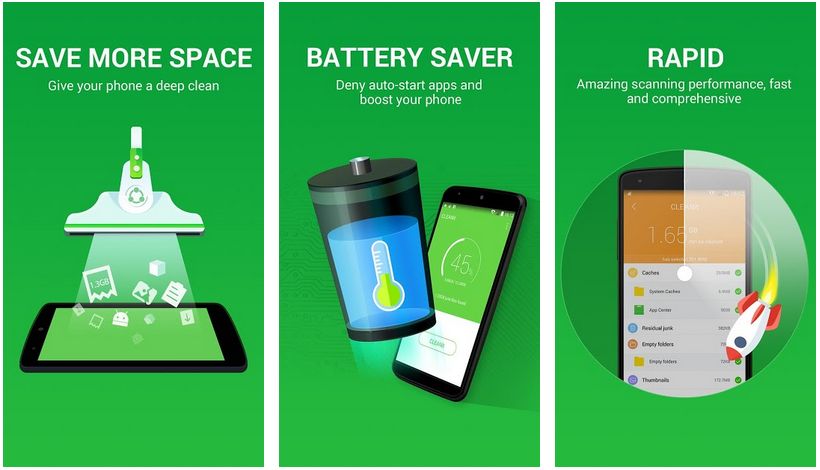 CLEANit is a great Android mobile and tablet optimization toolkit using which you can better optimize the memory and space usage of your device and SD card storage while keeping your device as rapid and smooth as it was when you purchased it.
Come bundled with a RAM booster, app manager, and battery saver to enhance your phone's performance.
Scan devices and create classified and easy-to-understand lists for better file management.
The automatic RAM booster sometimes freezes the phone.
9. FastCleaner by Powerd Dev Team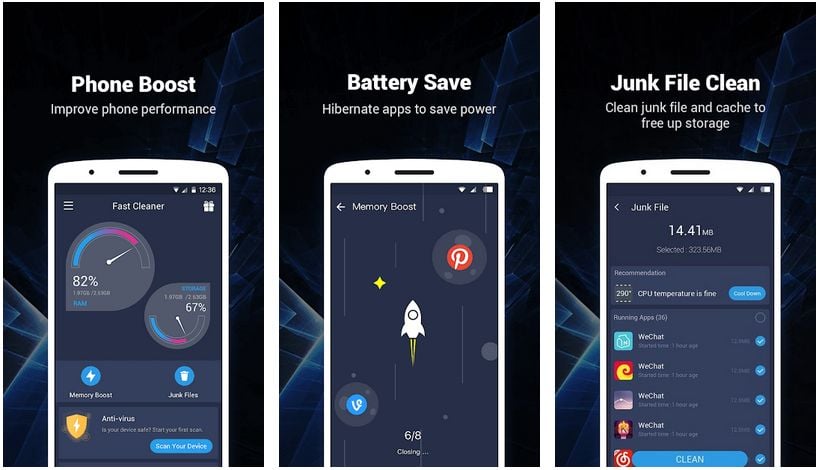 Fast Cleaner cannot only speed up your Android phone but can even help you with finding and cleaning Android junk and cache files as well as obsolete trash and advertisement junk files to boost your mobile speed. Moreover, the app can detect any unusual processor temperature and stop the app that's causing it.
Beautifully designed UI but requires some improvements.
Intrusive advertisements that may interfere with usability.
10. SD Maid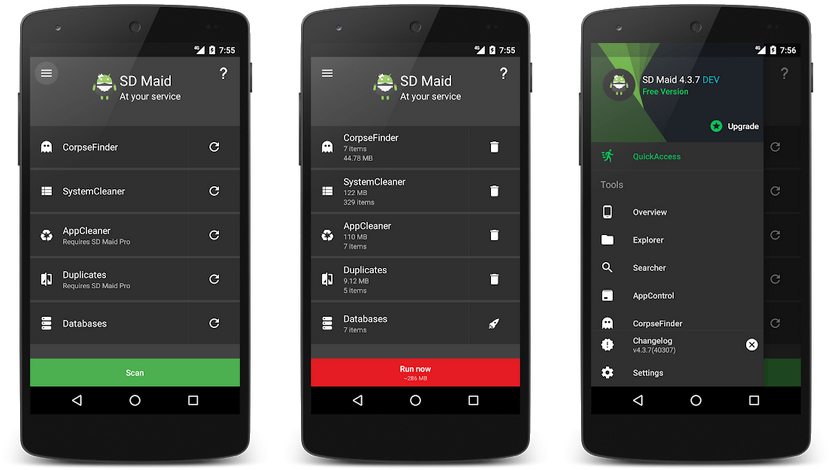 SD Maid is like a maid for your Android phone and tablet that can keep your device clean from any junk, orphaned, and residual data as well as optimizes and maintains your device to keep it from consuming any excessive storage space. Originally, the app is designed for advanced users with rooted devices but some optimization and cleaning features should work perfectly even if your device is non-rooted.
Tons of optimization and cleaning techniques are available for free.
SD Maid Pro unlocks some advanced features to carry out enhanced optimization.
Advanced features and functionalities may be hard to understand for novice Android users.
11. Smart Booster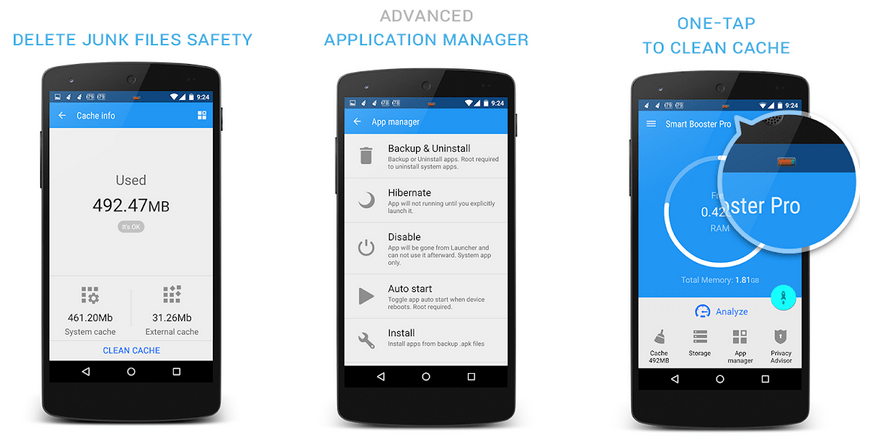 Smart Booster will speed up your Android tablet and smartphone by analyzing and killing low-priority apps in an attempt to clear memory space for high-priority processes. This is perfect for those moments when one app is consuming excessive RAM which doesn't usually leave enough space for the new app to launch.
Smart memory and RAM booster along with a one-tap floating widget.
Easily manage apps while speeding up your device and increasing battery power.
Ability to hibernate and stop apps from running in the background.
12. Droid Optimizer by Ashampoo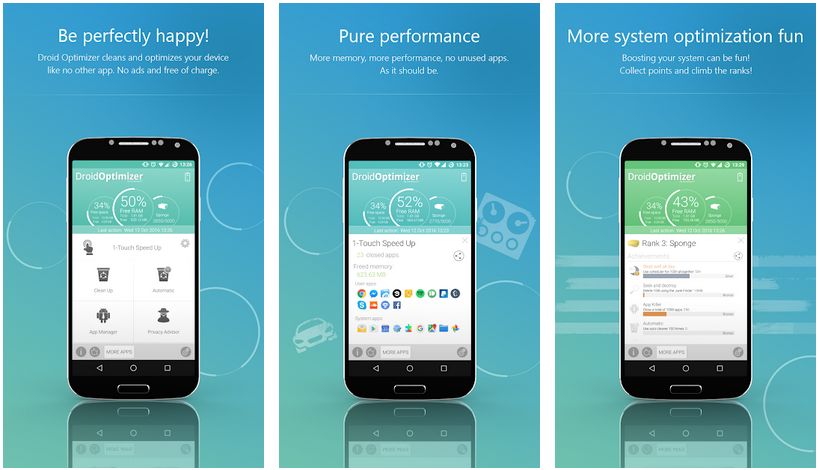 Droid Optimizer is one of those apps that don't force-feed you with advertisements instead the app concentrates on providing a better tool to optimize your device and will analyze your internal and external storage space for any files, apps, or data that is pointlessly consuming the disk space and causing hindrance in the performance.
Carry out optimization and cleaning tasks automatically.
Detect and remove potential spies and vulnerable apps.
Free mobile cleaner and optimizer without any ads.
13. Ace Cleaner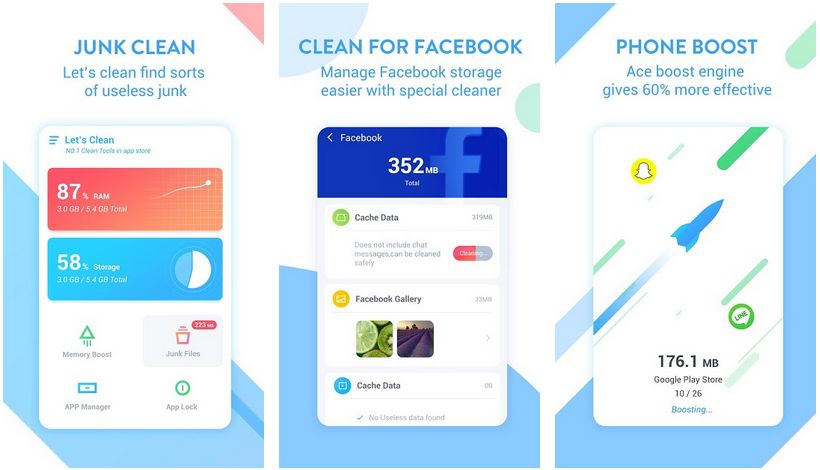 If you are one of those Android users who install a large number of apps and then uninstall them later after using them for a while, then Ace Cleaner will be the most appropriate Android cleaning app for your optimization and cleaning needs. It can clean all the junk, cache, and residual files left by the uninstalled apps while making your phone run faster and better.
App Locker will add a new layer of privacy and let you PIN-protect apps like WhatsApp, and Facebook.
Special cleaner optimized for social media apps like Facebook, Snapchat, and Twitter.
The quiet notification option will automatically snooze all unwanted notifications.
14. Greenify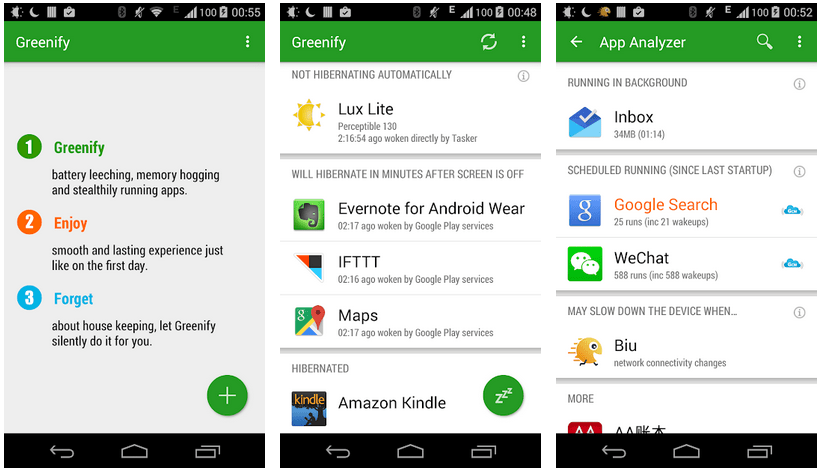 Greenify is a uniquely designed and powerful app that can extend the battery life of your Android device by hibernating the memory-hogging and battery-leeching apps when you are not using them. This not only saves a significant amount of battery power but improves the speed of your phone as well.
A lightweight and flawlessly designed app that leaves little to no footprint on the RAM and battery consumption.
Ability to hibernate system apps.
Some advanced features require root access.
Conclusion
So these are the fourteen best apps you can use to clean and optimize your Android smartphone devices while keeping them in optimal condition.
We are going to end this review with a piece of friendly advice:
Most of the cache and booster apps mentioned in this list may constantly ask you to boost your app or delete cache, but we will suggest using these options once a week or only when the need arises, else frequent boosting and cache cleaning will hurt your phone's performance.
Which of the above apps have you tried? Did any of those helped you in cleaning and optimizing your device? If you use any other Android cleaning apps then share them with us in the comments section below. 🙂