AnimeFlix app is an awesome all-in-one anime app for Android users to find, discover, watch, and stream all the latest anime as well as the old ones right on their smartphone or tablet devices in full HD 1080p quality without any streaming issues. And without paying subscription charges.
You can watch English subbed and dubbed anime online anywhere and anytime you want, there are no restrictions. There are various sections within the app including trending anime, series, and movies.
You don't really need AnimeFlix mod apk for Android as the free version available on our site works really well and it is completely safe to download and install on your phone for endless anime streaming.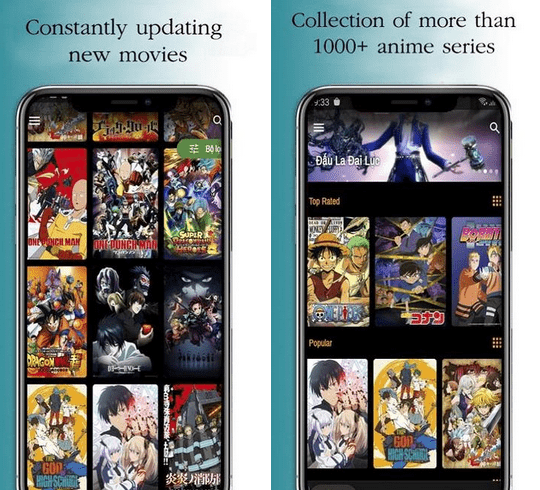 If in case you are still not happy with the app and looking for an alternative then we highly recommend you try AnimeUltima for Android. It lets you stream and download anime movies and shows from almost every genre.
How to Install the App on Android?
The whole process of downloading and installing AnimeFlix on Android is really easy and simple. Here are the steps:
Note: You may need to enable the installation of apps from unknown sources through the Android security menu to be able to sideload/install the app.
Download the AnimeFlix apk file from the download section located at the beginning of this post.
Tap the apk you just downloaded and follow the onscreen process to install the app.
Once installed, find and launch the AnimeFlix app from the app drawer. You can now watch all of your favorite anime without spending any time randomly searching on the internet for a reliable website.
Features of AnimeFlix
AnimeFlix is a feature-rich app to watch and stream animated content. It is one of the most favorite among anime lovers. Here are some of the most interesting features:
Full HD: You get to select servers from the list and find the ones that offer streaming in 1080p resolution or 720p HD for seamless streaming without compromising on quality.
Multiple Links: The app is optimized in such a way that you will be able to find multiple streaming links for each anime series or episode.
Up to Date Content: The app fetches active streaming links for all the latest episodes and keeps its anime directory always updated with the latest content so you won't have to search anywhere else.
Smooth Streaming: AnimeFlix automatically connects you to a high-speed server that offers reliable and smooth streaming without letting you wait for the video to buffer.
Timely Notifications: To make sure you never miss an episode, if enabled, the app will constantly remind you about the newly released episodes for the series you are following.
Anime Tracker: Since the app notifies you about the latest releases, you can use the built-in tracker to mark the seasons and episodes you have already watched to make sure you won't receive any unwanted alerts.
Active Community: If you are one of those who like to discuss the episodes and seasons, the app has a comment system where all the users can participate and leave their reviews.
About AnimeFlix App
AnimeFlix is an amazing app for anime lovers who like to watch the latest as well as old anime movies and TV series from the comfort of their mobile devices. The app is designed with a neat and clean user interface that allows you to easily find and watch anime, whether they are recently released or older ones.
You can use the search option to easily filter out the anime based on its date of release, genre, and synopsis. Once you open the dedicated anime page, you will be able to see all the episodes along with the option to select subtitles whether you want to play with subs or dubs.
Frequently Asked Questions - FAQs
How do I download the Animeflix app?
Animeflix is not available on the Google Play Store so you need to download it from a third-party resource and side-load it on your Android device.