IGTools for Instagram is one of the most trustworthy and reliable apps for Android smartphone and tablet devices to increase the engagement and reach of your Instagram account for free.
You can use this app to increase followers, get likes on your posts and videos, get new comments on your posts, and even add likes to those comments to make them stand out.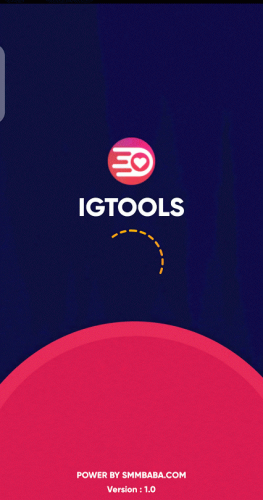 That is not all, you can use this app to control the polling and voting on Instagram stories and get more views on your stories to show better engagement and influence.
Continue reading to find out all the features offered by IGTools and how each one of those features can be beneficial for your Instagram account.
Notable Features
In this section, we are going to discuss some of the most notable features of IGTools that you can try to become a better influencer on Instagram. These will help improve the performance of your account too.
Here are some notable key features:
Gain Followers on your Instagram.
Get votes on your polls.
Get new comments on your posts, photos, videos, and reels.
Increase likes on your comments.
Get likes on your posts.
Increase views on your story.
Let's dive deeper into these features to help you learn more about the ins and outs of IGTools for Android and how it can be one of the best tools for your Instagram account.
Gain Followers
Getting followers on Instagram requires real effort and time. Your posts need to be engaging and provide some value while at the same time, readers must need to find some of your recent posts relatable and shareable.
If those conditions are met then they will start following your account. And the total number of followers and the growth rate matter a lot. It is a key metric that measures the performance of the account.
With IGTools, there is a service that will instantly give new followers straight to your Instagram account. Without any effort. All you need to do is add your username in the box and tap on the Go button.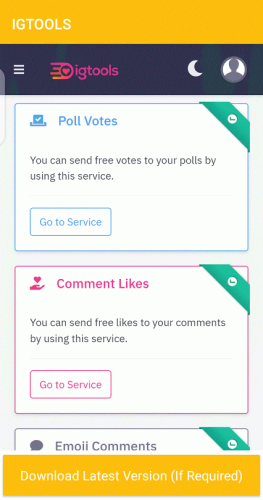 Are you looking to get more followers for your Instagram account? You can use another amazing app i.e. InstaUP, which helps you boost your Instagram profile by adding followers to your account and likes to your picture posts.
Get New Comments
Having comments on your Instagram posts shows true engagement and it is one of the most highly noticeable metrics for social engagement.
Because leaving a comment on an Instagram post requires some additional effort as compared to leaving a like which only needs double tapping on the post.
However, if your account is new or if you need engagement on your post by adding comments then use IGTool's new comments option.
Depending on the selected option, you can choose between phrase comments and emoji comments. Once selected, the tool will automatically deliver comments on your post.
This will work as proof that your Instagram handle and post are famous.
Increase Likes on Your Comments
Likes on comments left on posts may not seem valuable for many but for some, it means a lot. The reason is that it can help make your comment pop out among others, especially in those cases where the post has hundreds of comments.
So if you have left a comment on a post, it will be automatically buried down. Unless other users like your comment. It will then be featured and move to the top.
This makes it eye-catching and noticeable. Which makes it a perfect spot for the marketing of your page or some message you want to spread out.
IGTools has this service where you can get likes on your comment with just a tap of a button. Once done, the tool will send the assigned number of likes on that specific comment.
Get Likes on Your Posts
Believe it or not, this is the most sought-after feature of not only this app but all the Instagram performance-enhancing and booster tools available on the Internet.
The reason is very much obvious; getting more likes on your post is going to help increase engagement while helping it to be featured on the hashtag top posts section for a while.
This will give a lot of exposure to your post as well as to your Instagram profile.
So depending on your requirements and how many likes other posts have to get featured under the hashtag, you can get a similar number of likes on your post and get it featured.
Moreover, your post might even appear on the highlights section of Instagram, which will bring tons of new users and enhance engagement on your whole profile.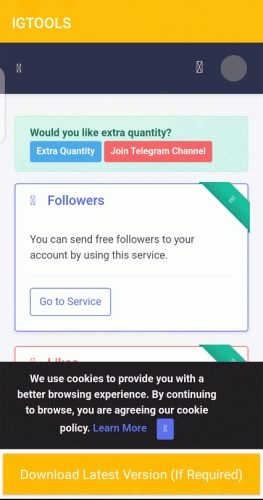 Increase Views on Your Story
Story views on Instagram matter a lot, as it shows the activity and engagement of the users who are following your account as well as the accounts of those people who are interacting with yours.
If you are running an influencer account then these metrics are used to figure out how much influence you have and how many followers actually interact with your stories.
Depending on the numbers and activity, you can get sponsors for your account who will pay you to get their products and services advertised.
However, many mid-sized Instagram accounts find it hard to get a significant number of views on their stories.
So if you find it hard to meet your Instagram story view goals then use the story views service in the IGTools to get additional views.
Get Voting on Polls
Instagram allows you to add polls to your stories to get suggestions, and recommendations, or to even get votes related to anything from your followers. It lasts for 24 hours only.
Now, these voting and polling are anonymous and the story uploaded cannot see the names of the voters. All they get to see is the number of votes against each entry.
Moreover, as a user, you can see the current status of the polling whenever you cast your vote. Which can help you estimate how many votes you need to push for any specific entry.
So to manipulate the voting and polling on Instagram, you can use the poll voting service in IGTools apk and easily win the polling.