Download Spotify Music for Android and listen to music, songs, and podcasts anytime and anywhere. It's an all-in-one app that provides seamless streaming services for free.
There is a Spotify Premium subscription, too, if you want to unlock all the features, go ad-free, and enjoy offline listening. The app has got you covered with all your music needs.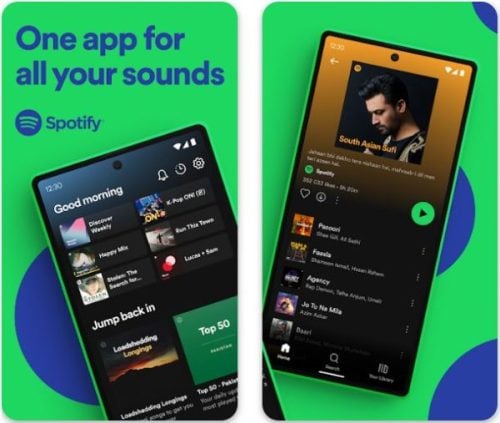 About The App
Spotify is a hugely popular music-streaming service with over 286 million users from all over the world who regularly enjoy freemium and premium music, songs, and podcasts. The service provides over 50 million soundtracks, music, and songs for almost any activity or mood.
The whole music albums from your favorite artists, whether they are old or new, are freely available to listen to whenever you want. All you need is this app and a compatible Android device.
Key Features
Here are the key features of the Spotify music app that makes it one of the most popular music-streaming platform on Android and other mobile devices:
Discover Music – You can discover new music, albums, and podcasts from your favorite artists or creators.
Search Music – The powerful search functionality will help you quickly search for any music or favorite song from their massive database of over fifty million soundtracks.
Custom Playlists – Gives you the ability to create customized playlists as well as the option to share them with your friends.
Mood or Activity-Based Music – The smart music discovery option will help you find music and soundtracks based on your current mood or activity.
Do you know you can download music of high quality for offline listening on your Android phone and tablet devices for free? It is possible with the TubeMate app.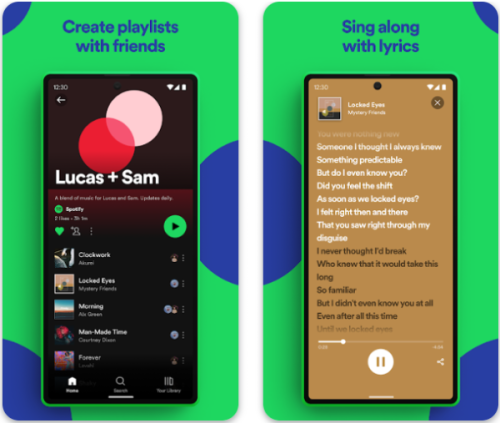 Spotify Premium Features
The Premium and paid version of the app offers some additional features, and those are listed below. You can subscribe to the premium version inside the app.
Download Music – With the ability to download music and offline listening, you can listen to music whenever and wherever you want.
Ad-free Experience – It will block all the video and audio advertisements during music playback so you can enjoy uninterrupted music.
Play Any Track – With Spotify Premium, you will be able to play any music or song and listen to any part you want.
Unlimited Skips – Don't like any music? Tap on the skip button, and it will start playing the next track.
High-Quality Music – The Premium unlocks 320kbps extreme quality music and podcast playback option.
Are you looking to get Spotify Premium for free on any of your devices? We have an ultimate guide on how to get Spotify Premium on Android, iOS, iPhone, Mac, and Windows PC including details about Spotify++ apk. :D