Do you have pictures but you want to turn those pics into a memorable video or animation with custom background music so that you can share them on TikTok or YouTube? Look no further, the apps we have reviewed here will help you create a video on your phone within a matter of minutes and in a few simple steps using transitional effects, frames, filters, background music, stickers, emoji.
Here we have reviewed the nine best apps for Android to make videos with pictures and music regardless of your video making or animation skills:
#1. VLLO Video Maker and Editor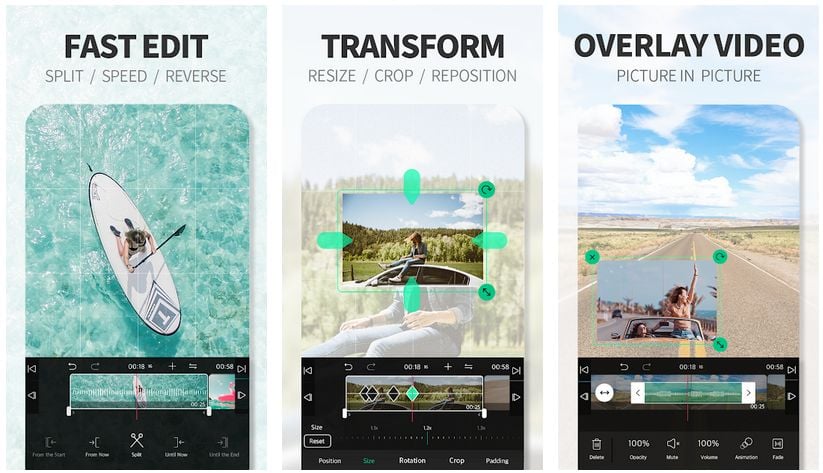 VLLO by Vimosoft is a powerful video maker and video editor app for Android that is designed to create videos and animations using pictures. You can create clip animations as well as transition videos.
The app gives you a variety of features including transformation tools that let you reposition the images as well as crop and resize, fast editing where you can change speed and split the video, video overlay option for picture-in-picture, ability to add stickers, and a lot more.
#2. VivaVideo Editor and Maker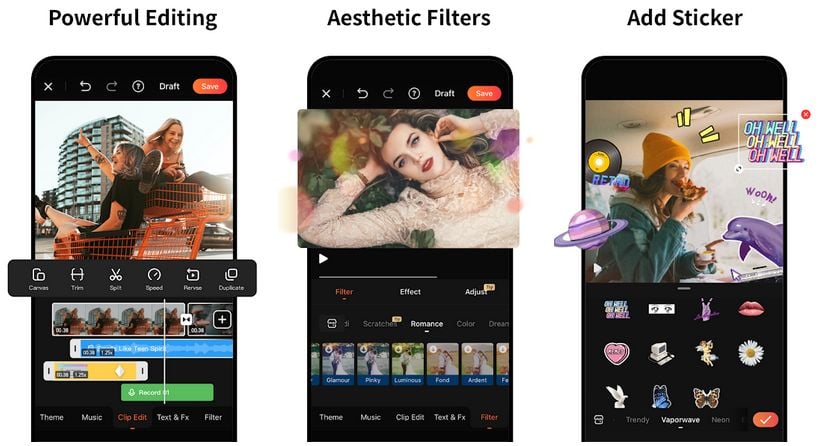 VivaVideo is a trusted app among Android users and is treated like a pro video editor app as you can find all the basic as well as advanced video editing features including the option to add transition effects, attractive and unique stickers, the addition of soundtrack or background music, merging video or splitting any existing one into a different video.
The creation and editing functionalities are really powerful and come with aesthetic filters. And the multi-layer editing allows you to take your video creation capabilities to the next level.
#3. Scoompa Video Editor Slideshow Maker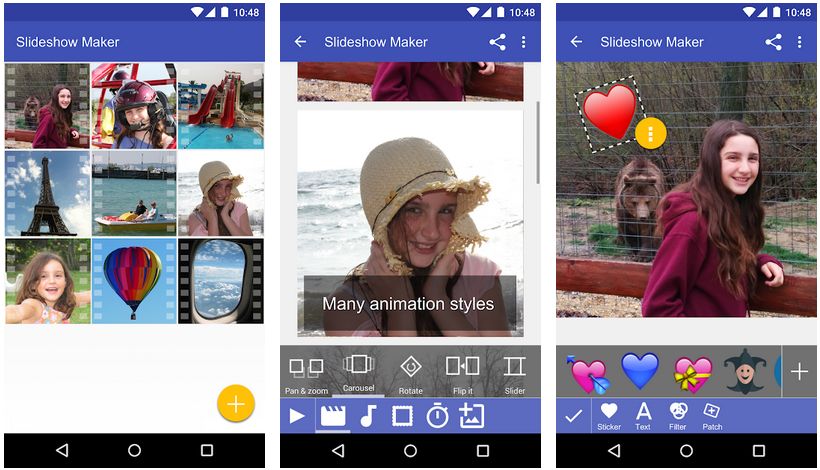 If you have some pictures, and you are looking for a way to make a slideshow or video out of it then Scoompa is the app that you should try as it allows you to create beautiful videos from pics in the form of a slideshow.
You can choose from a variety of animation styles to make the slideshow attractive, some of them include flip, slide, carousal, pan and zoom, and rotate. The app also lets you apply filters and add stickers (there are more than a hundred) to give it a more realistic video look.
#4. VideoShow Video Editor and Maker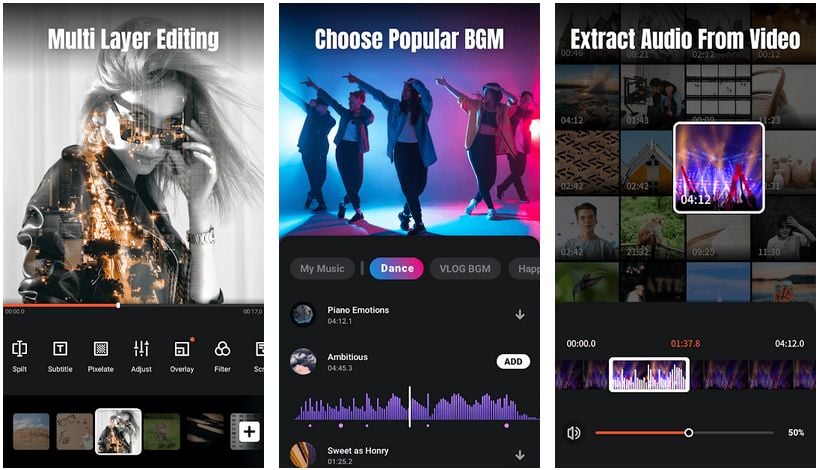 If you are looking for some of the most powerful and perfectly designed video editing features then VideoShow is one of those apps you should give a try.
Developed by EnjoyMobi Global, the app offers you amazing features to make the most out of your pictures and create beautifully developed videos with animations and transitions. You can opt for popular background music for your videos, you can use a built-in tool to extract audio from any existing video, there are various readymade templates too if you are looking to create a quick video.
#5. FilmoraGo Video Maker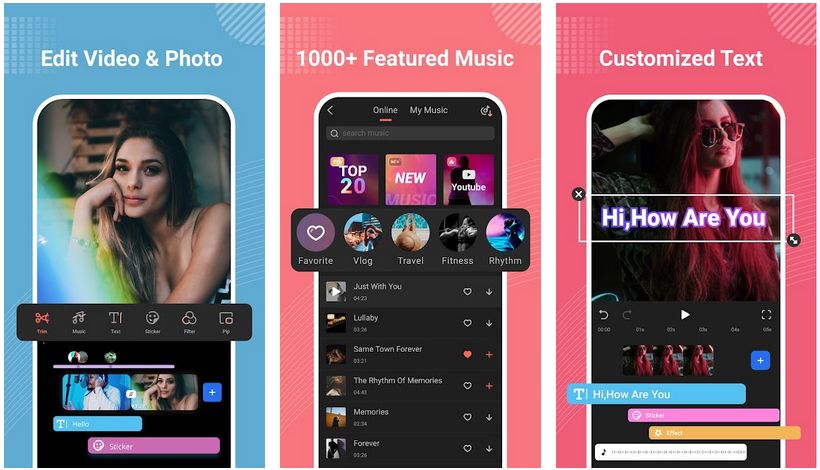 If you are a fan of TikTok or want to create some sequential or quick tutorial-based videos for your YouTube channel then FilmoraGo Video Maker is going to be a really handy app for you as it has native support for text, backgrounds, stickers, filters, music, and emoji. All of which combined can help you turn a picture into a video.
The app is popular among people who like to create stories. You can edit photos and videos, there are thousands and thousands of music, tons of video effects, and you can customize the speed too.
#6. Pixgram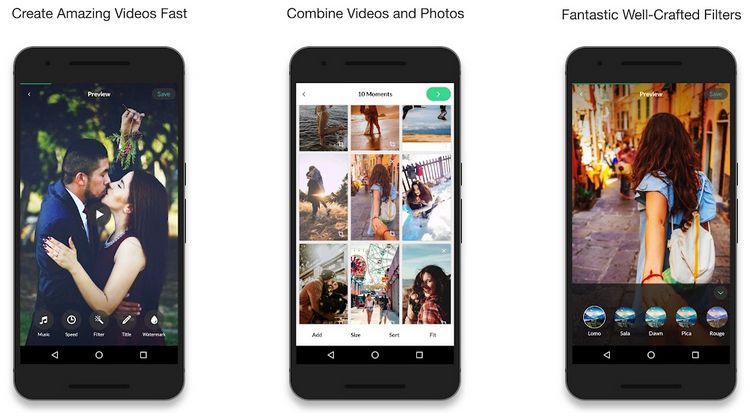 Pixgram is a powerful tool that allows you to transform your pictures into a slideshow with custom background music, filters, and speed settings. And you can do all of that right on your Android phone without any prerequisite to learning the interface or the app. Not only that, you can even add video clips to the slideshow as well.
The whole process is simple and as easy as 1-2-3. You can effortlessly create video slideshows out of your whole pictures collection and video clips. Once compiled and you are satisfied with the results, you can directly share the final slideshow with your friends and family through social media or instant messaging channels.
#7. KineMaster

If you are looking for a powerful all-in-one video maker and editor that allows you to create videos with pictures and music then KineMaster will be your go-to tool, which can be used on your Android device. The app allows you to combine as well as edit your pictures, videos, effects, music, sound effects, and text.
Once edited and finalized, you can export your video in over 4k 2160p resolution at 30FPS quality. And you can share it with your friends and family through the instant messaging app like WhatsApp and Telegram or you can upload it to your social media channels on Instagram, Facebook, YouTube, and TikTok.
#8. InShot Video Guru Video Maker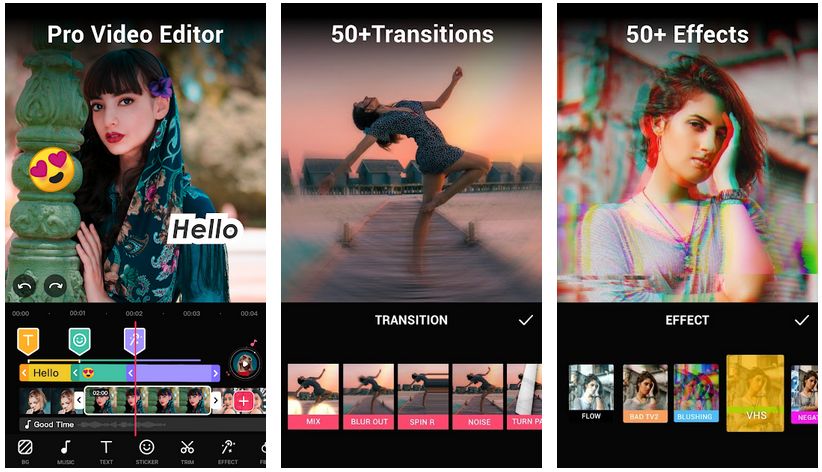 InShot is an amazing Android app designed to help you make videos out of your pictures, video clips, and with music as well. The interface is user-friendly and lets you add items to your video and you can trip, add slow motion and fast motion effects, transitional effects, and create lossless quality videos.
The Video Guru by InShot comes bundled with over thirty video transition effects along with stickers, voice-over, text, and multi-layer editing. You can merge multiple video clips into one single clip as well as to trim any exiting video and insert the custom clip into the video.
#9. PowerDirector and Video Editor by Cyberlink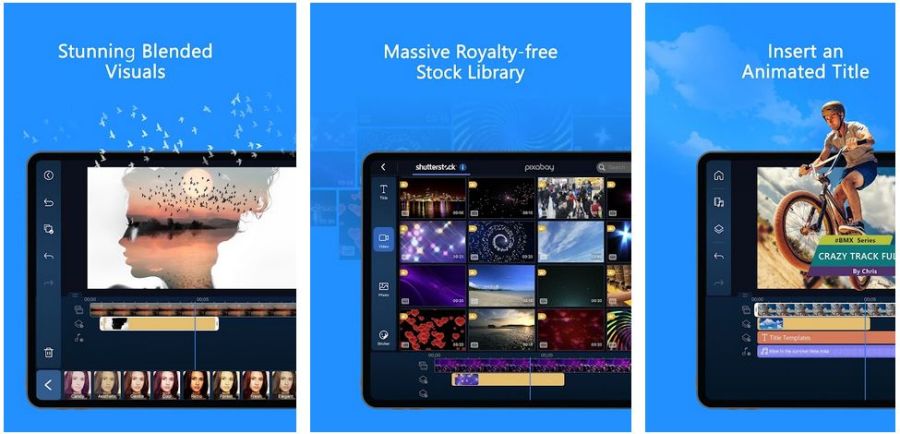 Cyberlink has designed and developed a full-featured video maker and video editing app for Android smartphone and tablet devices that allows you to create custom videos with your pictures and music along with effects, motion titles, background, and filters.
The PowerDirector and video editor and creator let you create and design cinematic-styled movies, all of which can be created with a mobile editing app. You can unlock your true creativity by developing visually stunning videos on the go, whenever you want and wherever you want.  
Which video-making app did you like the most?
We hope you found our animation and video making out of pictures app review valuable and managed to find the app for your Android smartphone and tablet devices to create stories and videos. If our blog post helped you in any way then please don't forget to share your opinions with us in the comments down below, we like to read each one of them! 🙂
Also, if you know about an app that we haven't included in our review but you think deserves to be on the list then let us know what influenced you to make that decision and why we should include it. We will have a look at it and make sure to review that app during the next update.