We have all been in a scenario where the Android launcher gets stuck and stops working which leaves us with no option but to restart our device. There could be several reasons why that happens and the launcher has a direct impact on the overall performance. This leads us to opt for the lightest and fastest launchers that offer minimalism with simplicity and focuses on performance.
Here we have reviewed the best lightweight launchers that consume less RAM and CPU resources, have the lowest impact on the memory, and work on any Android device:
#1. Holo Launcher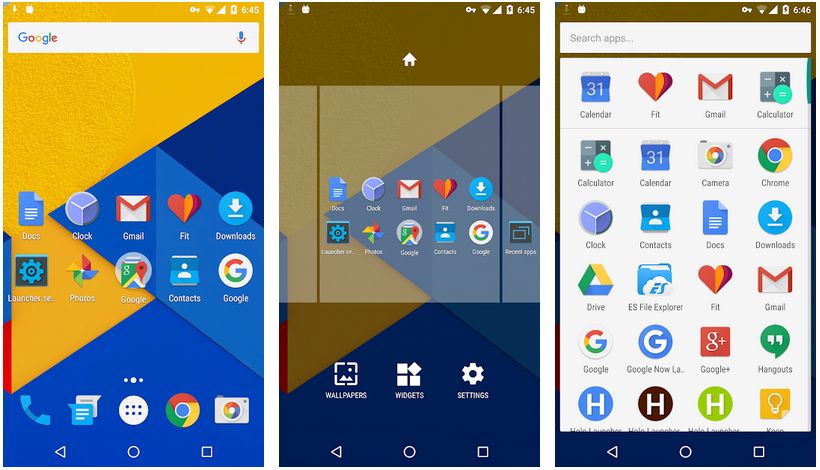 | | |
| --- | --- |
| Size: | 1.66 MB. |
| Requirement: | Android 4.1 Jelly Bean and above. |
The Holo Launcher is based on the Android 6.0 Marshmallow stock interface, which provides you a complete material design along with a number of customizability and modification preferences.
And above all, Holo Launcher is a lightweight launcher that consumes less amount of RAM, which leaves enough free memory for other apps on your phone.
You can change the total number of desktop pages (up to nine pages) as well as the grid sizes (up to 10 x 10).
You can make the dock scrollable by adding up to three pages, and each dock page supports seven apps/folders.
The icons and labels for both, app shortcuts as well as the folders, can be customized with just a simple 'tap and hold' gesture so that you can better organize your Android home screen UI.
There is even support for gestures, which means you can assign a 'swipe up' or 'swipe down' gesture to launch the specific app right from the home screen.
These simple modifications and features will let you cut down the number of app shortcuts visible on your Android desktop while making your phone work faster as compared to the stock launcher.
Light, efficient, and powerful launcher with several customizable options.
Add up to nine pages to your home screen.
Support gestures.
Scrollable dock with support for up to three pages and seven shortcut icons.
Some bugs and stability issues, and needs some fixing.
#2. Smart Launcher 5
| | |
| --- | --- |
| Size: | 3.65 MB. |
| Requirement: | Android 4.0 Ice Cream Sandwich and above. |
Smart Launcher 3 is a fast, intuitive, simple, and light launcher that is fully compatible with almost all Android phones, whether it is a newly released device or an old one with minimal memory and processing power.
And unlike most of the other popular Android launchers available on the Google Play Store, Smart Launcher 3 (SL3) is not built on the Android Open Source Project (AOSP).
The launcher has the lowest system requirements, tapping an insignificant amount of stress on your device's battery power, memory usage, and processor.
Which also leaves enough unused resources so that you can easily run other important apps on your phone.
The search bar is conveniently located on the home screen that will allow you to perform a quick web search as well as enable you to search for apps and contacts located within your device.
The launcher is vastly customizable and personalizable thanks to the availability of loads of icon packs, themes, and lock screens.
Furthermore, the development team has added compatibility for both, portrait mode and landscape mode to enhance accessibility. Along with the ability to hide apps from the app drawer as well as password protection.
Come as a base launcher app to provide maximum minimalism, but can be customized by downloading an additional plugin for personalization.
Compatible with Android phones and tablet devices, and works in portrait and landscape mode.
Can run on almost any Android device, and requires minimal Android system resources.
You can unleash the true ad-free potential of this powerful and highly customizable launcher by purchasing the pro version for $4.49.
Multiple home screen widgets not supported.
The icon notification feature may malfunction on some Android devices.
Personalized fonts not supported.
#3. Nova Launcher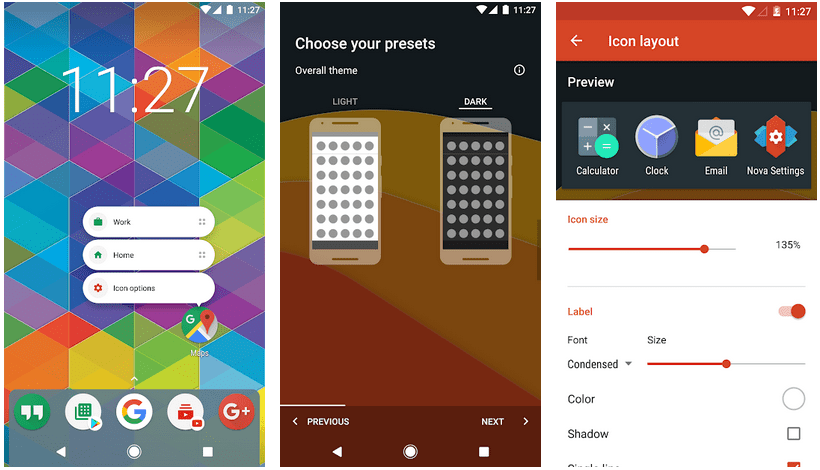 | | |
| --- | --- |
| Size: | 4.44 MB |
| Requirement: | Android 4.0 Ice Cream Sandwich and above |
Nova Launcher is one of those Android launchers that offer you some of the best personalization and customization options along with the most advanced performance capabilities as well as easy to use user interface.
With Nova, you can gain complete control over the home screen of your Android phone and customize it to your will.
The launcher will let you change the layout, select different variations of animations, thousands of icon theme packs for almost every app, and the ability neatly organize your home screen by creating folders.
The backup and restore functionality let you create a complete backup of all your customizations, which you can even restore on your other Android devices or store it later in case you need to change your phone.
You can also customize your app and widget drawers using custom tabs for categorization or grouping, custom effects, and vertical & horizontal scrolling options.
Nova offers extra premium features too, like gesture support, an unread notification count badge, an ad-free launcher, the ability to hide apps from the drawer, and the option to open a specific app by swiping icons, shortcuts, or folders. You can avail all of these extra features by purchasing Nova Launcher Prime for $5.00.
One of the lightest, quickest, and most performance-driven Android launchers with smooth animations.
Import your custom layout from any existing launcher to save time.
Option to backup and restore to save your precious personalization.
Subgrid positioning offers you higher control over the personalization of your home screen.
If you are using the latest Android 7 Nougat then you might face some compatibility issues.
Receives frequent updates.
#4. +HOME Launcher

| | |
| --- | --- |
| Size: | 4.59 MB |
| Requirement: | Android 4.1 Jelly Bean and above |
+HOME, or you can say Plus Home, is one of the lightest launchers that let you personalize your user experience by simply modifying the wallpaper, widgets, and icons, and you can even select from thousands of pre-designed stylish themes.
The whole setup process is so easy that even a beginner can effortlessly customize the theme within minutes to better suit the sense of taste.
If you don't like to spend your valuable time scrolling through the pages of apps to find the apps you are looking for, then you can use the one-stop menu option that comes built in with the +HOME launcher. It gives you easy access to the calendar, alarm, maps, email, gallery, camera, and other frequently used apps with just a simple tap.
You can even create folders in the app drawer to better organize the apps installed on your Android device. This will help you organize apps according to their category or genre. This way you will know where to look for the apps.
+HOME launcher has the capability that will allow you to add pages to the dock. You can further customize the dock by adjusting the number of visible icons as well as the total number of pages.
Unify your apps by creating folders within the app drawer.
Ability to modify the dock section and add additional pages.
A personalized one-stop menu that is just a tap away.
Not currently compatible with Android 7 Nougat.
A large number of pop-up advertisements hurt the user experience.
Fonts cannot be changed.
#5. Action Launcher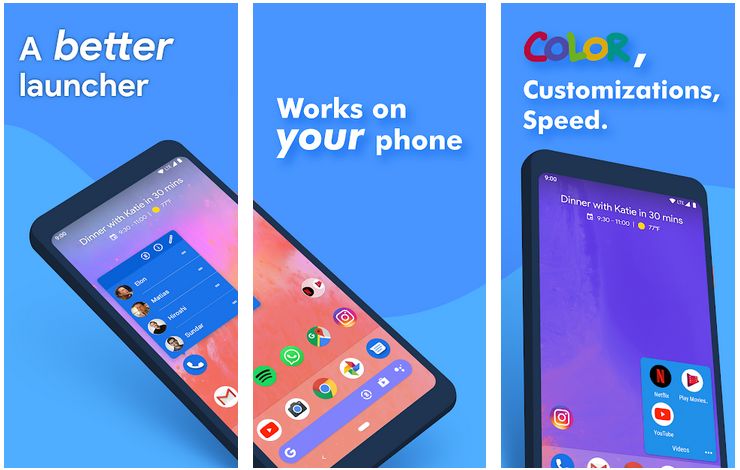 Action Launcher is one of the very best options for a launcher that mixes things and also changes the interface. One of the main and most unique features of the Action launcher is the Windows Start Menu-like bar that pops up on the left side of your screen, window bars which you can use the application you like without searching for it. You can completely customize your All Apps list, icons, and font as you like.
#6. Apex Launcher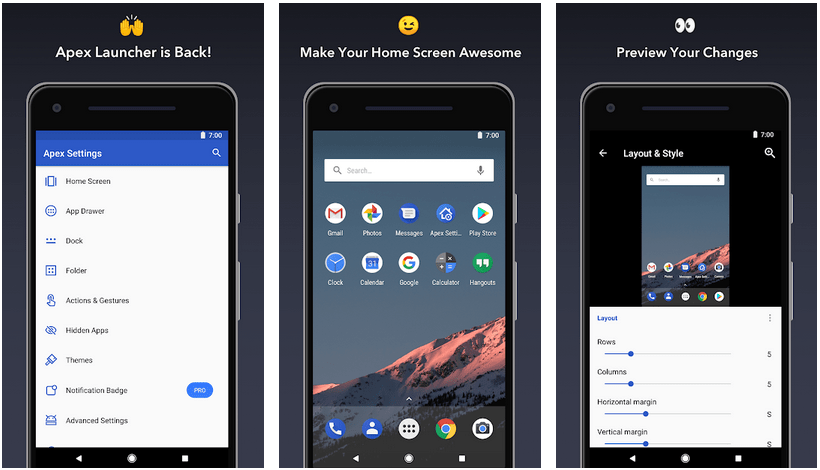 Apex Launcher just like Nova blends smooth performance and also has a very good level of customization. The standout feature of Apex Launcher is a superb tablet mode allowing tablet users to rotate their home screen. The Pro version of Apex Launcher has a special Notifier service, which pushes notifications to a widget on your home screen. But for this service to use the app must be run in the background draining the battery.
How easy is it to customize the Android interface with the lightest launchers?
We all are very well aware of the fact that Android is the only mobile operating system that gives us the maximum choices when it comes to customizability.
And that is exactly the reason why different Android-based smartphone companies go out of their way to release their very own custom-tailored user interface for their devices.
The best example of that is "TouchWiz" which is developed by Samsung and is widely used on smartphones and tablets manufactured by Samsung since 2010 till date. Regardless of its popularity and the eye-catching smart features being offered by the Samsung TouchWiz, the lack of customization possibilities may not interest everyone. But, as we have already mentioned in the beginning, Android gives you the complete freedom to modify the interface and make the experience according to your personal preference.
This brings us to the third-party Android launcher, which is undoubtedly the easiest way to personalize your Android device. And not only customize, but these launchers also come bundled with powerful and well-designed customization features to help further enhance the overall performance of your Android device.
Conclusion
These are the best and lightest Android launchers that are smaller in size and consume less memory, which makes them absolutely perfect for older as well as newer devices as these launchers require less processing power and RAM.
Have you tried any other Android lightweight launcher? Let us know in the comments below. 🙂