If you receive a lot of calls from unknown phone numbers but could not figure out who is on the other side, and whether or not you should answer it?
The best solution for you is to download and install a caller ID app. These apps are not only capable of providing the name of the caller but they can even share other details about their number like if it is a spam call or maybe it could be a telemarketer.
These caller identification apps come bundled with additional features like calls and messages blocking, chatting functionality, and call recording too. Let's jump to the list of best caller ID apps for Android:
1. TrueCaller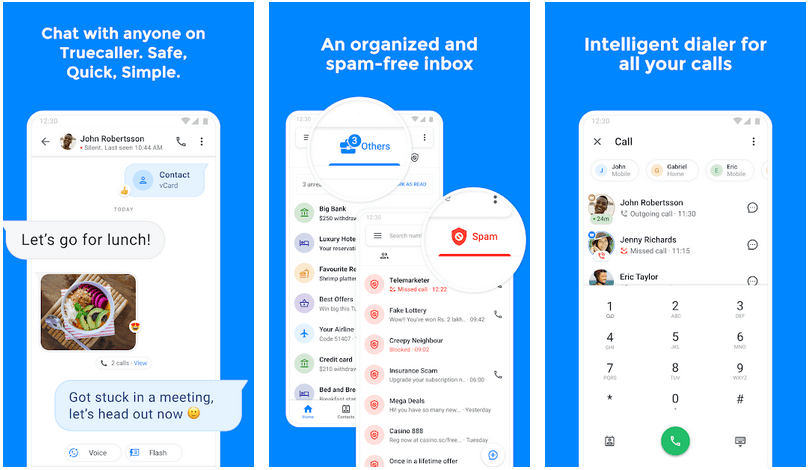 Believe it or not, TrueCaller is one of the well-known and best apps for caller identification along with some added features like call blocking, call recording, and automated spam messages, and spam call blocking. The app has a huge database so it can easily help you find out who is calling you and can automatically block telemarketers, fraudulent calls, and any other phone number that you want to block.
What's interesting about TrueCaller is an ever-increasing spam list database that is updated every day along with the database for caller ID identification; which can help you figure out who is calling and from where; and whether the caller is using a personal contact number or if he or she is a business owner. You will get all the details within seconds.
What Is This Best For: Helps you find out who is calling you and from where; you can identify the numbers that are not even in your contacts list.
Unique Features: Built-in chat functionality; helps keep your SMS inbox free from any unwanted spam.
Ads: Yes, the service is ad-supported.
Price: Free.
2. Showcaller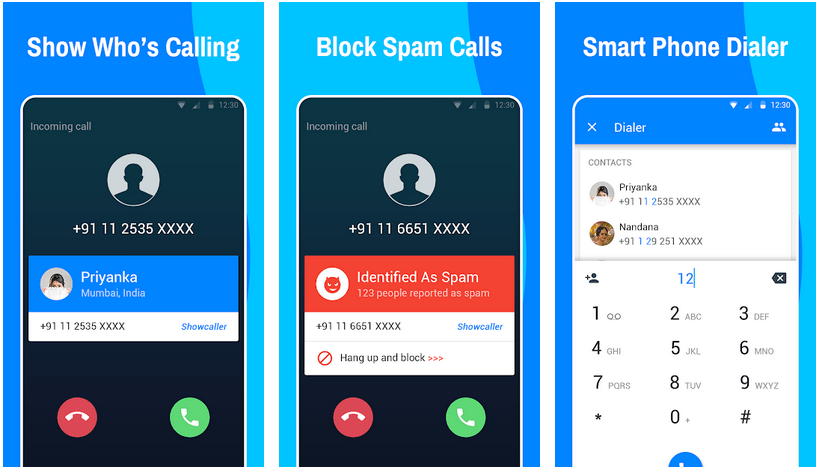 Do you receive many telemarketing phone calls but you can't really tell who is on the other end just by looking at the number? Download and install Showcaller and you will no longer be picking up another phone call without knowing who the caller is. The app is highly capable of searching who's calling and you can see the spam rating against that number too.
Moreover, the app has great capabilities of keeping scammers, sales, and spam calls completely blocked on your mobile, but the initial setup is mandatory. Within no time, you are going to make it the default phone app for your device and will continue to find caller identification even if they are not in your contacts list.
What Is This Best For: Keep all the undesired phone calls away from reaching your phone number; smart dialer that scans your contacts as well as the recent calls list.
Unique Features: The phone number lookup option lets you find the details about any number and see whom it belongs to; you can find details of any number using the offline database search.
Ads: Yes, the service is ad-supported.
Price: Free to use, but the Showcaller Premium comes with added capabilities like zero advertisements and automatic spam call blocking.
3. Hiya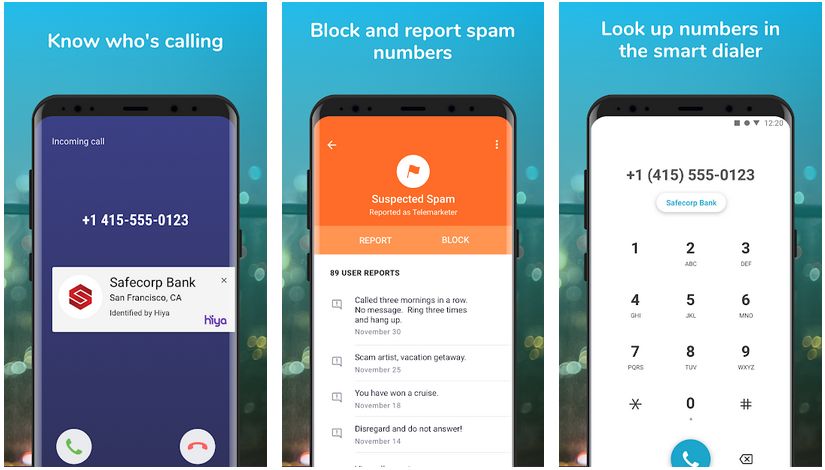 Hiya is well known in the caller ID field as it can provide you with all the information you want to know about anyone who is calling you and that too within a matter of seconds. The global database is secured and is very helpful to figure out whether the call is from a spammer or a friend.
Just like every other caller identification app out there, Hiya also makes sure that the sanity of the phone user is not compromised so it protects the receiver's phone by automatically identifying and blocking any known telemarketers, fraud callers, and even robocalls.
What Is This Best For: By setting Hiya as a default-calling app on your Android device, you can manage contacts and look up the number and see whether their details are correct.
Unique Features: Spam call and messaging alerts; secure your phone by adding a new security layer to block spam calls.
Ads: No advertisement.
Price: Free.
Which app did you like the most?
We hope you found value in this review. If we helped you make a better decision about the caller ID app in any way then please share your opinions with us in the comments down below, we read and respond to each one of them! 🙂
Also, if you chose an app we haven't included in our review then let us know what influenced you to make that decision. We will have a look at it and might include that app in our review during the next update.