Has your phone become slow and the battery discharges quickly? Some app continues to run in the background to send you notifications or to sync data, which consume a considerable chunk of RAM and resources. But you can use app killers to boost the overall performance.
To help you find and automatically stop any resource-hungry app, we have reviewed some of the best app killers for Android.
But before that, I would recommend you first watch a short video to understand quick facts about how Android OS handles memory and why it could be a bad idea to frequently use an app killer to stop/kill essential apps on Android.
Now, as you have learned about how to make the most out of the app killer, so without any further ado here are the six best app killers for Android:
1. Native/Stock Android App Manager
In case you don't know, Android comes with a native app manager that has the capability of app killer and lets you view a list of all the apps running on your device along with the amount of memory each of them is consuming and for how long they have been running.
The Android stock app killer is not only limited to that. It even allows you to force stop/kill those apps that are conflicting with your device or are resource hungry. And because this feature is built-in into your device and is much more reliable, so I believe installing a third-party app is not necessary.
Allow you to force-stop the app.
It is preinstalled with the Android system.
Show the total RAM as well as available and currently consumed memory.
2. Greenify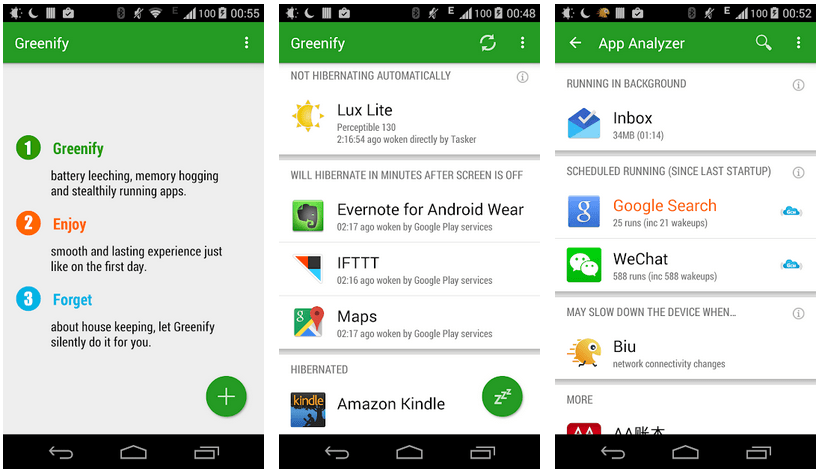 Greenify is not only a task killer but is an all-in-one system management tool that is capable of doing a lot more than simple application management tasks. It is more like a popular task manager app.
This task killer is capable of putting selected apps into hibernation when those apps are not in use. This way, the apps won't be running in the background, won't consume system resources, and will stop unusual draining of battery and will increase your phone's overall battery life.
Although a few features of Greenify require root, recently, Oasis Feng, the developer behind the app, has thoroughly overhauled the app, and now most of the features don't require root.
Manually end tasks from the list.
Automated task killing and hibernation functionality.
Detailed system information, including RAM usage, currently running apps, and storage space info.
Find out which apps are slowing down your device.
Home screen widget support.
3. Super Tool Box – Boost & Clean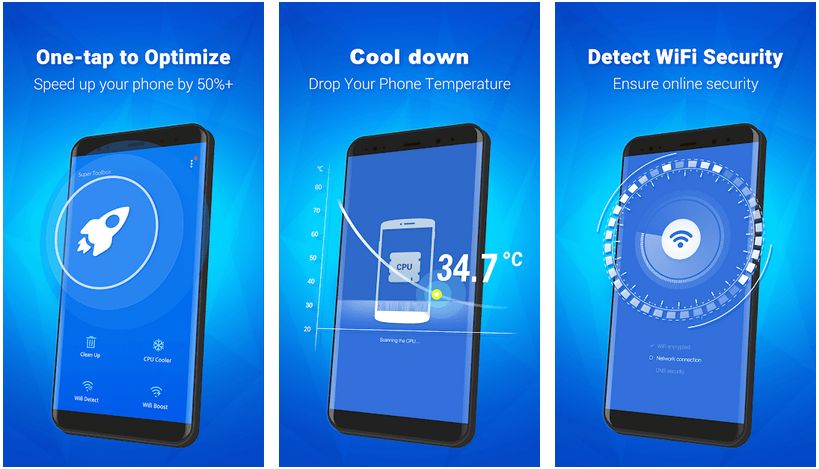 Super Task Killer is a reliable app manager and task killer app for Android that shows you a list of all the running apps as well as their trails, divided into an easy to identify categories. You can maintain your personalized whitelist where you can add frequently used apps, which you don't want to be automatically killed.
Apart from the app-killing functionalities, this app provides you with several additional features, including regular automated cleaning, a one-tap boost option, and a power-saving mode to extend your phone's standby time.
One tap boosts your Android device.
Regular cleaning closes background apps automatically.
Ability to add frequently used apps to your whitelist.
Not fully compatible with devices running Android Marshmallow.
Frequently using the boost option might consume a lot of battery and resources.
Do not allow you to kill a single app manually.
4. Taskmanager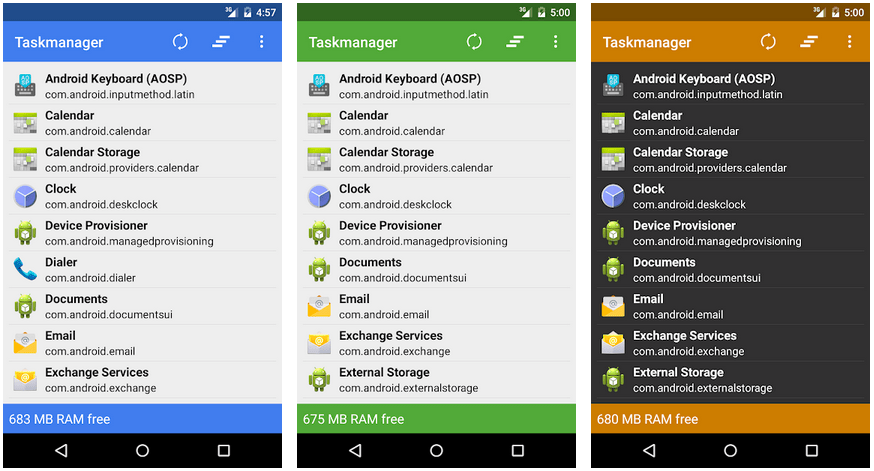 Taskmanager is a steadfast app killer and app manager for Android that is easy to use and based on the Android 5.0 Lollipop design. Similar to the stock application manager, this task manager also shows you a list of currently running apps and the amount of available RAM.
You can simply tap on the name of the running app from the list and then manually kill it right through the interface. You can even maintain an ignored list so that your frequently used apps are not killed accidentally.
Ability to kill one app at a time.
Three different themes to choose from.
Ad-free and does not require any payment.
Maintain your own ignored list.
No auto task killing.
5. Task Killer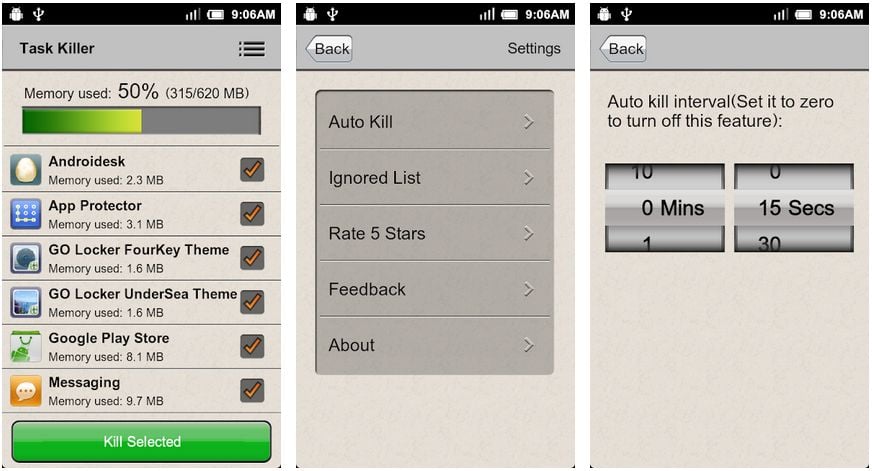 Task Killer is an app that is specifically designed to help you kill an unresponsive or resource-hungry app that is slowing your device, causing it to operate sluggishly. With the Task Killer, you can once again speed up your device by killing unwanted apps that are continuously running in the background.
What's unique about this app is that you can kill the selected app in just one click, and there's an ability to automatically kill the app and keep your device at its optimal working condition. The app also shows you the total amount of RAM being consumed by each app to make it easier for you to decide which app needs to be stopped.
Manually kill/force stop selected apps.
Ability to stop apps with one tap.
Auto kills will automatically kill apps within the specified interval.
Add apps you don't want to kill on the ignored list.
Contains ads.
Auto app killing functionality might increase your device's battery consumption (depending upon the assigned interval).
6. Task Manager (Task Killer)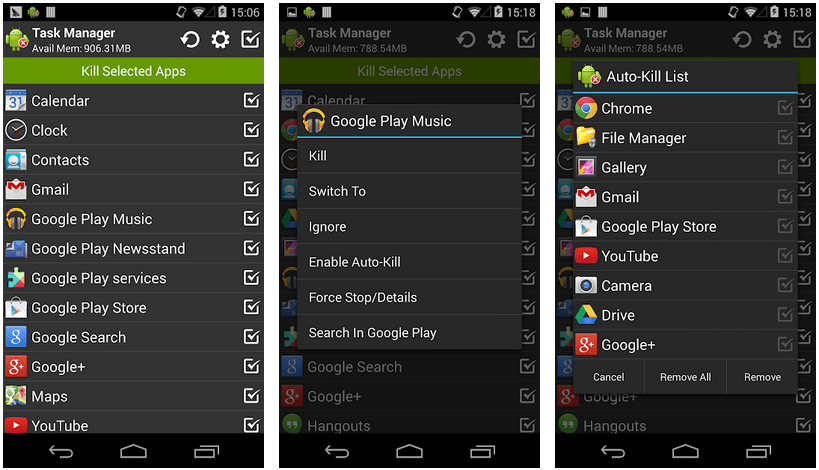 The Task Manager is actually a task killer with an easy-to-use UI with the ability to kill selected apps whenever the screen is turned off automatically. The manager will show you a list of all the running apps that can be easily rearranged in alphabetical order.
Upon successfully killing all the apps, if you have enabled the feature notification, the app will prepare and show you a summary of apps auto-killed as well as the RAM freed by the Task Killer.
Ability to force stop/kill the app manually.
Add any app to the ignore list.
Add apps to the auto-kill list and get them killed when the screen is turned off.
Home screen one-tap widget support.
Contains ads.
How Android OS Handles Memory/RAM?
For beginners or for those who are unaware of the working of the Android OS, it is important to understand that Android handles the RAM in a completely different way as compared to the Windows OS (we compared it with Windows because that is what most of the users have used).
If you know how to see a list of currently running apps on Android, then you must have noticed that several apps are running all the time, even though you are not using them, right?
That is how Android is designed to handle apps. And that is precisely what allows the Android device to let you quickly open the apps as well as switch between multiple apps without waiting for them to load because those apps are already loaded in the RAM.
And in those cases, when you are running an app that requires a lot of RAM, for example, a gaming app, the Android OS will automatically kill the least necessary apps to free up memory and allocates it to the game.
And once you close that game, Android will automatically reopen any essential app that was killed/stopped during the process.
Even though the Android OS is smart enough to automatically kill and restart the background apps depending on your usage. But at times, some apps are poorly developed and have some flaws/memory leaks that use all of your device's resources, ultimately making your device slow or unresponsive.
That is exactly when a need to use an app killer arises, which is designed to kill any buggy app or unresponsive task and will help you to quickly stop that app from eating up the resources hence making your phone responsive again.
How To Make The Most Out Of App Killer On Android
In most cases, app killers and task managers do more harm to your Android device than much good because the app killer itself would be continuously running in the background to help you monitor and stop an unresponsive app.
Or, in worst cases, using the app killer to kill essential apps will have a direct impact on your device's performance that would ultimately drain the battery a lot faster.
You must be wondering how killing an app is going to have any impact on the battery. Right?
What actually happens is, whenever you try to kill an app that is necessary and should not be stopped, Android will automatically restart it.
Moreover, this whole stopping and restarting process of apps will unnecessarily consume your device's resources, slows it down, and will negatively affect the battery.
Conclusion
Which app killer do you use to force stop unresponsive and resource-hungry apps on your Android? Did we forget to mention your favorite app killer?
Please share your valuable opinions in the comments below. 🙂