College students are required to put in a lot of effort to complete assignments, essay writing, and academic work to achieve better scores on the projects. After all, who doesn't want some help to score better academically?
I have reviewed the seven best apps and tools you can use right now to help you with assignments and essay writing and to give you an edge over others.
1. Grammarly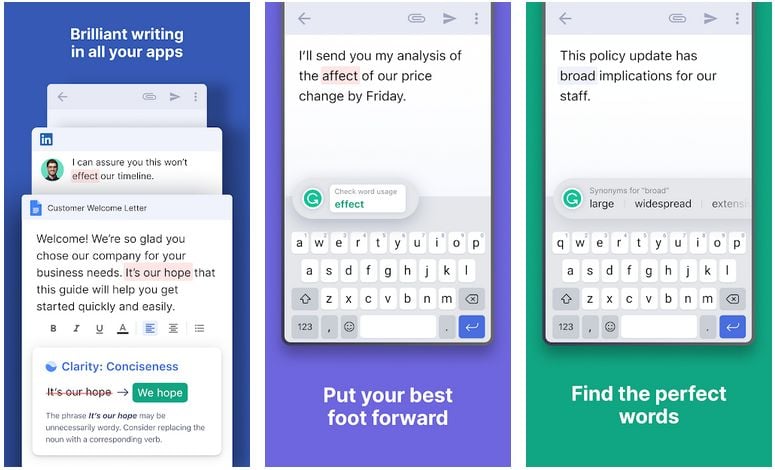 Grammarly is a digital writing assistance app powered by natural language processing and artificial intelligence. Using this handy tool you can take your writing to a new level as it can help you write an error-free and bold essay and assignments with clear tones based on the theme.
The app is designed to help you write your message in a way that your readers can understand what you are trying to say. It encourages and suggests words as well as style so that you can express yourself in the best way possible while being confident.
What Is This Best For: Fix grammatical and spelling errors; get your message through in a better tone and fluency.
Unique Features: Plagiarism detection; helps rewrite sentences with enhanced clarity; better word suggestions.
Compatibility: Android, iOS, Windows, Mac, and Browser extension.
Ads: No, the service is ad-free.
Price: Free with limited features; and Premium plan with additional features for $11.66 per month.
2. Hemingway Editor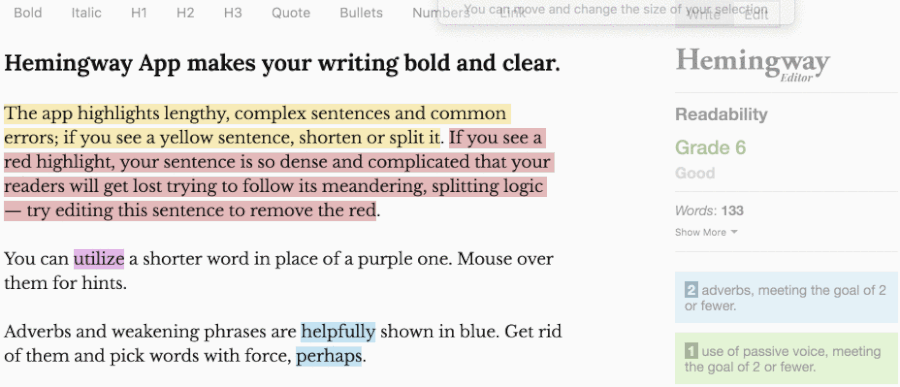 Hemingway Editor is designed with the aim to provide every student with a free tool that helps develop writing skills by highlighting aspects like passive voice, wordy and hard-to-read sentences, adverbs, and common structural errors. And gives you recommendations to quickly fix them.
The editor is completely free to use if you are using the web version. However, for advanced users, developers have created a standalone app too for Windows and Mac-based computers that offer additional features like the ability to export your ready work to other platforms like WordPress.
What Is This Best For: Makes writing clear and concise; recommends the correct way to fix any word or sentence.
Unique Features: Absolutely free of cost; perfect for students who are low on budget but want a good writing assistant for their essays or assignments.
Compatibility: Windows and Mac.
Ads: No, the service is free from any advertisement.
Price: Free for web usage; and a standalone app costs a one-time payment of $19.99.
3. OneLook Reverse Dictionary

OneLook Reverse Dictionary is a powerful web app that helps you find the correct word for any specific phrase, sentence, or concept. Believe it or not, we all have got stuck in a situation where we are unable to find the correct word to describe a concept in our thesis, simply use this tool and it will suggest you the correct word.
What Is This Best For: Defining a concept in one word; summarizing a sentence into a piece of bite-size information.
Unique Features: Define a word or a sentence in a different word; find a suitable word for any explanation.
Compatibility: Web interface only.
Ads: Ad-free.
Price: Free service.
4. Ginger Software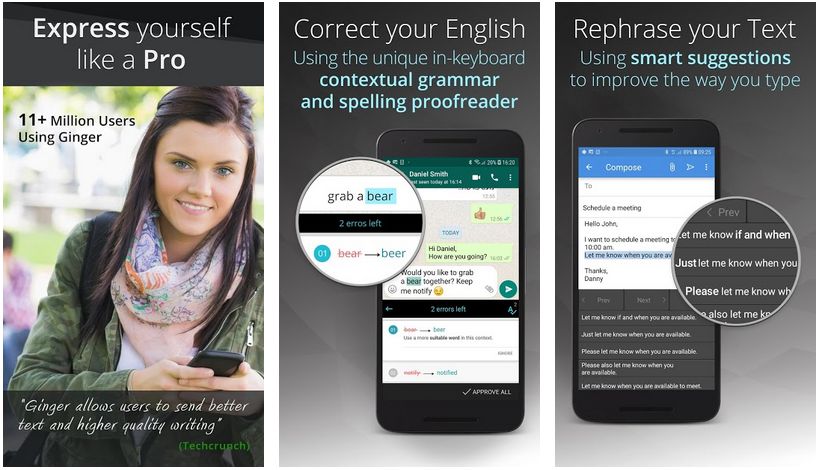 Just like Grammarly, Ginger Software is a powerful AI-based grammar and writing assistant that works with every platform including mobile, PCs, and web apps to make sure your writing and assignments are topnotch.
The smart synonyms finder makes it easier to express yourself in words with better words. And the built-in translator can translate any work into over forty supported languages.
What Is This Best For: Analyzing your assignments and essays; contextually based corrections perfect for research thesis and academic writings; helps rephrase sentences.
Unique Features: Works on almost all platforms and services including email, text, and writing apps; helps improve your writing and style.
Compatibility: Android, iOS, Windows, Mac, and Microsoft Word add-in.
Ads: Yes, the service is ad-supported.
Price: Free plan with limited features; and three Premium plans with all the features for as low as $6.66 per month.
5. Evernote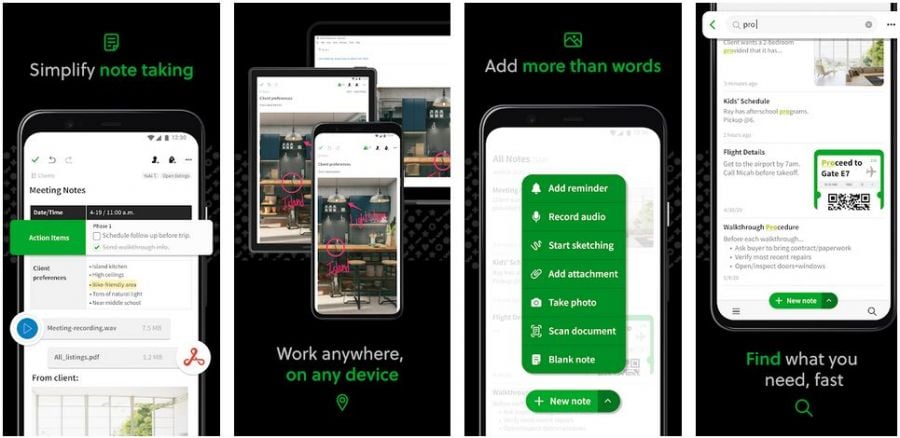 A powerful cross-platform note-taking app designed for students, entrepreneurs, and creative workers to capture ideas and helps organize each one of them in a place where one can find them easily. The sync feature is what makes it significant, what you captured on mobile will be available on your PC.
What Is This Best For: Capture images, audio, PDF documents, and text; powerful built-in search to find what you need and when you need; documents scanner; and web clipper.
Unique Features: Cross-platform compatibility with active sync and cloud storage; integrates directly with online apps like cloud storage, email apps, and management apps like Slack.
Compatibility: Android, iOS, Windows, Mac.
Ads: No, ad-free.
Price: Basic free plan with limited features; and the Premium plan starts at $7.99 per month.
6. Airstory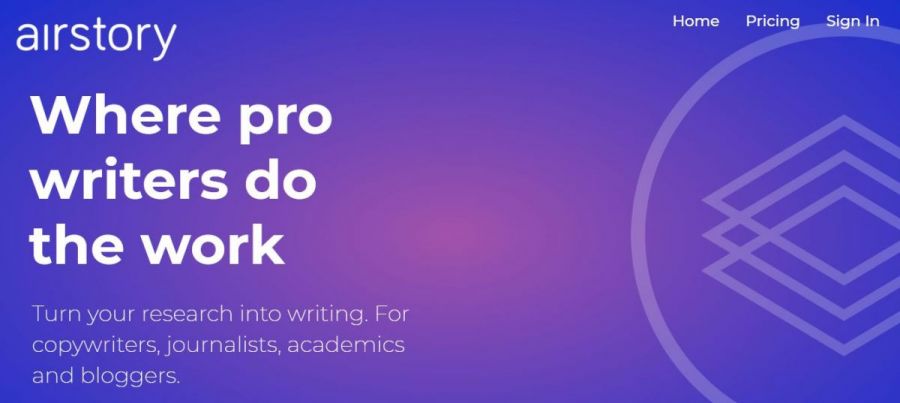 Airstory is an app targeted towards academic writers and students as it works by helping them in capturing ideas and data, taking notes, and then organizing all of them into proper sections like Kanban. Later, students can turn their notes and ideas into an outline for their assignment. Which works as a perfect foundation as compared to starting with a blank document.
What's interesting about Airstory is that each card can be your idea or data for your assignment, you can organize it with tags, and there is no limitation on the number of cards for each project. And the best thing is that you can easily save ideas with the help of the Airstory Chrome extension.
What Is This Best For: Students working on their research-based assignments; businesses aiming to collect ideas for the project;
Unique Features: Kanban technique to organize cards and projects for assignments; keep track of your research with Chrome extension and card tags.
Compatibility: Desktop app, Browser extension, WordPress plugin.
Ads: None.
Price: Pro bundle for $25 per month that comes with a 7-day free trial; and Heavy Duty Writer bundle for $125 per month.
7. ProWritingAid
ProWritingAid is a perfect solution for writers of almost any type including authors, students, business people, and bloggers. The app has a built-in scanner that can scan your thesis or essay with just a tap of a button and suggests to you what needs to be improved whether it is about the grammatical error or the overall originality.
The service works online as well as on most platforms including desktop, mobile devices, and text-based software. Once you have scanned your document, the app will generate a detailed report that can be used as a blueprint to improve your school assignment.
What Is This Best For: Helps improve writing and clarity; suggests correct sentence structure and styling.
Unique Features: Plagiarism checker; integration with Microsoft Office and Google Docs; 256-bit security to make sure your content remains secure.
Compatibility: Windows, Mac, and Browser extension.
Ads: No, the service is ad-free.
Price: Free plan limited to online usage and 500 words limit; and Premium plan for as low as $6.58 per month.
Conclusion
I hope you found value in this review. If I helped you make a better decision about the best assignment and essay writing apps in any way then please share your opinions in the comments down below, I would love to read them and respond to each one of them! 🙂
Also, if you chose an app I haven't included in the review then let me know what influenced you to make that decision. I will have a look at it and might include that app in the review during the next update.