I have experienced how annoying it gets when you are opening any heavy or resource-intensive app on your Android phone like Facebook or Messenger but it starts acting up, randomly freezes, becomes unresponsive, and dead slow.
The only option that usually works is restarting your device, which is a temporary fix and consumes time. However, I have brought a quick and permanent fix for you i.e. install an app for on-demand phone cache cleaning and RAM optimization. That too with just a single tap.
It couldn't get simpler and easier than that. Continue reading as I have reviewed over six apps to help boost your phone's performance, clean junk files, and regain lost storage while optimizing RAM.
IMPORTANT
Due to the limitations imposed by Google in Android 6.0 Marshmallow and newer Android versions, any third-party cache cleaner apps (including the ones mentioned here) will not clear cache data. Because the latest Android OS has become more advanced and maintains itself automatically. But these apps may still help scan and delete residual and junk files.
#1. CCleaner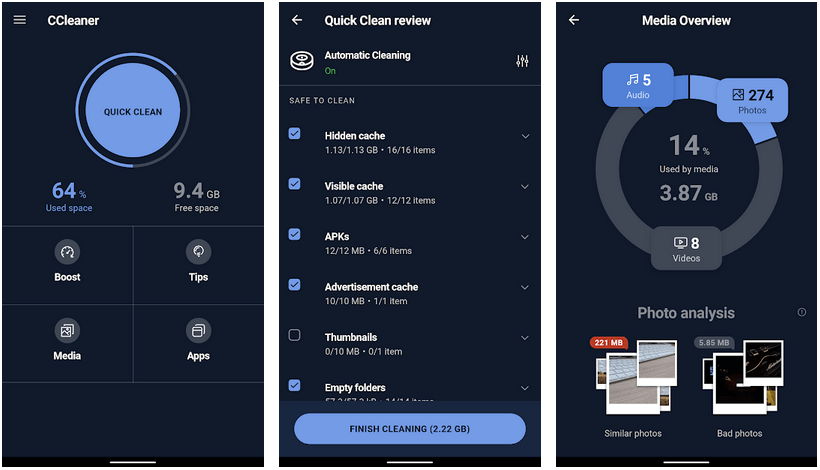 CCleaner by Piriform is designed to help you keep your Android phone and tablet clean and fast by clearing cache files stored by all the apps installed on your device. And the good thing is the app does not contain any advertisements.
The app will let you safely clean the junk, remove cache data, and will allow you to monitor your device's performance. There is an option that will let you select what you want to clean including app cache, web browsing history, and call logs.
Optimizer – Analyze, scan, and clean app cache.
App Manager – Built-in app manager to help you remove unwanted apps.
Zero advertisements – The developers care about the experience rather than revenue, so it is completely ad-free.
System Monitoring – This allows you to keep a quick check on the performance of your Android device.
File Cleaner – Helps find and delete files and/or other multimedia stored in the downloads folder.
#2. Clear Cache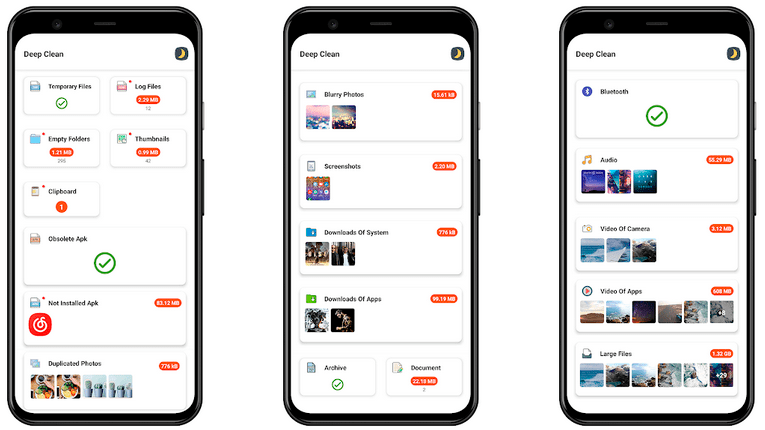 Clear Cache app is designed to help you clean cache files stored by all the apps installed on your Android phone. This app cache cleaner makes use of a fast scanning service to quickly find and reveal a list of apps along with their name and total cache size.
Clear Cache provides you with the ability to sort the list according to the app name or cache size, this feature will help you find and narrow down the names of those apps that store the most amount of cache, and then you can clear the cache for each app individually.
One-Tap Cleaner – One tap cache cleaner option for quick cleaning.
App Sorting – Ability to sort apps list by cache size.
Reminder – A customized reminder to clear app cache.
Advertisements – Contains pop-up advertisements, however, those can be blocked with the correct apps.
Automated Cache Cleaning – No option to automatically clear cache.
#3. 1 Tap Cleaner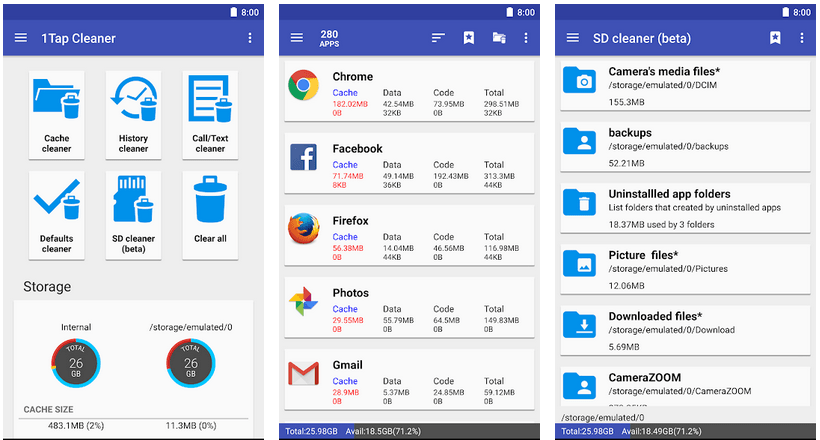 1 Tap Cleaner is an all-in-one memory management app for your Android that not only allows you to manage and clear app cache but can also help you clear call logs, search/browsing history, and junk files cleaner. However, what we are specifically looking for is the 1-tap cache cleaner that will clear cache for every app with just a simple tap on a button.
The app can even remind you to clear the cache whenever the total cache size exceeds the mentioned amount. Moreover, if you find it troublesome to manually clear the app cache then you can even configure the app so that it will automatically clear the cache after every specified interval.
One Tap Clean – 1-tap app cache cleaner.
Cache Cleaning – Automated app cache cleaning system.
Manual Cleaning – Manually clear cache for a single app.
Ads and Pro Version – Contains advertisements, but they can be removed with a purchase of the pro version.
#4. SD Maid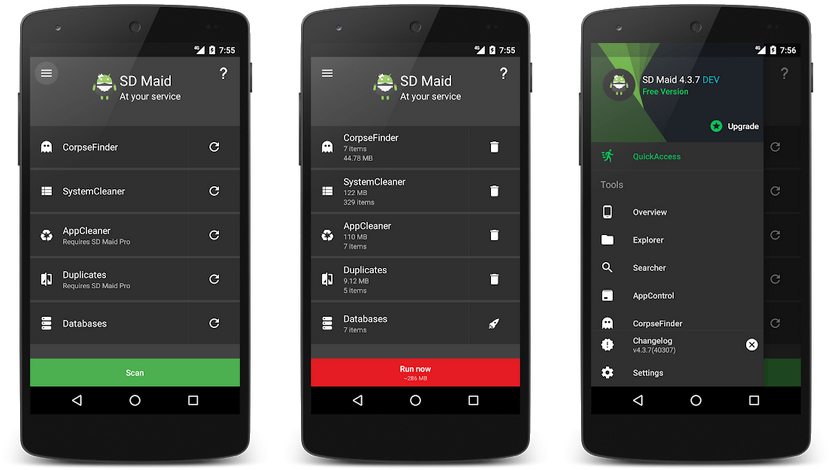 Known as one of the best in the Android system cleaning and optimization department. SD Maid, just as the name and logo suggest it's like a house cleaner that can take care of your Android phone's storage while making your device management a breeze. Including the management of files and apps as well as RAM optimization.
Whether you have recently installed and removed a bunch of apps, or may have used tons of apps that left behind unused log files, cached data, log reports, and whatnot. Even those duplicate images or files and empty directories you didn't know ever existed. This app can help you find and clean it all.
Scheduling – You can enable a schedule, which will take care of your required tasks on its own at your specified time.
Unnecessary Files – Scans your device storage (internal and external), and helps find residual files and folders that you never ever need.
Files Left By Uninstalled Apps – You can even find all those files, documents, and directories left behind by the apps that you already uninstalled from your device.
Duplicate Files – Detect and discover all those duplicate files, pictures, videos, and documents to help you delete the needless ones.
#5. Auto Clean Up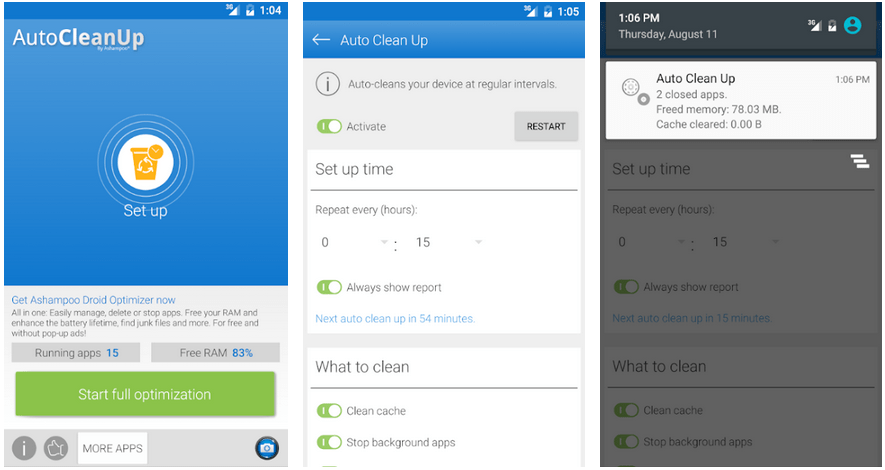 As the name of the app suggests, Auto Clean Up gives you an automated app cache cleaning option, which will automatically clear app cached data at your assigned interval so you won't have to.
The automatic app cache cleaning option can be further configured using the interval as well as the areas you want to clean (i.e. apps cache, stop background apps, clear browsing history, enable or disable whitelisting). There is even an option that will delete your web browsing history, only if you want to.
The same developer has also created an app called Droid Optimizer, which includes a ton of additional features that may not be necessary for you because we are only looking for a way to clear the app cache.
App Cleaning – Have an option for automated app cache cleaning.
Whitelisting Apps – Whitelist option to exclude apps you don't want to be cleaned.
Cleaning Report – This shows you a report after every cache-cleaning attempt.
#6. Cache Cleaner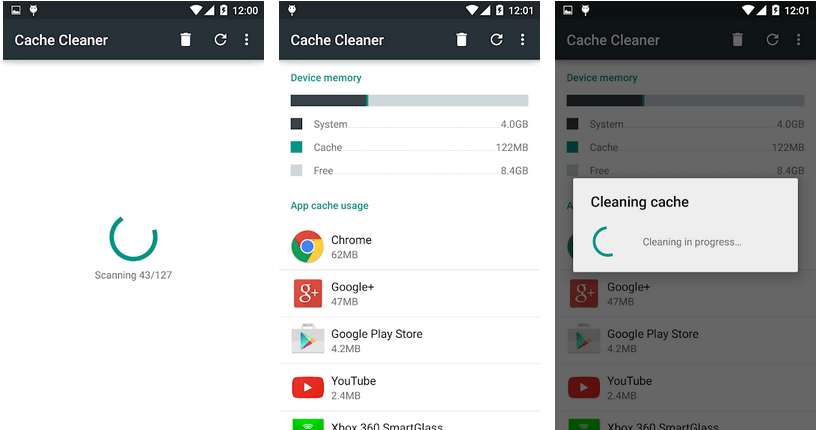 Cache Cleaner is the most simplified, loyal, and easy to use app cache cleaner ever designed for Android. The best thing about this cache cleaner tool is the app is open-source and free from advertisements.
Once you open the app, it will automatically perform a thorough scan on your device and will show you a list of apps along with the amount of storage being used by the cache. You can then perform a one-tap cache cleaning or manually clean the cache of each app individually.
Manual Cleaning – Ability to manually clear the cache of each app individually.
Open Source – The app is completely open-source, which makes it one of the most trustable as compared to the others.
Ads – Completely free from any advertisements.
FAQs
What is the best cache cleaner for Android?
Out of the six apps reviewed above, SD Maid is one of the most trustworthy and reliable apps and can be called the best cache cleaner for Android phone and tablet devices as this app has been in the Android market since the very beginning.
Are cache cleaners good for Android?
Cache cleaners will only help you get rid of excess data and residual files stored on your device by different apps that you use on daily basis. Cached files actually help Android in speeding up your experience within the app whenever you use it next time. But most of the time, apps don't need all of the cached data, and cleaning it up from time to time will help regain storage space.
How can I clear the cache of all apps at once?
You can easily use one-click cache cleaning apps like CCleaner and 1 Tap Cleaner to quickly clear all the cached files of apps at once with just a tap of a button. Some apps support automatic cache cleaning too, which you can schedule and the app will take care of the rest.
Which Android cache cleaner worked for you?
Out of the six cache cleaning apps I have reviewed, which app did you try to optimize your phone? Which one helped you make the device faster and get rid of residual files?
Please share your feedback in the comments section; our readers would love to hear your reviews 🙂