Have you been through an experience where you are taking a walk when suddenly you overheard a song playing in a shop or in passing by a car that immediately made you fall in love with it? Now, all you remember is a short tune but can't figure out what that song was. You don't need to worry anymore, we have reviewed eight apps to help identify music and find music by humming the tune.
We all know how AI (artificial intelligence) has taken over the digital world by storm, which in turn has significantly enhanced voice and sound recognition algorithms. Song enthusiasts who are into musical pleasure can now use these online services to identify and discover music in just a few seconds.
🕑 If You Don't Have Time
Shazam is the best app to find songs playing near you. Just open the app and click tap the icon and it will find the songs in seconds.
In case, If the song is stuck in your head then use Google assistant and hum the song and it will find the song for you.
#1. Shazam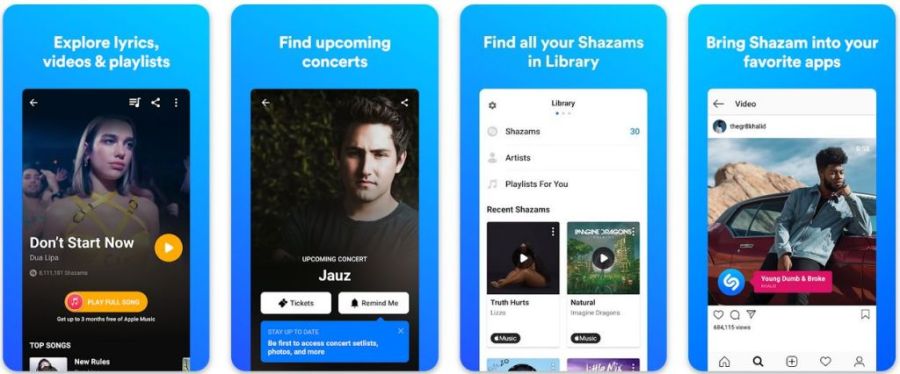 About App
Shazam is a well-known and reputable app designed to help you identify any music in seconds. You can quickly discover music along with its artist, lyrics, and even the whole album related to it. Since the app is designed by Apple, so any song you find can be added to the Apple Music playlist.
How To Use This App To Identify Song
Open the Shazam app.
Tap on the Shazam button.
Let it listen and identify the song.
Once the song is recognized, it will be added to the library which you can check later as well.
Why I Picked It
Everyone knows about Shazam, I have even talked about how the service is well-integrated with Snapchat. The most powerful feature is the pop-up Shazam, which allows you to discover and recognize music being played in any app including YouTube, Instagram, TikTok, and Twitter.
| | |
| --- | --- |
| What I Liked | What I Didn't Like |
| Recognizes music in seconds | Sometimes fails to recognize the music |
| Auto Shazam automatically identifies and finds songs | |
| Works offline | |
#2. Google App/Google Assistant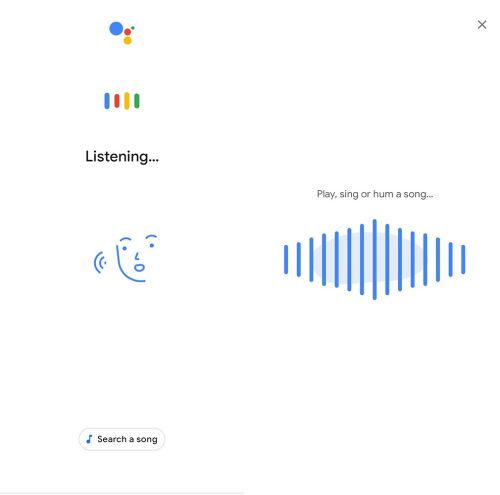 About App
The same Google Search we use countless times every day has become advanced enough to help you find the name of the song by you humming, whistling, or singing that tune to Google. Your pitch doesn't even need to be perfect neither you need to provide lyrics or an artist's name. The music recognition feature is compatible with more than 25 languages.
How To Use This App To Identify Song
All you have to do is:
Open the app on your device.
Tap the mic icon and say, "What is this song?"
You need to either hum the melody for about 10 to 15 seconds or let Google listen to the song.
The Google algorithm will show you the potential matches.
Why I Picked It
Google App is usually installed on most Android devices and since it has native support for music identification, which makes this one of the simplest and easiest ways to identify songs.
| | |
| --- | --- |
| What I Liked | What I Didn't Like |
| Simplicity and ease of use | May not be fully accurate all the time |
| Identifies music even when you hum or whistle | Requires multiple attempts to find the correct song |
Do you love to listen to your favorite music but don't want to stream it repetitively? Don't worry, we have reviewed some of the best music apps with offline listening support that helps you save cellular data.
#3. Amazon Alexa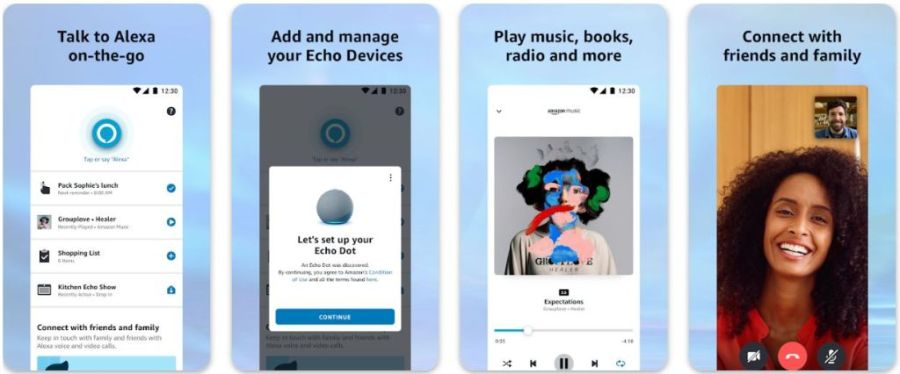 About App
Amazon Alexa has tons of services and one of the favorites is voice assistance, which not only helps you discover songs but it can even directly integrate with Spotify so you can quickly find music from multiple sources i.e. Amazon Music and Spotify.
How To Use This App To Identify Song
Open the Alexa app on your phone, or you can simply use any of your Echo devices too.
Say, "Alexa turn on Song ID."
It doesn't matter what you are listening to, whether it is new releases, a radio station, or a random playlist, Song ID will let you know the title of the music and the name of the artist.
You can ask, "Alexa what song is this?" to know more about the currently playing music.
Why I Picked It
If you are one of those who are hugely dependent on Amazon Alexa services and automation, then using its native Song ID feature is the best and easiest option, as you don't need to install or set up anything additional. Once enabled, all you need to do is ask, "What is this song?" and let Alexa do its magic for you.
| | |
| --- | --- |
| What I Liked | What I Didn't Like |
| Perfect solution for existing Alexa users | Sometimes doesn't recognize music |
| Quickly finds songs | |
| Uses Song ID feature to identify songs | |
#4. Snapchat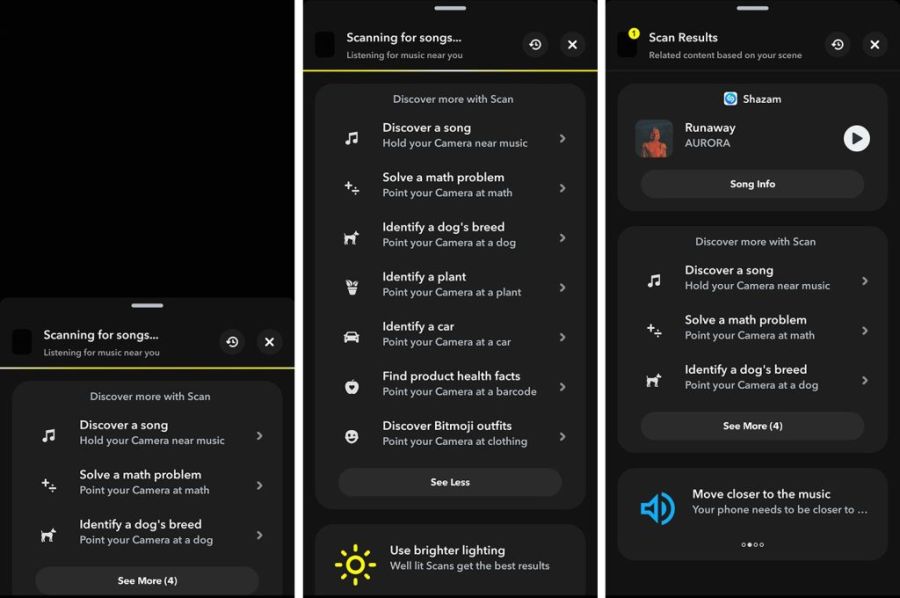 About App
Snapchat is not only a camera app with filter and lens, but recent developments have also made the app a lot more powerful and the most useful feature is Snapchat Scan. It uses AR (augmented reality) experience to sense surroundings and uses AI to identify objects and situations. And you can use the same feature i.e. Snapchat Scan Utility Lens to quickly scan and identify music.
How To Use This App To Identify Song
Simply open the Snapchat app.
Tap once on the screen to enter filter mode.
Tap and hold on to the screen to begin scanning. A Scanning screen will appear.
Let the app listen to the music or song playing nearby.
Once recognized, you will see the name and artist of the music. Also, that music will be added to your Scan History for later access.
Why I Picked It
Snapchat has an active user base of over 363 million and even though the camera app is widely used to capture memories and document day-to-day activities, many don't know that you can use the hidden Snapchat Scan feature to recognize songs. The Shazam is directly integrated into the app and it can identify music in seconds.
| | |
| --- | --- |
| What I Liked | What I Didn't Like |
| Doesn't require you to install an additional app | Experience might be slow, depending on your device |
| Works flawlessly in just a single tap | |
| Recognizes music in seconds | |
#5. Musixmatch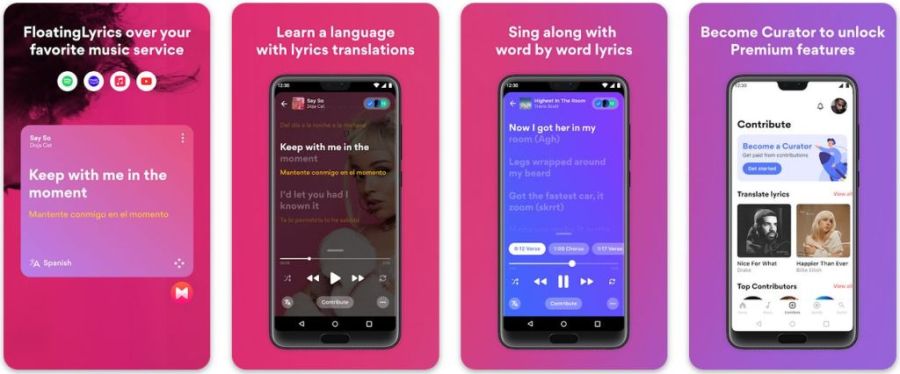 About App
Musixmatch has one of the biggest databases of music lyrics from a variety of genres. And millions of users rely on this service as the app not only helps them in recognizing the soundtrack but even shows them synced lyrics for the music from sources like Pandora, Spotify, SoundCloud, and Apple Music. For those of you who are curious, the app uses ACRCloud for music identification.
How To Use This App To Identify Song
Open the Musixmatch app on your phone.
Tap on the Musixmatch logo to begin identifying the song.
The moment the currently playing song is identified, you will see the name and artist of the song along with the lyrics.
Why I Picked It
Musixmatch is an interesting app that helps you sing along no matter where the song is being played. With just a tap of a button, the app can recognize music and automatically begin playing it from the exact timestamp along with the lyrics.
| | |
| --- | --- |
| What I Liked | What I Didn't Like |
| Identify music with just one tap | The app has bugs and crashes while using |
| Find lyrics and sync them to the music so you can sing along | |
| Translate lyrics to any language | |
Are you tired of illegally downloaded MP3 music and don't want to deal with copyright issues? We have reviewed more than a dozen websites that allow you to download MP3 songs legally for free in high quality 320kbps bit rate.
#6. SoundHound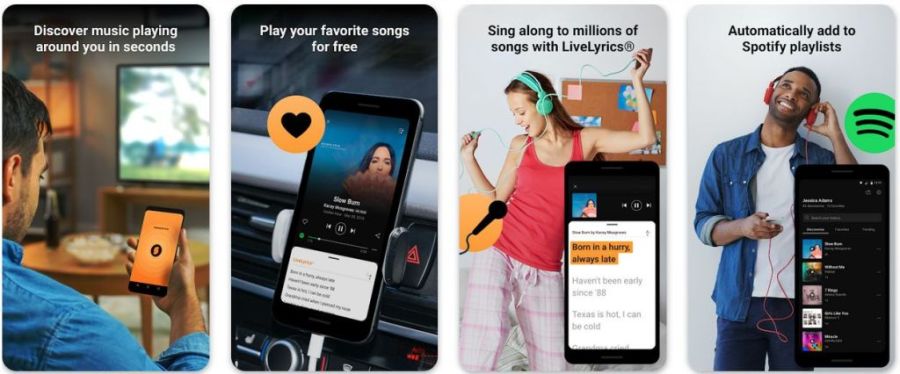 About App
SoundHound is a wonderful app designed to help you discover music no matter where you are. The app works everywhere for music identification with real-time lyrics. This allows you to sing along, even memorize and learn the whole music. And every time you find and discover a piece of music through this service will be stored in your personal history.
How To Use This App To Identify Song
Open the SoundHound app on your phone.
Either you can ask the app, "Hey SoundHound, what's that song?" or you can tap on the orange button to enable the listening mode.
You can now sing yourself or hum the soundtrack for about ten seconds.
Once done, SoundHound will scan its database for song identification and show you the details about it.
Why I Picked It
SoundHound is a music and song discovery app. And similar to the Google App and Google Assistant, the music recognition service helps you to find and recognize soundtracks just by you humming a small part of it to the microphone. Yes, it is that powerful.
| | |
| --- | --- |
| What I Liked | What I Didn't Like |
| Connects with Spotify and lets you transfer the whole playlist of identified songs | Contains advertisements |
| Interact with the app through the "Hey SoundHound" voice command | Sometimes fail to recognize music |
#7. Beatfind Music Recognition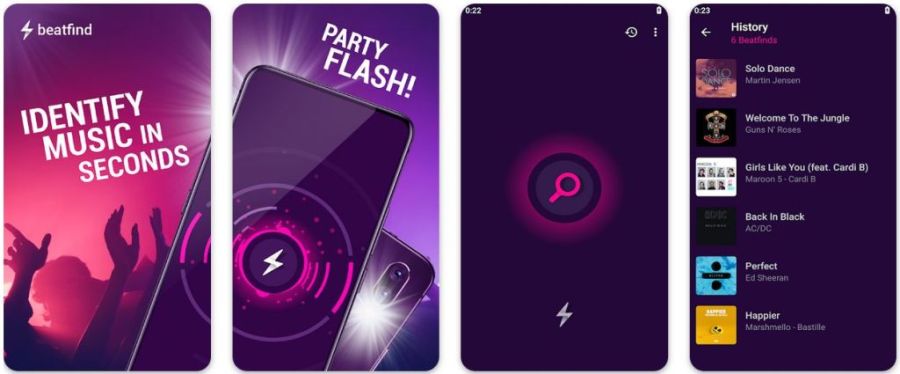 About App
As the name of the app suggests, Beatfind Music Recognition not only recognizes the songs but can even help you discover other top soundtracks from the same artist, let you explore other albums, and you can even read biographies of the artist. Another interesting feature is a flashlight party mode that can transform any spot into a club with a flashing strobe light effect.
How To Use This App To Identify Song
Open the Beatfind app.
Tap on the Magnifying glass icon and the app will begin listening.
Wait for a few seconds, as the app will process.
Once the song is identified, you will see the song name and the artist's name.
Why I Picked It
Beatfind Music Recognition app uses the same ACRCloud technology that is used by a few others in this list to help you find and discover music as quickly as possible. It will even let you listen to a preview of the identified song to ensure you have found the right music.
| | |
| --- | --- |
| What I Liked | What I Didn't Like |
| Powered by ACRCloud | Contains advertisement |
| Integrates with Deezer and Spotify | Works with vocal songs only |
| Share identified music with friends via social media platforms like WhatsApp and Facebook | |
#8. Genius

About App
Genius is no different from Musixmatch as its key goal is to help you find and discover songs using recognition and then show you their lyrics. One interesting aspect you will notice about this app is the crowdsourced music knowledge, which enhances the overall speed and algorithm of music identification along with accuracy.
How To Use This App To Identify Song
Launch the Genius app on your phone.
Tap the soundwave button and put your phone near the music.
Genius will show you the song name along with the annotated lyrics.
Why I Picked It
The ease of usability is amazing. Keep your phone near the music you want to identify, tap the soundwave button, and the app will show you the exact music along with the complete lyrics and the artist's name. They have a massive database of music with records for more than 1.8 million soundtracks.
| | |
| --- | --- |
| What I Liked | What I Didn't Like |
| Powered by ACRCloud | Contains ads |
| Let you share recognized music with your friends | Slightly sluggish while searching for songs |
| All your discovered soundtracks are stored in the My Music section | |
Bullet points for important things like prices etc.
There is no doubt about the capabilities of Shazam as how quickly and accurately it identifies the music, which makes it one of the best song identifier apps for mobile devices. And that is the reason why it is integrated with other apps too like Snapchat for music recognition.
However, as per my review, other alternatives work really well too. Especially Google assistant as it has humming compatibility and comes pre-installed on most Android devices but then, on the other hand, apps like Genius and Beatfind help you find annotated lyrics in real-time.
Let us know in the comments below which music identifier app you liked the most and how well did it work for you in finding music?