There could be tens, if not a hundred, reasons to find out how your face is going to look once you start aging and enter your senior age group. The technology has advanced so much that AIs and neural face editing technologies, all of which combined can help you find a prediction for your aging progression when you enter your elderly age group.
Here in this article, we have reviewed the three best face app aging progression finder apps for Android smartphones and tablets you can install today to begin editing your photos and apply an aging filter within a matter of seconds, without spending endless hours on some high-end software like Adobe Photoshop.
1. FaceApp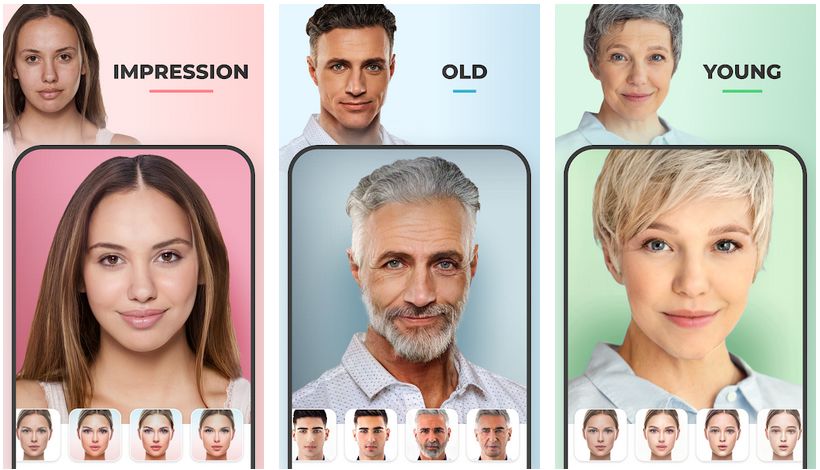 Without any doubt, FaceApp for Android is one of the best out there if you are looking for software that offers AI photo editing and comes with the capability to show how you will look when you are older or younger. For that, the app provides you with a special tool named Aging filter, which is one of the most popular filters among mobile phone users.
That is not all. FaceApp is a powerful app as it offers features like a makeover, beauty, and face editor. There are tons of artificial intelligence-based filters, effects, backgrounds, and some fun effects like face swap, weight filter, morph feature, hairstyle, and hair color changer. There is a gender swap too.
For those of you who don't know, the app is powered by one of the most advanced neural face editing technology that is capable of editing almost any photo with extreme precision, without failing.
What Is This Best For: AI-based aging progression filters to see your older or younger self; video editor that allows you to try filters in real-time; powerful photo editing capabilities.
Unique Features: Quickly remove aches, blemishes, and wrinkles; apply color lens; makeup filters; add volume to your hair.
Ads: Yes, the free version is ad-supported.
Price: The base version is available for free, a premium subscription starts at $3.99 per month.
2. FaceLab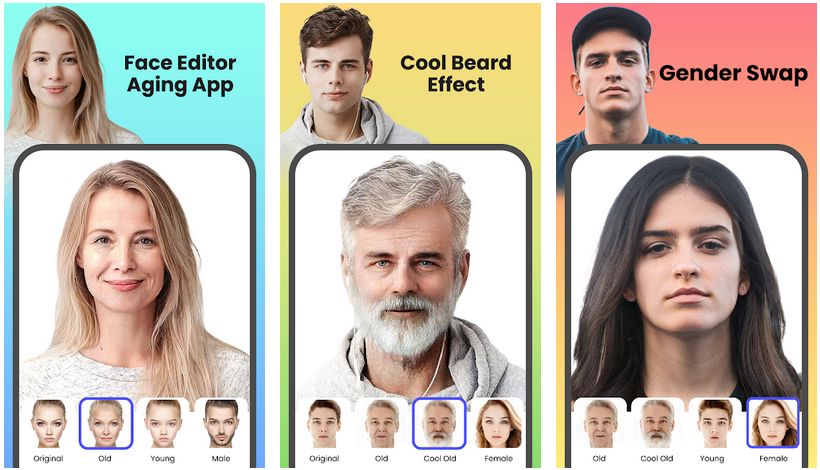 If you want to change the age of your or your friend's photo then you can try FaceLab's remarkable face aging effect, known as Oldify which can turn any of your provided photos into an old man or woman, depending on what type of photo you have provided to the app. The app is developed by Lyrebird Studios.
What Is This Best For: The face editor of the FaceLab app is very powerful as it can provide results in just a matter of seconds.
Unique Features: Add beard and mustache to your photos; selfie camera effects that support face swap and gender-switching.
Ads: Yes, the service is ad-supported.
Price: Free but there are in-app purchase options for filters.
3. Fantastic Face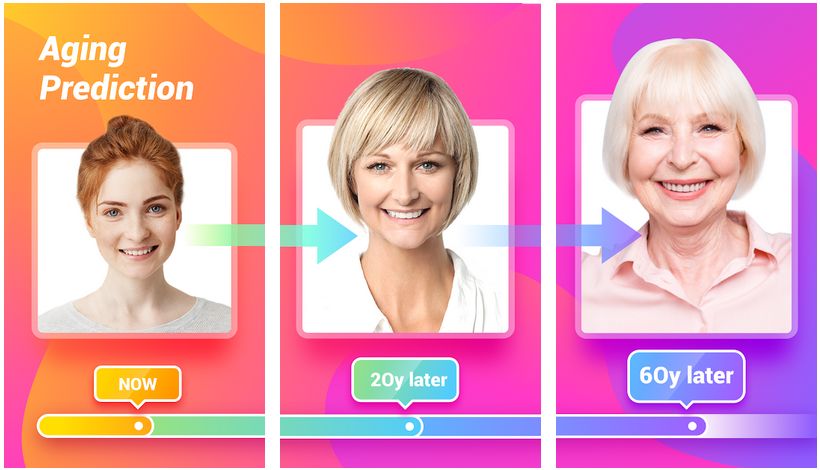 Designed and developed by Viptop Data Limited, Fantastic Face is an app that seemingly works similarly to FaceApp as it can predict and help you find the aging process along with several other options like palmistry prediction; analyze your emotions, and you can even see which celebrity matches with your face.
What Is This Best For: Aging Predictor is the number one reason why this app is downloaded the most as it can show you how your face is going to look in around twenty years.
Unique Features: Baby prediction; palmistry predictor; and emotion analysis.
Ads: Yes, the service is ad-supported.
Price: Free but there are in-app purchase options for filters.
Which app did you like the most?
We hope you found our aging progression apps review valuable. If we helped you make a better decision about the facial aging progression app in any way then please share your opinions with us in the comments down below, we read and respond to each one of them! 🙂
Also, if you have found and chosen an app we haven't included in our review then let us know what influenced you to make that decision. We will have a look at it and might include that app in our review during the next update.