Android stock camera app on most smartphones and cameras are the best and performs great, however, if you are looking for professional camera functionalities like aperture, shutter speed, ISO, and color adjustments for the perfect DSLR like mobile photography and videography then give a try to these Android camera apps.
Most of the apps we have reviewed are free but there are some paid versions too, so without wasting any time, let's just quickly jump onto our recommendations list:
Know This!
Each device is different so some features we have mentioned in our review may not be available for your specific Android device, those will be either hidden or not work to avoid errors and force closure.
#1. Open Camera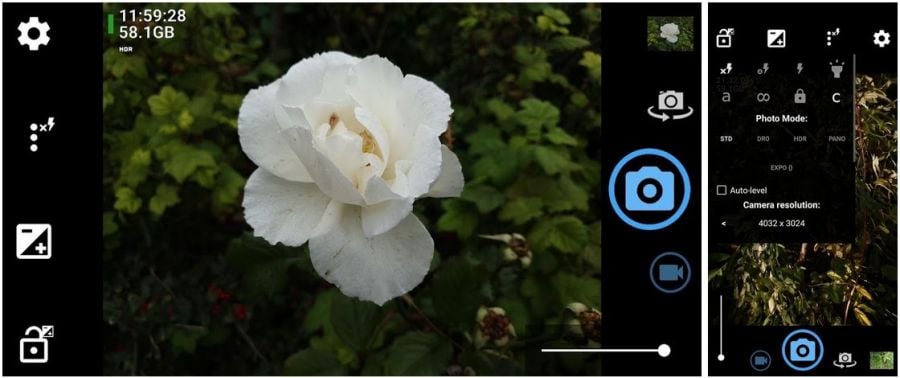 If you are looking for a free app with maximum control over your Android phone's camera then Open Camera will be the best option. It is a FOSS (free and open-source software), lightweight, and has all the premium features like manual focus mode, white balance adjustment, exposure locking and compensation, ISO, auto-stabilization, face-detection, capture with voice command, configurable GUI, and volume keys, custom timestamp and coordinates implementation. All of these can transform your phone into a powerful camera.
The completely free camera app, is open-source, thoughtfully designed, small in size, and without advertisements.
Handy home screen widget support for quick photography.
Shoot in RAW (DNG) format, and perfect for macro shooting.
Features that are not supported by your phone's hardware might be hidden.
UI may be hard to understand for beginners.
#2. Google Camera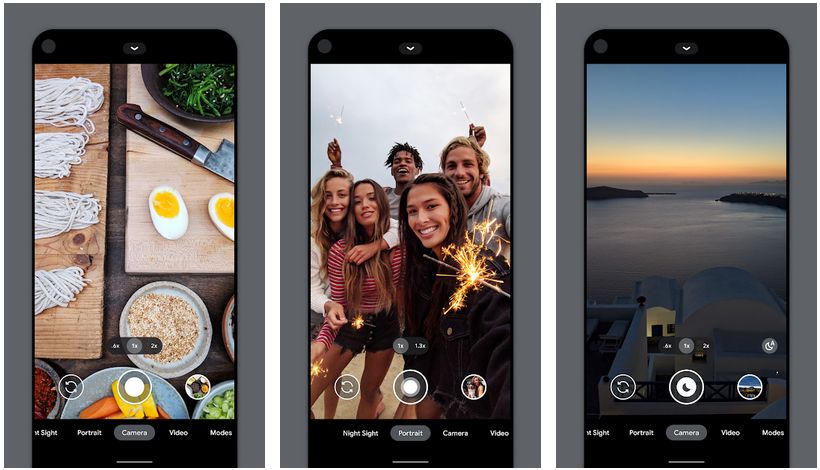 Google Camera gives the most simplified interface along with automated features, making it easier for anyone to capture incredible photos and videos quickly. There aren't many settings to adjust, all you have to do is swipe select the photo mode, point, and shoot.
Remarkable photography modes: wide-angle, photosphere, panorama, and lens blur.
SmartBurst, slow motion video, and auto HDR plus mode for low light shots.
Don't receive frequent updates.
Some features are designed for Google Nexus phones only.
#3. Camera Zoom FX

Camera Zoom FX offers you tons of premium functionalities and capture modes like a stable shot, collage, action shots, photo filters, and the option to combine shooting modes and capture unique shots. The app provides you with plenty of powerful features and full manual camera controls with the help of Camera API2.
If you want to test the app before dishing out $2.99 then you can try the free trial version.
Capture 360-degree panorama, live effects, time-lapse, and HDR pictures.
Hundreds of filters and effects to give your shots a unique look.
The app hasn't been updated in the past few months.
Offers half price upon installation, but it has already expired and the dev team doesn't bother to reflect changes.
#4. ProShot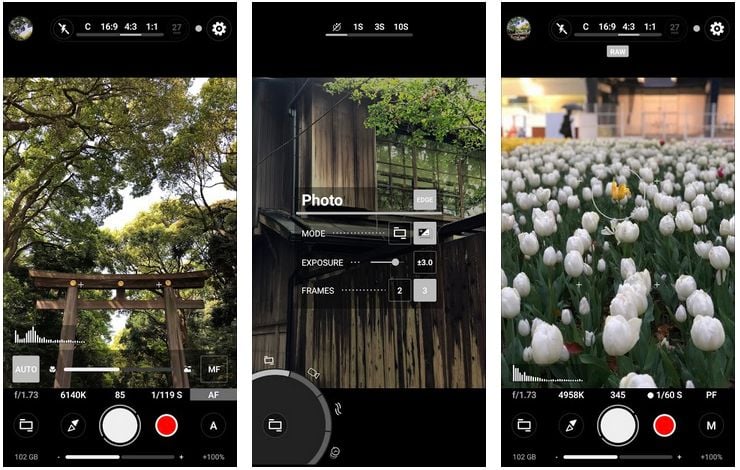 ProShot, originally designed for Windows Phone, takes photography to the advanced level by offering three shooting modes including auto, manual, and program. You can further adjust the camera settings like grid type, image format (including RAW), adjustable ISO, custom timelapse, aspect ratio as well as customizable videography settings.
Since the interface might be hard to understand, there is even an official manual to help you.
Perfect camera tool for manual pictures and video capturing.
A variety of scene modes and advanced camera settings make it an ultimate photography app.
The trial version has been removed from the Play Store.
#5. Bacon Camera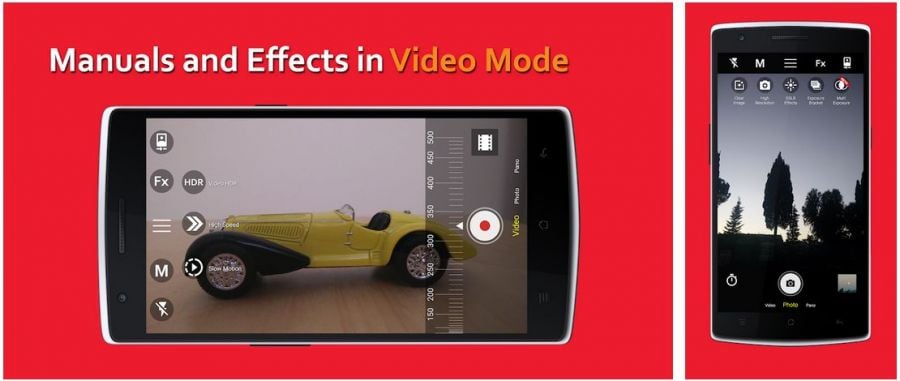 Bacon Camera is the best alternative for the default camera of those Android devices that do not support Google's Camera2 API. This camera app will reveal the true power of your phone's camera module and brilliant picture capturing capabilities as it is precisely optimized and equipped with all the manual functionalities along with RAW and DNG support.
Professional camera app with support for manual focus, manual exposure compensation and exposure time, and semi-manual ISO.
Support for devices using Google Camera2 API.
(The app is no longer available on playstore)
#6. HD Camera for Android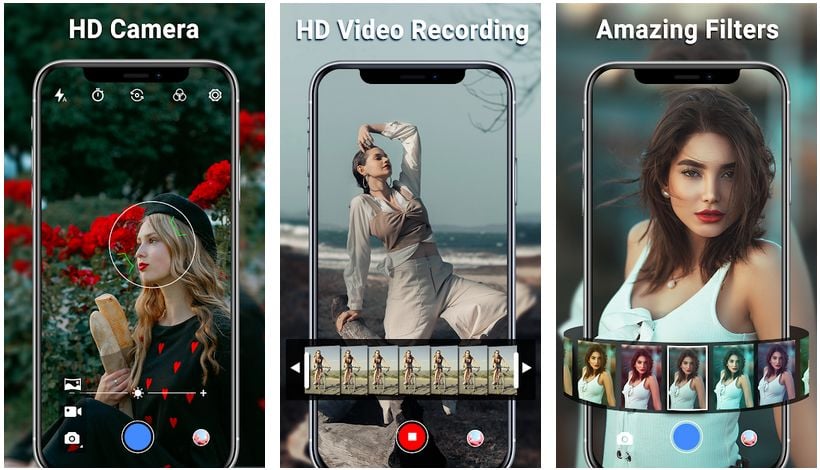 HD Camera for Android is a reliable camera that produces brilliant photos with excellent clarity in high definition. So if you are not satisfied with the results of your phone's camera then I will recommend trying this app, it won't disappoint you.
Dynamic user interface and configurable volume keys for easy capturing.
3 camera modes including smart panorama shooting, videography, and photography.
Contain a lot of advertisement, which may cause hindrance while taking a photo.
#7. Camera FV-5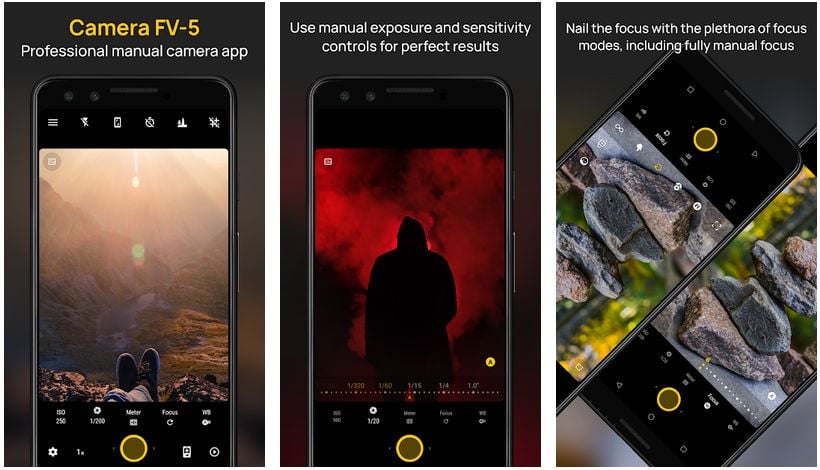 Are you looking for a camera app that allows you to play with every manual control, and adjustable parameters, and help you capture high-quality professional photographs and videos while producing similar stunning results as DSLR? You should give a try the Camera FV-5 app where you get full manual control and the option to fine-tune exposure, focus, white balance, light metering, aperture, EV, bracketing, and whatnot.
I will suggest you try the fully functional lite version with the only limitation on photo resolution. Once you are satisfied with the functionalities, you can then purchase the Camera FV-5 Pro version for a one-time fee of $3.95.
Total control over the camera, with the ability to capture in PNG, JPEG, and true 16-bit RAW (DNG format, perfect for post-processing).
Capture time-lapse photos using an intervalometer.
Long exposure support is best for light trail and nighttime photography.
The manual shutter speed setting requires Android 5.0 Lollipop as well as a Camera2 implementation.
True manual focus mode and long exposure photography are not compatible with all Android devices.
#8. Retrica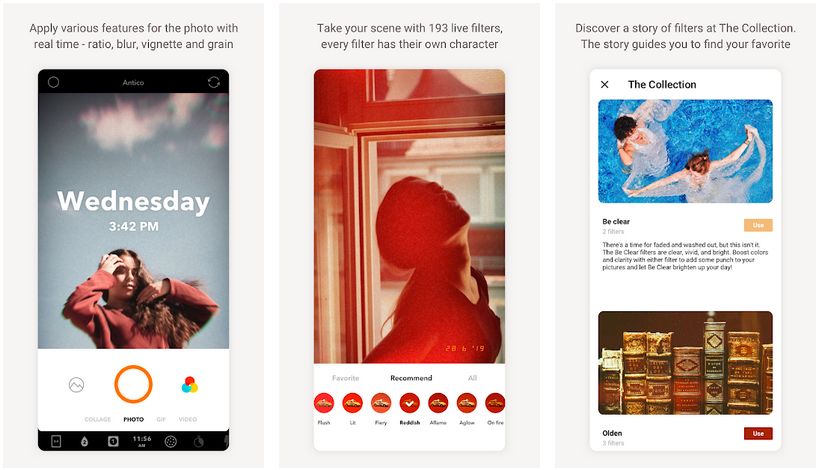 Retrica is one of the most simplified camera apps for Android that allows you to capture photos as well as videos and apply real-time filters while taking pictures. You can choose from more than hundreds of remarkable filters. The recent update has introduced a way to transform collage shots and videos into GIFs.
Real-time filters so you won't have to spend any time on editing.
Create private albums and share them with your friends.
Recent UI and UX overhauls ruined the photo quality.
#9. Prisma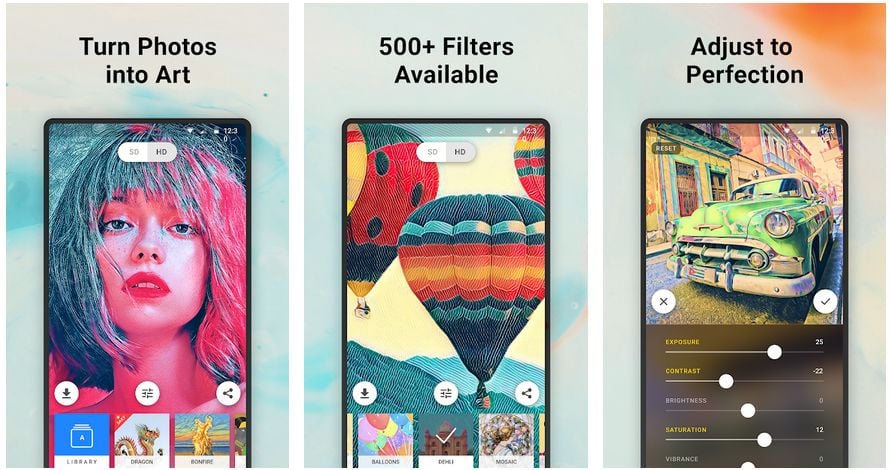 Prisma has gained a lot of popularity during the past few months because of its uniqueness and the ability to capture exceptional pictures as well as the ability to transform any of your old pictures and give them a fresh and artistic look.
Offers some of the most exclusive and creative filters.
Turn any of your simple subjects into a piece of artwork with the help of stunning photo effects.
Some filters and features require Internet connectivity.
#10. Foodie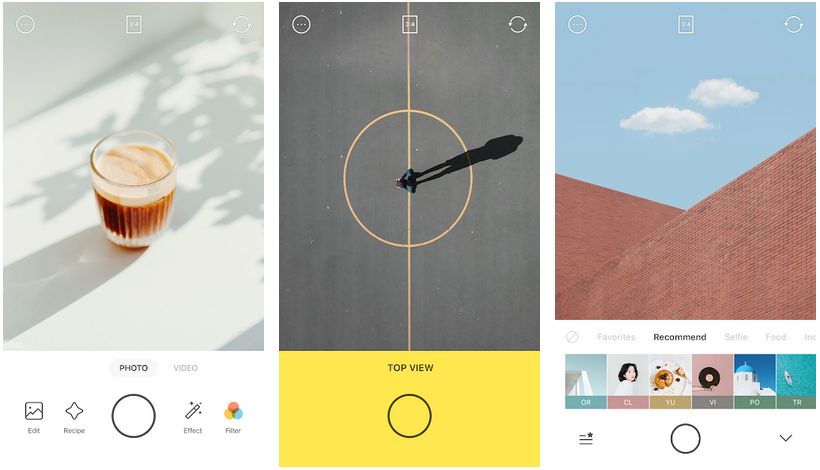 If you love to snap your meals even before you take the first bite then you should use Foodie to take those magnificent shots of your delicious food. Foodie is a dedicated app for food enthusiasts who love to shoot sizzling food pictures.
24 specialized filters to make food look more delicious.
Enhance the prominence of food with features like auto-blurring and best angle.
#11. Cameringo+
Cameringo provides you with more than 300 picture effects, lenses, and frames that you can apply to your photos and videos in real-time while capturing. You can even draw over the video while you are recording it. Similar to the filters, lenses, and effects, you can modify contrast, hue, exposure, and brightness in real-time.
If you are unsure about the potential of Cameringo, you can give a try to the lite version before opting for the paid ones.
Real-time filters and effects let you see and capture the live results.
Unique lenses and effects like fisheye, wide-angle, lens flare, lomo, fall, and vintage.
#12. VSCO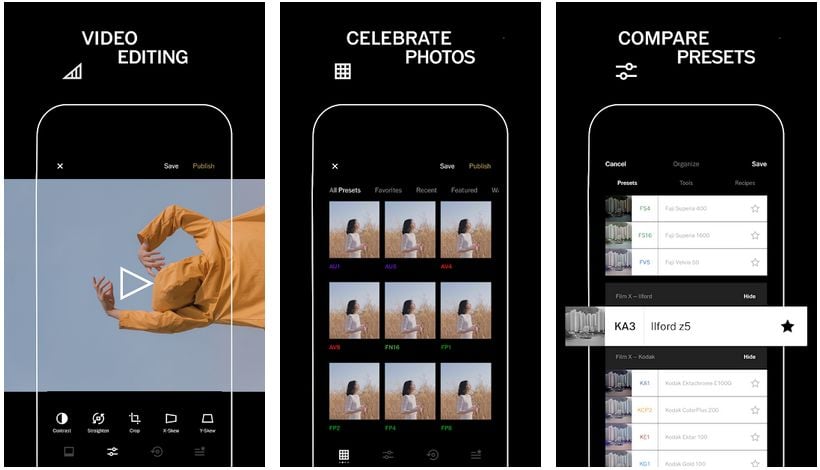 VSCO is a reputable app that allows you to create and discover photos as well as connect with other photographers and their exclusive content on the VSCO photo publishing platform. The app allows you to shoot photographs using advanced camera controls and edit images using superior presets specially designed for mobile devices.
Shoot, edit, tweak and share your masterpiece with the VSCO community.
Wide variety of image editing tools and preset filters with variable intensity sliders.
The latest release has removed the sync functionality.
UI is slightly hard to understand.
#13. EyeEm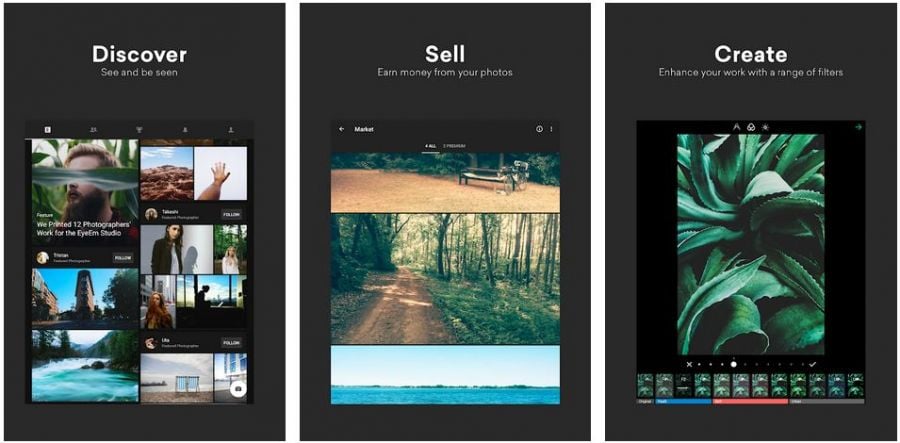 If you are a passionate photographer and looking for a great camera app with filters and a photo editor along with the global community then EyeEm will be your best choice. Shoot wonderful pictures using the in-app camera that allows you to correct exposure and guides you with a grid to capture those perfect shots.
Ability to capture and fine-tune pictures using the native photo editor.
Few dozens of adjustable photo filters.
Gain global exposure and sell your snaps on EyeEm and other premium marketplaces.
EyeEm marketplace is not available in all countries.
Want to sell your photos? The review process takes about 2 to 6 weeks.
#14. Camera MX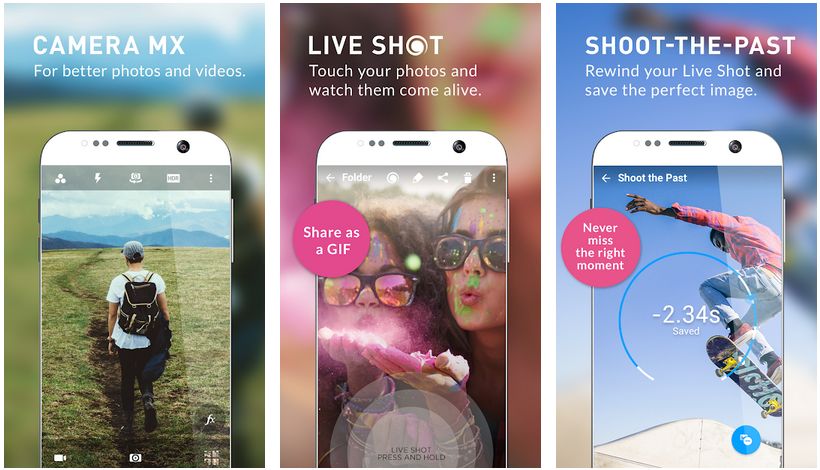 With Camera MX you can capture sharper photos and videos in full resolution, in the ratio of your choice, and all of that without any quality loss. The unique camera modes like a live shot and live filter, along with native optimization and editing features will help you capture spectacular pics from your Android smartphone.
Front-facing display flash for selfie mode.
Option to pause while recording video trimmed recorded videos, customizable JPEG quality, and full-resolution photography.
Turn live shots into GIFs and quickly share them with your friends.
#15. A Better Camera

Are you looking for a simple yet feature-rich camera app for your day-to-day photography? A Better Camera can be your companion. Manual controls coupled with incredible functions like MultiShot allow you to capture multiple shots and help remove unwanted objects; video and photo time-lapse, and Pre-shot takes photos even before you press the capture button.
Variety of focus modes, night mode, burst, and exposure bracketing options.
Option to take stunning photos in modes like HDR, Night Camera, and HD Panorama along with manual focus and exposure metering.
Certain limitations in the free version, but you can purchase the full version for just $0.99.
#16. Snap Camera HDR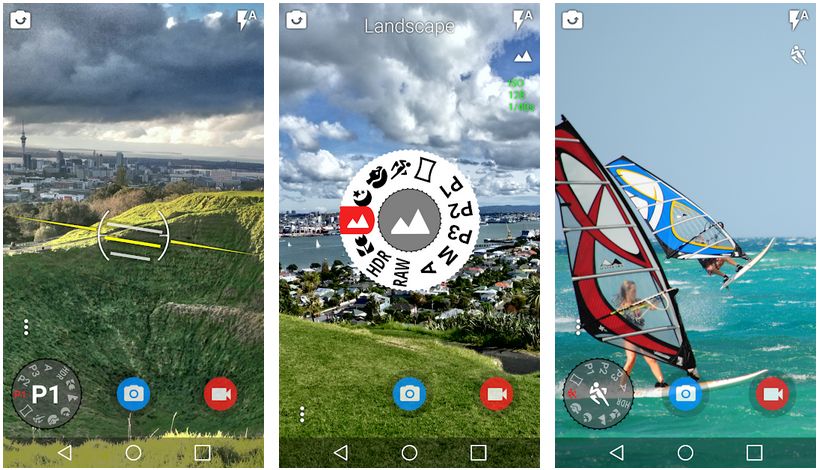 The features and functionalities of the Snap Camera HDR make it a suitable camera app that satisfies the needs of pro and amateur photographers who use a mobile phone for photography. Supports 4K video recording, captures photos while recording video, and takes steady shots with stabilization mode, HDR photo mode, and other customizable settings.
Simplified interface with a clutter-free GUI.
Offer a fully functional trial version to test out the features before purchasing.
Haven't received any updates and bug fixes for the last few months.
The Trail version forces your device to enter Airplane mode.
#17. Manual Camera
As the name of the app suggests, Manual Camera gives complete control over all the available camera settings and will ultimately give you the feel of having a portable DSLR camera, making it the perfect camera utility for people looking for professional phone photography.
Since all Android phones and tablets use different camera drivers and hardware, so it is highly recommended to run the compatibility test app first before opting for the full version.
Professional and fast camera app with adjustable settings and full manual control.
Capture and store pictures in RAW (DNG) format for easy post-processing.
Trial version to test the functionalities.
Requires some bug fixes and improvements but the developer hasn't updated it since the August of last year.
#18. Paper Camera

If you like sketches, drawings, cartoons, and comic books then Paper Camer is going to be one of your next favorite Android camera apps. And because all of these effects are applied in real-time, so it can help you discover and capture the world from a completely new perspective, and let you transform things into sketches and drawings.
Capture pictures or record videos in magnificent quality using live filters.
Make a perfect sketch/drawing using contrast, lines, and brightness.
Conclusion
Out of these best camera apps, if you ask us, we will suggest going for either Open Camera or Camera FV-5 as both of them offer some of the most remarkable manual and advanced camera functionalities to help you with all of your mobile photography needs.
How many of these camera apps have you tried on your Android? Do you think we missed any of your favorite photography apps? Please let us know in the comments down below, we would love to hear about them! 🙂