It's been said that the path to success is paved with hard work and dedication. And when it comes to achieving your fitness goals, this couldn't be truer.
Getting your body into a better shape is the best thing you can ever do for your body. Working out and staying fit will improve your stamina, build muscles, help lose unwanted fats, and you will stay healthy.
We have reviewed the eleven best fitness, training, and workout-tracking apps for Android. These apps will take data from the sensors present in your phone and smartwatch to help keep track of your muscles, weight, and heart rate data. All this information will be displayed in graphical format.
To make it easier for you to find the perfect workout tracking app, we have divided this blog post into 3 sections i.e.
Apps suitable for your overall fitness tracking,
Running apps for those who love to jog or run, and
List of workouts and training apps.
Basic Fitness Apps
In this section, you will find apps perfect for overall workout tracking and help you perform workouts and exercises.
1. Google Fit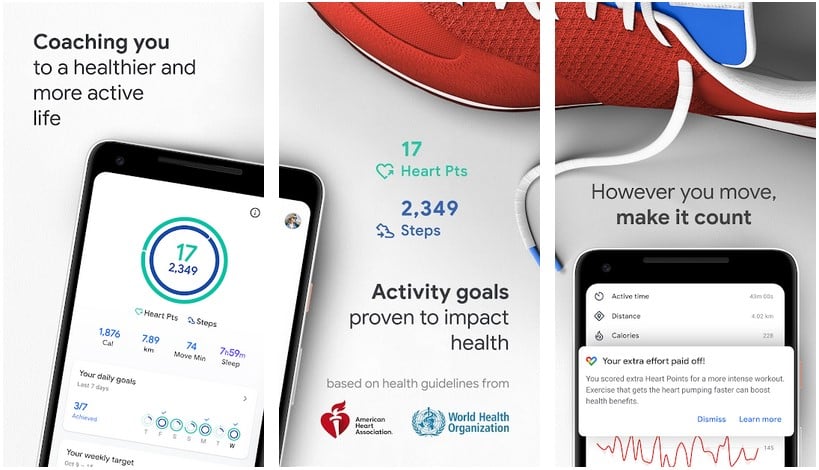 Google Fit is one of the best apps for fitness and tracking purposes as it supports direct integration with tons of other fitness apps including MyFitnessPal and Runkeeper. Along with the support for workout tracking smartwatches like Xiaomi Mi Bands and products running Wear OS.
Google Fit app makes it easier for you to track your progress on your phone as well as your watch. You can quickly set up daily and monthly goals for your activity and the personalized coaching feature will help you achieve your goals while making you live an active and healthier lifestyle.
2. Calorie Counter by MyFitnessPal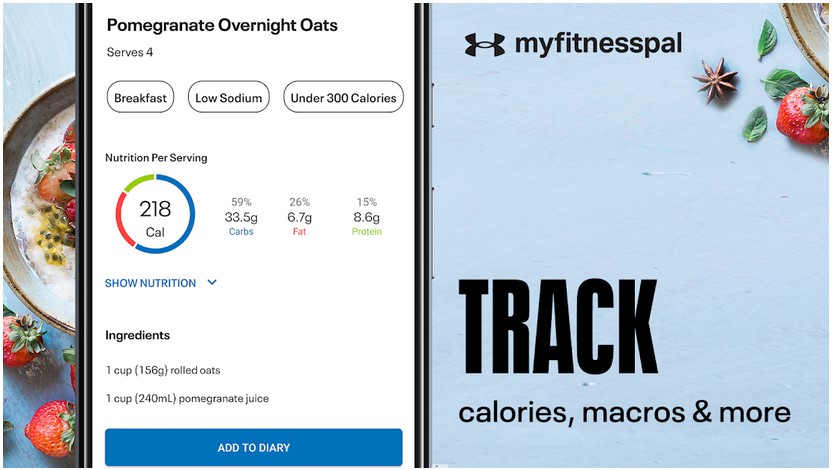 The Calorie Counter is more like a way for you to help keep track of the number of calories you intake on a daily basis and then use that data as a foundation step to lose weight, start a new diet plan, become healthier, or change your addictive habits. Which in turn will help you live a healthier and happier lifestyle.
With Calorie Counter, you can keep a continuous check on what food you are eating while keeping track of macros, fluid intake, and nutrition as well as reach your goals of achieving specific weight targets. Also, this app is not all about calories only as you can keep a log of your workout and exercises too.
Adidas Runtastic Apps
A set of running and training apps designed by Adidas and Runtastic, which serves as a fitness and health partner regardless of the training activities you like to perform. Both of the following apps will help you achieve your fitness goals within your targeted period.
3. Runtastic Running App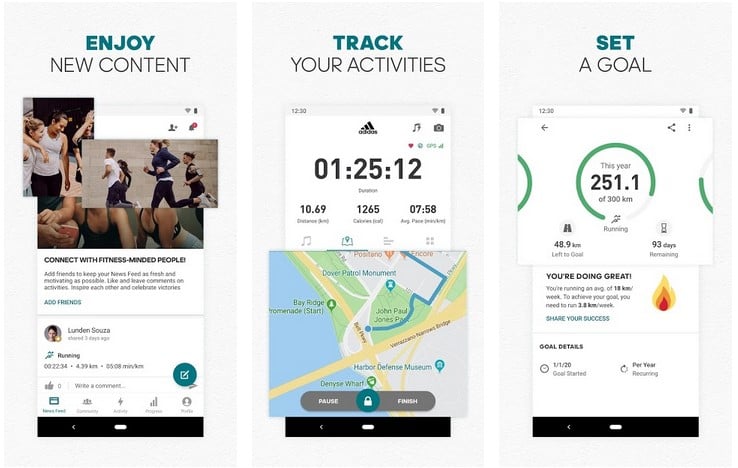 Whether you aim to run, exercise to lose weight, or gain some strength, this running app by Adidas is designed to help you keep constant track of all your running and fitness activities with the help of a fitness coach. The app keeps track of exercise time, distance, elevation, speed, and amount of calories you have burned along with several other data points and statistics.
The built-in challenges as well as voice coach along with real-time workout tracking of your activities through GPS, all of these combined will help you maintain focus and achieve the challenges and targets you have set for yourself. The Runtastic Running app is fully compatible with Android Wear 2.0 and can be easily integrated with Google Fit and other similar apps.
4. Runtastic Training App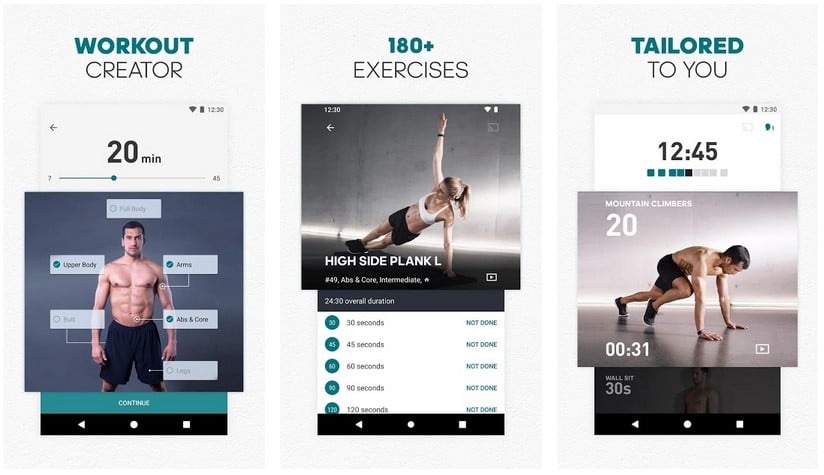 If you find it hard to add workout or training sessions into your schedule then this Runtastic Training app by Adidas will help make it easier for you to begin your fitness journey the right way. The app offers you lots of variety and choices for short workout planning, using which you can create a personalized workout plan while staying motivated.
Whether you are training to gain strength or burn fat or maybe just feel confident and refreshed, the Adidas Training app will be a perfect choice. With the tailored program, you can plan your very own home workout and choose from over 185 exercises to strengthen and tone every part of your body. Moreover, each exercise has an HD video to make sure you are following the right form.
Running Apps
This section is self-explanatory, if you love to jog and run then this section is for you, as here you will find the best apps for running and tracking your performance.
5. Nike Run Club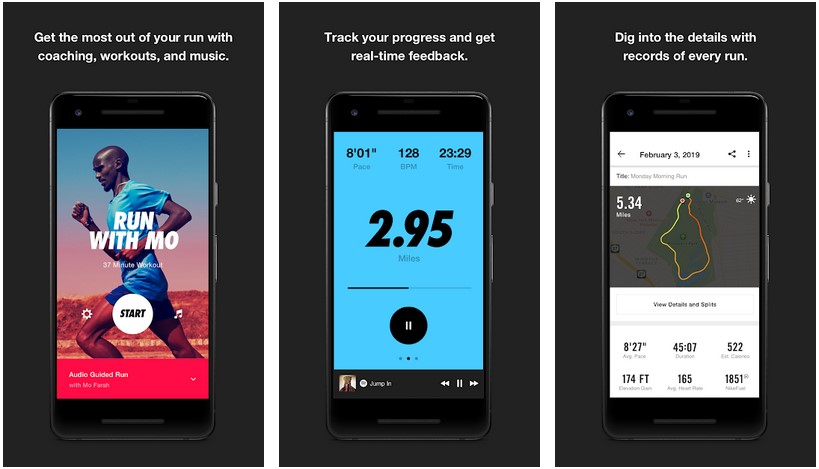 Nike Run Club is a community of people who are running and tracking their runs using the app, Android Wear OS, and can be easily integrated with Google Fit, which allows you to sync workouts and heart-rate data. You will get challenges for weekly and monthly runs, and customized coaching plans to achieve your goals, and there are badges and trophies to compete on the leaderboard and keep you motivated to achieve more.
Apart from keeping track of your runs, the NRC app will also record relevant data and stats like GPS route, heart rate, pace, distance, elevation, and mile splits. Also, audio-guided runs from Nike coaches and athletes keep on guiding and instructing you through in-ear audio. This is what's needed to improve overall endurance, strength, and speed.
6. Runkeeper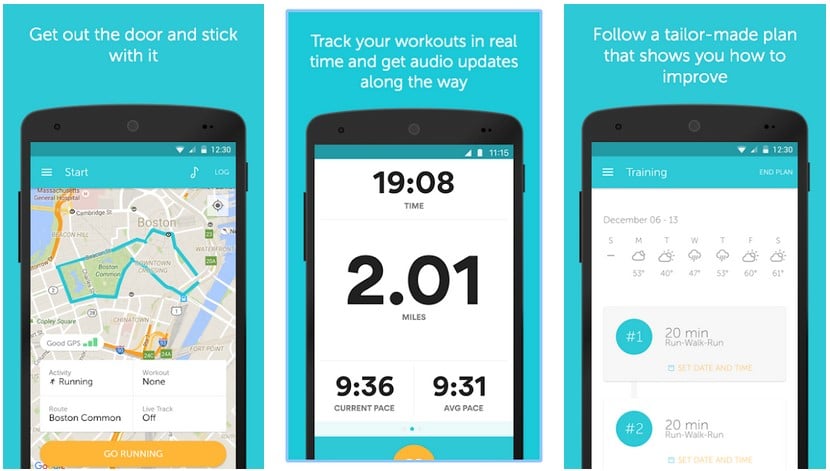 Runkeeper by ASICS Digital, Inc. is a GPS-based running and walking tracker app that helps you set goals and achieve them, no matter if you are training for a marathon, cycling for fun, or want to track your running objectives, this app got you covered.
To help you stay motivated, Runkeeper offers you challenges and rewards, and you can then share those with your friends to gain further motivation. If you are going for a walk daily then the routes feature will help you discover, save, and build new routes with the help of GPS. The app can be easily connected and integrated with Spotify, MyFitnessPal, and Fitbit for better tracking.
7. Zombies, Run!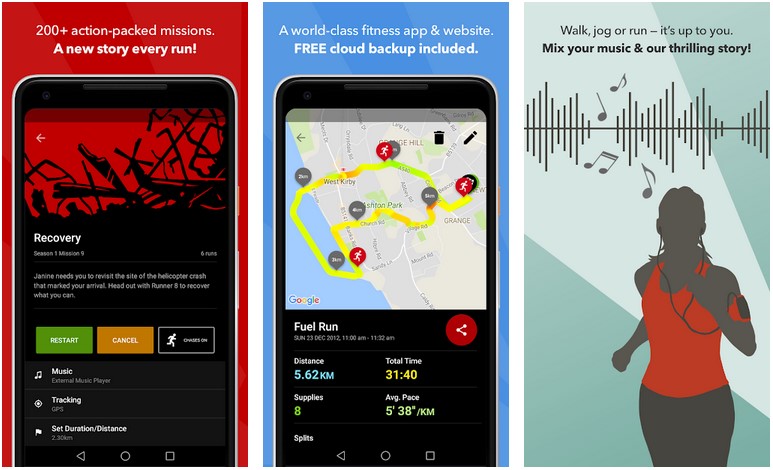 The app Zombies, Run! gives a completely different outlook to the running and jogging experience by adding zombies into the virtual world where you are required to run from the zombie crowd. The app can be used almost anywhere, whether you are running on a treadmill, jogging in a park, or walking on a beach.
To get the most immersive experience, you should put on your earphones so that you can hear the oncoming zombies that are coming to catch you. And the only thing you can do is run. The app makes every run a mission where you are a key character in the zombie adventure story. Running gives you important supplies including batteries, food, and medicine.
Workout And Training Apps
Here I have featured apps that are most suitable for those who prefer to stay fit and healthy by performing workouts and training, whether it is at home or professionally at the gym or fitness center.
8. Home Workout App by Leap Fitness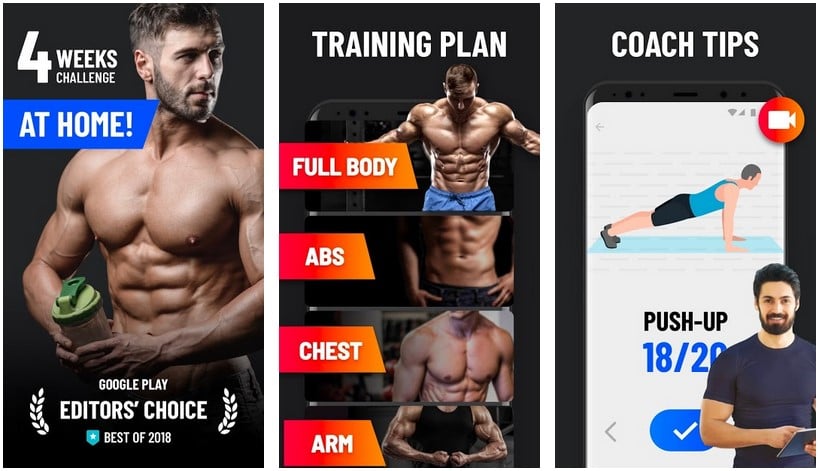 Are you looking for the best way to work out and stay fit at home but not willing to put some money in for expensive equipment? This Home Workout App by Leap Fitness provides you with workout routines that you can follow every day and target your entire muscle group one day at a time. All you need is a few minutes daily, you can build muscles and stay fit without having to go to the gym.
All the exercises shown in the Home Workout App including workouts for arms, legs, abs, and chest do not require any equipment and all of them can be performed with your body weight. The app provides you with video guidance and animations for each exercise to make sure you are following the right form and technique.
9. Sworkit Fitness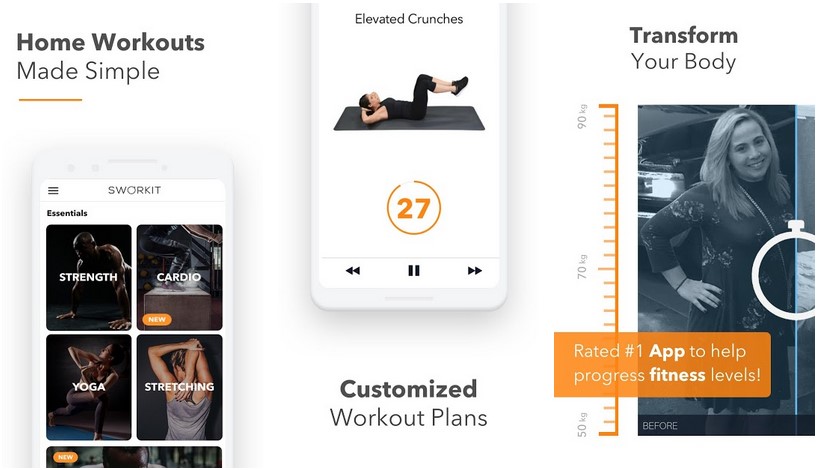 Sworkit is an awesome little app suitable for planning your exercises and tracking your workouts as well as your overall fitness. You can manually create your very own workout schedule using the smart algorithm provided by this app. All you have to do is tell how much time you have for exercise and the app will create a perfect schedule around it.
Sworkit is great for professional people and new moms who can't make time for the gym or maybe you are a traveler who doesn't have access to fitness equipment like dumbbells and barbells. The app provides various exercises including HIIT, cardio, strength, weight loss, and yoga. Believe it or not, the app gives you access to more than 800 exercises and workouts.
10. 7 Minute Workout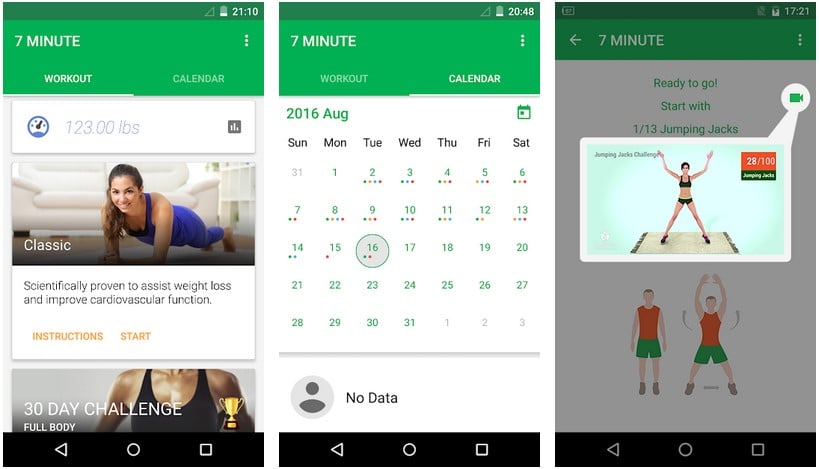 If you have ever researched exercise and workouts then you must have heard about working out for over 45 minutes to an hour is what you need to become healthier and make some impact on your overall fitness. However, that's not true at all. This 7-Minute Workout app by Simple Design Ltd. believes and proves that consistency is the key to achieving your fitness goals and losing weight.
The app focuses on improving your cardiovascular and muscular functionality with high-intensity circuit training (HICT) that assists you with weight loss while strengthening the core and toning your abs. There are over 12 exercises in one circuit and each takes about 30 seconds. All you need is a wall and a chair, and you can perform it anywhere to start burning calories and unwanted body fat.
11. JEFIT Workout Tracker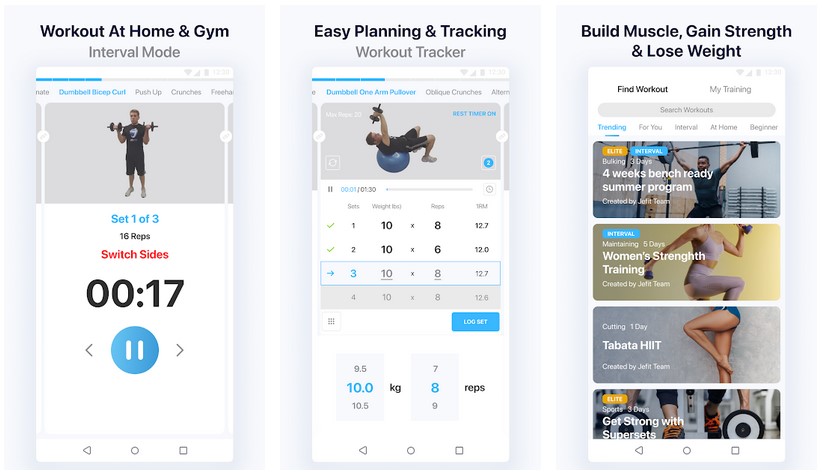 JEFIT helps you track workouts and training using logs and the app works as your personal trainer where you get to use fitness programs like home-based exercise, body weight lifting, bodybuilding, strength plans, and powerlifting. No matter whether you have access to a gym with all the equipment or you are performing exercises from your home, JEFIT is the perfect app for every situation.
Apart from providing you with a platform to track your workouts, routines, fitness goals, and custom workout programs, JEFIT comes with a workout instructions database of more than 1300 variations of exercises in HD video quality recorded by experts to make sure you are following the correct form.
Tips To Help You Reach Your Fitness Goals
Create an exercise plan: Start by establishing an achievable and realistic workout goal for yourself. From there, create a comprehensive exercise plan that outlines the activities, duration, and frequency of your workouts. Be sure to track your progression each week and make adjustments as needed.
Set mini-goals: Break your main workout goals into smaller, more manageable goals. Reaching mini-goals will help keep you motivated and allow you to celebrate small successes.
Stay consistent: Establish a routine and stick to it. Consistency is key to achieving long-term results and will help you stay on track with your workout plan. Go to the gym or do your exercise every day, even if it's for 5 minutes. In the start, consistency matters more than intensity.
Develop a dynamic warm-up: Warming up helps to prepare your body for the workout ahead and can help reduce the risk of injury. Develop a dynamic warm-up routine that targets the muscles you will be using most.
Fuel your body: Eating healthy meals and snacks full of essential nutrients and energy is important for helping your body perform at its best. Make sure to consume foods high in protein, complex carbohydrates, and healthy fats before and after your workouts.
Take rest days: Rest and recovery are essential for the body to rebuild. Make sure to build in rest days for your body and mind.
Work on your form: Proper form can help you get the most out of your workouts and avoid potential injury. Make sure to focus on each exercise move, and correct any mistakes in form.
Integrate variety into your workouts: Adding variety to your workouts can help keep them interesting and challenge your body to progress. Try new exercises, incorporate different fitness gears, or try a group class.
Final Thoughts
Out of the eleven apps we have reviewed here, which fitness and workout app helped you the most to track your exercises on Android? If you use any specific app to help with your daily workout routine then feel free to share with us in the comments down below. 🙂