Are you usually traveling and find it hard to carry a Quran with yourself all the time? Or you want to have easy access to the authentic and verified Quran? Look no further as here we have reviewed some of the best Quran apps for Android smartphones and tablets.
Most of the apps I have included here in the list below will help you in one way or another with your Quran recitation habits. And all of them are completely free to download and use.
Also, the features incorporated in these Quran apps for Android like translation in various languages, transliteration, audio listening along proper guidance for Tajweed will incredibly enhance your capabilities to read and understand the Holy Quran.
#1. Quran for Android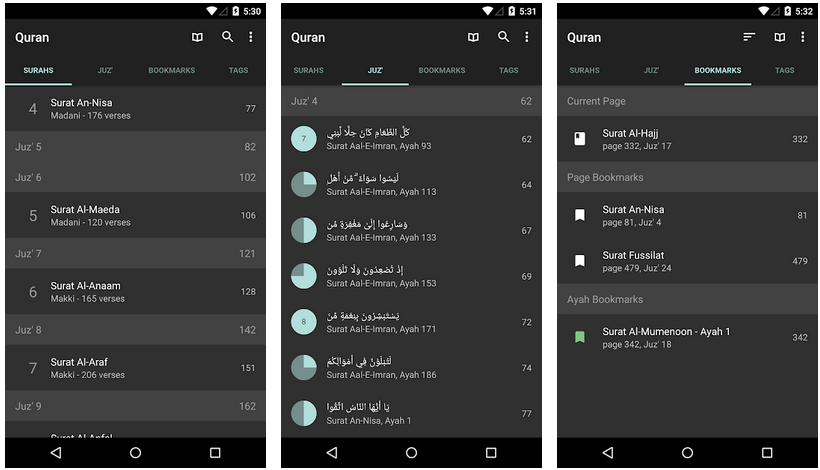 The Quran for Android app is developed by the creators over at Quran.com and it provides all the essential features including a clear reading mode interface, easy page navigation using volume buttons, translation in over 32 different languages along helpful options like search, jump, and night mode.
The presence of these features is the main reason why this app is popular among its users. On your first start, the app will prompt you to download some prerequisite files of around 75MB, which will allow you to recite the Quran without an Internet connection.
#2. iQuran Lite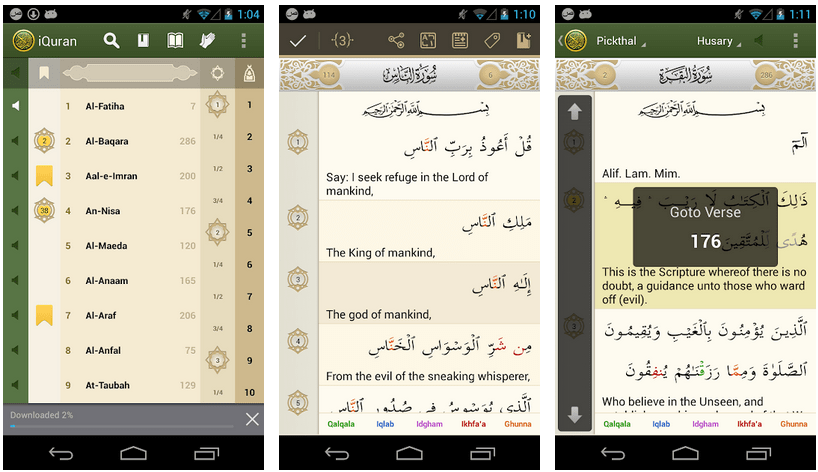 iQuran Lite is a free version of its original full-featured Quran app with few limitations. However, you will still be able to read the whole Quran in both portrait and landscape mode, ability to bookmark over five pages for easy access, and a translation of the Holy Quran in the English language.
The iQuran could also work as a helpful companion if you are trying to memorize any specific verse of the Quran by allowing you to listen to that section and put it on a repeat mode using its powerful audio control functionality.
#3. Al-Quran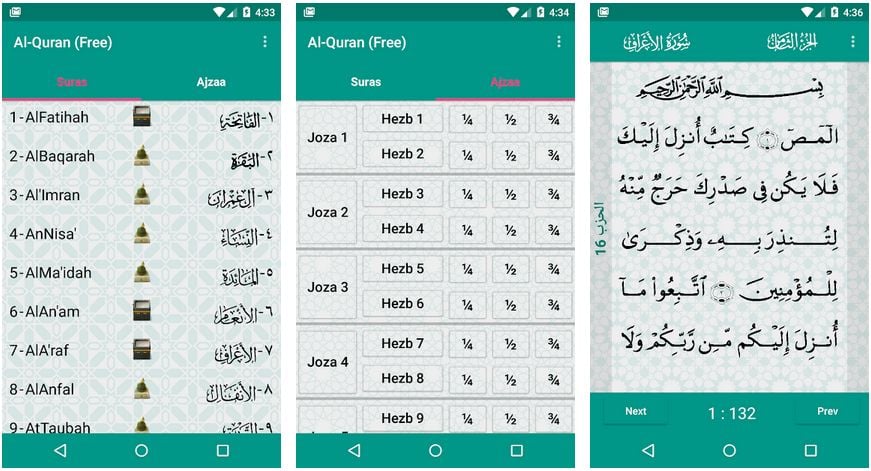 Al-Quran app is being widely used by over millions of people from all around the world and it includes translation of Quran in almost all the languages where there is a presence of Islamic religion.
And just like most of the other Quran app, Al-Quran also allows you to add any verse or surah in favourites and provides easy access to them later through "My Favorites" section.
You can even customize the style and appearance of text, and personalize the way you prefer to recite Quran on your Android phone or tablet including the ability to zoom and increase the font size making it convenient for you to read.
#4. Read Quran Offline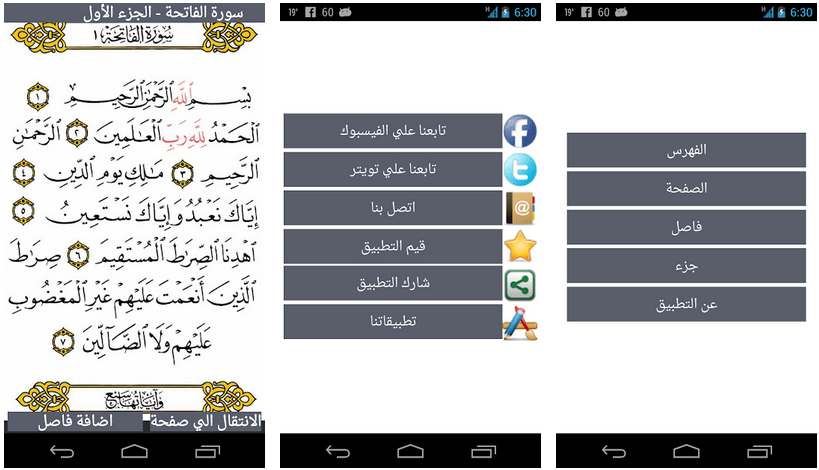 Read Quran Offline, as the name itself suggests, is an all in one app that allows you to have a whole Holy Quran on your Android phone without any requirement to download additional files from the Internet.
Because this app includes all the essentials files, which is the reason why this app is over 35MB in size. But you should be rest assured that you have the complete Quran on your phone that doesn't even require an Internet connection.
#5. MP3 Quran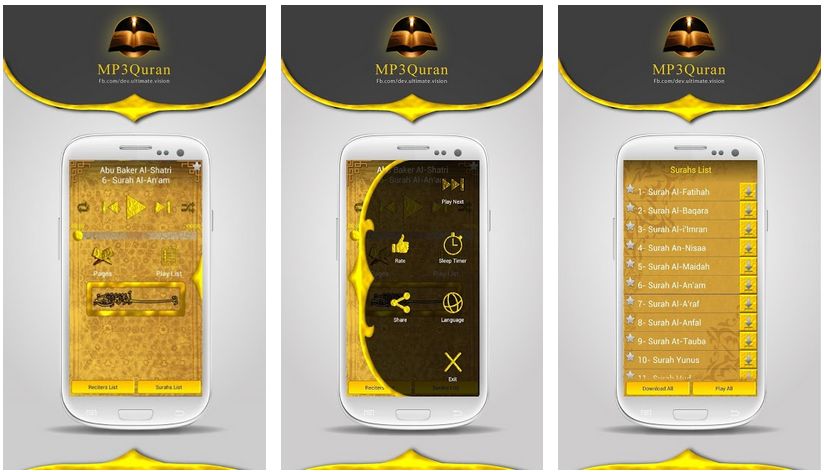 Did you ever want to have the Holy Quran in MP3 audio format so that you can listen to any surah without searching for it on the Internet? MP3 Quran app is your answer.
Yes, this is now possible as this app let you download and stream Quran as MP3 in high quality format. Once you have downloaded the app from the Google Play Store, you will be presented with a list of over one hundred well-known reciters and you can select your preferred reciter effortlessly.
#6. Holy Quran – Al Quran Al Kareem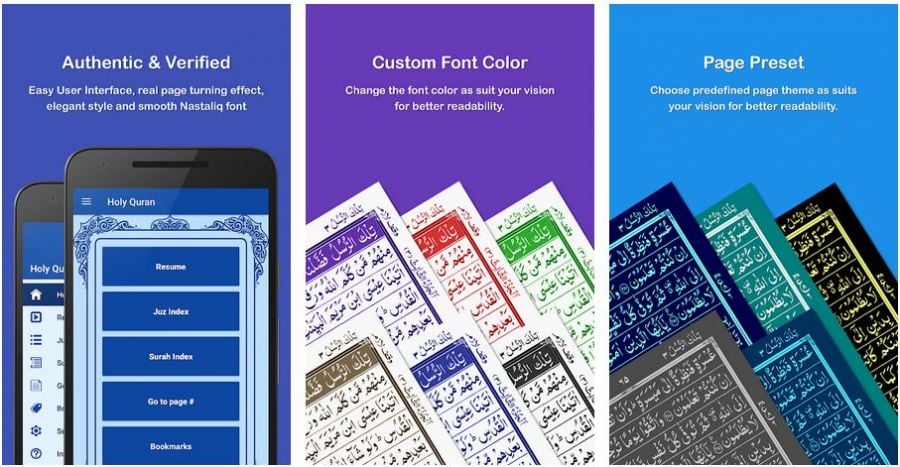 The Al-Quran Al-Kareem Holy Quran app has been downloaded by over 4 million users because, similar to one of the previously mentioned app in the list, this one also includes the whole Quran in the single installation file so that you don't have to spend any additional data to download additional files.
All you really need to do is download and install the app. You will then be able to read Holy Quran with a sophisticatedly designed UI and smooth font to provide you with a worthy readability experience.
#7. Al Quran MP3 – Quran Reading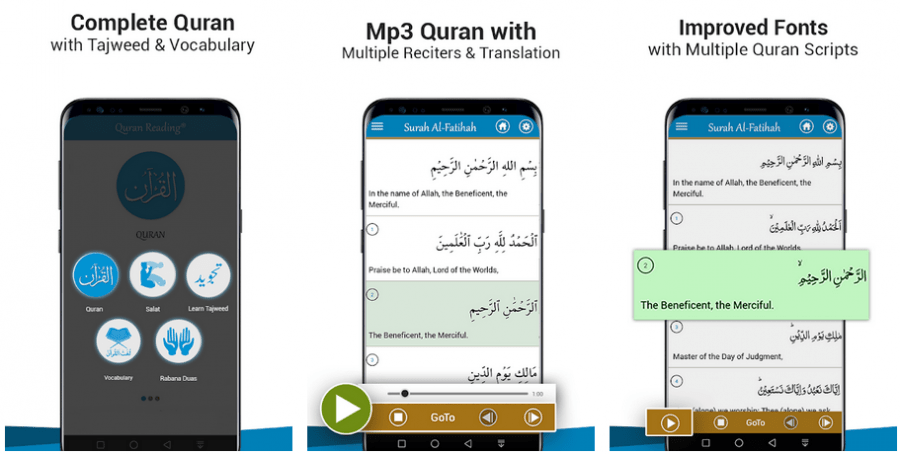 Al Quran MP3 – Quran Reading app for Android is not only appropriate for those who are in search for an app to recite and listen to Quran, but it is fully suitable for those who want to become Hafiz-e-Quran by memorizing the whole Quran.
Because it provides a full support for translation, audio recitation, and transliteration of Holy Quran, one can easily use it to enhance their knowledge about this holy book without any requirement to consult any scholarly.
#8. Quran with Urdu Translation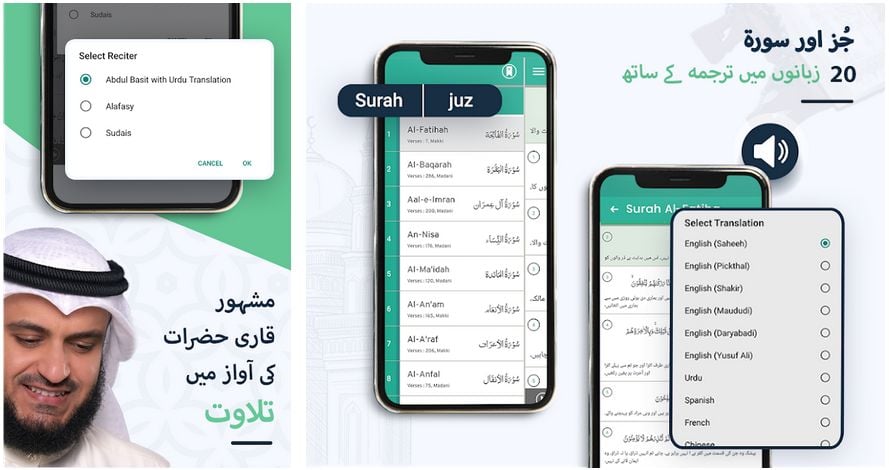 As the name suggests, Quran with Urdu Translation is an app that provides you with an easy access to the Urdu translation of Holy Quran. It is directly targeted toward those reciters who give more preference to the Urdu language.
Not only you can read the Quran in Urdu, but you can also listen to the translation using the audio recitation mode of the app. Moreover, the translations are not limited to Urdu language only and you can easily change it to range of languages including French, Chinese, Dutch, Persian, and Indonesian.
#9. Holy Quran (16 Lines Per Page)
Have you already memorized the Holy Quran and looking for an app that is so much friendly for you that you can keep it with you all the time in a form of Android phone app?
This Holy Quran app would be your best choice as the developer of this app has followed a standard 16 lines per page formatting to make sure that every page consists of over sixteen lines so that it suits the reciter who has memorized the Quran.
#10. Learn Quran Tajwid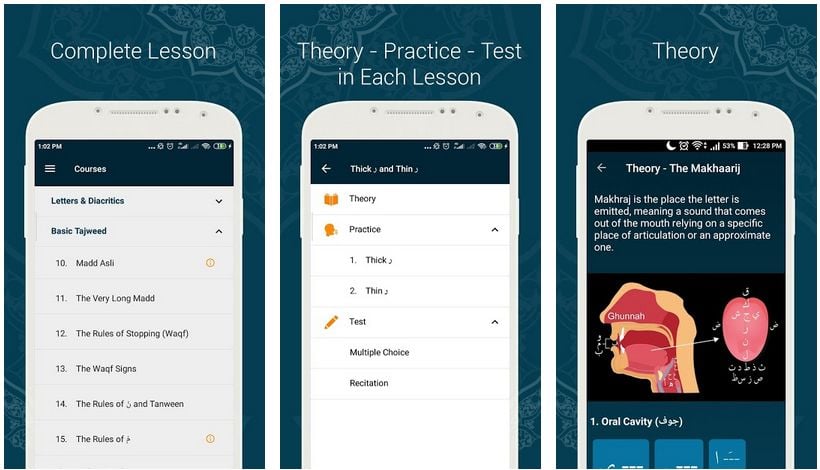 Ever wanted to learn Quran but wasn't able to find any reliable teacher or source? The app Learn Quran would be your best bet! This free app will help you in learning how to properly recite the Holy Quran and will also teach you all the fundamentals of recitation.
And in case you have a Quran teacher with you then this app would be more helpful and improve your likelihood of prompt learning.
Which Quran App is your Personal Favorite?
For us, Quran for Android is our personal favorite as it gets updated frequently, provides night mode as well as bookmarking functionality. Which one is your personal favorite and why? Please share your reviews with us in the comments section below. 🙂