Have you ever thought about finding new friends and having a conversation with them using the public chat room? Or maybe you are looking for a medium to network with new people from another part of the world to learn about their culture, and language, or to find out people who are like-minded.
Chat room apps for Android are popular among those who are looking for a way to socialize and connect with new people from different parts of the world. These apps have continuously proved to help users in bridging gaps between two complete strangers as it works as open social networks, and then later turn them into good friends because they share similar interests.
We have tried and tested many chat room apps, and have listed only the ones that will provide the maximum value and help you get connected to the relevant chat rooms where you can meet new people based on your geolocation and interest.
Apps featured in this list are community-based and comprise public chat rooms, which are not usually regulated, so you may come across many fake people or profiles. That's the only risk of being in a public forum or chat room.
1. WOLF – Group Chat Room & Live Audio Shows

Are you interested in participating in mobile gaming communities? Or, are you looking for dedicated gaming groups where you can find and chat with like-minded people from around the world?
Previously known as Palringo, now named WOLF, is a group chat and live audio show app that helps you find and discover a wide variety of chat groups where you can make friendships for life while keeping yourself entertained.
Wolf is a popular group messenger app that let you search and join dedicated communities created by users specifically for the discussion of different mobile games including the most popular Pokemon Go.
The game community is like a chat room where you are allowed to discuss the game, participate in public opinions, and even chat privately with your friends. There is also a group functionality, where you can add your friends and then play a wide range of games with them while having a group conversation.
Join gaming chat rooms created by people from all over the world.
Play games while having a group chat.
Let you send multimedia messages like pictures and audio recordings.
Allow you to create your own group or chat room.
You may experience occasional connection errors.
Lack of proper customer support.
2. Camfrog: Chat Flirt Video with Friends and Strangers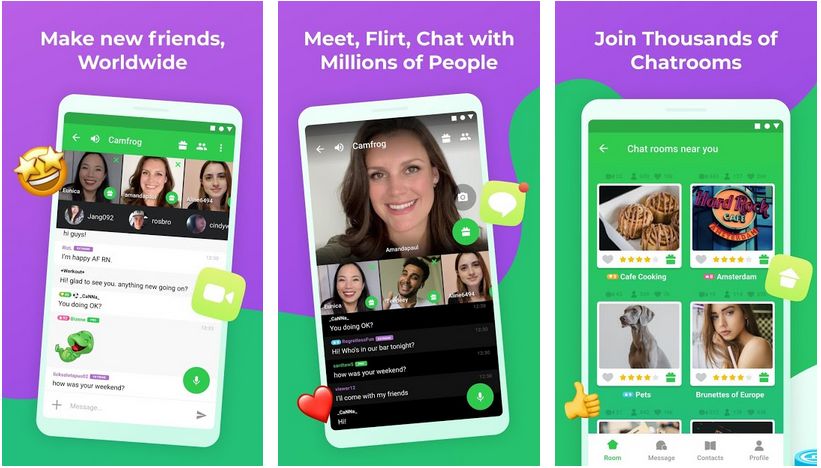 Camfrog is a popular and widely used video chat room-based community where you can have video conversations with millions of users who are active from all around the world. The app is compatible with multiple platforms including Android, iOS, Mac, and PC, which allows more people to get in touch with each other.
With this app, you can search and browse through thousands of chat rooms created by people from every part of the world. You are free to join any chat room and have a video chat with the participants anonymously.
Cross-platform and compatible with Android, iOS, Mac, and PC.
Room browser where you can search or browse through thousands of active chat rooms.
You can have a live group video chat with hundreds of active members of the chat room.
Ability to add friends to your Camfrog contact list.
The recent update changed the whole user interface making it hard to use.
Some features require you to have a pro version.
3. BAND – Chat Room App for all Groups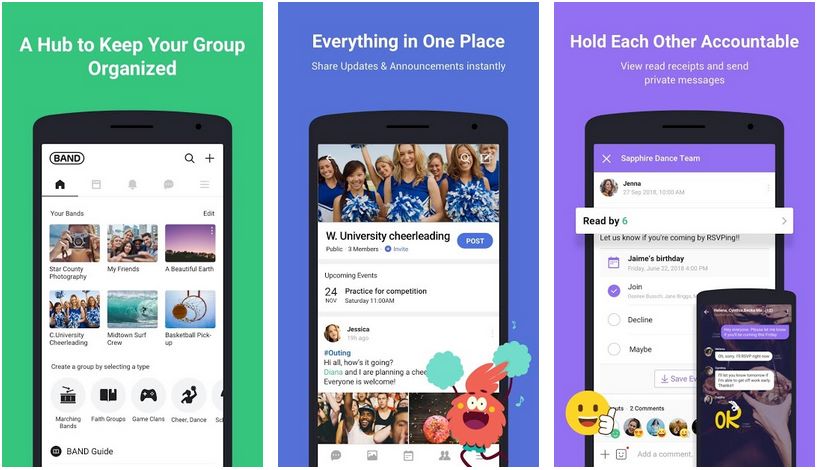 Are you a part of team organizer or a group manager? Or maybe you are looking to join a chat room-based community related to your hobby.
BAND group and communities app would be the best bet for you as it is designed to help you organize your private group or discover and join new groups according to your interests. The app is not only limited to groups, there are thousands of open forums and chat rooms related to your favorite topics like sports, gaming, food, travel, relationship, fashion, and fitness.
You can even join chat rooms, forums, and local communities based on your location so that you can get in touch with your locals in your country or those who have located nearby you and can become a part of public meet-ups.
There are thousands of chat rooms to choose from including games, food, travel and leisure, fitness, and sports.
Easy to use for the management of a private community or a group of people, and stay in touch with everyone.
Ability to share files, and calendar events, create a poll, share photo albums, and chat with the members.
Groups can be accessed easily from a smartphone, tablet, or even a computer with an active Internet connection.
4. SKOUT – Meet, Chat, Go Live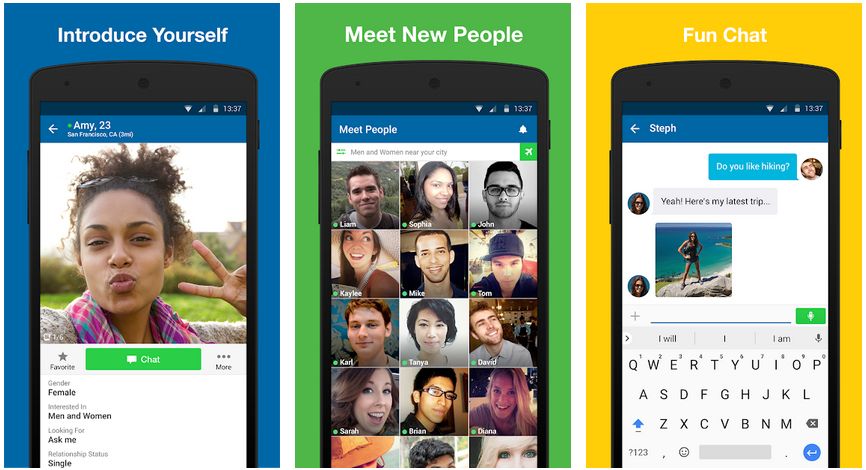 Skout helps you meet and chat with new people from all around the world anonymously. You can quickly broadcast yourself live from anywhere and find people who are interested in the same topic.
The broadcast and chat room feature allows you to discover new friends nearby you or from any part of the world. Every day, about a million people connect with each other and meet like-minded people with the help of this app.
Regardless of your location, you can find, meet, and chat with new people based on your preferences like proximity, live broadcasts, browsing profiles, and whatnot.
Join chat rooms or connect with people based on your geolocation and interest.
Connect to the people you share a mutual interest with.
Ability to start live broadcasts and interact with your audience.
Share pictures, videos, and audio while chatting in a chat room.
5. Moco: Chat Room & Meet New People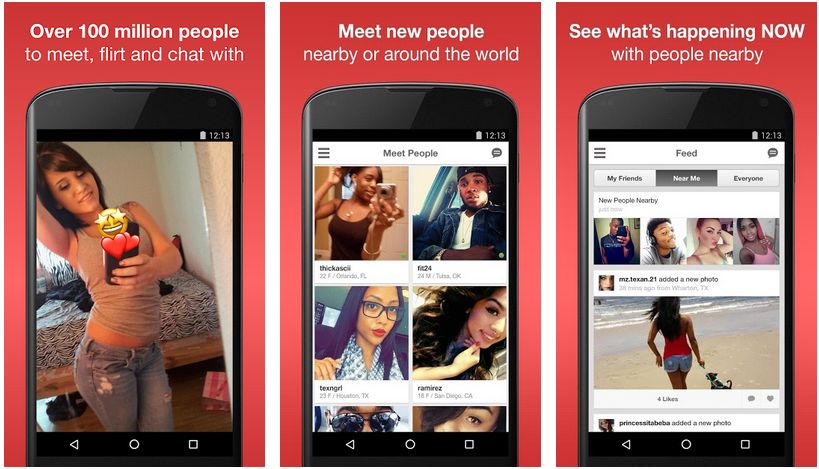 Moco is being used by millions of people from all around the world which gives you the wonderful opportunity to get connected with new people, make new friends, be more social, and you can even play multiplayer games with them.
There are hundreds of forums and chat rooms that you can join according to your interest and share your personal opinion with the rest of the world. You can even search for people using the filters like age, gender, and location so that you can connect with the right person.
Chat rooms to get in touch with a lot of people and share your opinions.
Join groups or start a private conversation.
Make new friends and play multiplayer games with them.
You can personalize your messages using emoticons, themes, stickers, fonts, and colors.
Sometimes the app will show you a lot of annoying pop-up advertisements.
6. Coco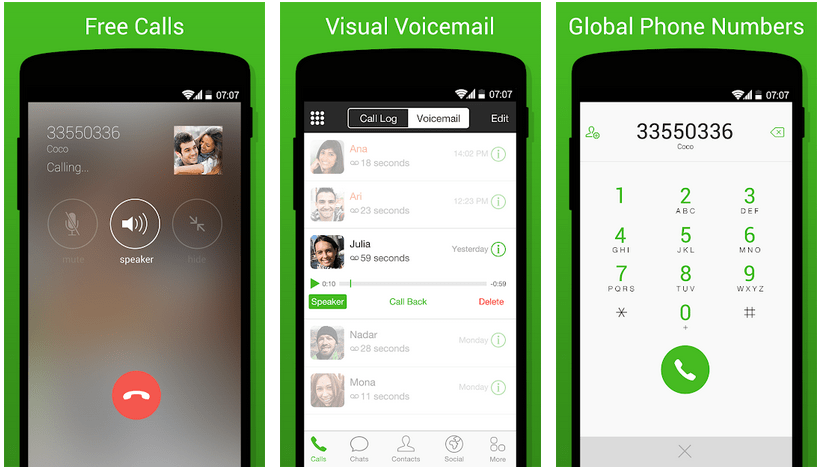 Coco is basically a free calling app that allows you to call all over the world but there is a socialization feature that helps you get connected with the people and groups that are located around you. You can even join public chat rooms from within the app which let you get in touch with new people globally.
If you have found a new friend then you can easily stay connected with them and get private conversations started using the features like instant text and push-to-talk voice messages. The coco's mission is to provide a platform that removes boundaries and helps people find each other without any limitations.
Get connected with people using the features like Nearby Groups, Winks, and Shake Shake.
Join public chat rooms or create one to attract new/like-minded people.
Share your recent happenings and interact with your friend's updates using Moments.
You might come across bugs or compatibility issues because the app has not been updated for the past few months.
7. SayHi Chat, Meet New People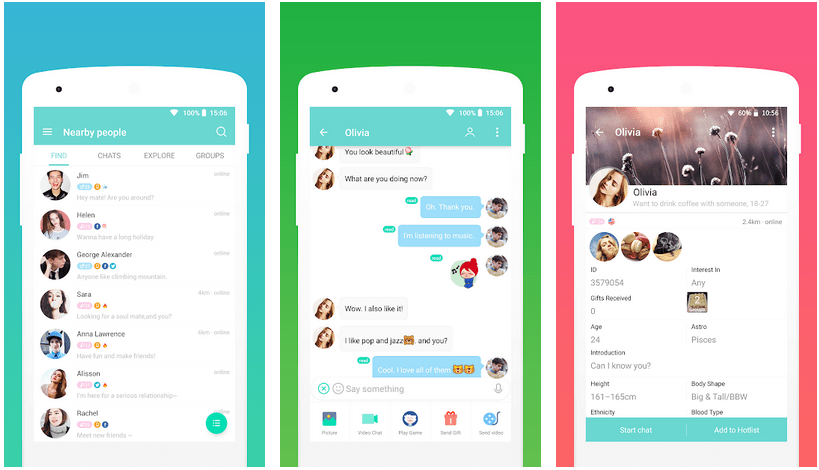 SayHi is a wonderful chat room app where you can find and meet new people, go on an online date, and chat with them in real-time. You can configure the app to show you people who are nearby you or within your country or state.
The app shows your fellow friends on a map, which makes it easier for you to find out more about them, and with the help of their profiles, you can learn about their interests, and engage in exciting conversations.
SayHi allows various ways to have conversations, which include video chat, voice messages, text messages through chat rooms, and the ability to share photos and videos.
Compatible with several platforms including Android and iOS.
Ability to find and discover chat rooms related to your interest.
Express more with messages, photos, documents, music, and videos.
8. WeChat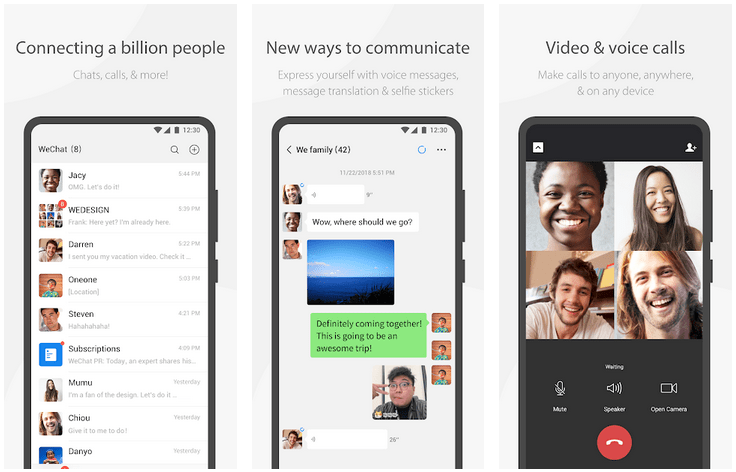 WeChat helps you chat with the best all around the world. You connect with over a billion users globally through calls, messages, video calls, voice messages, and attractive stickers to express yourself in the best way possible.
As the app let you enjoy a chat room and find new people, it also helps you with message translation to make it a lot easier for you to have conversations with like-minded people.
Good thing is that WeChat is a cross-platform app compatible with various mobile devices including Android and iOS. Moreover, WeChat Pay lets you send and receive payments to and from your friends.
You can share your opinion and discuss any specific topic by joining forums.
Meet people and be friends with people through WeChat Rooms.
Cross-platform compatibility with Android, iOS, and other devices.
9. MeetMe: Chat & Meet New People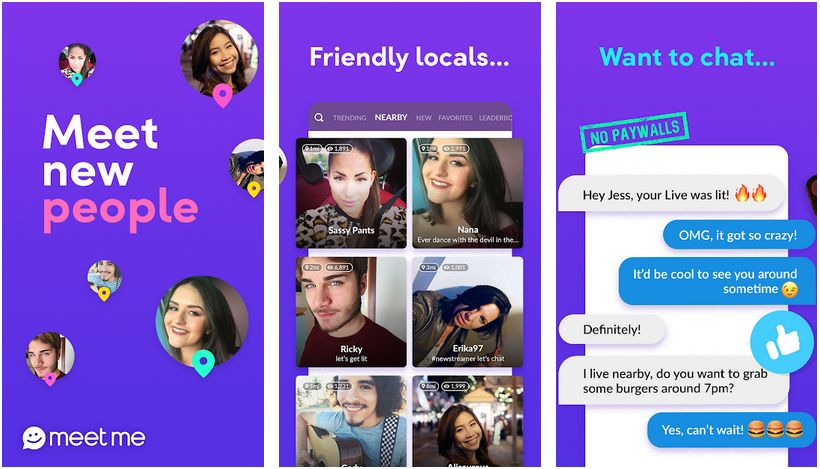 MeetMe provides you with the best medium where you are free to share and discuss your interests with people from all over the world. There are more than 100 million people using the app, which increases your chances to discover and meet like-minded people from any part of the world.
There are not many limitations on the usage of the app so you can freely chat with people, make new friends, and then eventually meet them. All because of this social app. The discussion tab comprises several topics including movies, series, music, partying, food, sports, and leisure. Joining the room that interests you the most will help you find relevant people.
Discuss section allows you to find topics relevant to your interest, where you can share and discuss a wide range of topics.
Ability to find strangers, make new friends, and chat with them.
MeetMe allows you to find and discover new people that are located near you.
Might be hard to discover genuine profiles using the discover feature.
10. Viber Messenger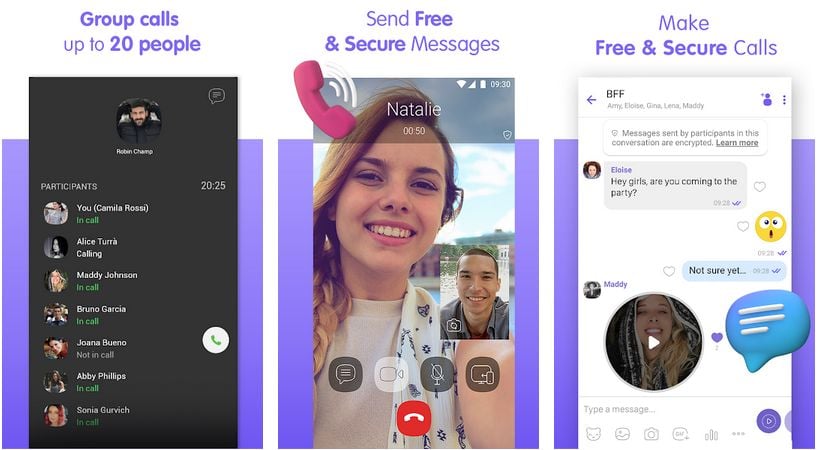 We all know that Viber is a popular communication and messenger app that allows you to stay in touch with your friends and existing contacts via calls, messaging, and video chat.
But apart from these usual messaging features, what many people don't know is that Viber allows you to actively participate in public chats. You can search, find, and discover dedicated chat rooms for various topics from around the world. You can share and exchange views with the people participating in the chat room.
Find trending topics and chat rooms using the Discover chat feature.
Share, exchange and learn about people's opinions on your topics of interest using the Public Chat room.
Which Chat Room App Is Your Favorite?
It's kinda fun to talk to new people. You learn so much about people and different cultures. It's especially true when you talk to new people from around the world. If you really wanna make a new friend then make sure to be respectful of another person. Don't always talk about yourself. Make sure there is value for both of you. If you have a problem starting and maintaining a conversation then conversation starter questions can really help you. And always close the chats if you feel unsafe.
So which chat room apps have you tried? Do you have any favorite community or chat room app that helps you in getting connected with the right type of people?
Please let us know in the comments down below, we would love to hear about them! 🙂