Do you want to learn some firsthand tips, tricks, cheats, and hacks for 8 Ball Pool? The seven strategies and techniques we have shared here are for beginners and experts and will help you cleverly win matches, collect bonus coins, get better at aiming and potting balls, unlock pool cues, and ultimately become a pro player.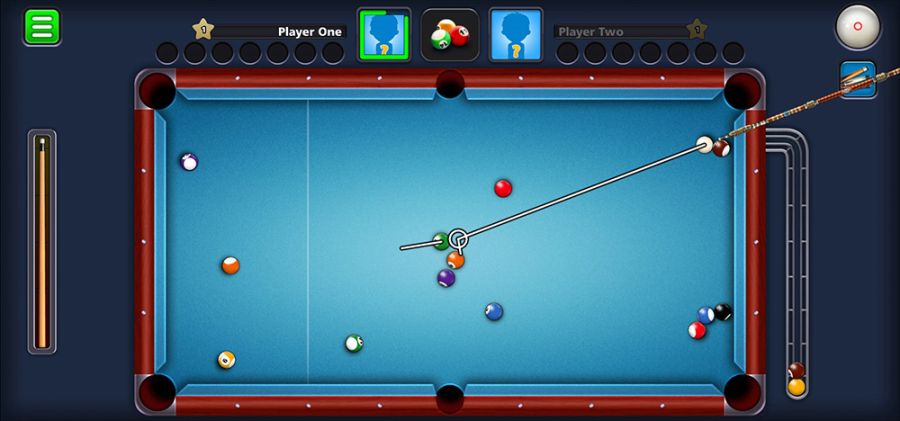 And yes, before you ask, the tips and tricks we have shared here are completely safe and come without any risk of getting your account banned. With that being said, let's just quickly head over to our tip #1:
#1. Open The Game Every Day To Collect Bonus Coins and Cash
Even though the game asks you to spend real money, you can get a lot of free stuff and bonus by simply opening the game every day and collecting free coins and gifts. And some multiple mini-games and activities will help you earn coins, cash, and mystery boxes.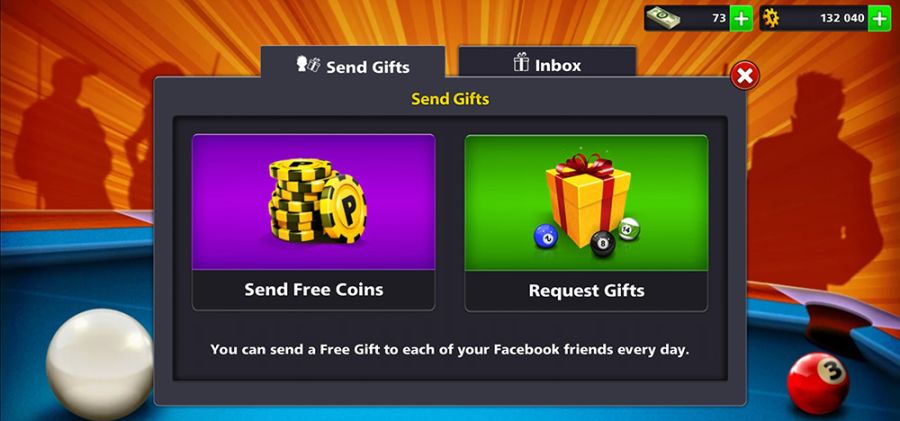 When I don't have much time, I earn and collect free coins, bonuses, and gifts by completing the following activities:
Spin and Win earns you guaranteed coins every day.

Lucky Shot offers you free prizes if you land the gold ball on the defined target.

Scratch and Win give you bonus coins if you match three same amounts.
A Surprise Box appears occasionally that gives you coins and cue pieces.

Free Coins and Free Cash are given away every day for watching 30-second ads.

Send and Receive Gifts to get free coins from your friends, which you can be doubled by watching an ad.

If you have a little bit more time on your hand then I will highly recommend you check the daily missions section and focus on completing them on a daily basis to unlock bonus coins and earn mystery boxes. Doing this every day will help you get many coins and increase your overall balance strategically.
#2. Choose The Room Intelligently
For those who are just starting up or looking for a way to build up coins, here is a smart strategy that I have followed to earn significant coins in a very short time. But before sharing my strategy, I would like to share the recommended rooms to play at the beginning and make sure to collect rings as well.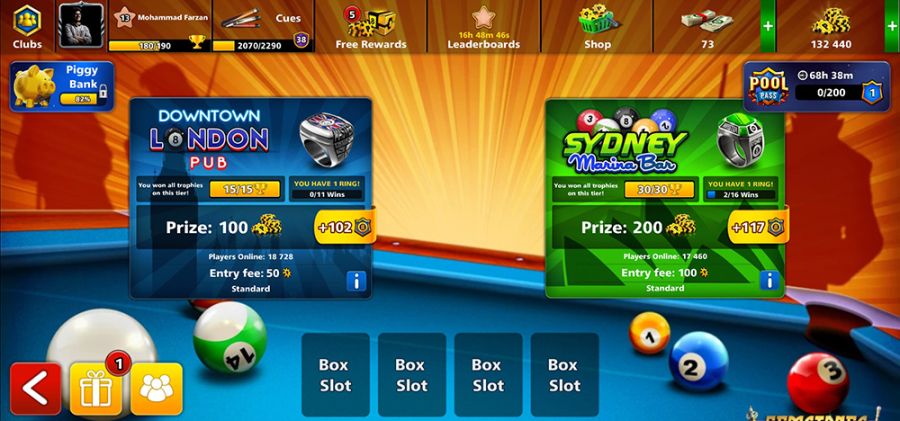 | Room Name | Coins at Stake | Winning Prize |
| --- | --- | --- |
| Downtown London | 50 | 100 |
| Sydney Marina Bar | 100 | 200 |
| Lisbon Summer Club | 500 | 1000 |
| Tokyo Warrior Hall | 2500 | 5000 |
In London and Sydney rooms, you don't have to call pocket because standard easy gaming rules apply. However, in Lisbon and Tokyo rooms, you are required to call pocket on the 8 Ball only. Making these rooms some of the best choices for those who want to safely gain Experience Points, Trophies, Collection Power, and VIP points. All while slowly and steadily collecting coin prizes.
Moreover, these rooms are usually filled with beginners or low-level players without any experience who are learning to play the game because it put a small number of coins at stake. And playing here will help build up experience.
#3. Purchase A Better Pool Cue Or Upgrade Existing Cue
To increase your chances to win the matches, it is always a better idea to get a better pool cue or you can get victory boxes by winning the 1 on 1 matches. These boxes will give you card pieces that help unlock new cues, that too without spending cash or coins.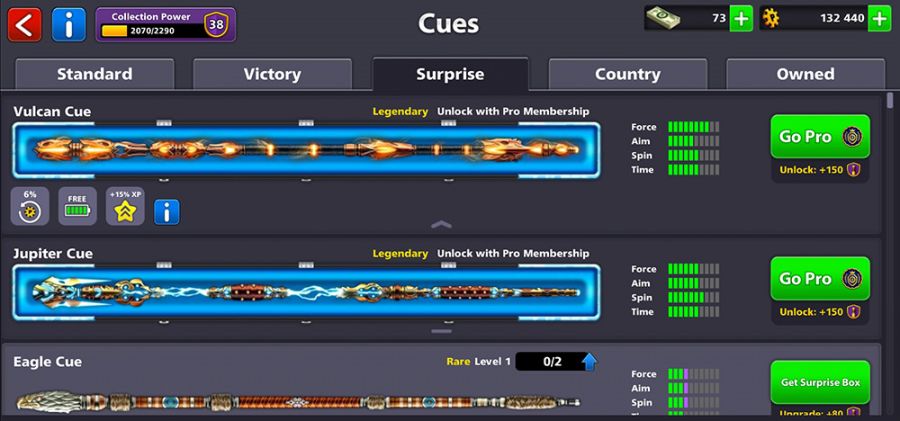 There are various categories of cues and each of them comes with its own advantages:
| | |
| --- | --- |
| Basic | Epic |
| Advanced | Promo |
| Expert | Animated |
| Rare | Evolving |
| Legendary | Pool Pass Exclusive |
Even after you have unlocked a new cue, continue collecting cue pieces to upgrade your collection to the higher levels, which means better stats for force, aim, spin, time, and XP points bonus. All of these help you with extending the aiming guideline length, increasing the force of the shot, ability to add more spin and get additional time to take every shot.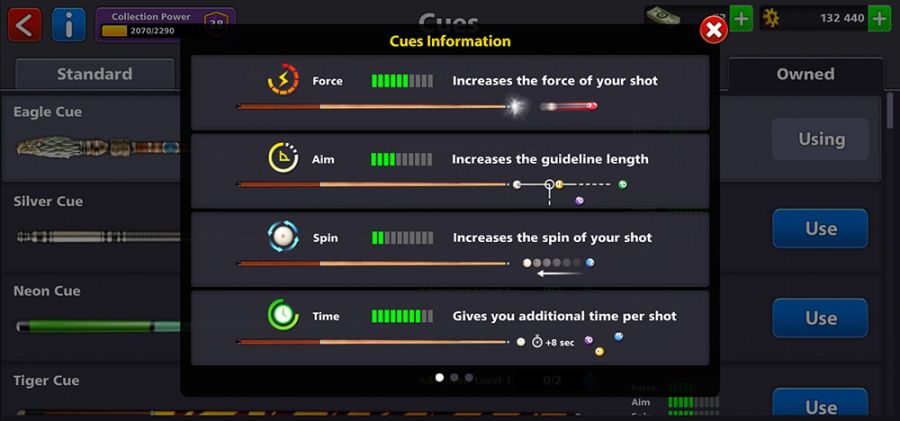 Talking about time stats, some cue gives you additional time with every shot you play, which is helpful when planning your shots as you get an upper hand over your opponent. So it is always better to invest in a powerful pool cue and plan to upgrade rare cues that give you bonus XP too.
#4. Quickly Prepare For Your Shot
As a beginner player, I struggled with taking my shots within time and ended up missing my turn, which gives an advantage to the opponent as they get a ball in hand. But while practicing, I learned a cool technique to quickly align my cue for the shot, without even dragging my finger all around the screen.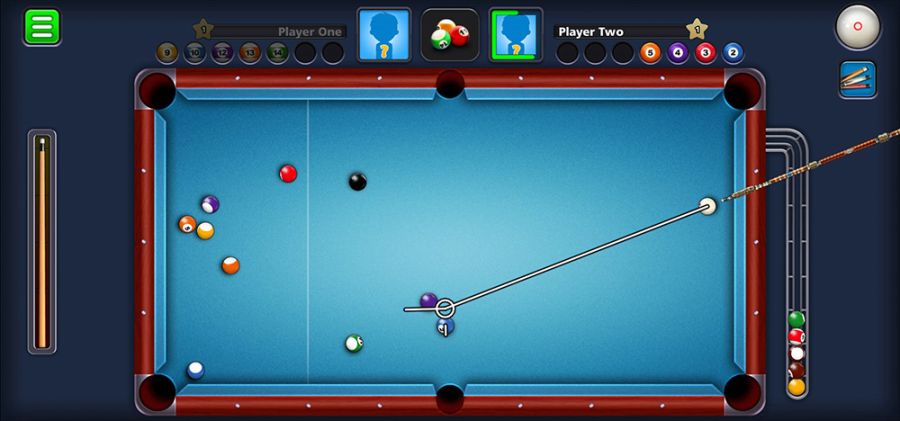 The trick is to place your finger near the cue ball or at the tip of the pool cue and then drag it around to quickly move the cue and prepare for the shot. Then for the precise alignment, place your finger away from the pool cue and drag your finger up/down until you are perfectly aligned for the shot.
This trick will take a while for you to practice, and I will recommend you play in the offline room because you will get a better chance to try this technique and become a master. And each game in the offline room will cost you 25 coins and the plus point is you will get to play for both players.
However, while practicing, don't forget to keep an eye on the timer.
#5. Aim To Pot Balls With The Least Cue-Ball Movement
When I first started playing 8 Ball Pool I was aimlessly sending cue balls all around the table, which was needless, and as a result, I used to get stuck with no possibility to hit my target ball. I then learned about layout and pattern.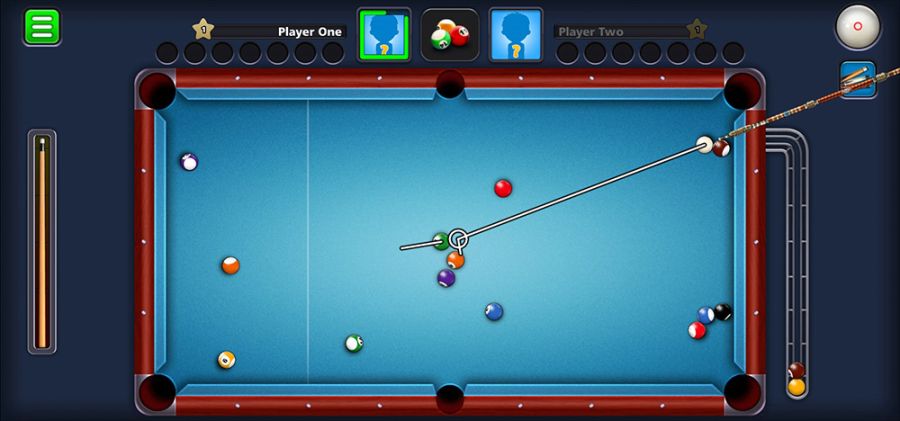 The trick here is right after breaking you need to analyze the layout of all the balls and look for the pattern that let you clear the table with the least cue ball movement. The aim is to play your shot in such a way that the cue ball lands perfectly for your next shot. You need to plan this beforehand.
It might take quite a while for you to gain experience on this but believe me this is the best trick I have practiced and learned to get better at the game.
#6. Get Better At Aiming Using Paper Or Card
Depending on your pool cue, the game will show you a short or medium-length aim guideline that shows the direction the ball will move, which is sometimes not enough to make trick shots and we sometimes can't figure out whether the ball is going to enter the pocket or not. For that, we have a ban-proof hack for 8 Ball Pool.
What we can do is we can use a small piece of paper or a card, it needs to be almost the length of your phone screen but the width should be small so that you can see the rest of the table once the paper/card is placed on your phone's screen. Make sure the edge is straight.
This trick is useful when you want to have an idea if the aim is accurate or not. It can help you make fine adjustments before taking the shot to ensure your targeted ball is going to make it to the pocket.
#7. Get Long Lines With This Secret Aim Hack
Yes, we saved the most wanted trick for the end and you must have already got an idea just by reading the heading. Many don't know about this hack but it is powerful and can be a game-changer for someone who is already playing the game for a while and willing to win most of the matches.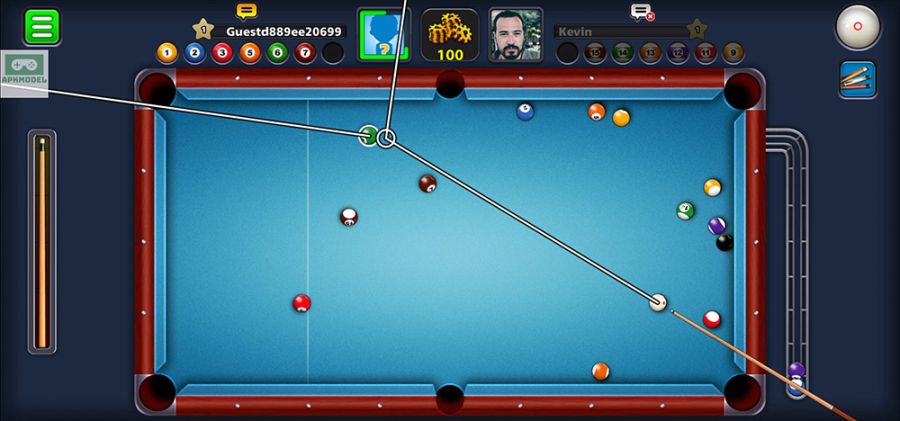 Disclaimer: This trick is for educational purposes only. BestForAndroid won't be responsible for any action taken by Miniclip on your account due to the usage of this trick.
The trick here is to use a mod version of the game that gives you long lines, a mod menu, anti-ban capabilities, along with a visual hack for level and money. Here is a quick guide on how you can get it for yourself:
Open the game on your phone and make sure your game progress is synced with your Facebook account.
Uninstall the game from your phone.
Download the 8 Ball Pool mod version from our APK section and install it on your phone.
Login using your Facebook account and it should sync your progress. Or, you can also try to play as a guest.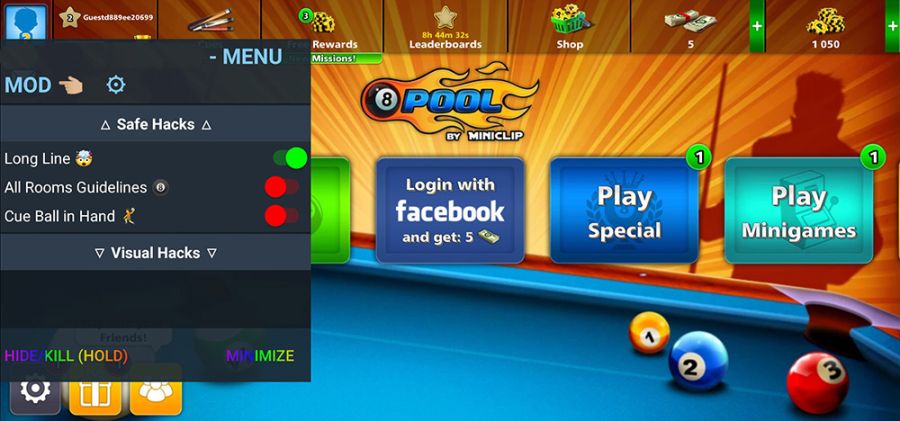 The only problem with this trick is that sometimes it works and other times it does not. So you need to try it for yourself. Also, be aware that your account might be banned by the developers for cheating in the game. We will recommend you use this wisely to avoid the ban. Alternatively, you can try it on your secondary account to see how it works.
If you like the eight-ball pool then you would also enjoy these android strategy games as well.
We hope these 8 Ball Pool tricks, tips, and hacks are going to help you get a lot of coins, quickly gain a lot of XP points, win matches, and unlock new cues. Let us know in the comments below what trick did you find the most useful? And don't forget to share the techniques and strategies you used to win the game.