Are you in search of the best strategy games that you can play on your Android phone or tablet to kill your time? Here you will find some of the most addictive games that will keep you indulged for hours.
Strategy games are liked by most gamers as it enables you to play your role and forces you to create your own unique scenarios and circumstances to be able to form commanding armies, build powerful realm, rule empires, and dominate the world.
There are various forms and types of strategy games. And in the list below, we have managed to find and add all types of strategy games including intellectual turn-based, real-time, and action-based strategy games.
#1. Total War Battles: Kingdom

Are you bored of playing the popular Android game title Clash of Clans? Or, maybe you are looking for a game similar to the Age of Empires for PC? If yes, then you should give Total War Battles: KINGDOM a good try!
In this gameplay, you will be required to strategize and manage a civilization, and you will be responsible for shaping the land with lakes, mountains, and rivers as well as building the kingdom that comprises quarries, blacksmiths, and farms. And all of these would be used to win the real-time battles with your opponents strategically.
Pros
Free to download and play.
Frequent updates for bug fixes and new features.
No ads.
Cons
Additional gold needs to be purchased via in-app purchases.
#2. Metal Slug Defense

Have you ever played Metal Slug on a gaming console? If yes, then you would love to play and enjoy the Metal Slug Defense on your Android phone/tablet.
The gameplay, interface, and story of this game are almost identical to the original Metal Slug. The game even contains hundreds of elements of the series like Metal Slug X and Advance. You can start a battle with over four players at a time through multiplayer gaming mode.
Moreover, the developers have also created a sequel and named it Metal Slug Attack. It comes with hundreds of missions and game modes along with better possibilities to improve your battle units.
Pros
Support multiplayer via WiFi.
Offer in-app purchases.
Cons
Lacks updates and bug fixes.
Contains ads.
#3. WW2 Sandbox Tactics

The Sandbox: Strategy & Tactics is a sequel to the WW2 for Android mobile. If you have played the previous sequels then you will find out that the gameplay is identical but there are some tweaks and additional features.
The key modification you will find in this game is the change in the campaign strategy, which lets you select any country for World War 2 and allows you to play as long as it takes to lose or win the battle. There are no restrictions. Also, during the country selection phase, you will be required to choose an objective, which once completed will end the game.
Pros
Epic gameplay quality.
Supportive and active developer team.
Ads can be removed via in-app purchases.
Cons
Contains a lot of ads.
Resource hungry game and might occasionally lag on low-performance devices.
#4. Jungle Heat: War of Clans

The gameplay of the Jungle Heat: War of Clans is identical to that of Clash of Clans. A free strategy-based war game that is compatible with multiple platforms and can be synced via your social media account.
The game is more focused on the conquerors and battles that require you to develop your own military base into a fortress and then battle with other players. You can even participate in regular tournaments to assess the capability of your military against other players around the world.
Pros
Active support staff and developers.
The game receives frequent improvement updates.
Offer in-app purchases.
Cons
Contains ads.
Require an active Internet connectivity.
#5. Plague Inc.

Plague Inc. is one of the most popular and widely played strategy games designed for the Android mobile platform. And as the name of the game suggests, what you have to do is to strategize about how you can infect the entire world and bring an end to human history using a deadly plague.
The gameplay provides you with over twelve different diseases and each one of them has different strategies that you need to master to be able to infect the world effectively. And you will have more than fifty countries that you need to infect. The game is quite complex and will keep you busy for long hours.
Pros
Special items can be purchased as well as the ads can be removed through the in-app purchase option.
Full save and load functionality.
Offer in-app purchases.
Cons
#6. Forge of Empires: Build your City

Forge of Empires is an epic strategy-based game where you will get a chance to take control over a city, make it unique, and become the leader. And if you are one of those who has fantasized to build and control your own empire then the Forge of Empires will fulfill your dream.
Basically, the strategy is to build your own city from the scratch and then evolve it from the stone age to the modern age using research and adaptation of new technologies. You have to research the new building and goods. You would be responsible for producing supplies and manufacturing goods. You are solely responsible for taking your city/empire to the next level.
Pros
Frequently updates to add new features and fix bugs.
Offer in-app purchases.
No ads.
Cons
If you are looking to rapidly move forward in the game then you will be required to use the in-app purchases.
#7. Breach & Clear: Tactical Ops

Breach and Clear will give you a great team-based tactical and strategic gaming experience. The gameplay, visuals, and combat graphics are amazing. There are several game modes and maps to play with. And I must mention that it is worth every penny.
The game allows you to customize your gun, and specialize each of your soldiers with tactics, armor, and inventory. The game requires you to do some good planning as every decision counts. In the beginning, the game may look easy and calm but as you progress through it, you will find out that the game is incredibly complex and challenging.
Pros
Does not require an active Internet connection.
Provide in-app purchases for maps and other extras.
No ads.
Cons
Not updated for a long time.
No support from the development team.
#08 – Age of History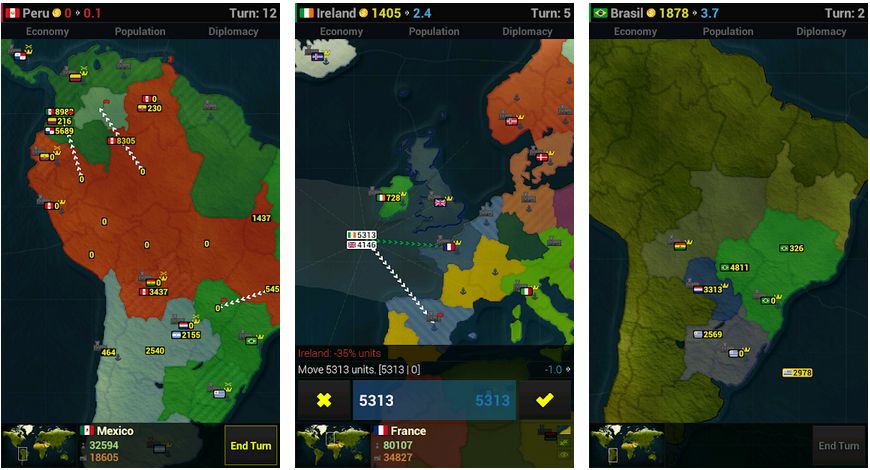 Age of Civilizations is a turn-based strategy game that looks similar to a board game named "Risk" where you have to plan your way to take over the territories from other civilizations and ultimately dominate the world.
The game comprises two planets, a total of over 746 provinces, 193 civilizations, 3 native scenarios, and several building types. And there is no in-app purchase option so everything is attainable within the game without spending your real money. Overall, the gameplay is tough and difficult which makes it extremely addictive.
You can even try the Age of Civilizations lite version first, and then make your way to the paid and full version.
Pros
Lite version for the first-time players.
No ads.
No in-app purchases.
#9. Clash of Clans

Clash of Clans is an epic combat-based strategy game for Android where you have to build your village, raise your army, train your troops, upgrade them, start a battle, and lead your clan to victory. The game is greatly addictive.
In the gameplay, you have to build your village to keep the enemies and attackers off your area and prepare your clan for battles against millions and millions of players playing online around the world. You need to form the most powerful clan to be able to win the battle and destroy enemy clans.
Pros
Frequently updated to fix bugs and improve stability.
No ads.
Cons
In-app purchases for additional items.
#10. DomiNations

DomiNations is an advanced form of a strategy-based game that has similar features to the Clash of Clans and the Age of Civilizations game, where you have to build a flourishing combat city within a specified time period and take your nation from the stone age to space age.
You will begin from the ancient age, complete your journey through all the human history to the modern era, and work as a leader of your own nation. Once you are capable and powerful enough, you can then start a competitive battle with players from all around the world and raid their nations.
Pros
No ads.
Frequently updated to add new features, items, and levels.
Cons
Offer in-app purchases to buy items using real money.
Sometimes the update causes you to lose save game progress.
Non-responsive developers.
#11. Boom Beach

Boom Beach is another flagship strategy-based Android game developed by Supercell that focuses on building your combat team with a proper plan, attacking other teams by storming their beach, and eventually winning the battle.
You have to build and defend your headquarters. Make your troops powerful enough to be able to defeat the evil blackguard. And to be able to create a dominant team at a faster pace, you can even join other teams and work together in taskforces.
Pros
Frequently updated with performance improvements and new stuff like weapons and items.
Cons
Requires an active Internet connection.
In-app purchases to purchase items with real money.
Conclusion
Do you have any favorite strategy games that you play regularly on your Android phone but we forgot to include them in the list? Share with us in the comments section below. 🙂