In Archero action-filled mobile game, you are the archer who fights with the evil army using a bow and arrows. You need to defeat all your enemies during your journey while protecting yourself and your health so you can survive longer.
Download Archero mod apk and OBB data files with mod menu, God mode, high damage hack, and unlimited money that will help you quickly complete the levels and move on to the next chapter.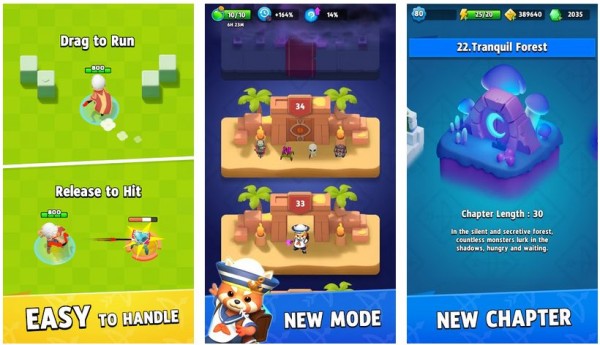 How to Install the App?
The installation process for Archero on Android devices is really simple and easy. Just follow these steps and you are good to go:
Note: You may need to enable the installation of apps from unknown sources through the Android security menu to be able to sideload/install the app.
Download the Archero mod file from the download section located at the beginning of this post.
Tap the apk you just downloaded and follow the onscreen process to install the app.
Once installed, find the app in the app drawer and launch it. Now you can play the game with god mode enabled as well as the ability to do increased damage to your opponents.
Features of Archero for Android
Here we have highlighted all the features of the Archero action game where you become an archer hero, gain a completely new set of skills, and fight with enemies who just never give up:
Develop New Skills: You can help your character build new skills and to become an ultimate archer hero.
Explore New Areas: The game has a whole universe, which includes hundreds of maps and worlds and you can discover all of them whenever you want.
Upgrade and Unlock Equipment: Level up your character and equip it with new equipment, which helps in increasing your overall stats and helps improve your fighting capabilities.
What's Modded in the Archero for Android?
Here are the details of the features in the Archero mod for Android:
God Mode: The God mode gives your character the ultimate ability to survive almost any arrow shot towards you by your enemies, which makes you indestructible and gives you unlimited health power.
High Damage: You can put higher damage on your enemies while attacking, helping you win the game without much effort and move onto the higher levels and to the new world effortlessly.
Unlimited Money: Money is one of the key currencies in the game that helps you buy equipment for your character and to increase the overall stats.
Mod Menu: Mod Menu allows you to select and enable or disable the mod during the gameplay.